These Real Wedding Debt Horror Stories Will Make You Rethink Your Big Day
Written by:
Anouare Abdou
4 min

read
2326 Views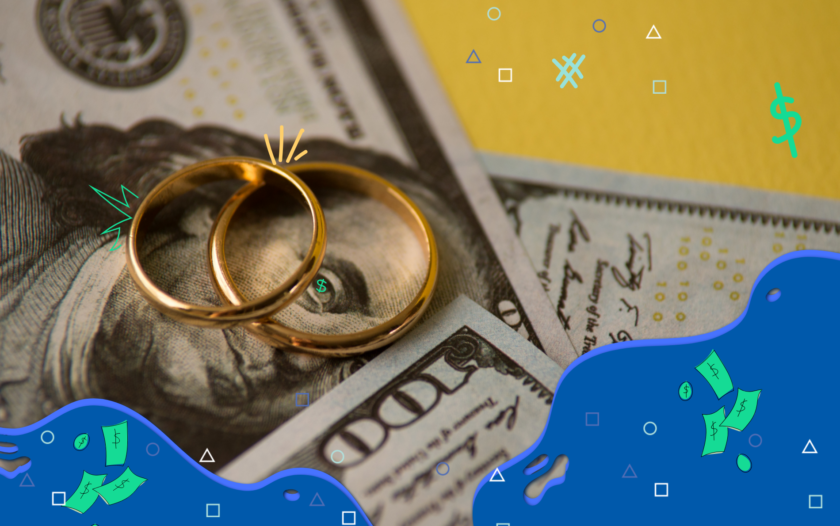 At a Glance
From being ditched at the altar to feeling pressure to take on debt for a bachelorette party, these real-life wedding debt horror stories are cautionary tales.
For every dream wedding, there are dozens of debt horror stories. The average price of a wedding is $27,000 – and that's pretty modest nowadays. In fact, a recent Credello survey on wedding financial regrets of that used 1000 people found that 20% of all respondents said they thought their wedding was unnecessarily expensive and 19% of all respondents said they worried guests couldn't afford the wedding.
Betrayed bride-to-be
"My cousin announced her wedding earlier this year and requested financial assistance from my sister and me for the wedding. Therefore, we each paid her a huge check. However, the groom changed his mind, and the wedding was canceled," says Jason Porter, a senior investment manager at Scottish Heritage SG. "Because she keeps expecting he'll change his mind, my cousin is currently refusing to repay our money. She is currently in debt and has also borrowed a lot of money from other individuals. This situation resulted in a loss of $15,000 combined for my sister and me."
Pressure to spend
According to The Knot, the average wedding guest can expect to spend $460 to attend the festivities. That number quickly escalates when travel is involved, so you could say that there is financial pressure involved with being a good friend. Sometimes though, the opposite is true: Wedding guests can put pressure on the couple to spend money they don't have – and that's exactly what happened to one bride.
"I am going to share the story of my best friend. The bride was at a bachelorette party with some friends. Her friends were forcing her to arrange a party and she did. But as she does not belong to any well-off family, she sold her car and applied for a loan from a bank," says Katherine Barlow Here Co-founder of Wellyx. "She was in debt and that was a very terrifying situation for her. She was not even able to happily enjoy the wedding because of debt."
If you're shopping around for personal loans to alleviate the pressure, make sure to do your research. Here are some options.

Check out lenders and solutions that will get you what you need We found 4 options for your requirement
Advertiser Disclosure
7.99% - 35.99%
Est. APR Range
$2,000 - $36,500
Loan Amount

8.49% - 35.99%
Est. APR Range
$1,000 - $50,000
Loan Amount
Good For: Low loan amount
8.99% - 35.99%
Est. APR Range
$2,000 - $50,000
Loan Amount
Good For: Getting funds quickly
9.95% - 35.99%
Est. APR Range
$2,000 - $35,000
Loan Amount
Good For: Getting funds quickly
Congratulations! You're close to seeing your offers!
Please take a second to review the details you shared earlier
Financial trouble in paradise
The wedding is one thing, but what if you're getting married to someone with lots of debt and you don't even know it? That's what happened to an acquaintance of Omer Reiner, a licensed realtor and the president of the real estate investment company FL Cash Home Buyers.
"I know someone who married someone they knew for four years. The person they married had defaulted twice on their student loans (without the other knowing) and never told the other until the third default was mentioned in the mail," he says. "After the other spouse helped pay off their debt, the indebted spouse left."
Ouch. Don't let your rose-colored glasses blind you from the reality that when you say I do, you're also joining financial responsibilities.
Related: What It's Like Dating Someone in Debt?
Loan regrets
Reddit user pambannedfromchilis shared her loan regrets in a cautionary Reddit thread:
"Do what you will. This is just some advice from a couple who are financially miserable. We got married almost four years ago and because of the wedding loan, credit card debt from it, it has only held us back in pursuing our dreams and furthering our future," she shares.
"We are still in debt years later because of it, and, honestly, it wasn't above average expenses, altogether about $25,000 to $30,000 with everything. We took out a personal loan to help, I did a ton of overtime to make it work, as did my husband, and then put the rest on credit cards."
Her husband tried to convince her to get married in their backyard, but she insisted on having the wedding she had dreamed of her whole life. "I would be lying if he hasn't expressed to me bits of resentment for these choices. It sucks. We both had an amazing time at the wedding and the memories were amazing. But it's one night. It's quick," she adds.
To add to the stress, she unfortunately suffered a serious spinal cord injury at work. "It would be a blessing to take out a personal loan during these hard times or more access to credit card limits, but I made these decisions and should have thought about our future," she says. "I assumed I would be healthy and able to work my well paying job and do overtime as often as possible to pay down the debts. It is sadly not the case."
Bottom line
Think twice about how much to spend on your wedding – you may need the money for a rainy day and regret your choices.