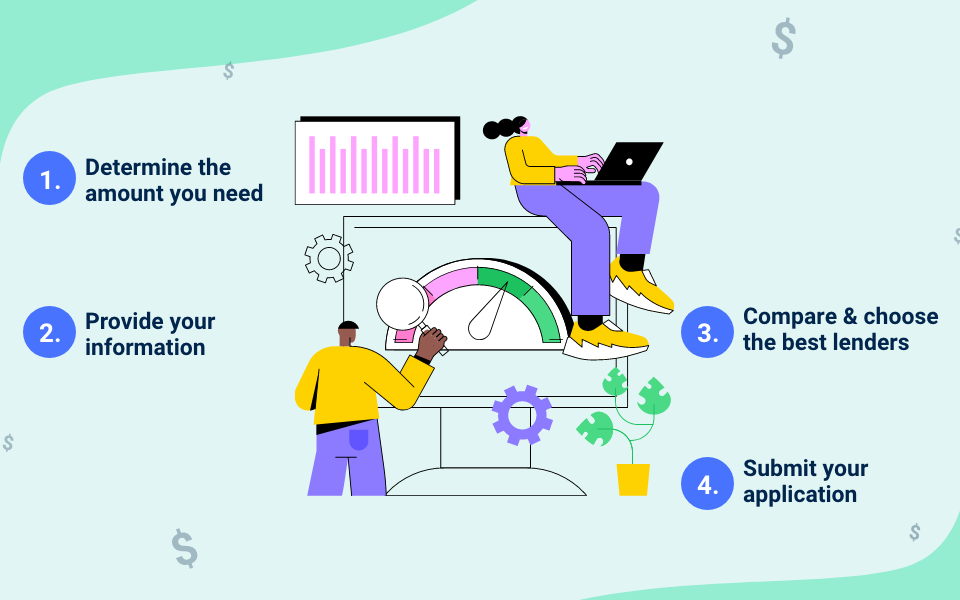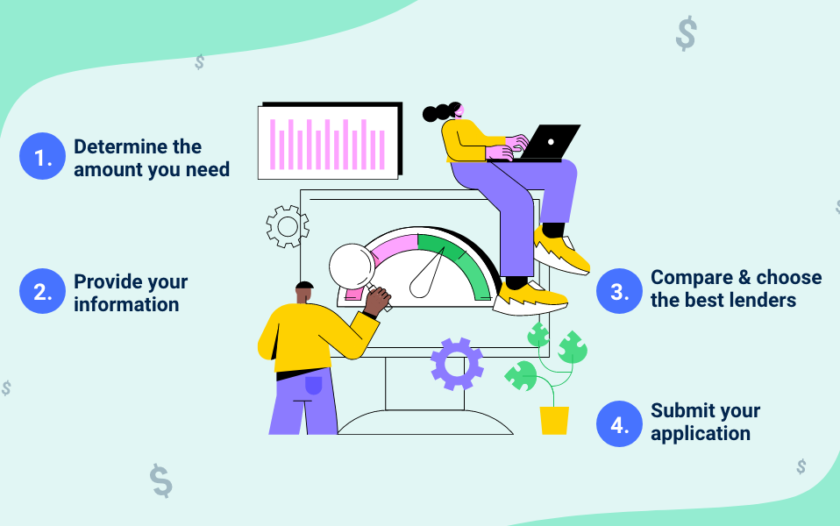 At a Glance
The process for getting a personal loan isn't difficult, and it can happen quickly if you're prepared. Be ready with the right information, such as knowing steps to getting a personal loan, how to get a personal loan depending on your credit, requirements for personal loans, and personal loan eligibility.
7 steps to get a personal loan
When researching the best personal loan options and deciding whether it's right for you, it can help to know the steps involved for securing one.
1. Check your credit score
Since it's easier to get a low interest rate and better terms with an excellent credit score, the first step in getting a personal loan is to know what your credit score is. If it could use improvement, take steps now to increase it. Otherwise, you can use this information when prequalifying or estimating rates.
2. Compare estimated rates
Once you know your credit score, also have a clear understanding of the loan amount you need and how long you want to have the loan for (the term). Start researching different lenders and comparing estimated rates based on your credit score and loan amount.
You can also use a personal loan calculator to compare personalized estimates.
If your estimated rates are too high, now is the time to consider a cosigner or secured personal loan.
3. Get prequalified for a loan
To help you compare more personalized rates and terms, prequalify for the loan if the lender allows it. This gives you the opportunity to preview your specific estimated rate before you apply. This will only trigger a soft credit check, so it will not affect your credit score. It does not automatically qualify you for a loan and your actual rate could differ, but it will give you a good idea for comparison.
4. Shop around and compare lenders
Do your research with different lenders, as each offers different rates, terms, fees, customer service ratings and reviews, and types of loans. Consider what you need the loan for (such as debt consolidation, for a wedding, or for medical bills) and find a lender that offers loans designed for your specific needs.
Prequalify for loans with different lenders, including banks, credit unions, and online lenders, to find the best rates.

Check out lenders and solutions that will meet your needs We found 8 options for your requirement
Advertiser Disclosure

8.99% - 23.43%
Est. APR Range
$5,000 - $100,000
Loan Amount
Good For: High loan amounts available, no fees
7.99% - 25.49%*
Est. APR Range
$5,000 - $100,000
Loan Amount
Good For: Offers longest loan term, no fees
7.99% - 35.99%
Est. APR Range
$2,000 - $36,500
Loan Amount

8.49% - 35.99%
Est. APR Range
$1,000 - $50,000
Loan Amount
Good For: Low loan amount
8.99% - 35.99%
Est. APR Range
$2,000 - $50,000
Loan Amount
Good For: Getting funds quickly
9.95% - 35.99%
Est. APR Range
$2,000 - $35,000
Loan Amount
Good For: Getting funds quickly
11.69% - 35.99%
Est. APR Range
$1,000 - $50,000
Loan Amount
Good For: low income criteria, fast funds
21.99% - 35.9%
Est. APR Range
$2,501 - $12,000
Loan Amount
Good For: flexible payment options, fast funds.
Congratulations! You're close to seeing your offers!
Please take a second to review the details you shared earlier
5. Read the fine print
Once you've narrowed down your options, make sure you carefully read the terms and get answers to any questions you would have. In particular, pay attention to:
Prepayment penalties, late fees, and origination fees
Automatic withdrawal payment options
Total APR (which includes fees), not just interest rates
Limitations on what you can use the loan for
Customer-friendly loan features, like reporting payments to the credit bureaus, changing payment dates, or how using the loan for consolidation works
You don't want any surprises once you apply for the loan.
6. Apply
After selecting a lender, it's time to apply for the loan. Most lenders allow you to do this online, but some require or request you to come to a physical branch and apply in person.
Regardless, the application requirements may vary, but you'll typically need:
Identification, like a driver's license, passport, state ID, or Social Security card
Proof of address, like utility bills or lease agreement
Proof of income, like a W2, pay stub, bank statement, or tax return
Answer all the questions accurately and provide all of the documentation requested to expedite the approval process. Once you submit the application, the lender will run a hard credit check (which can decrease your credit score for a short period of time).
Related: How to Apply for Personal Loans
7. Get approved and accept the loan
If you're approved, the lender will notify you and you'll need to finalize loan documents and accept the terms. Once completed, the loan funds will be deposited into your bank account or you'll be sent a check in as little as one to two business days, but sometimes up to one week.
You'll have to start making payments as soon as you receive the loan, so make sure you know what your monthly payment is and when it's due. Consider setting up an automatic withdrawal payment from your bank account so you never miss a payment.
How to get personal loans with excellent credit
Excellent credit typically means a credit score of 720 or higher. The higher your score, the better the interest rate on your personal loan, and you'll also qualify for better terms.
Good credit, typically between 680-719, can still qualify you for competitive rates and terms, but you should strive to have the best credit score possible.
It's relatively easy to get a personal loan when you have excellent credit. Simply compare different lenders to find the best interest rate and terms available to you, and apply either online or through the local branch. You shouldn't have any problem getting approved as long as accurate information is provided.
How to get personal loans with fair credit
Fair credit, between 640-679, won't get you the best rates or terms and it may be a little more difficult to be approved, but there are still lenders who will work with you.
You may have fewer options through banks and credit unions, but online lenders may offer better opportunities. Be prepared for higher interest rates and you could potentially be subject to fees. It's important to be able to show you have an income and regular cash flow. You may also have better luck if you use a cosigner.
How to get personal loans with poor or no credit
Whether you have poor credit (below 640) due to past financial decisions or you haven't had the chance to build a credit history and score yet, you likely won't have the best options available for securing a personal loan.
That said, there are online lenders who are willing to cater to those with poor or no credit. The bad news is you'll likely see much higher interest rates and you may be required to provide a cosigner or collateral through a secured personal loan. Just be careful because if you don't pay back the loan, you could lose your collateral, which could be an asset like your house or car.
The best thing you can do is to take steps to improve your credit score, such as paying your credit card bills and other debt payments on time and in full if possible, correcting any errors on your credit report, and lowering your debt-to-income ratio.
These steps can take time, but will be worth it to improve your chances of being approved for a personal loan and securing a lower interest rate.
Related: Improve Credit with a Personal Loan
How to qualify for a personal loan
Requirements for personal loans can vary by lender, but there are a few factors that are taken into consideration across the board. If you prepare ahead of time and know these qualifications before applying, it can help streamline the application process and even improve your chances of qualifying for the loan.
Credit score and credit history: Most lenders require you to have a credit score of at least 600 to qualify for a loan, though the higher your score, the better your chances of being approved and getting a lower interest rate. They will also look at your payment history, outstanding debt, and length of your credit history.
Income: Income requirements will vary by lender, but it's important to meet the minimum income requirement to ensure you have a way to repay the loan. You may be asked to provide proof of income, such as tax returns, monthly bank statements, or pay stubs.
Debt-to-income ratio (DTI): This is a percentage that represents the portion of your gross monthly income that goes toward paying off your debt. The higher your DTI, the more income you're putting toward paying off debt, which means your finances could be stretched thin for taking on new debt. Most lenders prefer a DTI less than 36%, though some lenders will accept a DTI up to 50%.
Collateral or cosigner: If applying for a secured personal loan, you'll be asked to provide assets as collateral, such as a home, car, or bank account. If you default on the loan, the lender will seize your asset. Be sure you have collateral to offer if your loan requires it.
Or, if you plan on having a cosigner to help improve your chances of getting approved, make sure you have all of their information and their credit score, history, and income qualifies them as a cosigner.
What should you do if you're denied?
It's important to review all lender requirements and criteria before applying to make sure you meet it, and help improve your chances of approval. However, if your personal loan application is denied, there are a few things you can do to improve your chances of approval.
If your credit score was too low, the most obvious answer is take steps to improve your score. Ensure you make all debt and other payments on time each month. If you can, try paying down existing credit cards or other debt to help improve your credit utilization. Also be sure to review your credit reports to check for errors and have them corrected if necessary.
Related: The Best Ways to Build Credit and Improve Your Score
If your DTI was too high, either find a way to increase your income or start paying down existing debt.
If the requested loan amount was too much, carefully reconsider what you need the loan for and how much you need. You may have to take some time to save more so that you don't have to request as a high loan amount. Or you can try to find another lender who will accept your loan amount request.
If you don't have sufficient income, try to increase how much you make. Pick up extra hours or shifts, or perhaps start a second job until you have enough saved or you're approved. You can also start a side hustle to generate extra income.
If you didn't meet basic requirements, such as minimum age requirement, being a U.S. citizen, or employment. Be sure to review basic requirements to ensure you meet them.
If your application was incomplete or you didn't provide the right documentation, you can re-apply or submit the missing information or documentation to the lender. Before submitting your application, carefully read and review it to make sure you've provided everything it asks for and have uploaded all supporting documents.
FAQs