What Is Debt Consolidation?
Written by:
Brooke Joly
Verified by:
Sam Swenson
11 min

read
4447 Views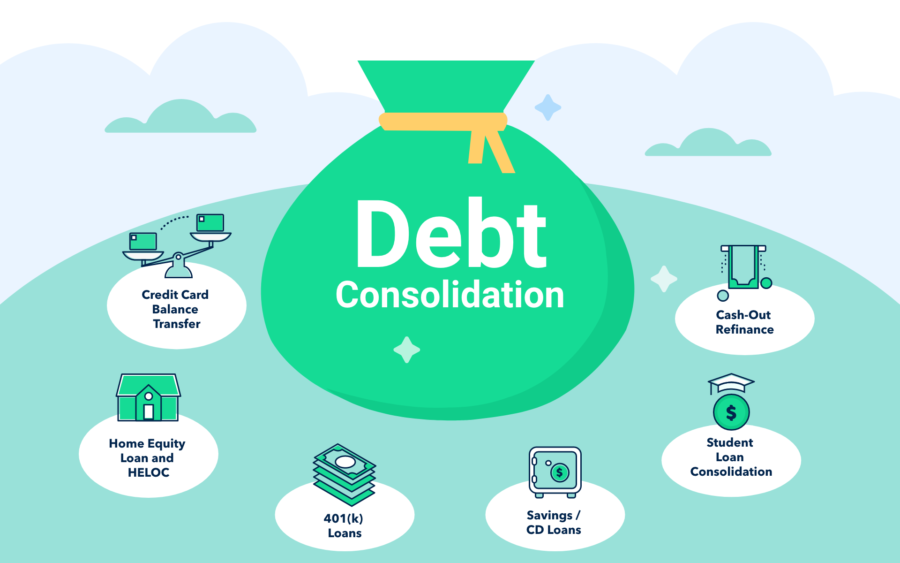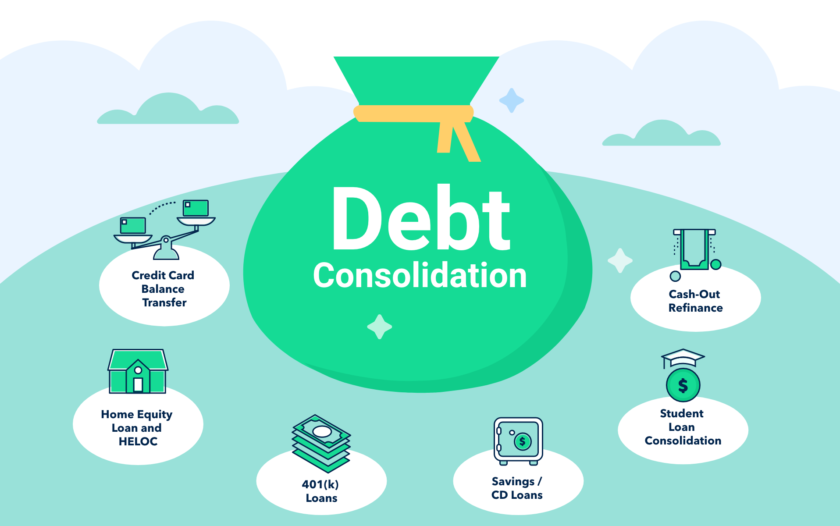 At a Glance
Debt consolidation is the process of merging multiple debts, like loans or credit cards, into a single sum with one monthly debt payment monthly debt payment.
In this article, you'll learn:
Benefits of debt consolidation
There are many benefits of debt consolidation, including:
Saving money: The biggest perk of debt consolidation for most people is money saved. You can save significant money in interest by consolidating multiple high-interest debts into a single lower-interest loan or credit card.
Simplifying payments: Managing multiple debt payments each month can be a challenge. And it can lead to late or missed payments, which negatively impact your credit score. Streamlining multiple monthly payments into one makes managing debt much easier and can help boost your credit score.
Well-defined repayment term: Some debts, especially credit cards that aren't on a fixed payment schedule, can linger for years until you pay them off. But the right debt consolidation loan will put debt repayment on a fixed schedule. That means you'll know down to the day when your loan will be repaid in full.
Less stress: Managing one debt instead of many can remove many stressful financial interactions each month. Plus, knowing you've locked in a lower interest rate can reduce stress too.
Become debt free faster plus save money on interest
Check out your best consolidation options tailored just for your needs by answering a few simple questions.
How does debt consolidation work?
Debt consolidation works by taking out a single loan to pay off multiple existing debts. Once the debt consolidation loan is approved, you'll use the money to pay off other lenders, then work to aggressively pay back the new loan instead.
Related: How to consolidate debt?
Examples of debt consolidation
Let's say you currently have debt on two credit cards and a personal loan. Between these three items, you're holding $25,000 in debt and are paying 21.99% interest that's compounded monthly.
To become debt-free, you'll be paying $750 a month for 52 months. And you'd be paying a whopping $13,987 in interest!
Now assume you consolidated those debts into a single debt consolidation loan at 10% interest, also compounded monthly. To bring the balance of that loan down to zero, you'll be paying $806 a month for only 36 months. But now, only $4,040 of that is interest.
What this means is by taking out a debt consolidation loan, you could save $9,947 with only a slightly higher monthly payment. But it's important to keep in mind that you may run into some fees associated with a debt consolidation loan that could eat into those savings.
#TLDR
#TLDR
I
Debt consolidation could save you money on interest and help you pay off your debts quicker.
Types of debt consolidation
There are several types of debt consolidation to consider.
1. Debt consolidation loan
A debt consolidation loan is a lower- interest personal loan that allows you to move multiple credit card balances or loans into one account. Since these loans are unsecured, they typically require a good credit score to be subject to the lowest interest rates.
Borrowers looking for a debt consolidation loan with bad credit may still be able to qualify but will probably have a slightly higher interest rate. That's why it makes sense to shop around with various lenders to get the best price before committing in any one direction.
Find & compare the best personal loans for debt consolidation in 2023.
Advertiser Disclosure
Use the filters below to refine your search Sorry, we didn't find any options that meet your requirements. Please try modifying your preferences.
Congratulations! You're close to seeing your offers!
Please take a second to review the details you shared earlier

2. Credit card balance transfer
A credit card balance transfer makes sense for borrowers with good or excellent credit scores (above 690 on the FICO scale). That's because these borrowers may qualify for a 0% APR credit card for a set period at the start. That period can be incredibly valuable in repaying debt because you'll avoid additional interest.
Borrowers with poor credit may still find a balance transfer card useful. Streamlining multiple credit cards into a single payment makes sense as long as the interest rate on the new card is lower than the average of existing debts.
Related: Balance Transfer Credit Cards
3. Home equity loan and HELOC
A home equity loan and home equity line of credit (HELOC) are secured loans for which your home is the collateral. This means you're borrowing money against the equity in your home, which typically comes at a lower interest rate than other loan options.
Debt consolidation using a home equity loan can be a smart move when you have considerable equity in your home and are committed to repaying debt. However, those struggling with overspending could put their home at risk if the loan isn't repaid in a timely manner.
Related: Home Equity Loans vs. HELOC
4. 401(k) loans
Typically, taking out a loan using a retirement account, like a 401(k), is a financial no-no. But in the case of debt consolidation, when you can commit to repaying the balance plus interest quickly, it may be worth a look.
401(k) loans generally have a low interest rate. Plus, you'll be repaying the loan plus interest to yourself (less any fees from your 401(k) provider). However, the major downside of taking a 401(k) loan is that it can derail your retirement savings plan. Add that to potential tax consequences and fees, and you'll see that it's probably best to review this loan option with a financial professional before taking any action.
Related: 401k Loan to Pay Off Debt?
5. Savings / CD loans
A Certificate of Deposit (CD) is a savings vehicle that you commit to for a specified period at a set interest rate. You can, however, take out a CD loan where the CD acts as collateral to secure a personal loan.
Using a CD loan for debt consolidation is a way to leverage that money without facing early withdrawal penalties. But not all banks offer CD loans, and you'd have to have an active CD to qualify.
6. Student loan consolidation
Depending on the types of student loans you have, federal or private, the debt consolidation options look different. For example, you may lock in a longer repayment term for federal loans, which lowers monthly payments, but generally, you won't receive a lower interest rate.
With private student loans, you can shop around to consolidate multiple loans into a single loan at a better interest rate. And that can result in pretty significant interest savings, especially if your loan balance is high.
Related: Student Loan Debt Consolidation
7. Cash-out refinance
You can roll multiple debts into a cash-out refinance as another type of debt consolidation. With a cash-out refinance, you'll replace your existing mortgage with ahigher balance mortgage that reflects the debt you've added on.
Since a cash-out refinance means taking out a new mortgage, there are closing costs and fees to consider. You'll need to calculate the interest savings from debt consolidation plus these costs before pursuing this option.
#TLDR
#TLDR
I
There are many types of debt consolidation; it's important to review them all before deciding what type is best for you.
Is debt consolidation a good idea?
Debt consolidation is a good idea in several circumstances:
You have great credit. Debt consolidation may be a good idea if your credit qualifies you for a 0% APR credit card or a lower-interest debt consolidation loan.
You have a lot of debt. Typically, debt that can be repaid in less than a year may not be worth the cost or credit hit of taking out a debt consolidation loan.
Your income is enough to cover monthly debt payments. If you're struggling to meet debt payments, it may be best to pause on debt consolidation until you have more cash flow.
You're ready for a long-term financial change to avoid further debt. If you've taken steps to assess your financial picture and plan for a different future, you're on the right track with debt consolidation. But those who haven't yet committed to working toward a debt-free future could find themselves in more debt once a consolidation loan frees up credit cards.
Learn more: Is Debt Consolidation a Good Idea?
Debt consolidation requirements
Certain requirements determine eligibility for debt consolidation. But it's important to keep in mind that lenders' debt consolidation requirements may vary, and specific lenders may have more lenient requirements than others.
Reasonable, low-risk credit history and credit score
Proof of income
Proof of collateral (like your home) for large loans
Low debt-to-income ratio (calculated by assessing your existing monthly debt payments divided by your monthly income)
How much can I save by consolidating my debts?
Savings will vary depending on what kind of debt you're consolidating and how much the interest rate changes, in addition to any associated fees. Because this calculation can get pretty complex, it's wise to use a debt consolidation calculator to determine how much you can save by consolidating debts.

#TLDR
#TLDR
I
Everyone's debt situation is unique; your savings will depend on your specific debts.
Estimate your savings with our debt consolidation calculator
If you're ready to explore how much you can save with debt consolidation, we're here to help. Check out our debt consolidation calculator to see what you can save for free!
When debt consolidation is not a smart move?
Debt consolidation may not be a smart move for everyone. It's smart to consult with a financial professional or explore other options if you:
Haven't yet changed the spending habits that got you into debt in the first place.
Have debt that can be repaid in less than a year.
Are working to improve a poor credit score.
Related: How Debt Consolidation Can Go Wrong
Debt consolidation pros and cons
As with any major financial decision, there are pros and cons of debt consolidation.
Pros
Potential for a lower interest rate. Applicants with above-average credit scores have the most opportunity to lower interest rates by using a debt consolidation loan.
Simplifies the debt repayment process. For borrowers struggling to manage multiple debts, consolidating into a single debt is a major benefit. One single monthly payment saves time, effort, and above all, it may help to eliminate late or missed payments.
Could improve credit score. While borrowers may see a potential dip in their credit score after applying for a new loan, debt consolidation can ultimately improve credit scores. That happens through lowering credit utilization and increasing the likelihood of making timely payments.
Cons
Fees can increase the loan cost. Lenders may enforce fees such as loan origination fees or balance transfer fees that can cut down debt consolidation savings. For this reason, it's critical to understand the entire cost of the loan fees included before signing off.
Debt consolidation loans can't change behavior. Before committing to a debt consolidation loan, borrowers need to address the underlying habits that got them into debt in the first place. A chronic over-spender could wind up back where they started if they don't curb spending before consolidating debt.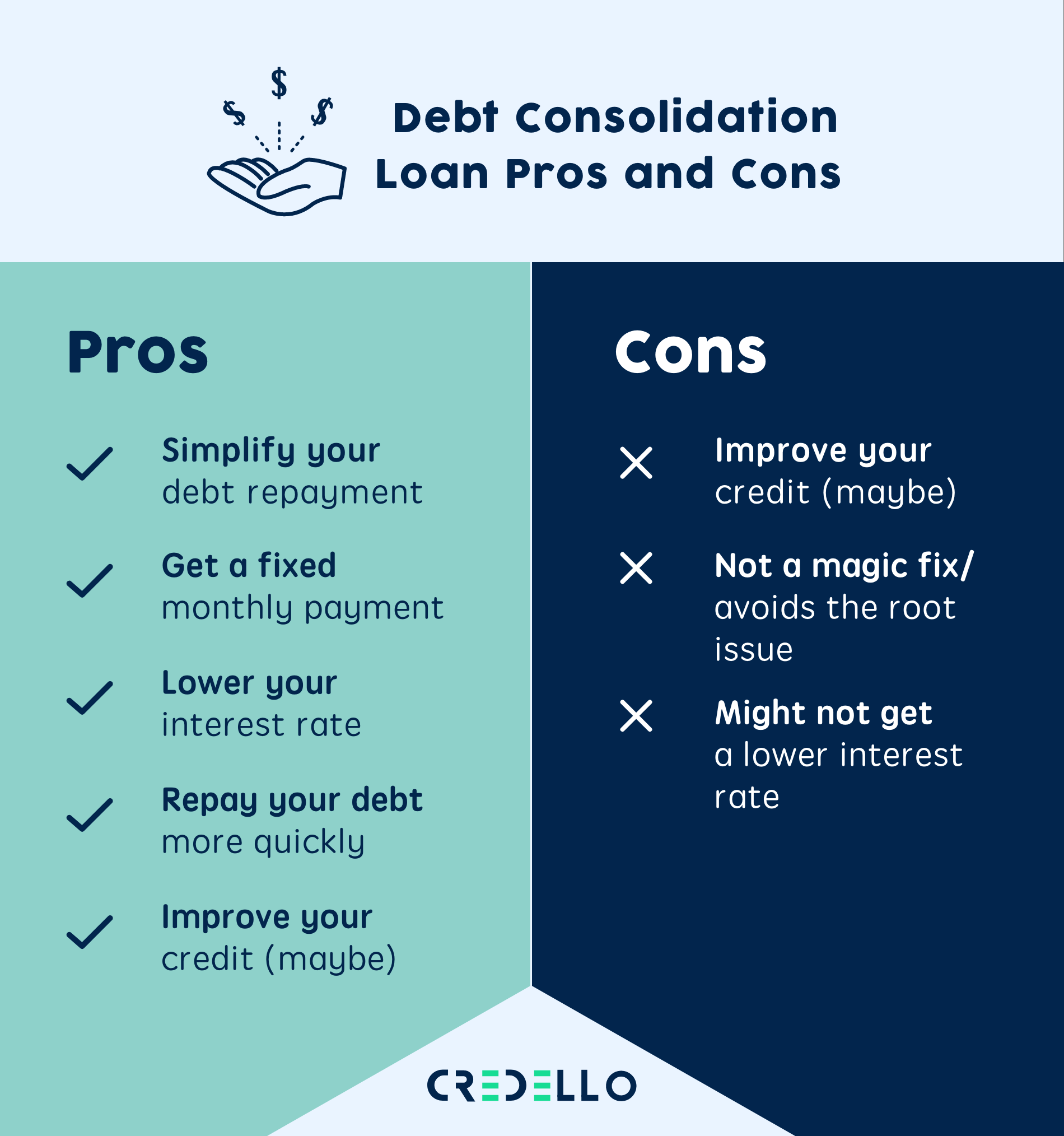 Related: Pros and Cons of Debt Consolidation
How to choose the right debt consolidation company?
Choosing the right debt consolidation company comes down to the type of debt consolidation you want to pursue. The characteristics of a great personal loan company may differ from those of a reputable credit card company.
Regardless of the debt consolidation route you choose, a great debt consolidation company will be reputable, legitimate, and have a proven track record of helping its customers with debt consolidation. You can verify a company's legitimacy by looking at sites like the Better Business Bureau, checking online reviews, and making sure the company has a website that's free from security issues and errors.
#TLDR
#TLDR
I
Do your research to vet any company before accepting a debt consolidation loan.
Debt consolidation alternatives
Debt consolidation can make sense in some circumstances, but there are alternatives to consider as well.
1. Debt settlement
Debt settlement differs from debt consolidation in that you'll work with a company that strives to close out debt with creditors for a fraction of what you owe. Debt settlement can cause severe damage to your credit score.
2. Bankruptcy
Bankruptcy is usually a last resort for most people who are in debt. That's because the recovery period from bankruptcy lasts years, and the procedure effectively destroys your credit. If you're contemplating bankruptcy vs. debt consolidation, you'll need to first consult with a lawyer or financial professional who can advise on the long-term repercussions of each.
3. Debt management plan
A debt management plan is handled by a credit counseling agency that helps you create an effective repayment plan for your debt. Your credit counselor may also be willing to reach out to creditors on your behalf to negotiate better interest rates and repayment terms. Typically, you will send a monthly payment to the debt management company, and they'll distribute it to lenders accordingly.

#TLDR
#TLDR
I
There are other options that can help you get rid of your debt but be wary of their consequences.
Making the most of debt consolidation
Debt consolidation is a useful financial tool for those who are struggling to manage multiple debts. The process of combining debts using a debt consolidation loan or balance transfer credit card can help you to simplify debt management. Combining debt consolidation with a well-thought-out repayment strategy means you'll be on your way to debt freedom in no time.
FAQs