Citi Double Cash Card Review

Credit CardsBalance Transfer ReviewsCiti Double Cash Card Review
Citi Double Cash Card Review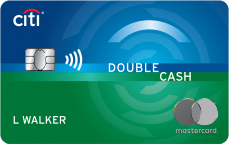 The basics
Balance transfer details
Fee
3% or $5, whichever is greater
Regular APR
13.99% – 23.99% var
Credit Score Required
Excellent
Good for:
Flat-rate cashback rewards
Our verdict
The Citi Cash Back Card is a solid option if you're looking for a lengthy 0% introductory APR period with an opportunity to earn 2% cash back on every purchase. But there's no sign-up bonus, and the balance transfer fee could weigh you down.
Apply Now
Beyond the basics
Earn cash back twice on every purchase
0% introductory APR for 18 months
No annual fee
Foreign Transaction Fees
3%
J.D Power Customer satisfaction Index 2019: 799/1000
Full review
Lender description The Citi Double Cash Card is one of few cards out there that rewards you for paying down your debt. The balance transfer card allows you to earn 1% cash back when you buy and another 1% as you pay down your balance.
Best used for
Debt consolidation
Home improvement
Wedding
Moving and relocation
Vacation
Pros & Cons
0% introductory APR for 18 months on balance transfers

Earn cash back twice on every purchase, as long as you pay the minimum on time

No annual fee

No caps or category restrictions on cash back
No sign-up bonus

No 0% introductory APR on new purchases

$25 minimum to redeem rewards

Balance transfer fee of $5 or 3% of the amount transferred, whichever is greater
Most suitable for
Consumers seeking hassle-free cash rewards on every purchase
Consumers who use a two-card strategy to maximize cash-back benefits
Consumers looking to pay down high-interest credit card debt
Card Reward Details The Citi Double Cash Card offers 2% cash back on every purchase, with 1% at the point of purchase and another 1% when you pay back those purchases.You can redeem your cash back as a statement credit, direct deposit, or check, or convert your rewards to ThankYou Points if you have at least $25 in rewards available at the time of redemption. You can use ThankYou Points to shop online at participating retailers (like Amazon), get gift cards, or make charitable donations.
How to apply Apply online or by phone at 1-877-645-3708. Existing Citi customers will have a shortened application.
Available The Citi Double Cash Card is available nationwide.
Balance transfer example If you have a balance of $6,200 with an APR of 15.09% and pay $200 toward the balance each month, you would pay off your debt in 40 months with a total interest of $1,706.62. If you transferred that balance and still paid $200 each month, you'd pay off your debt in 34 months with total interest and fees amounting to $572.31, based on the average regular APR.