The Best Wedding Planner Tools Online
Written by:
Trevor Mahoney
6 min

read
123 Views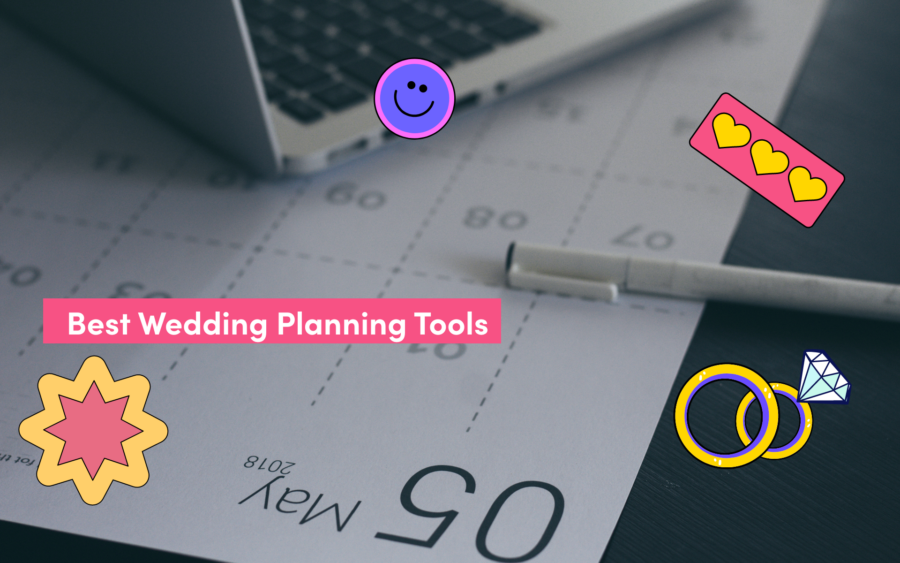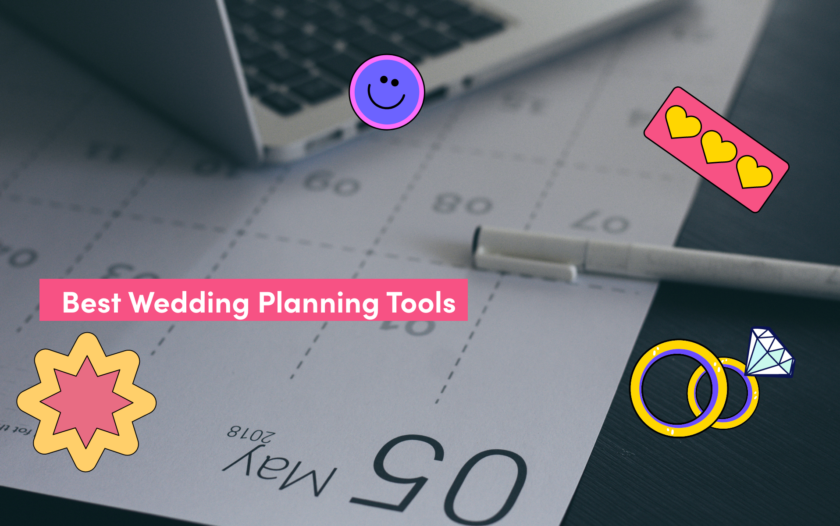 At a Glance
There are a few days in a person's life that matter far more than others, with one of those days being their wedding day. Planning a wedding ceremony is no easy task, however, especially because costs have risen drastically in recent years. This is why using wedding planning tools that can take some of the burden away from the planning process is so beneficial. Learn about five of the best wedding planning tools to use in 2023.
Best online wedding planning tools
The best wedding planning tools are those which allow a person to kick back and relax on their special day because all the logistics are planned for and taken care of. For example, the free Credello Wedding Budget Calculator allows you to estimate the cost of your wedding by simply plugging in some information about your wedding budget or estimated wedding budget. Once you have added up all your expenses, you'll see how the total cost compares to your original budget. In addition to the calculator, each of the following five wedding planning tools offers something unique, and combining one or more of the below can give a person a well-rounded wedding that causes minimal stress:
The Knot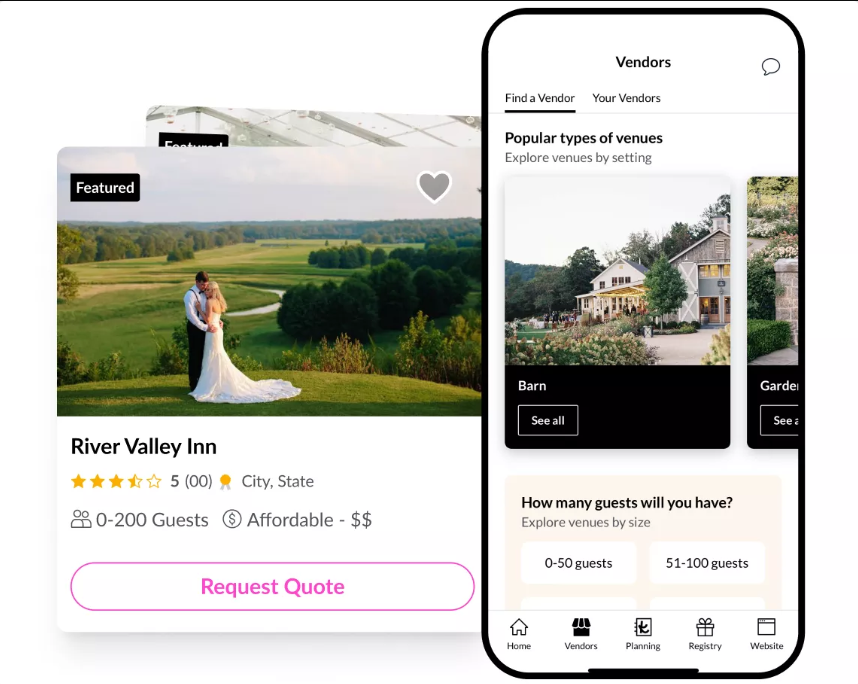 Key features:
Vendor directory: Find and compare wedding vendors (photographer, florist, DJ, band, etc.) based on your preferences and location.
Real reviews: Access genuine reviews and feedback from couples who have used the services of different vendors.
Planning tools: Utilize tools for guest lists, budget tracking, and timeline management.
Wedding website: Create a personalized wedding website to share details and updates with guests.
Registry service: Manage your wedding registry and share it with guests.
Availability: Available on iOS and Android.
App Store and play store ratings:
App store (iOS): 4.9/5 for 148.9K Ratings
Play store (Android): 4.8/ 5 for 50.6K reviews.
Our Verdict: One of the most challenging aspects of planning a wedding is finding the perfect vendor for your interests. Some people know with complete certainty what they want for a venue, whereas others are less sure. The standout feature of The Knot is the Vendor Directory they offer that compares local vendors in your area. On top of this, there are add-on tools for budget tracking, guest lists, timeline management, and much more.
Pros:
Extensive vendor directory.
Real reviews and feedback.
Helpful planning tools.
Personalized wedding website.
Convenient registry service.
Cons:
Occasional technical issues.
Limited regional availability.
In-app advertisements.
Some premium features.
Data privacy concerns.
WeddingWire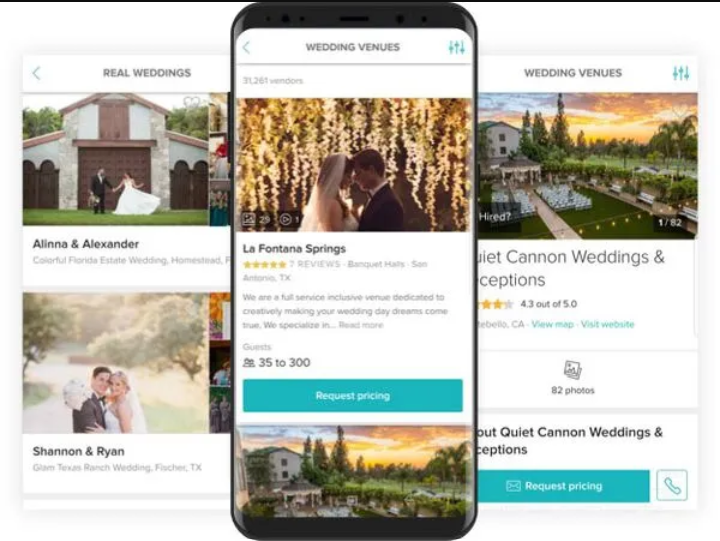 Key features:
Wedding planning checklist: Customizable and tracks tasks based on your wedding date.
Wedding budget tool: Divides and monitors expenses, syncing with the checklist.
Guest list tool: Manages guests' information, RSVPs, and seating arrangements.
Wedding website builder: Creates a personalized website with essential wedding details.
Vendor manager tool: Compares vendors, stores contact information and shares details.
Seating chart tool: Easily creates seating arrangements using floor plans and guest lists.
Availability: Accessible on all devices.
App Store and play store ratings:
App Store (iOS): 4.8 /5 – 43.6K Ratings.
Play Store (Android): 3.9/ 5 – 8.79K Ratings.
Our Verdict: WeddingWire is an accredited brand that certainly earned its place on this list of the best online wedding planning tools. With helpful features such as guest list management, wedding planning to-do style checklists, and even a seating chart tool, WeddingWire covers every base a person could think of to ensure no stone remains unturned. A person can also contact their vendor directly through the platform to share certain details, which takes away the annoying back-and-forth which can sometimes occur.
Pros:
Comprehensive wedding planning tools.
Customizable and user-friendly.
Wedding website builder.
Vendor comparison feature.
Cons:
Occasional technical glitches.
Some advanced features may require payment.
Regional variations in features and vendors.
Consider data privacy when using the app.
Zola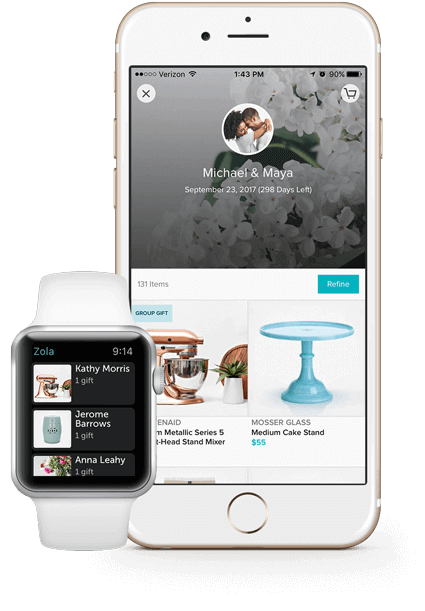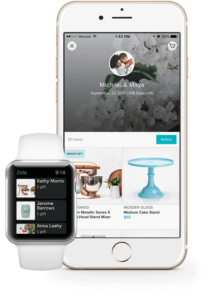 Key features:
Wedding website builder: Create a personalized website to share wedding details with guests.
Guest list manager: Easily manage guest information and RSVPs.
Registry service: Centralized platform to manage and share your wedding registry.
Customizable checklists: Tailor planning tasks based on your preferences and timeline.
Elaborate RSVP tracking: Efficiently track guest responses for better event organization.
Availability: Available on iOS.
App Store and play store ratings:
App Store (iOS): 4.9/ 5 – 67.7K Ratings
Our Verdict: Zola is another highly rated tool to consider using for wedding planning, with its main selling point being elaborate RSVP tracking. With a wedding, one of the largest costs is the per-guest cost related to food, drink, seating, and more. By reducing the number of people mis-accounted for, a couple can save large amounts of money on their big day.
Pros:
All-in-one platform with a wedding website builder, guest list manager, and registry service.
Customizable checklists for efficient planning.
RSVP tracking feature for easy guest management.
Cons:
Occasional technical issues.
Limited features and regional variations.
All Seated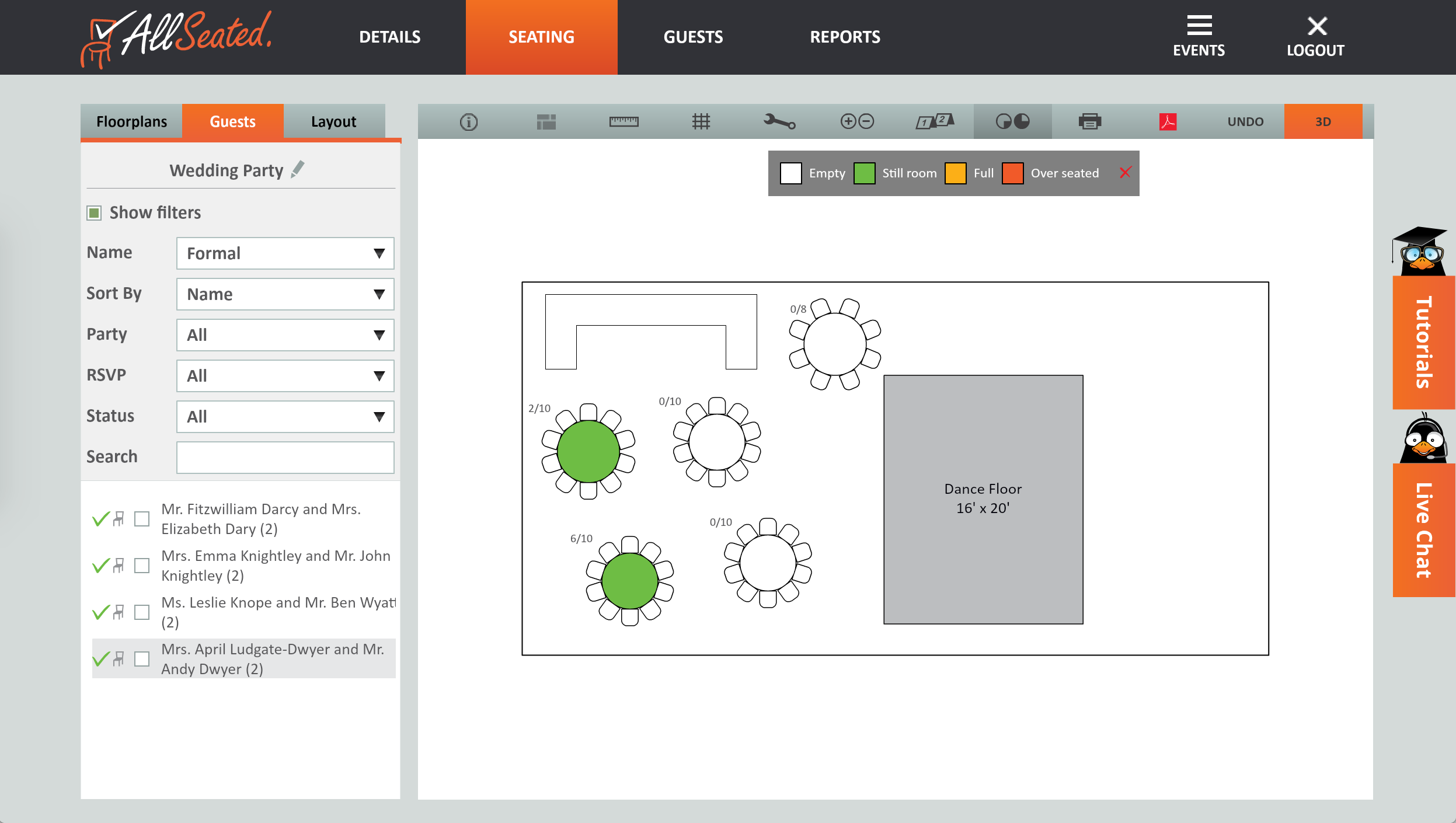 Key Features:
Create floor plans to scale.
Customize dimensions to fit your venue and furniture.
Plan seating arrangements for various table types.
Visualize functional fits for your space.
Availability: The availability of the All Seated app on iOS and Android is not mentioned in the provided context.
Our Verdict: Some people are visual planners and those are exactly the type of people All Seated was designed for. This tool allows a person to see floor plans to scale, along with seating arrangements of various types so that they can better imagine what their venue will be like. Better yet, digital furniture can be added in so that a person can get a sense of how their design will look inside a space as well. For those people who are uncertain about what will look best, All Seated is the best of the wedding planning tools free list to consider.
Pros:
Valuable online tool for customized floor plans and seating arrangements, easing wedding planning.
Customizable dimensions to fit venue and furniture, adaptable to different spaces.
Efficient visualization for functional seating plans, optimizing space usage.
Cons:
The learning curve, especially for first-time users.
Certain advanced features may require a paid subscription.
Potential compatibility issues with devices or browsers.
Users should exercise caution with data privacy.
Spotify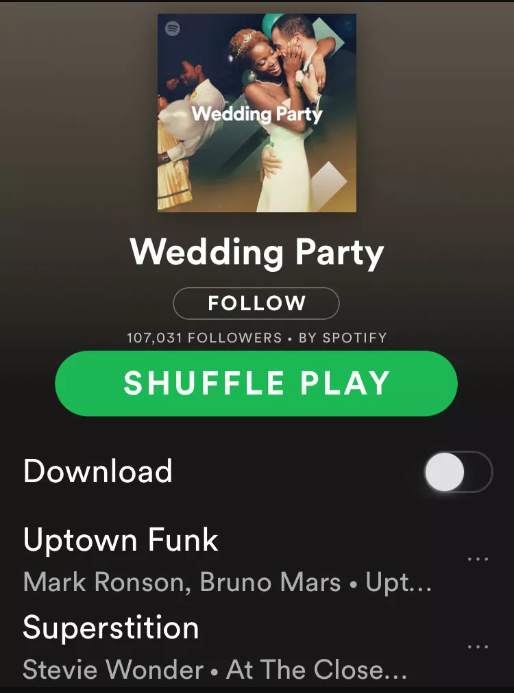 Key features:
Comprehensive music library with a vast selection of songs.
Create custom playlists for weddings.
Access pre-made wedding playlists for the ceremony and reception.
Share playlists directly with wedding DJs or entertainers.
Availability: Spotify is available on iOS and Android devices.
App Store and play store ratings:
App Store (iOS): 4.7/5 – 2.1M reviews
Play Store (Android): 3.0/ 5 – 29.1M reviews
Our Verdict: While Spotify may not be what you expected on the list of free wedding planning tools, it is certainly one to consider. A DJ can be extremely expensive so those people who are on a tighter budget should consider using a pre-built Spotify playlist on speakers instead. However, combining Spotify with a DJ who can take the music you suggest and put a fun spin on it is always an excellent idea as well.
Pros:
Vast music library for finding wedding songs.
Custom playlists for personalization.
Pre-made wedding playlists are available.
Easy sharing with wedding DJs.
Cons:
Advertisements for free users.
Requires stable internet connection.
The lower audio quality for free users.
Some songs may not be available due to licensing restrictions.
FAQs
To create a wedding budget checklist, follow these steps:
Determine your total budget: Decide on the overall amount you're willing to spend on the wedding.
List all wedding expenses: Break down the wedding into various categories such as venue, catering, attire, photography, flowers, music, etc.
Allocate funds to each category: Decide how much you want to allocate to each expense category based on your total budget.
Research costs: Gather information on the average prices for different services in your area to set realistic budget amounts.
Keep track of spending: Use a spreadsheet or budgeting tool to track your expenses as you make bookings and payments.
Prioritize and adjust: If certain categories exceed your budget, consider reallocating funds from other areas or adjusting your priorities.
Be flexible: Allow some room for unexpected expenses or last-minute changes in your budget.
Review and update regularly: Throughout the planning process, review your budget checklist and adjust as needed.
By following these steps, you can create a comprehensive wedding budget checklist to help you manage your expenses effectively.
Related: How to Build a Wedding Budget?
Planning a wedding typically takes six to 12 months. The timeframe can vary depending on factors such as the complexity of the wedding, the size of the guest list, the availability of venues and vendors, and the couple's preferences and organization. Some weddings with simpler arrangements or shorter guest lists may be planned in a shorter timeframe, while more elaborate weddings might require a longer planning period.