The Best Wedding Planner Apps
Written by:
Trevor Mahoney
7 min

read
303 Views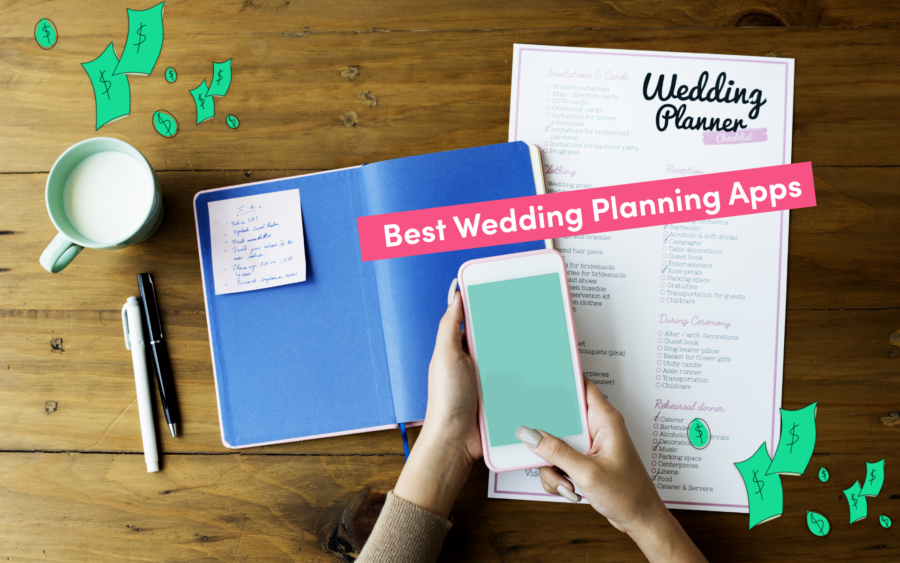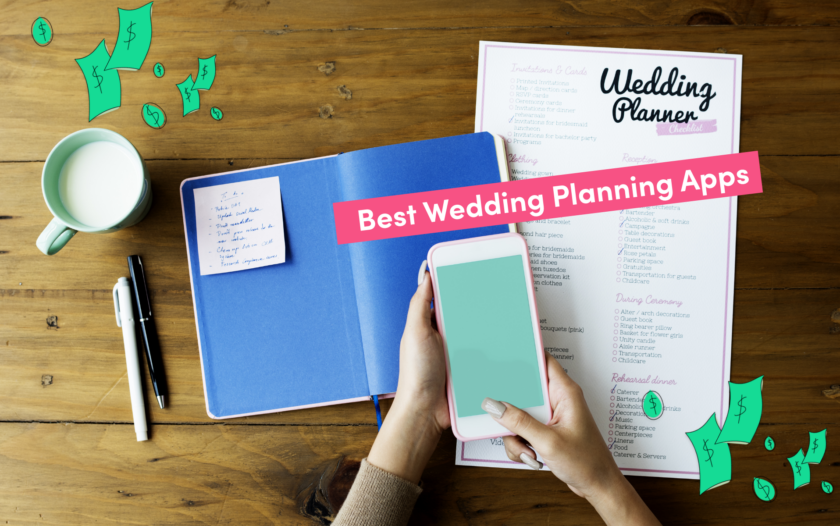 At a Glance
One of the happiest moments in a person's life is the day they meet their forever person, and the next happiest moment is when they marry that person. However, a modern wedding is not easy to plan or budget for, which is why using a wedding planning app can be particularly helpful.
In this article, you'll learn:
The best apps to plan a wedding
The last thing anyone about to get married should be feeling is stress due to the planning of the event. With the right wedding planner app, a large number of issues can be taken care of on your behalf so that you can enjoy your special day without hassle. In particular, the following six best apps for planning a wedding can help make your day special:
Wedding Happy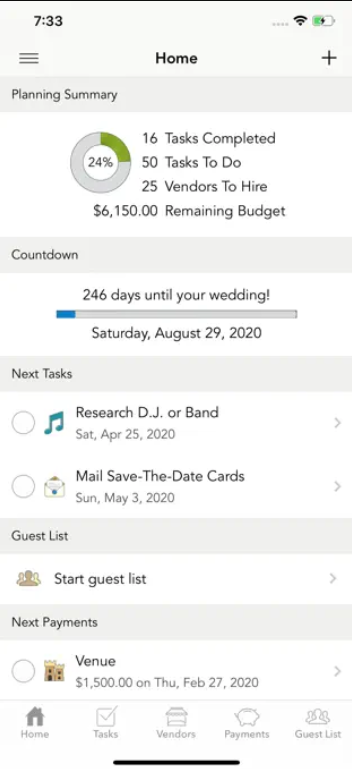 Key features:
Wedding planning
Customized wedding plan
Wedding countdown with completed task percentage
Simple, straightforward lists for tasks, vendors, payments
Accessible via App
Includes a wedding planner functionality.
Availability: Available on both App Store and Play Store
Our verdict: Wedding Happy is an excellent option to consider amongst the best wedding planning apps due to the customization it allows for. With a simple interface that allows a user to track vendor information, payment history, and simple "to-do" items, Wedding Happy is a planner's dream. Additionally, the fact that it has thousands and hundreds of ratings on iOS and Android, respectively, goes to show its accreditation.
Pros:
Easy to use with a user-friendly interface.
Comprehensive timeline to keep users on track.
Helps with task management, including payments to vendors.
Free for one user
Offers wedding planner assistance without the need for a physical planner.
Cons:
Sharing with additional users requires a Premium plan (not available for free)
Pantone Studio
Key features:
Color design, coordination, and testing
Capture colors from any photo to build your color palette.
Test colors on 3D materials and designs
Free tools, features, and content
1-week or 1-month free trial for a subscription
Availability: Available on both App Store and Play Store
Our verdict: When looking at the best apps for wedding planning, Pantone Studio should certainly make your list. The standout feature of this app is the ability to capture colors from any photo, which is particularly helpful for those who don't know exactly what they're looking for until they see it. The only downside to this app is that the best features require purchasing an additional subscription, but those with a large budget will find the cost to be minimal.
Pros:
Enables easy color coordination and selection for wedding planning.
Ability to capture colors from photos and create personalized palettes.
Test colors on different materials and designs to visualize the final look.
Offers free tools and features to get started.
A 1-week or 1-month free trial for the subscription version allows users to explore premium features
Cons:
A monthly subscription is required to access all Pantone colors.
Additional features and premium content may require a subscription fee.
Zola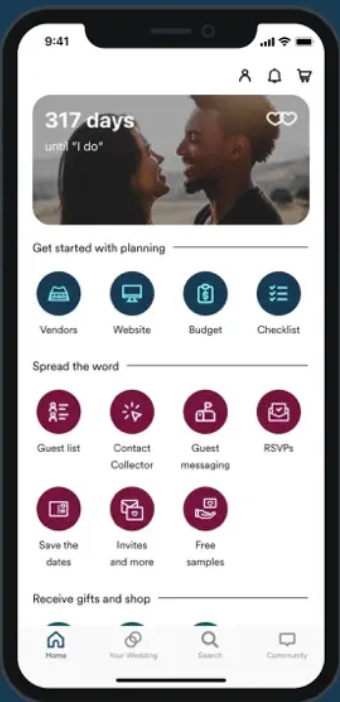 Key features:
Wedding registry services
100,000+ products from over 1000 top brands
Cash funds option for honeymoon or charity
Registry checklist
Free returns
20% post-wedding discount for six months after the wedding day
Availability: Available on both Website and App Store
Our verdict: Zola is, without a doubt, one of the most used online wedding planner app tools available. With tens of thousands of positive reviews, there are over 100,000 products offered across 1,000 top brands for weddings. This app is meant to make the gift-giving portion of weddings a breeze by offering wedding registry services, as well as a checklist, on top of free returns.
Pros:
Extensive selection of products from top brands for creating a diverse wedding registry
The cash funds option allows couples to receive contributions towards their honeymoon or to a charity.
A registry checklist helps in organizing and managing registry items effectively.
Free returns provide convenience for guests and recipients.
A 20% post-wedding discount for six months encourages completing the registry with the remaining items.
Cons:
A 2.5% credit card processing fee for cash gifts may be a downside for some users.
Minted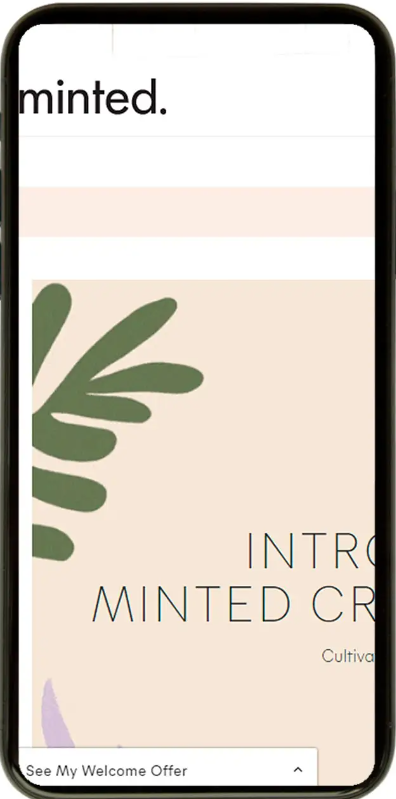 Key features:
Invitations and other printed wedding materials
Style quiz to find your design.
Customized templates
Range of cultural invitations
Budget-friendly formats
Up to 10 free samples
Availability: Available on both Website and App Store
Our verdict: Minted is a lesser-known app on this list of free wedding planner app offerings primarily because it is not completely free. A person only gets access to 10 free samples before they need to purchase more, but the customized templates offered by the app make this more than worth it. There is also a style quiz available to users that can allow a person to narrow down potential options for their invitations and overall theme.
Pros:
Stylish and high-end invitations with unique designs
Customization options for templates, including card size and paper stock.
Offers a variety of cultural invitations to suit different preferences.
Budget-friendly formats, including all-in-one options with perforated RSVP postcards.
Up to 10 free samples for exploring design options.
Cons:
The higher price point for the invitations compared to other options.
No dedicated wedding planner functionality
Trello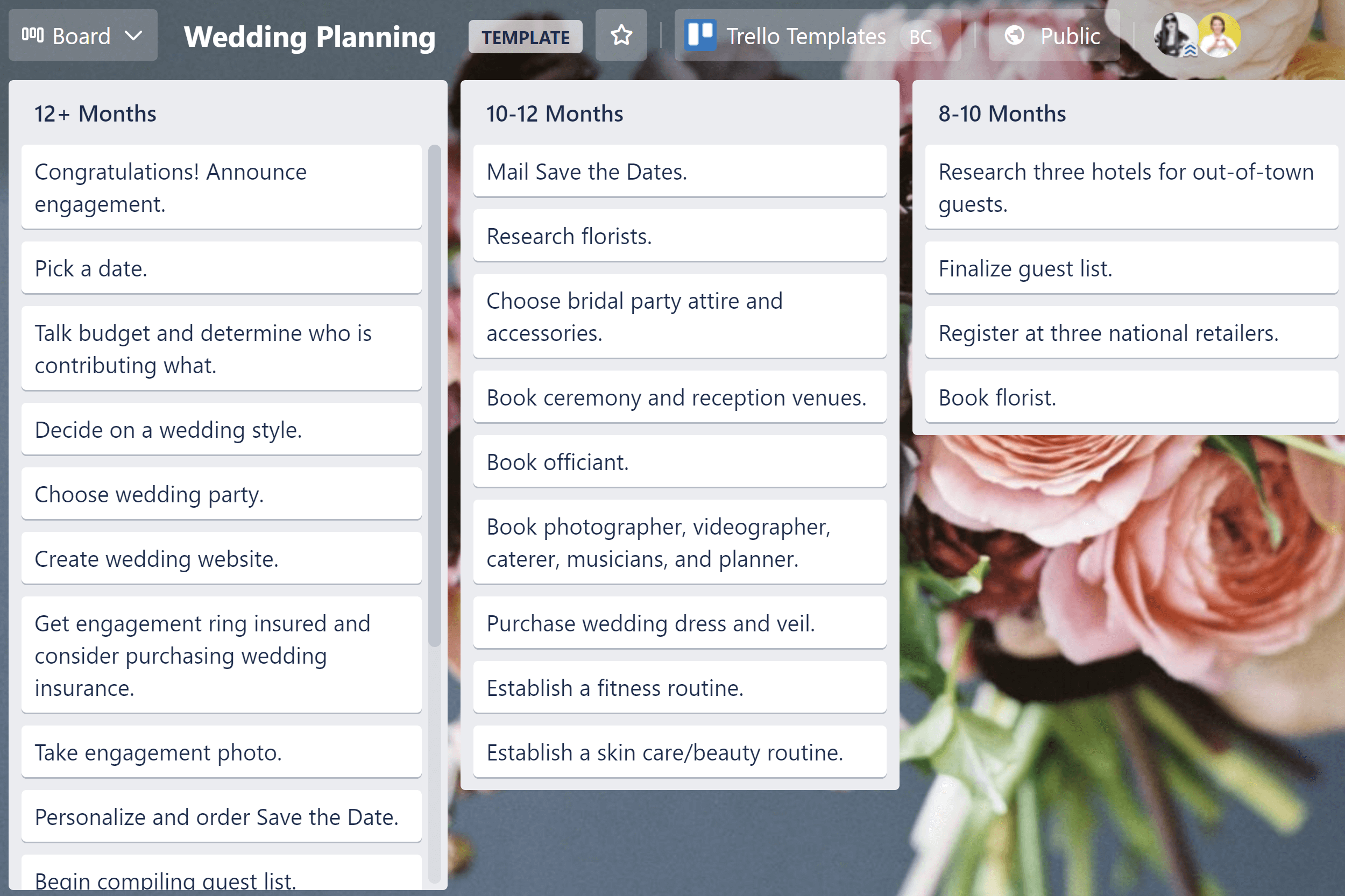 Key features:
Task management tool
Lists for things to do, doing, or done.
Boards and tasks to visualize workflows.
Accessible from desktop computers and mobile devices
Free to use
Availability: Available on both Website, Play Store, and App Store
Our verdict: Trello is another one of the most commonly used best wedding planner app offerings available. This app is designed as a general to-do list app, but it can certainly be repurposed for a wedding, considering the fact it is free to use. By keeping track of all tasks related to planning and sorting those tasks based on priority, category, and more, Trello can help a person stay on top of their most important tasks.
Pros:
Works well for wedding planning with its task management features.
A visual organization using boards and cards helps track progress effectively.
Accessible from both desktop computers and mobile devices for convenience
Free to use, making it a cost-effective option.
Cons:
Requires manual setup and entry of information, which might take time to set up initially.
Mint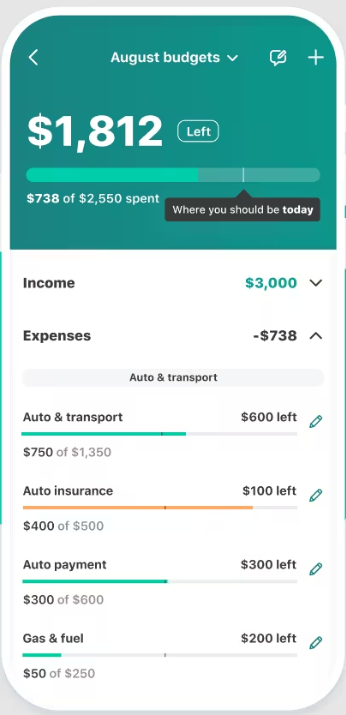 Key features:
Budget-tracking tool
Custom budget creation
Bill payment tracker
Alerts for due balances
High-security standards
Accessible via App
Availability: Available on both App Store and Play Store
Our verdict: Finally, no list of the best wedding planning apps would be complete without a budgeting app as well. Mint is a unique and highly-rated budgeting app that can be repurposed for wedding planning with ease. Offering a powerful budget tracking tool, instant budget creation, impressive security features, and alerts for due balances, Mint can help a couple afford their ceremony.
Pros:
Effective budgeting features to create a custom budget for wedding expenses.
Bill payment tracker helps in managing payments to vendors.
Alerts for due balances keep users informed about their spending.
High-security standards ensure the safety of financial information.
Free to use, making it a cost-effective budget-tracking solution.
Cons:
Setting up and learning how to use the app may require some time and effort.
Tips to plan your wedding
Start early: Begin planning as soon as possible to have ample time to handle details and avoid last-minute stress.
Set a budget: Determine your budget and prioritize expenses to stay within your financial limits. You can also consider using a wedding budget calculator to help estimate your wedding costs. Don't just guess how much your big day will cost you! Get a clear picture with our wedding budget calculator.
Create a checklist: Make a comprehensive checklist to track tasks and deadlines throughout the planning process.
Choose the date and venue: Secure your desired date and venue early, as they can book up quickly.
Book vendors in advance: From photographers to caterers, book your preferred vendors well ahead of time.
Delegate tasks: Involve family and friends to help with specific tasks, making the process smoother.
Personalize the details: Add unique touches to reflect your personality and create a memorable experience.
Stay organized: Keep all contracts, documents, and details in one place for easy access.
Prepare for the unexpected: Have backup plans in case of unforeseen circumstances.
Relax and enjoy: Remember to take breaks and enjoy the journey to your special day!
Learn more: 5 Wedding Planning Tips You Need to Know
FAQs
The best app to find wedding venues depends on your specific location, preferences, and needs. Some popular options include WeddingWire, The Knot, and Hitched. Explore their features and user reviews to determine which one suits you best.
It is recommended to start planning a wedding approximately nine to 12 months before the wedding date. This timeframe allows you to secure preferred venues, vendors, and services, especially if you are getting married during a peak wedding season or in a popular location. Starting early gives you ample time to make decisions, negotiate contracts, and handle any unexpected challenges that may arise during the planning process.
Whether to plan a wedding on your own or hire a planner depends on various factors:
Budget: Hiring a wedding planner can be an additional expense, so consider your budget and whether you can afford professional assistance.
Time availability: Planning a wedding requires significant time and effort. If you have a busy schedule, a planner can take the burden off your shoulders.
Stress tolerance: Wedding planning can be stressful, and some couples prefer to delegate the responsibilities to a professional to reduce the pressure.
Expertise: Wedding planners have experience and knowledge in organizing events, ensuring a well-coordinated and seamless wedding.
Personal touch: If you want complete control over every detail and want to add a personal touch to the event, self-planning might be more suitable.
Nevertheless, it is a personal choice. Some couples enjoy the hands-on experience of planning their wedding, while others find relief in entrusting the task to a professional planner. Consider your preferences, resources, and wedding complexity to make the best decision for your special day.