How Much Money Should You Give for a Wedding?
Written by:
Anouare Abdou
5 min

read
2493 Views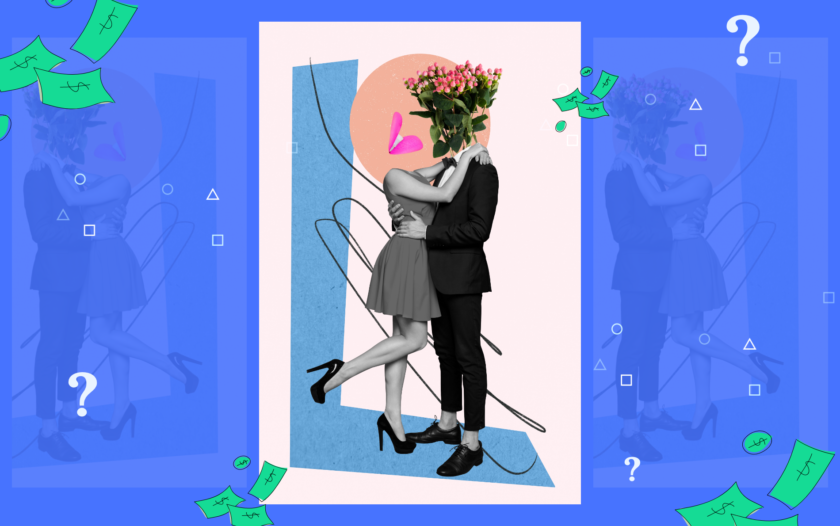 At a Glance
It's an age-old question with age-old answers: How much money should you give for a wedding? Regardless of whether you subscribe to the school of thought that a cash gift should at least cover your plate, the numbers are in and expectations appear to have increased.
In 2021, guests spent an average of $160 on a wedding gift, according to The Knot's 2021 Real Weddings Study – up from $120 in 2019. But couples are also spending more to make sure their guests have an unforgettable time – $266 per guest on average, to be precise, up from $214 pre-pandemic.
We are in the midst of "revenge wedding season," with nuptials returning in full swing after two years of delayed or shrunken-down celebrations – so revisiting the question of how much money to give as a wedding gift is relevant. It seems like your presence should be enough of a gift especially if it required a plane flight, a train ride, a road trip longer than four hours, and in that one case, a very uncomfortable ride on a donkey uphill. But alas, you are still expected to give a gift.
Is it okay to give cash as a wedding gift?
If you want to gift the newlyweds a monetary gift, cash is always acceptable. In fact, it's typically more practical and appreciated. Especially if you're planning to go off the registry, cash is more flexible than gift cards and usually better than a random gift the couple may or may not use. Even though cash may sometimes come across as a little impersonal, it is typically gratefully accepted.
If you're gifting cash, make sure you include a card or the note that tells the couple who the gift is from and allows you to personalize the gift a bit more. And, be cautious when mailing a large amount of cash due to the risk of it getting lost or stolen. If you're mailing a card, consider writing a check instead.
$100 to $250 is a safe range for a cash gift at a wedding
Farnam Elyasof, the founder of Flex Suits, which sells wedding suits and tuxedos, has worked with his fair share of wedding parties. "Most couples request cash gifts on their wedding day to help them begin their new life chapter. How much you give at a destination or local wedding depends on your relationship with them and your budget," he says.
"My rule of thumb is for single guests to give about $100-150 at weddings and $200-250 for couples, which is approximately how much it would cost to cover their food and beverage," says Melanie Levin, a seasoned wedding planner and the owner of Luck Eleven Events. "If the guest is a family member, it would be customary to give more depending on the relationship."
If you're in the bridal party, follow the 20-20-60 rule
However, keep in mind that being a wedding guest comes with other expenses, especially if you're part of the bridal party or attending a destination wedding. Levin recommends following a "20-20-60" principle: Bridal showers and engagement gifts should be about a third of the price that you spend on a wedding gift. You should also give more if you are attending with a plus one.
Tips to help you figure out how much to spend on a wedding gift
If you're attending a wedding and don't know how much you should spend on a gift, follow these tips:
1. Follow tradition
Traditional etiquette states that you should spend what you think the estimated cost of hosting you at the reception is. So for example, if you think the couple is spending an average of $150 per person on food, alcohol, and other costs, your gift should be equivalent to $150.
The downside to this is if you're bringing a plus one or are attending as a family, this "rule" applies for each person. So if the cost is $150 per person and you're bringing a guest, you should spend $300 on the gift.
2. Consider the cost of attending
Sometimes even being a guest at a wedding has costs, especially if it's a destination wedding. If you're paying for accommodations, flights, or other travel expenses, it's fair to assume the couple is conscious of how much you're already spending and understand if you cut back on how much you give.
Remember, your presence is important to them or you wouldn't have been invited, and the money you've spent to be there is not downplayed.
Related: Destination Wedding
3. Evaluate how close you are to the couple
If you're really close to the couple, you may want to spend more than if it's a more distant acquaintance. The average wedding gift amount is around $100, so you can start there and increase or decrease based on how close of friends or family you are.
4. Only spend what you can afford
This seems obvious, but it's one of the most important. Even if it means spending less than "etiquette" suggests, the couple will appreciate the thought and what you did spend. If there's nothing on the registry that fits your budget, consider cash. Or, consider purchasing a few smaller items so the total amount is something that works for you.
5. Know when there's no need to gift
Especially if you're a member of the bridal party, you may be shelling out larger amounts of cash throughout the months leading up to the wedding. If you've had to attend an engagement party, bridal shower, bachelorette party, and/or other events, you may be wondering how you're going to afford it all.
In most cases, gifts are expected at the wedding and any bridal shower. However, gifts are not expected at an engagement party or other celebrations. Gifts are also not expected if you host the shower or other event, serve as a makeup artist on the wedding day, or contribute something else in regards to time and money.
What to do if you can't afford a big wedding gift
What happens if you can't afford it though? "If a guest cannot afford to give about $100-250, I recommend purchasing something off the registry at a price point that they can afford," adds Levin.
If there is no registry, a gift card with a personalized intention can also work wonders. "You can offer restaurant gift certificates for a romantic night out," says Elyasof.
At the end of the day, you shouldn't go broke because of a wedding (and if that is the case you may want to try a debt consolidation calculator.) If you're feeling financial stress and have several events lined up in 2022 (which, considering the post-Covid frenzy, is likely to be the case), it might also be okay to decline some invites. Skipping the wedding of a college acquaintance you haven't seen in years is probably better than shelling out hundreds of dollars you don't have.
Calculate your big day!
Don't just guess how much your big day will cost you! Get a clear picture with our wedding budget calculator.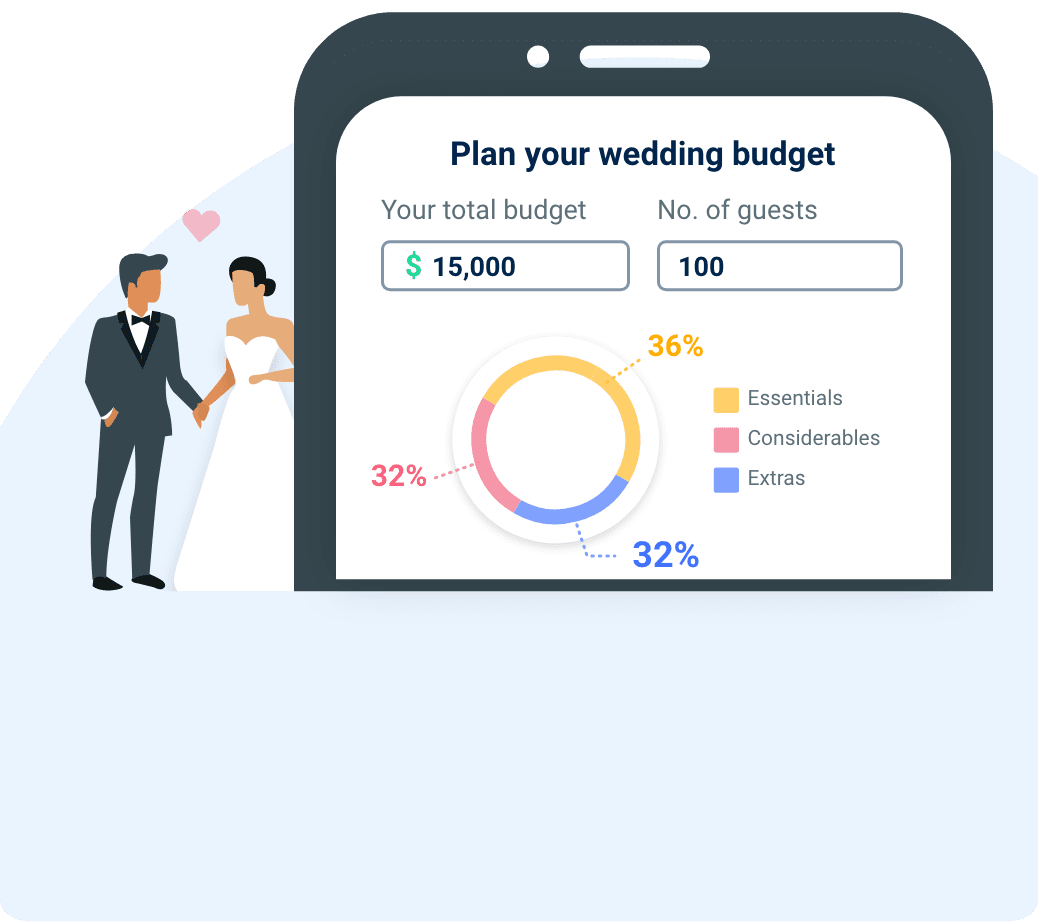 FAQs
There's no hard and fast rule, but most people do gift more if they bring a guest than if they were coming alone.
There's likely an understanding that if you decline the invitation you will not be sending a gift, and that's ok. However, especially if you are close to the person, you should consider sending a gift if you've been invited. Or, at least send your well wishes in a card or handwritten note. If you do send a gift, you can spend less than you might if you were attending.
Writing a check may be best because it can only be cashed by the person it's made out to and you can cancel it if it gets lost or stolen in the mail. If you do write a check, don't write it out with the new last name. In some cases banks won't accept checks that don't have a registered account name. However, cash is also perfectly acceptable if you prefer.