3 Couples That Went into Debt to Say I Do
Written by:
Anouare Abdou
5 min

read
1189 Views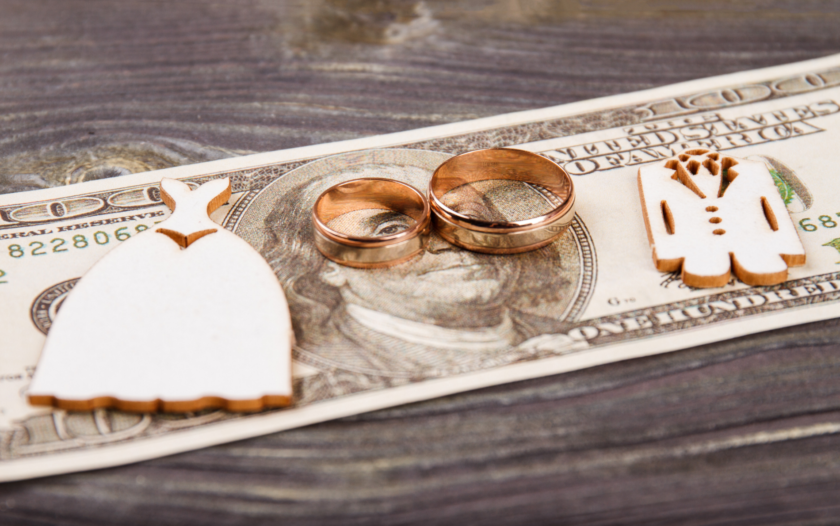 At a Glance
Saying "I do" is often synonymous with debt, with one third of Americans going into debt to plan their wedding, according to LendEDU.
Some couples start wedding planning with the intention of sticking to a strict budget, yet end up with unexpected expenses they have to put on a credit card. Others take out loans to finance their big day. But whether you're frugal or willing to spare no expense to plan an extravagant celebration, it's important to consider the implications of getting into debt to pay for your wedding.
Below are three couples that went into debt to say I do. Learn from their experiences before saying yes to the dress.
"We put most of the bill on a credit card"
"My husband and I got married two years ago, and like many couples, we had to take on some debt to pay for the wedding. We had always planned to keep our wedding costs down, but in the end, we ended up putting most of the bill on a credit card," shares Alison Taylor, career coach and cofounder of My Resume DB.
"At first, we were really careful about making our payments on time and keeping our balances low. But after a few months, we started to fall behind. We were still making our payments, but we were only paying the minimum amount due."
As a result, the couple's wedding debt started to grow and feel unmanageable. The couple is now in the process of paying off their wedding debt. Taylor has three pieces of advice for all couples planning a wedding: Be realistic about your budget, be honest with each other about money, and don't be afraid to ask for help to get out of debt.
"There's no shame in admitting that you can't afford certain things. In fact, being honest with yourself is the best way to avoid getting into debt in the first place," she says. "If you do find yourself in debt, don't be afraid to ask for help. There are plenty of resources available to help you get out of debt and back on track financially."
For example, you can use a free tool such as this debt consolidation calculator to come up with a plan. Whatever you decide, the most important thing is to keep the communication lines open with your partner. "It requires a joint effort to get out of debt, so you'll need to be on the same page financially in order to succeed," adds Taylor.
"We didn't factor in transportation."
Carter Seuthe, CEO of Credit Summit, wanted a dream wedding. "We had our eyes set on a beautiful state park on the Olympic Peninsula that gets booked up notoriously quickly, and neither of our families is from around there, so it was a destination wedding for everyone," he says. "All of this pushed the price up pretty quickly, especially once photographers, catering, and entertainment were factored in."
The couple got some help from their families and were diligent about saving enough money to stay on budget…until they realized that they hadn't thought about guest transportation and parking. "Parking was much more limited than we thought. We ended up paying for a shuttle bus for the occasion, including a huge last-minute booking fee, on a credit card that lingered with us for a few years."
Related: Divorce and Credit Card Debt
The couple paid off the rest of the balance with one of their pandemic stimulus checks. What would Seuthe do differently? Having a contingency plan.
"Something is always going to come up. The more of a contingency budget you can build into your planning, the better off you're going to be when it comes to avoiding debt. If you do choose to take on debt, it's much smarter to plan for that from the start and find a lower-interest form of debt like a personal loan," he says.
"We exceeded our budget."
"About five years ago, my wife and I got married. At first, we were only planning a minimal intimate wedding with just a few friends and our family to celebrate our wedding. We continued with the plan; however, as we decided on the venue, food, flowers, decorations, gown, and everything else needed, we exceeded our budget," shares Tim Anderson, founder of Powder Insider.
The couple couldn't back out because the wedding was only a month away and they had already made several down payments to various suppliers.
"The last thing we had to buy were the rings, and we already had them made. Since we were already out of budget, we had to max out our credit card to afford to pay for the rings," says Anderson. "Although we had to pay with installments, we struggled for almost a year paying off everything."
His advice? Stick to your budget no matter what – and do the math before choosing vendors and booking things.
Related: Wedding Debt Horror Stories
Calculate your big day!
Don't just guess how much your big day will cost you! Get a clear picture with our wedding budget calculator.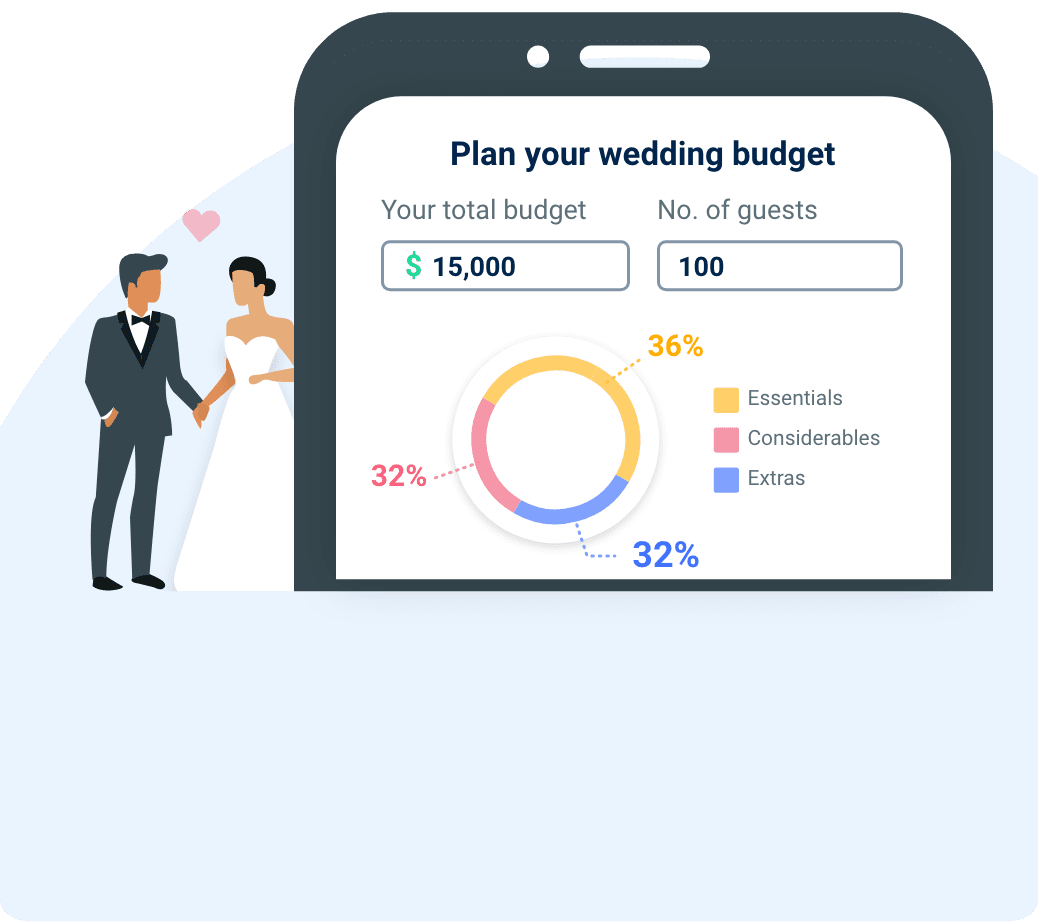 Tips to avoid going into debt for your wedding
Create a realistic budget. Sit down and talk to your partner about how much money you will be able to realistically put aside for your wedding. Will you create a wedding fund and transfer money into it every month? Will your family help you finance your big day? Don't start planning without that ballpark number, which should match your financial reality (and no, you shouldn't count on cash gifts to offset expenses).
Shop around and get creative. Make a list of non-negotiables, from having an open bar to booking your dream photographer. Start by prioritizing those in your planning. Consider different types of vendors before committing to a big one and regretting it later. For priorities that are less important to you, get creative, from DIY solutions to buying a used wedding dress.
Track all expenses. The best way to quickly blow your budget is to avoid tracking expenses. Create a simple spreadsheet and make a tally of every expense so you can adjust course before it's too late if unexpected bills do come up.
Consider eloping."Couples often tell us that one of the reasons they are eloping is that they don't want to go into debt for their wedding. They have other couple goals they would rather use that money on, like a downpayment for a home or an epic honeymoon," says Sarah Kelly, Wedding Operations Manager at Simply Eloped. "Couples find that concentrating on their commitment to each other rather than a huge event gives them the special day they are hoping for – and without any debt!"
Recommended For You
Track your way to debt freedom with customized payoff plans.