A Complete Guide on Destination Wedding Planning
Written by:
Caitlyn Callahan
10 min

read
1091 Views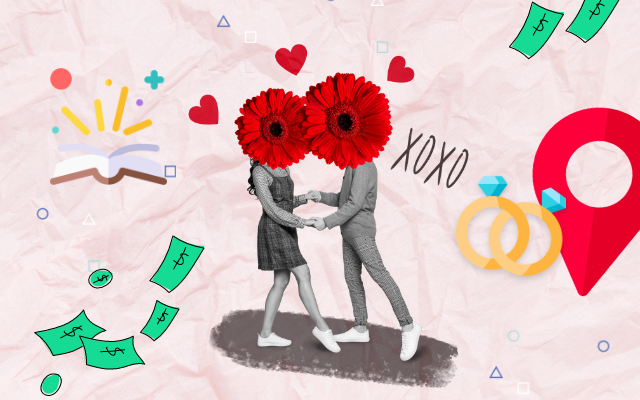 At a Glance
Many couples dream of having a destination wedding, picturing themselves on a tropical beach or with a backdrop of snowy mountains. However, many worry about the logistics of planning a destination wedding and the cost. While destination weddings can be expensive, there are several ways to save money and have a perfect day.
Read on to learn more about:
What is a destination wedding?
Destination weddings are becoming more and more popular. In fact, in 2021, nearly one in five couples hosted a destination wedding (though this number has been down since 2019, before the pandemic). In short, a destination wedding is held away from your home or hometown. In most cases, it requires travel for most, if not all, of those involved.
However, this doesn't mean you must go to the coast or visit another country. While destination weddings are most associated with the beach, mountain, or other picturesque views, only 17% of couples surveyed by The Knot would consider their location to be "tropical," and only 9% held their wedding in a foreign country.
Instead, many couples are choosing cities within the U.S. that have sentimental value or simply are interesting. Much of the time this means flying and staying overnight somewhere, including both the newlyweds and guests.
Pros and cons of having a destination wedding
When planning a wedding, choosing the perfect venue is a big decision. There are several wanting to tie the knot someplace memorable or sentimental. When planning one, keep in mind both the pros and the cons.
Pros:
1. Getting married in a dream location. This is the biggest and most obvious advantage of a destination wedding. Whether you're choosing a place that's important to you and your future spouse, somewhere tropical and relaxing, or somewhere memorable for another reason, your options are almost limitless. This also likely means outstanding wedding photos and great memories.
2. Requires a smaller guest list. Destination weddings are often much smaller and more intimate than traditional weddings since it's simply not as feasible (or affordable) to get dozens or hundreds of guests to travel somewhere. However, the advantage is that you can keep your guest list to those who are most important to you.
3. Potentially lower wedding costs. Weddings are expensive. According to The Knot, the average cost of a wedding in 2021 was $27,000. While the average destination wedding costs an average of about $35,000, there are ways you can spend less, such as:
Choosing an all-inclusive hotel or resort.
Planning in a country with a favorable exchange rate or lower cost of living.
Picking a date in the off-season.
4. Get assistance from the resort. If you book a destination wedding at an all-inclusive hotel or resort, they usually have wedding packages put together to help you with planning and on the day. Many of these details can be customized and come with a wedding planner and pre-selected vendors to ensure your day goes smoothly.
Cons:
1. May require more extensive planning. This is especially the case if you've never been to the city or country. You'll likely need to think about things like the exchange rate, language barriers, and marriage license requirements. You'll also need to plan transportation, lodging, food, and activities for yourself and the other guests.
2. A smaller guest list, and some may not attend. Some people may see having a smaller guest list as a downside to a destination wedding. Additionally, those you do invite may not be able to make it due to financial, logistical, or other barriers. This can make your wedding even smaller than originally planned.
3. Often come with different risks. Destination weddings usually come with different risks compared to traditional weddings. For example, if you're visiting a beach or tropical location, you'll have to consider the weather. Hurricanes or other natural disasters can quickly cause problems for you and your wedding party. Overbooked hotels, delayed or canceled flights, and other logistical challenges can also arise.
Average cost of destination weddings
The cost of a destination wedding depends on things like:
The location
The number of days you're staying
The number of events and types of activities
The currency exchange rate
Time of year
Number of guests
However, the average estimated cost sits around $35,000. Destination weddings are usually cheaper for the newlyweds, but more expensive for the guests.
Who pays for a destination wedding?
In most cases, travel and accommodation are the responsibility of the guests. This could include airfare, nights at a hotel or resort, meals and entertainment (outside of the wedding), local transportation, and other costs.
The newlyweds usually pay for their own transportation and lodging and often host extra meals and/or events such as a welcome dinner or cocktail hour. Group transportation may be arranged, you may want to provide a welcome basket, or add other details that are specific to a destination wedding. Plus, they will pay for the wedding ceremony and reception and costs associated with them.
Can wedding loans be used for destination weddings?
Wedding loans are a type of personal loan that can be used to pay for wedding expenses, including destination wedding costs. Wedding loans have fixed interest rates and monthly payments, flexible repayment terms, lower interest rates, and varying loan amounts available ($1,000 to $100,000). You can get a wedding loan at a bank, credit union, or online lender.
Wedding loans can be a great option for those who want a lump sum of funds to pay for wedding costs. Interest rates are typically lower than rates for credit cards or other financing options, especially if you have great credit. Budgeting is easier, and because wedding loans are unsecured, you don't have to put up any collateral to qualify.
The downside to wedding loans is you likely need a better credit score to qualify, especially if you want a low interest rate. Your credit score can also be negatively affected if you miss a payment. Plus, you're entering the marriage with debt, which can be a disadvantage.
Planning a destination wedding?
Shop wedding loan options to help you pay for your perfect, picturesque dream day.
Tips for destination wedding planning
When it comes to planning a destination wedding, there are a lot of factors that will go into hosting the perfect day and overall trip. Before sending out the invitations, there are a few things you may want to do to help make the process easier:
1. Choose a location
Make a list of your top destinations for your wedding, whether they be somewhere important to you and your significant other, somewhere unique or relaxing, or some type of combination. To narrow down the list,
You may want to eliminate anywhere with travel warnings, political issues, health concerns, or other serious challenges. Also, consider choosing a place where your guests will feel comfortable regardless of their gender, religion, race, or other preferences.
Make sure you and your guests can get there easily. If there's no local airport and guests must rent a car or use a rideshare service for a long distance, this can be a deterrent.
Confirm the location has all the resources you need, such as enough lodging and parking for your guests, and access to wedding vendors you need including catering, rentals, hair and makeup, a DJ or band, officiant, and others.
2. Visit in advance
If you can, try to visit your venue at least once before booking and then again three to four months before the wedding date to finalize details. If you can check it out before booking, try to spend a couple of days at the location to get a better sense of the overall vibe of the location.
If you cannot make it for a first or second trip, try to arrive at least five days early to ensure vendors, details, and decisions are worked out. Or hire a professional wedding planner with great communication skills and attention to detail.
3. Try to go local
Incorporating local products such as flowers and food can help you cut costs while also giving guests a more immersive experience. Plus, embracing everything the destination has to offer can help make the trip more memorable.
4. Consider hiring a professional
To help the process go smoother, hire a planner or coordinator who specializes in destination weddings. Or, if your venue offers one, say yes. Even if you're organized and detail-oriented, having a planner who is experienced in destination wedding planning and details can help ensure you and your guests have a stress-free, memorable experience.
Planners can also help overcome language barriers, make executive decisions, send photos and coordinate with vendors, and more.
5. Meet your vendors
If you're able, set up meetings with local vendors such as rental companies, florists, and caterers in your destination. You may be able to get referrals from your venue, or research favorite recommendations from other destination brides. If you're not able to meet your vendors in person, work with your planner or coordinator to work through details.
If you're bringing vendors from home with you, plan to pay for their travel and lodging costs.
6. Provide guest lodging
Most couples don't pay for guest accommodations, but it can be helpful to provide recommendations or suggestions for those traveling for your day. Keep suggestions within 10 to 15 minutes of the venue and offer a variety of options at different price points.
If you can, set up a room block with the hotel or resort. In some cases, they may offer a lower booking price for guests, which can help keep guests within one area.
7. Plan events and entertainment
This isn't a requirement and may not be necessary based on your destination, but you may want to consider planning extra events or activities in addition to your big day. This could include a welcome party, rehearsal dinner, group tour or tasting, or post-wedding lunch. Or you can provide a list of activities or events in the area that guests can explore independently.
When deciding if you want to have additional events, consider your budget and timeline. Don't go over budget with these, and make sure you're not rushing your timelines to include too much in a short amount of time.
8. Be ready for the unexpected
While careful planning can help you stick to your budget, you'll sometimes come across unexpected expenses. It can be helpful to include a little wiggle room in your budget, or to create a wedding emergency fund. These expenses can include things like shipping costs, baggage fees, tips, foreign transaction fees, and others.
You may also want to consider investing in wedding insurance to help protect your investment.
And don't forget to let your credit card company know you're traveling so they don't flag your card or even freeze it, leaving you high and dry for payment.
Tips for having an affordable destination wedding
Destination wedding costs can add up quickly, but luckily, there are things you can do to cut costs and make them more affordable:
1. Drive if possible
Driving is much cheaper than flying, so if you can, choose a destination within driving distance for you and your guests. This could mean choosing a more regional destination wedding, but it can also save you hundreds of dollars.
You'll also want to make sure you and your guests can get to the ceremony and reception site easily. Multiple flights or different modes of transportation can add costs quickly to the total budget.
2. Choose an off-season date
You'll likely get a much better rate if you avoid peak wedding and tourist season. The U.S. wedding season runs from late spring through early fall, peaking in June and September. Other destination offseasons could be at different times of the year. Find out when your destination's offseason is and consider booking your date.
3. Seek all-inclusive packages
All-inclusive packages can be a great budget-friendly option for destination weddings. These places offer lodging, food, and drink in one place for one flat price. They also sometimes offer incentives for bringing in guests, such as free flowers or cake. Additionally, many all-inclusive resorts have wedding packages that include everything, so you don't have to worry about hiring or coordinating other vendors.
Read reviews online and contact resorts directly to learn more. Be sure to read the contract carefully to understand what is and isn't included, and to avoid any fees.
4. Opt for brunch
The time of the ceremony and reception can have a big impact on the total cost, so consider scheduling your wedding during a less traditional time slot. For example, having a morning ceremony with a brunch reception may be more cost-effective than a traditional dinner.
Plus, guests will likely drink less during an early reception, which can help you save on alcohol costs.
FAQs