How Much Does the Average Wedding Cost?
Written by:
Zina Kumock
9 min

read
246 Views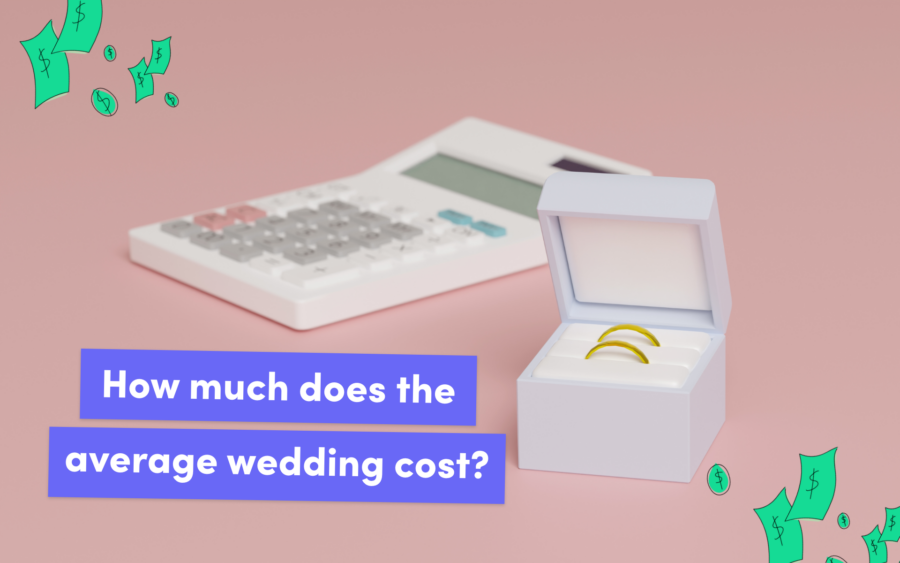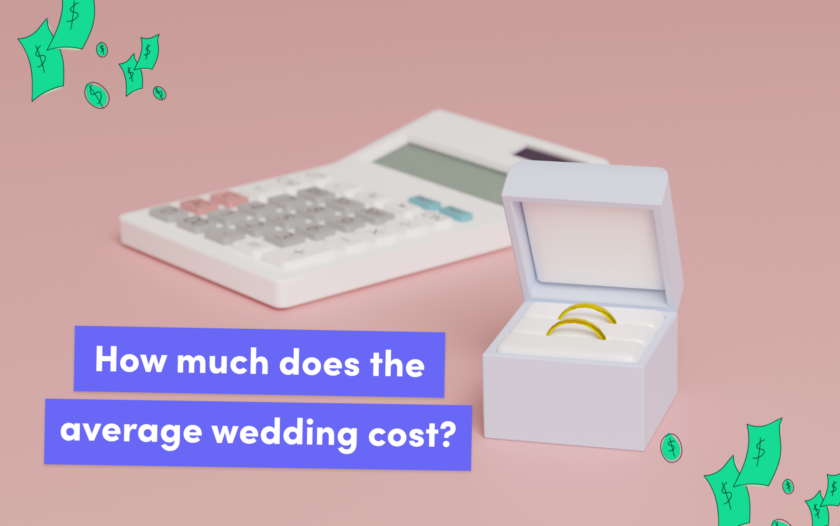 At a Glance
A marriage is made up of two people who are legally bound to each other – but a wedding is made of much more than that. And once you start putting together a guest list, it's easy to see how even a simple, intimate wedding can end up costing tens of thousands of dollars.
In 2022, the average cost of an American wedding was $30,000, about the price of a used car. Keep reading to learn what makes weddings so expensive, how much couples typically spend per wedding service, and how costs have changed because of inflation.
Read on to learn more about:
As Covid restrictions have lifted, couples have finally returned to planning large-scale affairs instead of virtual nuptials. Unfortunately for them, costs have skyrocketed since the start of the pandemic.
A 2023 survey found that almost 80% of wedding vendors planned on increasing their prices to account for inflation and higher costs. This means that couples should plan to spend more if they're getting married this year.
Zina's insider tip: Before planning a wedding, make sure to figure out how much you can comfortably afford. Don't count on any money that you don't already have. Once you have your total amount, you can use Credello's wedding budget calculator to determine how many people you can afford to invite.
How has the cost of weddings changed over the years?
Except for a COVID-related dip in costs in 2020, the average cost of a wedding has remained consistent since about 2017 (around $27,000). This is a decrease from the average spending in 2016, explained by this being a time of economic uneasiness. 2016 was the highest in several years, though the average cost has been steadily increasing since 2014.
Average wedding cost by number of guests
One of the biggest factors that determine your wedding budget is how many guests you'll invite. It's no surprise that the more extensive your guest list, the more you'll spend since you'll need more food, drinks, rentals, and a larger space. In fact, according to a study by The Knot, the couple who invited:
50 or fewer guests spent an average of $14,400
51 to 100 guests spent an average of $24,600
100 or more guests spent more than $38,000
Not only is cutting your guest list a good way to save costs, but so is having a smaller wedding party to save on expenses like flowers, gifts, and more.
The average cost of a wedding by state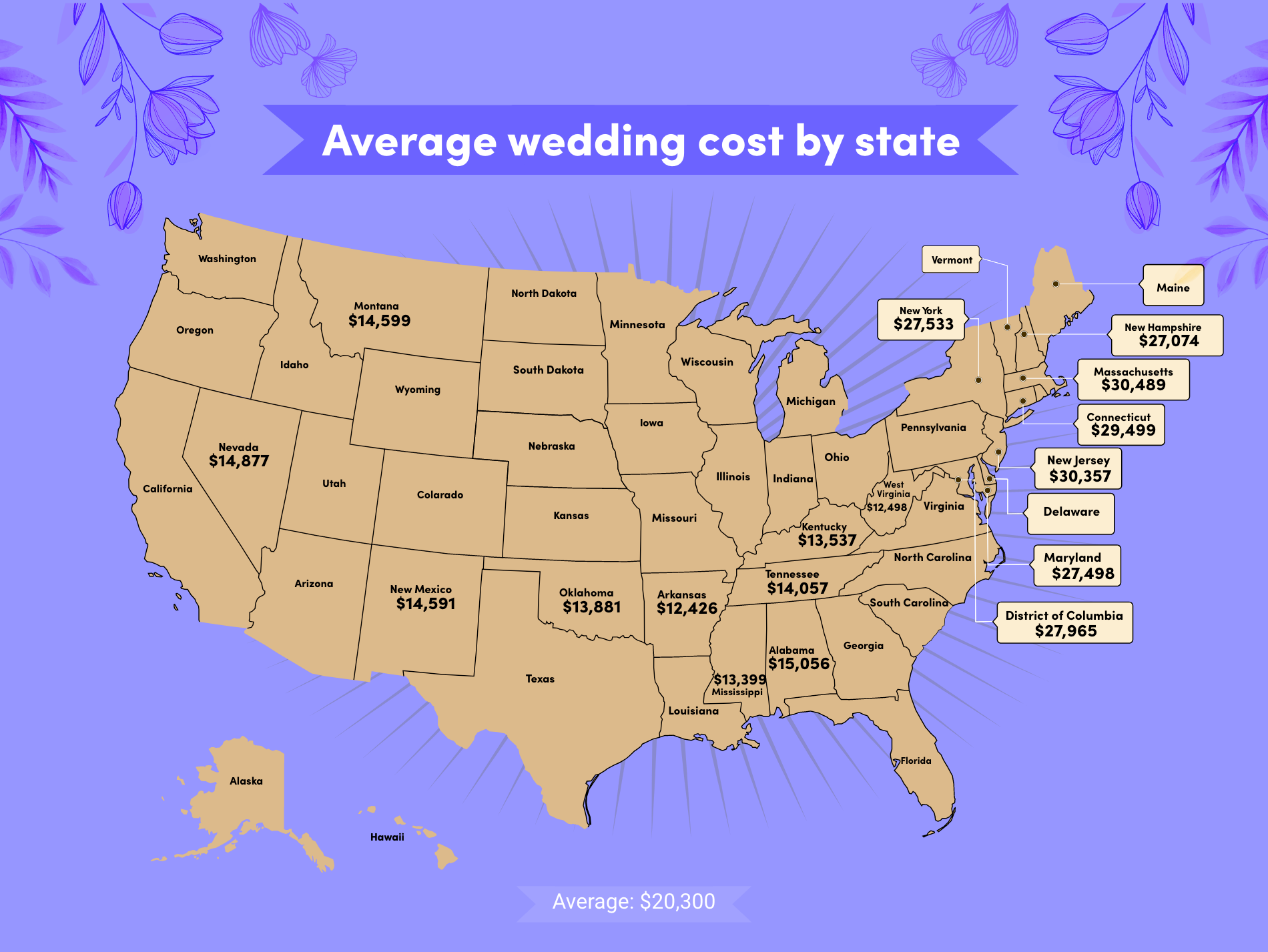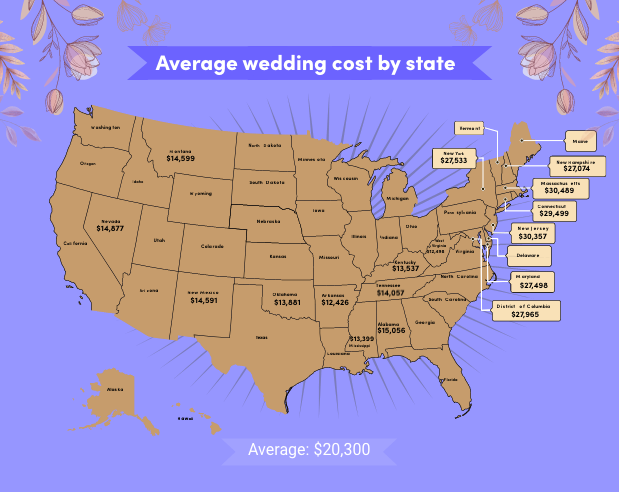 According to a 2022 survey from wedding website The Knot, the average cost of a wedding in all 50 states was $30,000.
Here's how the individual states break down:
Alabama: $22,000
Arkansas: $21,000
Arizona: $23,000
California: $37,000
Colorado: $30,000
Connecticut: $39,000
Delaware: $39,000
DC: $40,000
Florida: $30,000
Georgia: $26,000
Idaho: $19,000
Illinois: $37,000
Indiana: $23,000
Iowa: $19,000
Kentucky: $20,000
Kansas: $16,000
Louisiana: $31,000
Maine: $31,000
Maryland: $39,000
Massachusetts: $46,000
Michigan: $27,000
Minnesota: $25,000
Mississippi: $28,000
Missouri: $23,000
Montana: $18,000
Nebraska: $21,000
Nevada: $21,000
New Hampshire: $30,000
New Jersey: $51,000
New Mexico: $18,000
New York: $46,000
North Carolina: $29,000
North Dakota: $20,000
Ohio: $26,000
Oklahoma: $16,000
Oregon: $19,000
Pennsylvania: $33,000
Rhode Island: $43,000
South Carolina: $32,000
South Dakota: $20,000
Tennessee: $22,000
Texas: $27,000
Utah: $16,000
Vermont: $43,000
Virginia: $31,000
Washington: $23,000
West Virginia: $31,000
Wisconsin: $26,000
Wyoming: $18,000
The average cost of wedding services
| Service | 2021 | 2022 |
| --- | --- | --- |
| Venue | $10,700 | $11,200 |
| Food | $75 per person | $75 per person |
| Wedding rings | $6,000 | $6,000 |
| Wedding dress | $1,800 | $1,900 |
| Photography and Videography | $4,400 total | $4,700 total |
| Flowers | $2,300 | $2,400 |
| Music | Live band – $4,300; DJ – $1,400 | Live band – $3,900; DJ – $1,500 |
| Wedding planner | $1,700 | $1,900 |
| Stationary | $530 | $510 |
Most expensive wedding expenses
While the venue for your reception is, by and large, the biggest wedding expense you'll have, it's not usually just one large cost but a series of expenses that can add up quickly, especially depending on what the venue does or doesn't include in their package. From the venue rental to catering and other necessities, these are your biggest wedding expenses:
Venue
The venue is the most expensive aspect of a wedding, costing $11,200 on average. This includes the venue for both the ceremony and the reception. Many couples choose one venue for both parties, but some will rent out separate spaces.
Food and alcohol
After the venue, food clocks in as the biggest wedding expense at an average of $75 per person. And since the average wedding had 117 people in 2022, that means a typical couple paid $8,775 in total to feed their guests.
Many couples offer guests free wine and beer, but do a cash bar for liquor. The average cost for alcohol in 2022 was $2,400.
Photography and videography
Photography and videography services can make up a large chunk of the total wedding budget. Some couples use a photographer/videographer combination, while others hire separate photographers and videographers to chronicle the big day. In 2022, the average photographer cost $2,600 while the average videographer cost $2,100.
Music
Music costs can differ wildly depending on what you choose. A DJ costs about $1,500, while a live band is $3,900. You may be able to save some money by renting out a PA system and making your playlist, but make sure you have someone on hand who knows how to operate the gear.
Flowers and decoration
Flowers and wedding decor are another huge expense, coming in at $2,400 on average. Many couples save money by making bouquets and decorations themselves, often opting for fake flowers instead of live ones.
Wedding rings
Engagement rings cost about $6,000 on average in 2022. The numbers drop dramatically for wedding bands, which cost $560 on average for men and $1,400 for women. That means many couples spend about $8,000 on wedding-related jewelry.
Honeymoon
Honeymoon expenses can be one of the biggest line items in a wedding. In 2022, the average couple spent $5,100 for an eight-day trip. A small percentage of couples opted for shorter getaways to save money.
Least expensive wedding expenses
On the other hand, here are some expenses that will still add to your budget, but are typically cheaper than the must-haves listed above (depending on your preferences):
Wedding dress
A wedding dress costs $1,900 on average, not including the veil, shoes, jewelry, and any other accessories. Most brides need to get their dresses tailored at least once before the big day.
Hair and makeup
Many brides have professional hair and makeup services, which cost about $250 in total. Some will also pay for their bridesmaids to have their hair and makeup done, but this is optional.
Wedding planner
If you've never planned an event with more than 100 people, you may benefit from hiring a wedding planner. These cost about $1,900 on average. You may spend more on a wedding planner if you're having a destination wedding ($2,400 on average) than a local wedding ($1,700).
Officiant
Unless you ask a friend or family member to marry you, you'll have to pay for an officiant. If you're getting married in a church, temple, or other religious venue, the officiant may be included in the general venue cost. But if you're hiring an outside individual, be prepared to fork over $300.
Stationery
Save-the-dates and invitations cost an average of $510. You can choose to print minimal invitations and include more information on a wedding website, which is generally free to set up.
Impact of inflation on wedding costs
Many vendors have increased their prices due to inflation, and as couples are facing the impact of inflation on their regular day-to-day spending, they're starting to trim their wedding guest list.
In 2022, about 50% of couples said that the economy was affecting their wedding budget, while only 38% of couples said the same in 2021.
In 2021, the average cost of a wedding was $28,000, which means costs went up by 7% in 2022 – slightly lower than the national inflation average.
| Wedding Expense | Cost Increase from Jan'22 – Jan'23 |
| --- | --- |
| Stationary, gift wraps, stationary supplies | +16.2% |
| Fresh cakes and cupcakes | +13.5% |
| Lodging (hotels and motels) | +8.5% |
| Full service meals and snacks | +8.1% |
| Men's suits, sports coats and outerwear | +7.4% |
| Personal care products | +7.1% |
| Alcoholic beverages away from home | +6.9% |
| Alcoholic beverages at home* | +5.3% |
| Jewelry | +5.3% |
| Personal care services | +5.2% |
| Women's dresses | -4.2% |
Source: Consumer Price Index, U.S. Bureau of Labor Statistics, February 2023
Note: Alcoholic beverages at home may refer to alcohol purchased from a retailer, while alcoholic beverages away from home may refer to alcohol not purchased directly.
Quick facts about wedding costs
While the average wedding cost $30,000 in 2022, that number reflects a national average. Wedding costs are generally much higher in cities where the cost of living is elevated. For example, the average wedding in the state of New York was $46,000, while the average cost in Utah was $16,000.
Destination weddings can also skew the figures since they cost about $35,000 on average compared to $29,000 for a domestic wedding.
What does this mean for weddings in 2023?
If you're planning a wedding in 2023, plan to see higher costs for certain wedding products and services, and know that there may be some details in your plan affected by shortages. That all said, you absolutely can have the wedding of your dreams within your budget by:
Plan. The sooner you start planning, the better. Not only will you have more access to venues, professionals, and services, but you'll also be able to shop around for better prices and lock in prices so they aren't impacted by inflation. Plus, you can avoid rush fees and other last-minute charges.
Know your priorities. Before you can start creating a budget, you need to know what's most important. This may be your food, band, flowers and decor, or venue. Knowing your priorities can help you make decisions and know where to splurge or cut costs as your budget and spend.
Pad your budget. Start by working with your partner to create a realistic wedding budget, and if possible, set aside an additional 5% of 'just in case money to help avoid overspending and to cover any unexpected costs.Use wedding budget calculator to determine how many people you can afford to invite once you have your total amount.
Hire a professional. This is a cost, but a wedding planner can help ensure you stay on track throughout the process and help you find vendors that are within your price range.
Be flexible. Higher costs and other shortages require couples to be more flexible than they may have had to be in the past. Be open to cost-saving ideas and recommendations from professionals.
FAQs