Personal Loan vs. Credit Card: Which Should You Use to Pay for Your Big Day?
Written by:
Caitlyn Callahan
7 min

read
1586 Views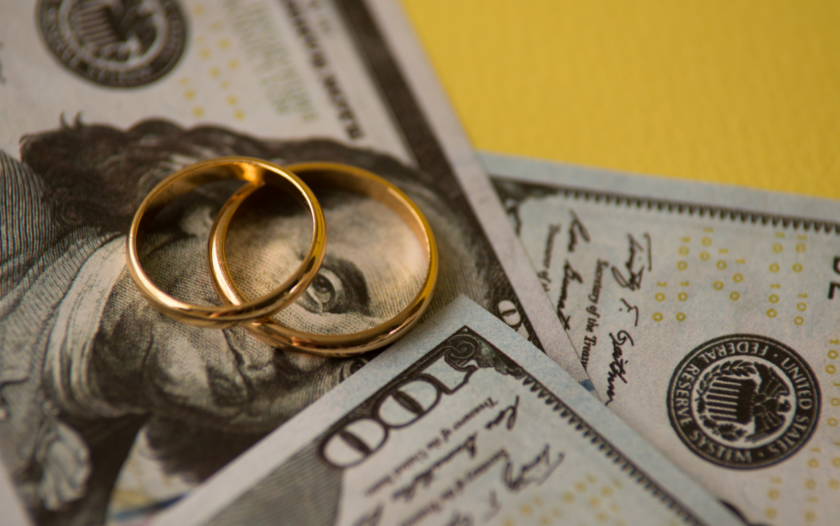 At a Glance
You found your dream venue. And somewhere between putting down a deposit and looking into other necessities like a photographer, DJ, and parking arrangements, you realize you are going to need more money to pay for your wedding. So, what now? If relying on the resources and generosity of family members is not an option, you are left with two choices: Pull out your credit card or get a wedding loan (yes, those do exist).
Both of these solutions come with pros and cons, which we've broken down below to help you make the best decision for your situation. In this article, you'll learn:
Personal loan or a credit card for your wedding?
If you only need a small extra amount of money to cover your wedding costs and you are confident that you will be able to pay it off fast, using a credit card or signing up for one with an advantageous introductory interest rate might be a good idea for you.
On the other hand, if you're looking to borrow a lump sum of money upfront, considering a wedding loan might be a better bet.
Whichever financing method you choose, it's important to remain intentional about your costs and have a debt repayment plan in advance.
Pros and cons of wedding loans
Pros
If you don't have enough savings to pay for your wedding and need some funds, you're then able to pay back over time, a wedding loan may be a good option.
1. They are accessible
Steve Wilson, founder of Bankdash, a personal finance site dedicated to improving consumer understanding about banks, credit unions and the products they offer, says one of the biggest benefits of wedding loans is their accessibility.
"Many consumers have access to this type of loan," he says. "If you have a strong credit score, you won't require a guarantor."
2. They are flexible
When it comes to wedding loans, you also get to decide how much you want to borrow and the time period for paying back the loan. Wedding loans can range from $1,000 to $100,000, with terms ranging from two to ten years or more. And you get complete control over your wedding with a lump sum of money in advance.
3. They are reliable
Wedding loans have fixed interest rates, which means your rate won't change over time. This, combined with the fact that wedding loans have fixed repayment terms, means you will know precisely how much you must return over a given amount of time so you and your spouse can come up with a plan for paying back your wedding expenses.
Cons
There are downsides to wedding loans too, of course.
1. High interest rates if you have poor credit
"To receive a better interest rate, you'll need to borrow a certain quantity of money. Those with bad credit will have to pay a higher interest rate," says Wilson.
2. Starting off your marriage in debt
Taking out a wedding loan means you'll have a wedding debt when you get married, which will go on top of any other monthly expenses. However, you can use a tool like this debt consolidation calculator to figure out what your repayment plan can look like.
3. Can negatively affect your credit and lead to overspending
Keep in mind that with a wedding loan, just like a credit card, if you don't make your payments on time, your credit score may suffer. And just because you have access to a large sum of money doesn't mean you shouldn't have a tight wedding budget. "If you borrow a large sum, prudent cost-cutting and planning may be abandoned," according to Wilson.
Wedding loan interest rates
Because wedding loans are a type of personal loan, you'll usually get a lower interest rate if you have a great or excellent credit score. The lower your score, the higher your rate will likely be. Wedding loan rates also depend on factors like:
Your credit history
Your income
The loan amount
The loan term
Wedding loan interest rates can range from 6.5% to 36%. Here are some of the average interest rates* for wedding loans with some of the top providers:
*As of January 9, 2023
Improving your chances of wedding loan approval
If you're relying on a wedding loan to help with your big day's expenses, it's important to be prepared and do everything you can to ensure approval and a low interest rate. Some things you can do include:
Check your credit score and report. Make sure you meet any minimum credit score requirements for the lender. Keep in mind that the higher your score, the lower your interest rate will be, so taking steps to improve your score if necessary, can be very helpful.
Also, ensure no errors or inaccuracies in your credit report. If there are, dispute them with the credit bureaus.
Improve your credit score. You can do this by making all payments on time, paying down balances on existing credit cards (or paying them off entirely), increasing your income, or decreasing your debt-to-income ratio.
Increase income and decrease spending. Lenders will look at your income when deciding if you will be able to repay a loan, so the higher your income, the better. Start a side hustle, work extra shifts or more hours, or consider starting a second job.
You'll also want to cut back on spending if possible. Analyze your current income and spending and create a budget that allows room for more savings. Cut out things like subscriptions, eating out, or other entertainment costs.
Planning a wedding?
Compare personalized wedding loan rates and terms and learn more about the options you have.
Pros and cons of using credit cards to pay for your wedding
Pros
If you are planning on paying off your wedding debt fast, relying on a new or existing credit card may come with upsides.
1. Avoid interest with a 0% intro APR card
Some credit cards offer introductory promotional rates that you can take advantage of. "Some lenders may provide 0% APR on purchases for a year or longer. If you believe you will be able to pay off your debt before then, this may be the best option for you," says Wilson.
2. Using a credit card has perks
When using an existing credit card, you won't have to worry about new monthly obligations besides increasing your payments. Throw in cash-back and travel rewards and it may just be worth it. Plus, credit cards usually come with purchase insurance, so you may be covered by the Consumer Credit Act on those wedding purchases.
Cons
1. High interest rates
The major downside of using a credit card to pay for your big day is high interest fees. "If you don't pay off your debt before the end of the first year, you'll almost certainly end up paying far more interest than if you had taken out a personal wedding loan," according to Wilson.
2. Fees and other costs add up
You'll also have to plan for any overdraft costs, late payment fees, cash withdrawal fees, balance transfer fees, or fees for using your card overseas.
Credit card interest rates
There are different types of credit card interest rates including:
Purchase APR: The interest paid on purchases that are not paid off each billing period.
Balance Transfer APR: The interest rate you owe on balances transferred from loans or other credit cards.
Introductory APR: This incentive sometimes offered to new cardholders gives a low or 0% APR rate for a certain period of time.
Cash Advance APR: Rate applied when you take money from an ATM or bank using your credit card.
Penalty APR: If you miss a payment due date, a penalty APR may be applied. This is often much higher than purchase APRs and may be applied for several months.
As of January 2023, the average credit card interest rate was 19.59%. Over the last three months, the rate has increased from 18.38%.
Tips for choosing a credit card for your wedding
After weighing pros and cons, you can start comparing the different credit card offers out there to find one that works best for you. When shopping for cards, you'll want to keep in mind these tips:
Choose a card that offers rewards. Credit cards have different rewards structures such as offering cash back, points, or miles. Compare the type of reward offered and how many you'd be able to earn with your wedding expenses, then consider which reward structure would be most beneficial to you. Also be sure to understand any restrictions on use or expiration.
Know the interest rates and fees. Look at each card's APR for both purchases and balance transfers. Consider cards with a 0% intro APR, but make sure you know when the intro period ends so you know how long you have to pay off the debt. Also be aware of any fees the card may charge, such as annual fees, late payment fees, cash withdrawal fees, and others.
Check that you qualify. Some credit card companies have restrictions for new borrowers, such as minimum credit score or income requirements. Make sure you qualify for the card before applying.
Read customer reviews. Check out current and past customer ratings and reviews about the card, the company, and the customer service.
Compare: Credit Cards for Wedding Expenses
FAQs