Real People Reveal Their Biggest Wedding Money Mistakes
Written by:
Anouare Abdou
3 min

read
2571 Views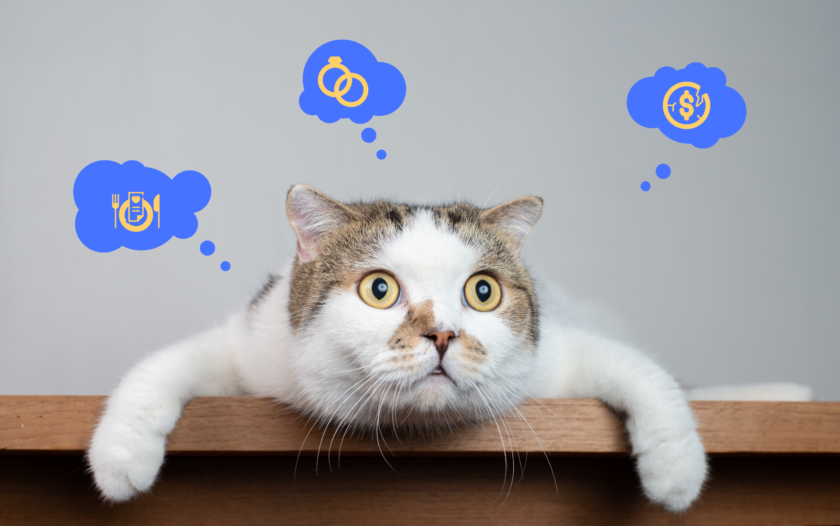 At a Glance
No need to believe in fairy tale romances to feel uneasy at the idea of the words wedding and regret in the same sentence. While regretting your choice of a partner probably tops the list of horrifying wedding regrets, a common regret is couples regretting how much they spent on their wedding. A new Credello wedding survey of 1000 people who were either married, separated or divorced found that 20% of all respondents said they thought their wedding was unnecessarily expensive. Wedding costs are at an all-time high, so it makes sense to think long and hard about your&wedding budget.
Common is not an exaggeration: Across the pond, 40% of married Brits regret how much they spent on their wedding, and a third of them wish they had used that money to purchase real estate instead, according to a survey by Barclays. Sure, there are cultural differences between the U.K. and the U.S., but chances are, between inflation and housing market prices, lots of Americans would agree.
Regretting having a $200k celebration
Arash Fayz, founder and executive director of LA Tutors 123, a test prep and private tutoring company based in Los Angeles, is one of them: "Coming from a traditional Persian Jewish family and being a newlywed (as of March 2022), we had an extravagant wedding with over 250 guests which cost over $200,00 and lasted about four hours," he says.
"Luckily, we didn't have to finance it, but I definitely regret spending over $830 per minute for it. If we were to do it again, we would instead have an intimate yet elegant wedding with immediate family members and close friends only, and spend the money on my wife and I traveling and/or investing in business or real estate."
While you let the thought of $830 per minute sink in, consider that sometimes regrets go in the other direction – people who wish they had spent more on their celebration.
Related: Couples That Went Into Debt To Get Married
Regretting not spending enough
"I paid cash for my wedding and the total cost was under $5,000 with a guest list of about 150," shares Laurel Charney, office manager at Quarry View Building Group. "There are times where I regret under-spending a bit."
"If I were to plan it all again, I would have hired a caterer with more experience with weddings. There was nothing wrong with my choice and everyone was fed well, I just asked for a lot from someone who had only catered corporate lunches and family events, as opposed to a large wedding."
Regretting certain types of expenses
It's also possible to be overall satisfied with how you spent your money on your wedding day, but to regret specific expenses – think favors that nobody takes home.
Blogger Dana Fox took to Instagram to ask past brides about their top wedding budget regrets. The majority of brides warned against spending extra on fancy linens. "It just doesn't matter in the end," wrote one bride. "No one notices," said another one.
Overspending on paper invitations and guest favors were two other notable regrets. On the other hand, the majority of brides said that they wish they had spent more on videography and a photographer. A few of them expressed regretting not hiring a videographer for extra memories of their special day.
So take it from those who have been there before you and prioritize spending more on what you value the most and will cherish for years to come when remembering the event, and spending less on superfluous things that don't make that much of a difference for you and your guests. And if it's too late and you already have wedding regrets such as debt, check out this debt consolidation calculator to come up with a repayment plan.

Calculate your big day!
Don't just guess how much your big day will cost you! Get a clear picture with our wedding budget calculator.