Everything You Need to Know About Wedding Budget Breakdowns
Written by:
Caitlyn Callahan
12 min

read
720 Views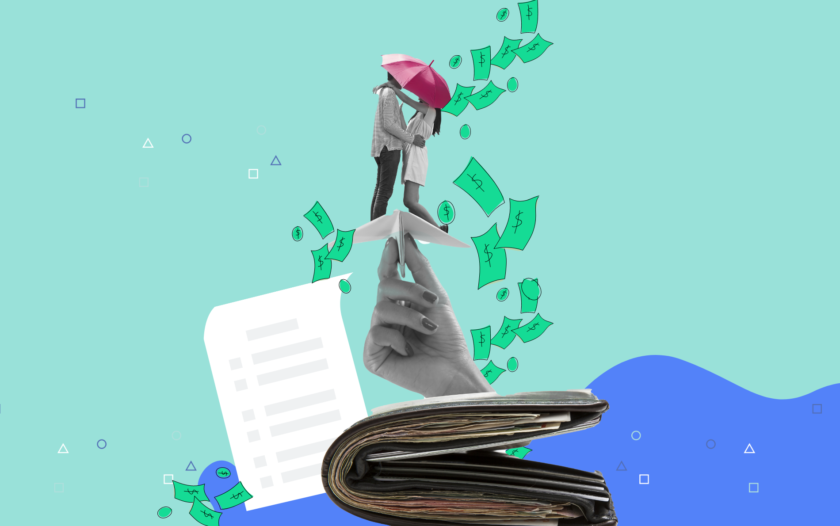 At a Glance
It's finally happened: You're engaged. And after all the excitement and celebrations, it's time to start planning the wedding. As you start diving into what weddings include and all the decisions to be made, you may start to feel overwhelmed. When you factor in how much all the costs, it can seem daunting.
Wedding planning doesn't have to be as difficult as it may seem to be. There are many things you can do to make planning easier, including building a wedding budget to guide your decisions and spending.
How much do you need to budget for your wedding?
When it comes to wedding planning, the budget is one of the most important factors in determining what the engaged couple can afford, including the type of wedding they have, number of guests they can invite, things they can do, catering, music, and other factors.
Generally, how much you need to budget for your wedding depends on your personal preferences. The average wedding budget sits between $20,000 and $40,000, but according to The Knot Real Weddings Study, most weddings cost around $28,000.
What influences building a wedding budget?
The total cost of a wedding can be influenced by several factors such as:
Where you live. More rural or smaller areas likely have cheaper options than big cities.
Whether you have a destination or a local wedding. If guests pay their own way, a destination wedding may be cheaper.
How many guests you invite. When you factor in food, alcohol, and rentals (like tables, chairs, flatware, glassware, etc.), the costs add up quickly if you have a larger guest list.
The type of venue. Types of venues include standalone banquet halls, hotels, resorts, churches, barns, wineries/vineyards, parks or gardens, houses of worship, historic homes, country clubs, and more.
The month, day of the week, and time of day. Generally, the most popular (and therefore most expensive) months to get married are from May to October. Saturday weddings will be the most expensive, followed by Friday, Sunday, and weekdays. Evening weddings will also be more so than morning or early afternoon weddings.
Ultimately, your personal preferences and style will help dictate what you will or won't include in your wedding and what you should budget for.
Budget for your wedding: What you need to consider
When you first start planning a wedding, it can be overwhelming. Many brides and grooms don't even know where to start planning, let alone how to build and stick to a budget. Here's a list of the top things you need to consider when thinking about your finances.
1. Your personal savings
Start by looking at your current savings, including what's in your checking and savings accounts, investments, or another place you may have money. Decide what you can borrow from and what's off limits. For example, while you may have money invested, you may decide keeping it in that investment is more important than using it for your wedding.
Outline what you can realistically put toward your wedding. For example, you may have $10,000 in savings, but it may not be smart to use all $10,000 just in case an emergency or unexpected expense happens.
When doing this, make sure you leave enough for your emergency fund. This should have enough to cover at least six months' worth of expenses should something unexpected happen.
2. Understanding what weddings include
There are a lot of pieces and parts to a wedding, some of which you may never think about until you're planning one. The cost of each of these items can vary, and you may not want or need all of these aspects depending on the style and scale of your event. However, generally, you should budget for:
Venue (ceremony and reception)
Rental fees for tables, chairs, dinnerware, linens
Officiant fees
Marriage license
Catering and alcohol, including desserts and your cake
Favors for guests
Bridal party, groomsman, parent, and spouse gifts
Flowers
Decor
Photographer and/or videographer
Music (live entertainment or DJ)
Invitations, thank you cards, and other stationary
The wedding dress and/or tux
Hair and makeup on wedding day
Wedding bands
Transportation to and from the venue
Rehearsal dinner costs
Bachelor/bachelorette party expenses
Starting with a complete list can help you eliminate things that you may not want or can't afford. Then, you can start researching options, comparing prices, and choosing what's right for your event.
3. Wedding priorities
How you and your future spouse picture your wedding will be different from weddings. Things that are or aren't important to you may or may not be important to another couple. In fact, your priorities may even be different than your partner's. In the beginning stages of budgeting, it's important to sit down together and talk about things like:
The feel of your wedding
Where you want to get married
Whether it will be large or small
Must-haves and what is most important
Things you're comfortable leaving out
Is a large guest count necessary? Or the best catering? Or a designer dress? Or are you comfortable with an off-the-rack dress and a larger guest list? Is a buffet dinner ok vs. a plated dinner (since buffets are typically cheaper)? These are the types of questions to consider. Use the list above of what's included in weddings to help with this conversation.
Depending on your priorities, you can get a better idea of how much you'll need to budget.
4. Upcoming expenses or investments
Oftentimes when you're getting married, there are other life events happening (or going to happen) too. These can include things like buying a new house or car, taking a vacation, starting a family, and others. Weigh the importance of being able to afford these against having a more expensive wedding.
You also can't forget about your current expenses such as rent/mortgage, car payments, loan payments, groceries, utilities, and others. It's important to have enough savings to continue to pay for those; otherwise, you could face falling into debt.
Working all these current and future expenses or investments into your budget considerations will help ensure you have a more realistic wedding budget.
Steps to build a wedding budget
Now that you understand what influences a wedding budget and top considerations, it's time to start building the budget. There are five primary steps:
1. Set a maximum limit
After you've made a list of priorities, do some research about the average cost of those priorities to set as realistic of a budget as you can. Then, create a maximum limit that you can and will not go over for any reason.
For example, your "realistic" budget may be $18,000. You may choose to set your maximum limit at $18,000 and find ways to cut costs if necessary, or you may want to give yourself a little wiggle room and set your maximum at $20,000.
Regardless of how you set your maximum, it's helpful to know when you need to start cutting or compromising to avoid spending more than you can afford and falling into debt.
2. Break down the expenses
Work to create a comprehensive breakdown of all your expenses, starting with the most important items down to the least important ones. Not only does this help you come up with a budget for these expenses, but it also can guide your decision making.
For example, the average cost for wedding flowers ranges between $700 and $2,500, so you may budget $1,500 for them. Or the average cost of a DJ can range between $800 and $1,495, but if you determine that having a great DJ is a priority, you may budget $1,700.
Everyone's breakdown will be slightly different but working through the average cost of each and setting your budget will help you understand what you can realistically afford.
3. Determine who pays for what
Each family is different when it comes to paying for weddings. Sometimes, families may follow the traditional route of the bride's family paying for the majority while the groom pays for the rehearsal dinner and honeymoon. Or perhaps your family will give you a certain amount of money to use as you please.
In many cases, the couple is paying for the wedding on their own.
Regardless of who is helping with expenses, you need to discuss this before creating a budget. Don't rely on receiving any help or monetary gifts, but discuss with your family if they are willing to contribute and factor that in.
4. Include an "extras" fund
A lot of small wedding expenses come up as you go through planning. Again, this can vary depending on your priorities and wedding style, but examples include:
Guest book and pens
Cake cutting set
Cake topper
Card box
Breakfast/lunch/snacks for wedding day
Alterations
Toasting glasses
Shoes
Jewelry and other accessories
You'll also need to set aside cash for vendor tips, which often range from 10-20% of the final bill, or a whole amount like $100 or $200.
Building an "extras" fund will help ensure your budget accounts for these expenses.
5. Focus on saving
There are a few ways to save money to put toward your wedding budget:
a. Analyze your current spending. Make a list of all your current expenses, one column of necessary expenses (like rent, mortgage, loan payments, groceries) and one column of expenses that are not (like restaurants, bars, subscriptions, other entertainment costs). Determine where there are places you can cut costs. Do you need that fitness membership? Do you need three video streaming services, or can you get away with one?
Once you've decided what you can completely cut out, figure out where you can get additional savings. This can include shopping sales or coupons, asking your utility companies about ways to save on bills, or only eating out twice per month instead of once or twice a week.
Everything you save should be put toward your wedding savings.
b. Shop around for the most cost-effective vendors. While you don't want to sacrifice quality, be sure to make some comparisons of different vendors and wedding costs. Little savings here and there can add up, so consider things like:
c. Renting decorations instead of buying them.
d. Using fake flowers instead of real flowers.
e. Eliminating some paper costs for things like menus or programs.
f. Check resale sights for wedding items you can buy lightly used for a lower cost.
g. Go to trunk shows or off-the-rack boutiques for your wedding dress.
h. Consider getting married out-of-season. May through October, weekends, and evenings are all the most expensive times to get married. Consider getting married during an off-season month, during the week, or at a different time, such as a brunch wedding, to help save costs. These weddings are becoming more common as wedding costs and demand increase.
The bottom line is saved where you can avoid putting yourself into too much debt.
Wedding budget breakdown
For some, it can be helpful to divide your budget into percentages to cover each spending category. The percentages can vary based on your overall maximum budget, but some examples include: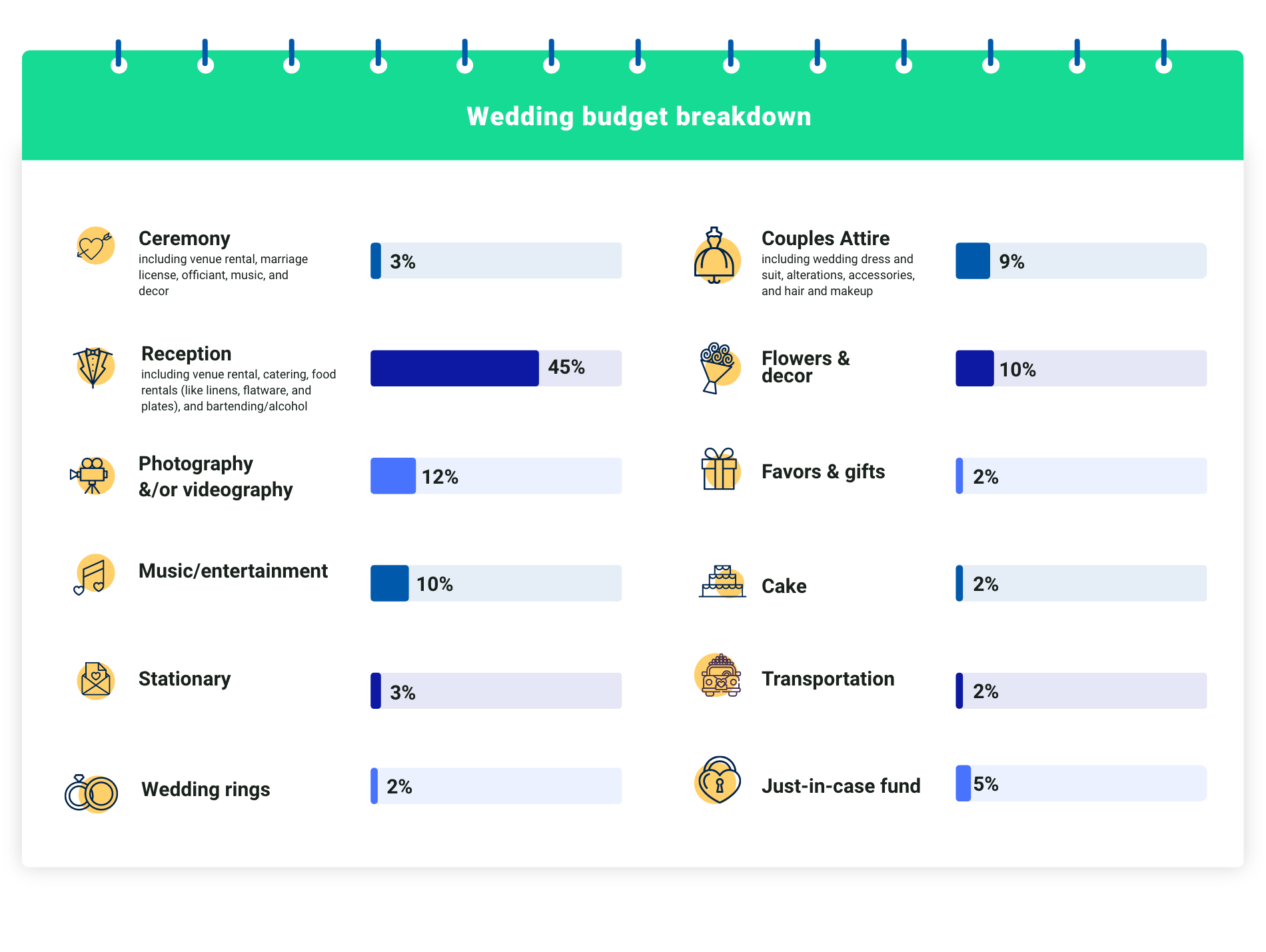 If you want to hire a wedding planner or coordinator, this will use about 5-15% of your budget depending on their services. Your honeymoon will likely account for around 5% of your budget.
Again, your budget may look different based on what expenses you plan to include or not. For example, you may not want favors for guests, and you plan to only use the bare minimum stationary. Perhaps you don't want a videographer, so your photography budget can be less.
Consider using a wedding budget calculator to help estimate your wedding costs.

Calculate your big day!
Don't just guess how much your big day will cost you! Get a clear picture with our wedding budget calculator.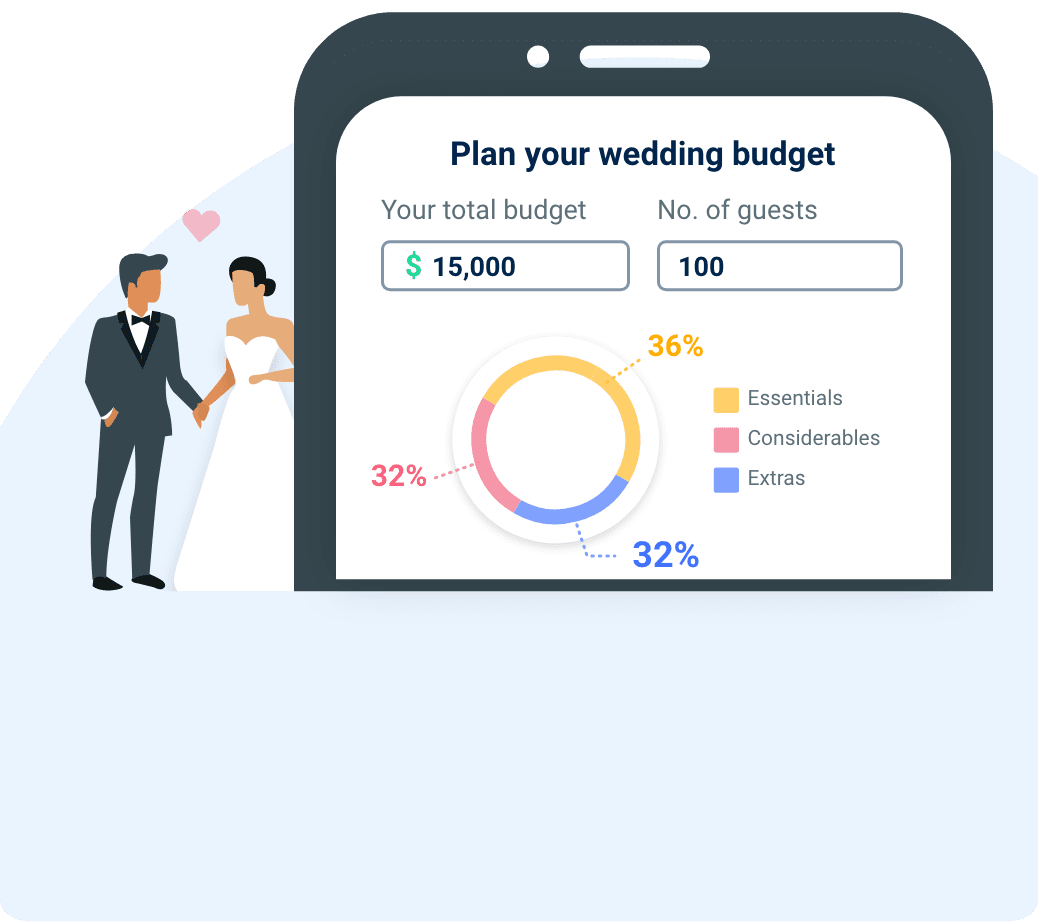 Mistakes to avoid when building a wedding budget
Set a realistic wedding budget and stick to it by avoiding these budget mistakes:
1. Overcharging on credit
Generally, it would help if you tried to pay off your credit card in full every month. This is the best way to prevent damage to your credit score. So, as a rule of thumb, you shouldn't charge more to your cards than you can repay within 30 days.
When it comes to your wedding, it can be tempting to keep swiping the card since you don't feel the financial hit immediately. However, this can significantly damage your credit and quickly get you into a cycle of credit card debt. Only use your credit card when you know you can pay it off.
Other things to take advantage of include:
a. Applying for a 0% interest credit card: These credit cards typically have a 0% APR introductory period, meaning you aren't charged interest on the balance for a certain period. This usually ranges from 12 to 24 months and allows you to put bigger purchases on the card without worrying about accumulating credit or damaging your credit score. However, it would help if you typically had a good credit score to qualify, and it's critical to pay off the card completely before the intro period is up. Otherwise, they face high interest rates on the remaining balance.
b. Cashback or rewards credit cards: If you don't already have one, consider applying for a credit card that offers cash back, airline miles, or travel points for dollars spent. This can help you make the most of your spending and may even help you pay for other wedding expenses for lower costs.
Related: Best Cashback Credit Cards
2. Not tracking all expenditures
Because wedding costs add up quickly, especially the little things, it's critical to track all your spending to ensure you stay under or on budget. Make a spreadsheet or use a budgeting app to enter every expense. Consider opening a joint checking or savings account only used for wedding expenses. Include all the details, such as taxes, fees, and tips. Don't let yourself be blindsided by hidden or random costs.
3. Not having a just-in-case fund
Weddings are expensive, and even though you've diligently budgeted, there's always the chance that a priority ends up being significantly more expensive than you thought. That's why it's important to set aside around 5% to 15% of your total budget in a just-in-case fund. This helps ensure you aren't tapping into savings or credit to cover those additional costs.
However, avoid this as much as possible by doing your research up front and comparing all of your options.
4. Not cutting costs when possible
Sometimes, you may need to make sacrifices to ensure you're sticking to a budget. Reference the priorities list you made with your partner in the beginning of the budgeting process. Determine where you may be able to shift or decrease priorities to decrease or eliminate costs.
There are so many ways you can reduce costs for your wedding, so always be on the lookout for ways to save.
FAQs