All You Need to Know About Honeymoon Loans
Written by:
Caitlyn Callahan
11 min

read
1155 Views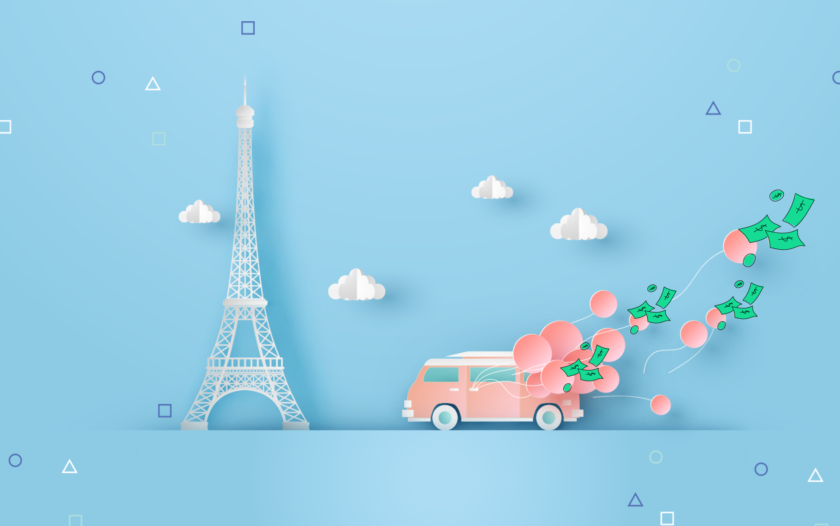 At a Glance
Planning a honeymoon is usually part of planning a wedding, but because the average cost is in the thousands, some couples don't know how to afford their post-nuptials celebration. A honeymoon loan can help, but be cautious, especially if you don't have great credit or already have other types of debt.
To decide if a honeymoon loan is right for you, read on to learn about:
What are honeymoon loans?
Honeymoon loans are a type of personal loan you can get to pay for your honeymoon. Personal loans:
Can range from $1,000 to $100,000.
Can be used for just about anything.
Are usually unsecured, meaning you don't need any assets to provide as collateral.
Typically, have fixed interest rates, meaning the rate won't increase or decrease over the life of the loan.
Have fixed monthly payments, so you can easily budget each month and calculate when you'll have the loan paid off.
Are offered by banks, credit unions, and online lenders.
A honeymoon is a great way to celebrate your marriage, but because the average cost of a honeymoon today is about $5,000, it can be tricky to splurge after paying for a whole wedding. Honeymoon loans can help fill the gap so you're still able to spend quality time with your new spouse making new memories.
Related: Finance Your Wedding With a Wedding Loan
What does a honeymoon loan cover?
Because a honeymoon loan is a type of personal loan, it can be used for just about anything related to your honeymoon such as:
Transportation expenses (airfare, rental cars, cruises, and more)
Accommodations/lodging
Food and drinks
Experiences and adventures (tickets, tours, excursions, and similar activities)
Travel insurance
Souvenirs
A honeymoon loan can also cover any unexpected or emergency expenses you incur before or during your honeymoon.
Planning a wedding?
Make sure your honeymoon expenses are covered with a wedding loan.
Honeymoon loan requirements
Each lender has different honeymoon loan eligibility standards, but in general, some of the requirements include a strong credit score and solid credit history, proof of minimum income requirements, and a low debt-to-income (DTI) ratio.
1. Credit score
Most lenders prefer applicants for personal loans to have a "good" credit score of at least 670, though some lenders prefer your score to be at least 720. Generally, the higher your credit score, the better. Higher credit scores are typically reflective of a low-risk borrower, so interest rates will be lower and loan terms will be better.
If you have a lower credit score, you may still have options. Some lenders, especially online lenders, will work with borrowers with scores as low as 580 or lower. Keep in mind lower credit scores will mean higher interest rates and less desirable terms.
If possible, take steps to improve your credit score before applying for any loans.
Related: What is a good credit score?
2. Proof of income
Income requirements vary by lender, but most have one. This is the minimum income you must make to qualify for the loan. Having income requirements helps the lender understand if you're able to afford the monthly payment or not. In most cases, you'll have to provide proof of income, such as a W-2, pay stub, or bank statement.
Income requirements can be as low as $10,000 per year, or $25,000 annually or more. Check the lender's requirements to learn if you meet them.
If you don't meet income requirements, consider starting a side hustle, picking up a second job, or working extra hours or shifts to increase your income.
3. Debt-to-income ratio
Your DTI ratio is a percentage that represents how much of your gross monthly income goes toward paying off debt. In general, lenders prefer a DTI of 36% or lower (though some may be flexible). Having a low DTI ratio signals to lenders that you will be able to afford the monthly payments and that you're generally a responsible borrower, not borrowing more than you can repay.
How to apply for a honeymoon loan?
The process for applying for a personal loan isn't difficult, but it's important to follow the steps below to help ensure you get the best loan.
1. Decide how much you need to borrow
A honeymoon loan is a type of debt, so you shouldn't borrow more than you need to. Before applying for a loan, plan how much you need to borrow. Your destination should be decided, and other potential costs should be estimated, including transportation, airfare, entertainment costs, and more.
While you likely won't know exactly how much you'll be spending, having a general estimate can help ensure you borrow enough to cover your expenses, but not more than you need.
2. Check your credit report
Because your credit score plays such a big role in qualifying for a loan and the loan's interest rate and terms, take time to check your score and review your credit report. You can access a free credit report from each of the three main credit bureaus (Experian, Equifax, TransUnion) through AnnualCreditReport.com.
Make sure there are no errors on your report, and determine whether you need to improve your credit score prior to applying.
3. Get pre-qualified
Getting prequalified triggers a soft credit inquiry, so it doesn't affect your credit score. However, after providing some general information about yourself and your desired loan, you can know if you qualify for a honeymoon and possible rates. Doing this can help you compare loan offers more accurately.
4. Compare loan offers
Shopping for a loan takes time, but it's an important part of the process. With so many lenders available, take time to understand:
Loan minimums and maximums
Borrower requirements
Customer service ratings
Fees
Terms
APR
Other perks
Don't forget to check with banks, credit unions (if you're a member), and online lenders to find the best offer.
5. Complete and submit your loan application
Once you've chosen the right lender, you'll want to complete the loan application. Note this will trigger a hard credit inquiry which will decrease your credit score by a few points. Most lenders have online applications available, and will ask for things like:
Personal information (like name, date of birth, and Social Security number)
Contact information
Desired loan information
Proof of income
Proof of employment
Proof of identity
Bank account information
Most of the time you can upload these documents into the lender portal, or you may be able to fax or mail them in.
Once you've submitted the application, the lender will approve or deny you. If approved, you'll be asked to sign the final loan documentation and the funds will then be transferred into your account to use for honeymoon expenses.
How to choose the right honeymoon loan?
Shopping for loans can be overwhelming, and you may have difficulty choosing which one is right for you. Here are some tips to follow when making your selection:
1. Consider the loan amount
Different lenders have loan minimums and maximums, and not all offer the same loan amounts. After you've estimated how much you need, you need to make sure you meet a lender's minimum but stay under their maximum. For example, if you've budgeted $4,000 but a lender's minimum is $5,000, you won't qualify for that loan and should keep shopping.
Remember, a loan is debt and does have a cost, so set your budget first to make sure you only borrow as much as you need.
2. Match lenders with funding time
Some lenders offer personal loan approvals and funding within 24 or 48 hours, while others take several days to approve and fund. If you need money faster, you'll want to make sure your lender has a quick funding turnaround.
3. Make sure you can afford monthly payments
Personal loans have fixed monthly payments, so your payment will be the same each month for your loan's term. The loan's term helps determine what your payment is. If you have a longer loan term you'll have a smaller monthly payment. The downside is you'll pay more in interest over the life of the loan. Shorter loan terms have a higher monthly payment, but you'll owe less in interest over time.
Knowing your monthly budget for the loan can help you dictate what your term needs to be and which lender can help meet those needs.
4. Check your eligibility
As mentioned above, you'll have to meet credit score, income, DTI, and other requirements to qualify for a loan. Each lender has different qualifications, so shop around for lenders who will accept your application. Or, consider adding a co-borrower or applying for a secure personal loan.
If you don't qualify for a loan and apply anyway, your application will be denied and your credit score can take a hit.
5. Compare the cost of the loan
The total cost of your loan is how much you borrow, how long of a term you've chosen, your interest rate, and any fees you face. Some lenders may cost more than others if they have higher interest rates, greater fees, or less than desirable terms. It's important to compare the final cost of the loan carefully to ensure you know what you're getting into.
Related: What is the Annual Percentage Rate on Personal Loan?
Are honeymoon loans worth it?
Weddings are expensive. In fact, the average cost of a wedding ranges from $20,000 to $40,000. After spending that much for the wedding day, what's a few more thousand for the honeymoon? Wedding costs can add up faster than you're anticipating, which can make affording a honeymoon tough at the end of the day. That's why some people turn to a honeymoon loan.
However, a honeymoon loan is a type of debt, and this is debt that you'll be in for the first few years of your new marriage. If you're able to get a low interest rate, or you plan to pay off the loan faster than the agreed-upon term, a honeymoon may be right for you. It can also be a good option if your only other option is to put it on a high-interest credit card where you'll owe more in interest in the long run.
If you're considering a honeymoon loan, be sure to consider alternatives first. And, if you find a loan is still right for you, compare different lenders to find the best option to help you avoid as much debt as possible.
Alternatives to honeymoon loans
A honeymoon loan may work for many newlyweds, but there are some alternatives to consider including:
1. Start a honeymoon registry
Creating a registry of wedding gifts is a standard part of planning a wedding. But these days, many couples are choosing to register for honeymoon expenses rather than typically registry items. Some sites like Honeyfund, The Knot, and Zola allow guests to send you cash designated for your honeymoon, but watch out for any transfer fees these sites have.
You can also have a honeymoon 'fund' at your showers, wedding, or other wedding events where guests can contribute to certain honeymoon adventures like a romantic dinner, massage, or excursion.
2. Low-interest credit cards and points
If you're approved for a credit card with a 0% interest introductory period, this can be a good option to pay for a honeymoon. These cards have an introductory period, sometimes lasting up to 24 months, wherein any balance carried on the card isn't charged interest. This gives you time to pay off the larger expenses without being charged interest.
With a 0% card, the important thing is to pay off the balance in full before the intro period is over. Otherwise, you could owe high interest on the remaining balance.
Additionally, be sure to take advantage of any cashback or rewards/travel points you may have accumulated through credit card use. These points can often be put toward flights, lodging, or transportation costs that can significantly reduce your overall spend.
Learn more: Credit Cards with Low Interest Rates
3. Personal line of credit
A personal line of credit allows you to withdraw money up to a certain limit, like a credit card, but the limit is decided by the lender. Again, similar to a credit card, you only pay interest on what you use (vs. the total sum that you qualify for). A personal line of credit can be a good idea if you don't know how much you need to borrow for your honeymoon.
Learn more: Personal Line of Credit
4. Be flexible
Ultimately, being flexible can be key to the most affordable honeymoon. First, be flexible in timing. You don't necessarily have to go on a honeymoon right after you get married. Instead, take a few weeks or months to recover from wedding expenses and save up some more before going. Or, wait until an offseason time of year when travel will be cheaper.
You can also be flexible with your destination or itinerary when you get there. Perhaps you delay the two-week trip through Europe and instead check out some national parks in the U.S. Or, maybe you only do two excursions instead of one every day. Shopping for deals and discounts and booking activities ahead of time are other ways you can save.
FAQs
Yes, you can finance your honeymoon with a honeymoon loan. These are essentially personal loans that can be used to pay for honeymoon expenses. Your interest rate and term depends on your credit score, history, income, and other factors, and shopping around can help ensure you get the lowest rate possible. It's important to remember a honeymoon loan is a type of debt, so borrow responsibly.
The average cost of a honeymoon today is about $5,000, but this can depend on factors like where you travel to, how you get there, where you stay, what you do there, and how much you spend on food and drink or entertainment. Try to plan some of this in advance and shop for deals to make the honeymoon more affordable.
When you first apply for a honeymoon loan, it will trigger a hard credit inquiry that will lower your credit score by a few points. Then, as you make regular payments to repay the loan, your score will increase over time. Alternatively, if you make late payments or miss payments, your score can significantly suffer.