How to not go into debt when planning a wedding
4 min

read
502 Views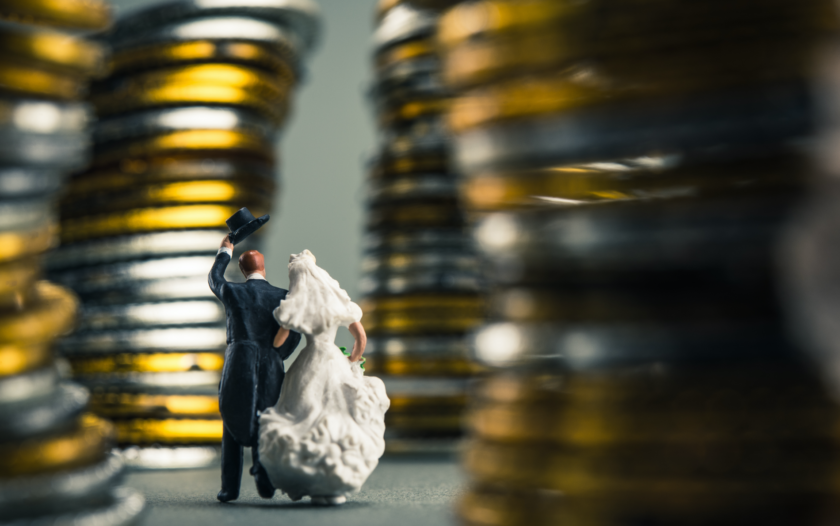 At a Glance
You said yes to forever. But before saying I do, make sure your wedding doesn't come with a massive side of debt.
"The No. 1 reason couples go into debt while planning a wedding is because they haven't gotten clear on exactly how much they are able and willing to spend prior to embarking on the planning process. No one should spend their entire savings on a wedding day or go into debt to have a wedding," says Jessica Bishop, founder of TheBudgetSavvyBride, a site that helps couples plan weddings without debt, and best-selling author of "The Budget-Savvy Wedding Planner Organizer."
"If you don't start with a plan or what I would call a 'Bridal Blueprint,' you're not only going to exceed spending, but you also may end up either settling around the vendors that matter or sadly not be able to afford them," says celebrity wedding designer and media personality Samantha Goldberg.
Most couples start off with good intentions and then end up taking out loans or using credit cards to pay off wedding-related expenses. Goldberg and Bishop shared their tips to avoid common pitfalls and still end up having a wedding that you love.
Identify Priorities and Stick to Them
First things first, identify priorities–and stick to them. Goldberg always starts off the planning process by asking both the bride and groom to make a list of what is most important to them. It's about separating the non-negotiables from the nice-to-haves and setting a budget accordingly.
"There is nothing worse than having to cut back on the vendors that matter long-term," she says. Start with what matters the most and avoid hiring all vendors at once so you can take your time and negotiate. It's always smart to meet with each vendor so you can understand which one is the most likely to put you into debt or take away money from another important area. Anticipating expenses ahead of time can help you decide what to invest in and what to cut back on.
"Rely on vendors to walk you through what can be affordable. They work with couples all of the time to try and make a relationship work. Meaning, they want the business and it's OK to discuss your budget goals with more established vendors on what you wish to have," adds Goldberg.
Consider an Intimate Event
Perhaps you are enthusiastic about inviting all your extended friends and family. Maybe you also dream of a luxurious experience. But don't write off the idea of having a smaller wedding so you can create that luxury wedding feel without financial stress.
"Going into debt for a wedding means delaying your other financial goals and dreams beyond the big day," says Bishop.
"Avoid paying off your celebration for years to come by setting a reasonable budget for your personal financial situation. Don't plan a wedding outside of your means. If you want a luxurious wedding feel but don't have a huge budget, consider an intimate micro-wedding and up the glam factor without increasing your cost."
Do not assume gifts will offset expenses
And no, it's not safe to assume that gifts–aka cash–will offset wedding expenses. "I assure you, the debt only increases with this thought process," says Goldberg.
Focus on budget distribution instead of wishful thinking. If you do decide to use credit, Goldberg recommends a rule of thumb: making sure you can pay it off within 30 days. "This is an area that needs to be watched over to ensure you don't fall into the wedding debt dance of paying off Peter to pay Paul," she says.
If you play your cards right though, you could end up using credit card points to pay for honeymoon expenses.
Track everything in a spreadsheet
The best way to avoid getting carried away is tracking everything carefully. Those little extras quickly add up.
"Planning a wedding without debt requires patience, commitment, and dedication to your goal. I suggest keeping a thorough spreadsheet of all your expenses so you can evaluate and balance along the way," suggests Bishop.
Don't get married during peak times
Considering the time of the year and the day of the week when you get married can save you thousands, according to Goldberg. "You don't need to have millions to have a beautiful day remembered by all. Having a wedding during peak times may hurt you instead of giving you the ultimate experience at a less busy time."
Plus, with many people now working remotely, you won't be as likely to experience pushback from guests about having your wedding on a Thursday, Sunday, or even Monday.
Save on decor
You can also save a lot on decor without much sacrifice. Choose florals that are in season. And rent items from a florist as opposed to buying things such as vases and candles, says Goldberg, which can cut your price by 25-30%. Another creative solution is hunting for used items.
"I have found many bridal sites that offer you gently used items, which you can have a designer transform into something else. This can save you over 50%! Try CraigsList, Facebook Marketplace and some of the known wedding sites such as The Knot," says Goldberg. The best part? Many times, the items end up being brand new.
If you are planning a wedding debt consolidation may be an option to help you save for the wedding over time. If a significant portion of your income is going towards debt payments, this can lower the payments by consolidating existing debt into a lower interest loan.