Is BNPL the Scariest Thing to Happen to Weddings?
Written by:
Anouare Abdou
3 min

read
2316 Views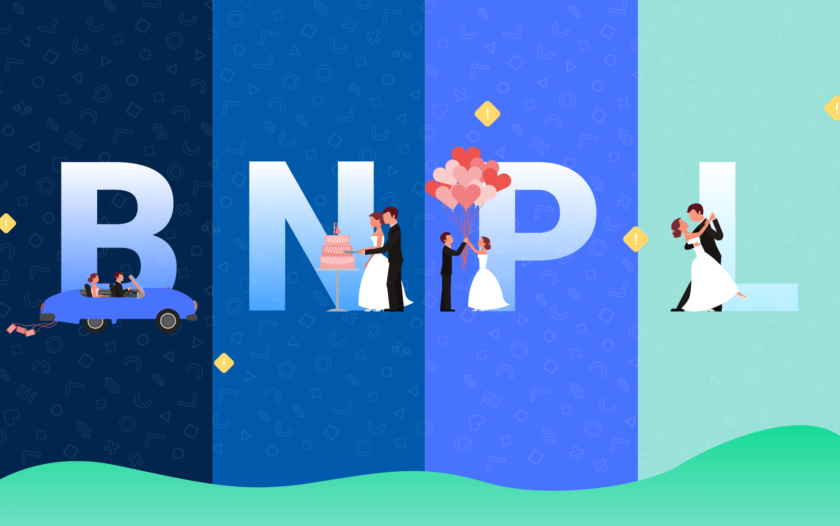 At a Glance
Using Buy Now, Pay Later to finance your wedding may seem like a great idea in theory. But is it worth it in practice? Could it have negative financial repercussions? Here is what you need to know.
Marrying now and paying later is not new (hello, credit card debt and wedding loans). But BNPL for weddings is. You can now pay wedding vendors in monthly installments via a new platform called Maroo.
You're probably familiar with Buy Now, Pay Later providers such as Afterpay and Klarna. You probably can thank them for a couple of impulse purchases. But there's a difference between using BNPL to buy an anti-aging serum promoted by a TikToker and financing your big day. Or is there?

900 million
BNPL users are expected by 2027.
FinFact
According to new data from The Wedding Report, couples in the U.S. are expected to have 2.5 million weddings this year, a 30% increase from 2020 and the biggest number seen by the industry in 40 years.
Here's what you need to know about this new borrowing trend and whether it's a good idea to use BNPL to pay for your wedding.
Marry Now, Pay Later is going to be a big business
There will be roughly 2.5 million weddings this year, a 30% yearly increase and a number not seen in four decades, according to research firm The Wedding Report. Meanwhile, the number of BNPL users is projected to hit 59.3 million in 2022, according to Bankrate. What do you get when you marry both of those realities? A whole lot of couples will be using Buy Now, Pay Later to finance their wedding.
If you want to stick to traditional financing methods, consider taking out a wedding loan.

Find & compare the best wedding loans in 2022 We found 4 options for your requirement
Advertiser Disclosure

8.99% - 23.43%
Est. APR Range
$5,000 - $100,000
Loan Amount
Good For: High loan amounts available, no fees

8.49% - 35.99%
Est. APR Range
$1,000 - $50,000
Loan Amount
Good For: Low loan amount
8.99% - 35.99%
Est. APR Range
$2,000 - $50,000
Loan Amount
Good For: Getting funds quickly
9.95% - 35.99%
Est. APR Range
$2,000 - $35,000
Loan Amount
Good For: Getting funds quickly
Congratulations! You're close to seeing your offers!
Please take a second to review the details you shared earlier
If you are curious about BNPL, consider the following pros and cons.
The pros and cons of financing your wedding with BNPL
Thanks to inflation and high post-pandemic demand, newly engaged couples eager to plan their celebration quickly find themselves dealing with sticker shock. Even a budget wedding can set you back $30,000 these days.
Using a platform like Maroo to book things now and pay for things later can make things more manageable from a cash flow perspective. Instead of paying all your remaining deposits the month before your wedding, you have more leeway by breaking up the payments over time. And since you can do so with 0% interest for up to 12 months, it may be more appealing than taking out a loan or putting expenses on a credit card. Plus, it only requires a "soft" credit check, which screens you without affecting your credit score.
If anything happens and you find yourself unable to make payments, penalties can be steep, and so can interest rates after the 0% APR period. A year gives you more time to pay for stuff, but it's not that much more time if you go overboard on your budget, which is so easy to do when you have the option to worry about everything later.
Major credit bureaus have also announced that Buy Now, Pay Later will soon be considered on your credit report, which means that you could end up negatively affecting your score with a high debt-to-income ratio or even tank it completely by missing payments.
Bottom line
If current trends are any indication, Buy Now, Pay Later is going to be taking the wedding industry by storm. It can be an appealing option to finance your wedding if you stick to your budget and use it as a tool to manage cash flow. But it can also start your marriage on rocky financial footing. Choose wisely.