How to Hack the Holiday Travel Surge and Not Go Broke
Written by:
Harrison Pierce
6 min

read
2115 Views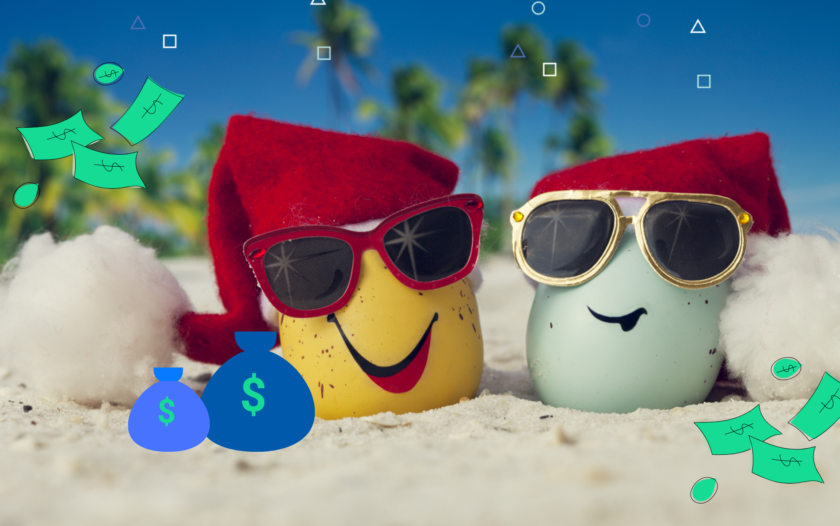 At a Glance
Plenty of tools out there make traveling more accessible and cheaper; you just have to know where to find them and how to use them. Here's how to prepare for the holiday travel surge.
What is travel hacking, and how can you start?
In short terms, travel hacking is just using available tools to your advantage to travel comfortably for cheap. Travel hacking incorporates various techniques, like using credit cards, signing up for loyalty programs, scouring for the best deals, and practicing.
Credit cards are excellent tools, as they earn points and miles for each dollar spent on various purchases. However, they can provide much more than just points–they can let you upgrade your travel experience. Some cards will grant access to airport lounges through Priority Pass or partner airlines. They might give you companion tickets, so a loved one can fly with you for free. Read about different cards before you decide which one is best for you so you can get the most benefits that you will use.
Loyalty programs allow you to earn status with your favorite airlines, which can give you complimentary upgrades or mileage boosts. You can only "hack" your travel if you are looking for great deals, which might come from mileage redemption or cash purchases.
Like anything, practice makes perfect, so you will go through trial and error before you consider yourself a travel hacking expert. However, along the way, you will learn all sorts of tips and tricks that will accompany you for holiday seasons to come.
Don't let inflation get the best of you this holiday season. In addition to budgeting hacks for travel, personal loans are another option to help expand your travel budget this season.

Check out lenders and solutions that will meet your needs We found 5 options for your requirement
Advertiser Disclosure

8.99% - 23.43%
Est. APR Range
$5,000 - $100,000
Loan Amount
Good For: High loan amounts available, no fees
7.99% - 35.99%
Est. APR Range
$2,000 - $36,500
Loan Amount

8.49% - 35.99%
Est. APR Range
$1,000 - $50,000
Loan Amount
Good For: Low loan amount
8.99% - 35.99%
Est. APR Range
$2,000 - $50,000
Loan Amount
Good For: Getting funds quickly
9.95% - 35.99%
Est. APR Range
$2,000 - $35,000
Loan Amount
Good For: Getting funds quickly
Congratulations! You're close to seeing your offers!
Please take a second to review the details you shared earlier
Popular travel credit cards
There are tons of credit cards on the market, but how can you choose which is best for you? Well, there are a few things to consider.
How new are you to credit cards?
What is your credit score?
How much money are you willing to spend on an annual fee?
How often do you travel?
Which airlines, hotels, and destinations do you prefer?
Answering these questions will yield various credit cards that might work for you. However, there are a few very common cards to get you started.
First, the Chase Sapphire Preferred is an easy-to-use and affordable option for new travel hackers. It only costs $95 a year but comes with a suite of benefits, including an annual $50 hotel credit and bonus points on travel purchases.
As a rule, the more you spend on an annual fee, the more perks you will get. For example, if you got the Amex Gold Card, you would pay $250 annually but get statement credits of $120 each towards Uber Cash and dining. Taking advantage of those credits would virtually bring your annual fee down to $10.
If you have a favorite airline or hotel chain, they likely offer their own co-branded travel cards with exclusive perks for cardholders. These perks might include complimentary access to lounges, free breakfast at hotels, nights at certain hotels, or upgrades to higher service levels.
Lastly, you can always use a cash-back card, which offers a flat rate on every purchase. Although you will not save massive amounts of money, these cards provide the ultimate simplicity, and some are entirely free.
Using credit cards to your advantage this holiday season is crucial to staying calm and saving money.
Where people go wrong?
You should not open every credit card on the market at the same time. Although using multiple cards for various travel purchases is best, you should space out the frequency of getting new cards, so you do not damage your credit score or risk getting denied a card. Some issuers will also have rules in place, like Chase's 5/24 rule, which means that you will likely not get approved for a Chase card if you have gotten five personal credit cards in the last 24 months.
Another area where people need to improve is accumulating more debt on their travel cards. Yes, you should use your cards for everyday purchases to maximize the points you get, but you should only use your card for things you can afford or to take a trip that you would otherwise not be able to pay for. Putting massive amounts of debt on your cards will hurt you much more than it will save you on travel expenses. You should also refrain from making unnecessary purchases to meet sign-up bonus spending requirements.

$2 trillion
Is the amount tourism and travel are expected to earn the U.S. economy in 2022, exceeding pre-pandemic levels.
FinFact
Other tips for surviving the holiday season
Even if you have TSA Precheck, you should get to the airport earlier than usual over the next few months. Lines for checking bags can take quite a while, so you should be prepared. If traveling between states or internationally, thoroughly research all travel requirements, as these can evolve quickly. Some countries still require proof of a negative COVID-19 test or proof of vaccination. They might want evidence of a departure ticket or a migration form, so have all of this done in advance so you can avoid getting held up at the airport.
Even though the pandemic feels mostly over, you should bring a few masks just in case. You want to avoid being in a situation where you must buy one at the airport at the last minute. You should do so if you still need to book flights, excursions, rental cars, lodging, or even restaurant reservations. Experts expect that this holiday season will be the busiest in years, so overplanning will be vital to enjoying your vacation.
The busiest travel days will be right around Christmas Day, so travel at off-peak times if possible. If your job still lets you work remotely, consider going somewhere for a couple of weeks so you fly on less popular days.

Overplanning is the key to surviving the holiday travel season. When in doubt, pack it/book it/prepare for it.
Bottom line
The travel season is expected to be very expensive and extremely busy, so you should be prepared for any situation. If you traveled during the pandemic and were pleasantly surprised to find empty rows of planes, plenty of seating in airport lounges, and ultra-fast security, you will be in for quite the surprise this year.
Using credit cards helps save money, time, resources, and stress when traveling this holiday season. There is still time to get your card and plan but do so as soon as possible.