BNPL is Creating a Generation of Debt Thanks to TikTok
Written by:
Anouare Abdou
5 min

read
3510 Views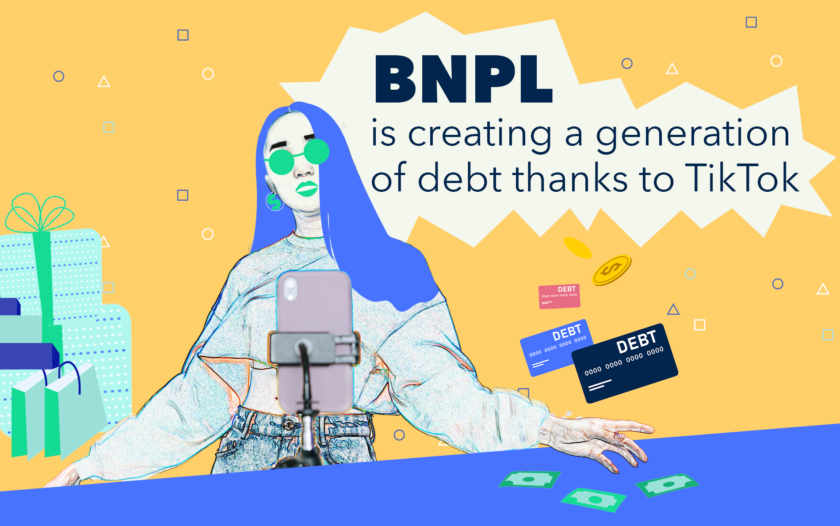 At a Glance
Buy Now, Pay Later services have exploded in popularity – partly thanks to TikTok. But they are also creating a generation of debt.
A new generation of shopping addicts
Raise your hand if you've ever filled your online shopping cart and closed the tab right before checkout to avoid impulse purchases. Now raise your hand if you find it harder to walk away with buy now, pay later services such as Afterpay or Klarna – no credit check required, interest-free payments, and getting your hands on a coveted item without splurging upfront? It's basically like free shopping!
If you're anything like the majority of young Americans, you probably raised your metaphorical hand twice. And if you have a TikTok account, you may even get yourself in financial trouble. Here's why.
TikTok and Buy Now, Pay Later is a dangerous combo
Three in four Americans have used BNPL, according to a survey conducted by Breeze. Seventy-five percent of them are between 18-24 years old, and 82% of them are between 25-34 years old. When you take into account the fact that the second biggest age group of TikTok users in the U.S. is 20-29 years old, a picture starts to form.
Buy now, pay later services are popular amongst younger customers, and those younger customers are also hanging out on TikTok, where trendy influencers flood news feeds with their latest fashion and beauty finds.
The issue is twofold. On one hand, you've got the pressure to keep up with the Joneses, except this time the Joneses are not your next-door neighbors with a new car but hundreds of young people who seem to be kind of like you – but shinier, with better style and skin, and more perfect routines. You're just one product away from feeling and looking just like them. On the other hand, you're served ads all day long (and sometimes even sponsored content endorsed by influencers who promote BNPL services). It takes one click to browse and a couple of clicks to get unprecedented access to financing for your purchases.
The caveat? You're spending money that you don't have. At best, buy now, pay later can be part of your budget and help you manage cash flow. At worst, it takes you straight into a debt spiral.
It's especially pervasive when you're using the service to fund little things here and there, like most people do. In a survey conducted by Forbes Advisor, 27% of respondents reported spending between $1 and $100 on BNPL purchases in the past six months, while 44% spent between $101 and $500.
Those small purchases add up fast. 43% of Gen Zers have missed their BNPL payments at least once this past year, according to Piplsay.
From temptation to financial crisis
"Just like many young people, I was attracted to the allure of buy now, pay later schemes during the pandemic. While my business was doing relatively well, I was under the constant pressure to purchase new things, to have a great home office, to buy top-of-the range tech gadgets because I wanted to be productive while working from home," shares Katy Smith, a product manager at Airgram, a Phoenix-based Saas business.
"In my mind, buying-now and paying later wasn't a debt per se, but a form of money management. Turns out I was wrong. The hunger to get new things on a buy-now-pay-later scheme almost had me in a full-blown financial crisis by the end of 2020," she adds.
"While I didn't get to the extent of getting black marks on my credit report, I had so much money held to a handful of buy-now-pay-later commitments. I almost missed my rent because I had spent all my money on clearing up debts affiliated with BNPL, because I didn't want to default and accumulate charges."
If you have found yourself dealing with a similar financial scare, check out this debt consolidation calculator to explore your repayment options.
Does Buy Now, Pay Later affect your credit score?
And if you're wondering whether your Sephora addiction will affect your credit, keep in mind that BNPL plans have not formally been added to credit reports. But this is about to change, according to an article published in Forbes Advisor. It's taken long because the nature of these point-of-sale loans makes them different from the traditional data points that make up your credit history.
Liz Pagel, senior vice president and consumer lending business leader at TransUnion, one of the big credit bureaus, told Forbes that "a consumer with normal shopping behaviors could take out multiple [BNPL] loans a year," yet "current credit models see that kind of origination behavior as inherently risky, when that's really how these loans are supposed to be used."
Credit bureaus have to collect data and figure out how to use it, but what could happen is that if you use BNPL responsibly and make your payments on time, you could boost your credit without a credit card. What could also happen is missed payments negatively affecting your credit score.
Bottom line
Just like all personal loans, buy now, pay later financing can be beneficial when used with awareness and part of a budget plan. But unlike other loans, those lending services don't require extensive applications and approvals, so it's easier to see them as a harmless thing without realizing that they can come with big consequences. Whatever you do, don't let TikTok be the main driver in your shopping decisions.
`