How That Girl, Coastal Grandmother and Cottagecore have Created a Gen Z Debt Disaster
Written by:
Meredith Lepore
6 min

read
2313 Views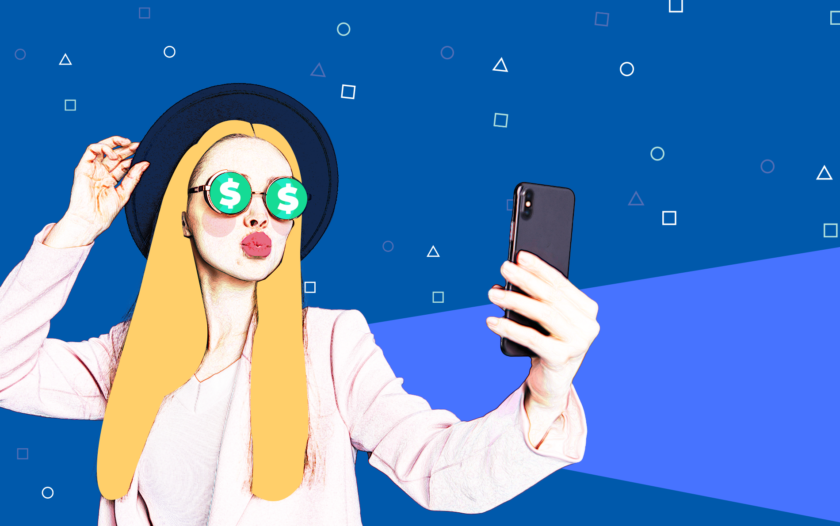 At a Glance
Gen Z has become addicted to fueling their TikTok feeds with lifestyle aesthetics such as That Girl, Corporate Girl, and Coastal Grandmother. Though these look like attractive and healthy lifestyles on TikTok they are fueling a generation of debt holders that could be forever altering their financial futures.
A brief look at the strange world of TikTok aesthetics
TikTok became a life raft for diversion during the high months of the pandemic — apparently, when people have binged enough television they will turn to one-minute dances that only involve their upper body. It is more productive than drinking all day. Somehow, I resisted it during this time (the TikTok dances, not the day drinking). Always the latecomer, I only started truly devouring TikTok a month or two ago when an influencer I follow, who went from obscurity to solid B-level stardom during the pandemic because of TikTok, referenced the That Girl aesthetic and down the rabbit hole I went.
The That Girl aesthetic led to The Corporate girl aesthetic which led to cottagecore, light academia/dark academia, E-girl, Euphoria, Ethereal, lovecore, minimalism, Coastal Grandmother, and about 10 other ridiculous ones that I shudder to name. But all of these are lifestyles that you too can attain as they all seem to be fueled by the same things: plastic crap from Amazon and super cheap trendy clothes.
Fashion is more accessible than ever, and you don't need money to pay for it
You know there is fast fashion, but have you heard of ultrafast fashion? Actually ultra doesn't even capture it. It should be called blink and you miss it fashion. Look up the rise of the $100 billion brand Shein and you will understand. The clothing brand puts out 10,000 new products a day, has timed mark-downs shown to the user in hours and minutes providing a Hunger Games-esque sense of direness. Except, in this case, instead of fighting for your life you are fighting to dress like Hayley Bieber at the lowest price point.
Now we could get into the fact that the That Girl and Corporate Girl aesthetics are sending out impossible standards for young girls to try to achieve. According to these lifestyles, to be a pillar of health it means early wakeups, all-white apartments, drinking 14 gallons of lemon water a day, putting avocado on everything and wearing matching workout sets constantly. There may be some exercise in there, but that part actually seems optional. For the corporate girl she is waking up at 5 am to do her pre-work workout before putting on a super chic office lewk and then working for 14 hours to be only fueled by oat milk lattes and ambition. Coastal Grandmother really isn't hurting anyone as it just means you get to wear loose pants and fill your house with ginger jars.
But what is really concerning is these lifestyles, which fill their TikTok feeds, are being funded. To pay for the super cheap clothes (though even super cheap clothes add up) from Shein and Amazon, Gen Zers are using Affirm, Afterpay, Klarna, PayPal, Sezzle, and Zip to buy now, pay later and look hot. Research shows that this generation is spending 925% more through point-of-sale services now than they did in January 2020 and according to data from Afterpay, 73% of this is spent on fashion.
And they are going deep into debt and making some irreversible marks on their credit scores that will haunt them for years to come. Why go through the hassle of applying for a credit card and that whole approval process song and dance when you can simply sign up for BNPL through a shiny platform conveniently located right under the Add to cart button on all the things you want to buy like electronics, exercise equipment, plane tickets and a string bikini for $25.00.
It also doesn't help that your favorite influencer is touting BNPL just like she is touting those cargo pants. And Gen Z can justify it because, you know, using BNPL means they are not going into credit card debt. They are just going into regular debt dressed up in a cute bucket hat. And now they may not ever be able to get a credit card and afford a house or medical care in 10 years because they haven't paid off the 20 installments for that iPad yet. Scott Galloway, professor of marketing at NYU, compared Gen Z and their addiction to BNPL to"the equivalent of the subprime mortgage crisis".
A Credit Karma survey that 42% of Americans had used BNPL services at least once, 38% had missed a payment, and as a result, 73% of those who missed a payment saw their credit score drop. There seems to be a misunderstanding that BNPL debt is worse than credit card debt. But perhaps it is worth it for a large following on TikTok?
Another recent survey found that on average, young Americans take $103.16 from budgets intended for a monthly food shop to make clothing purchases only to be worn for Instagram and TikTok.
"You're buying something, but you're not paying for it right away, and that gets people into trouble, because it's delaying the inevitable," psychologist Susan Weiss told Elle. "You end up thinking you have more money than you do because you really owe this money—and you use that money to buy other things, and it can get out of control. It's a slippery slope, and a really painful lesson for young people to learn."
BNPL fixes the FOMO problem
TikTok is a living, breathing repository of trends. It shows us a look and exactly how to achieve it so FOMO can be eliminated (which is of the utmost importance to Gen Z.) In some ways it is great because it is pulling back the curtain on fashion and how people you think look good achieve it, but the journey is problematic. This isn't to say TikTok isn't completely without merit as it has turned a lot of Gen Zers on to cash stuffing which is a savings strategy and a number of influencers are encouraging their followers to be weary of BNPL, like Maddie White, but for the most part TikTok is a walking shiny advertisement for young adults to buy everything they want. It feeds the insatiable need of Gen Z to get what they want and get it as fast as possible no matter the consequences.