The 4 Biggest Obstacles Preventing Millennials from Buying a House
Written by:
Harrison Pierce
6 min

read
3110 Views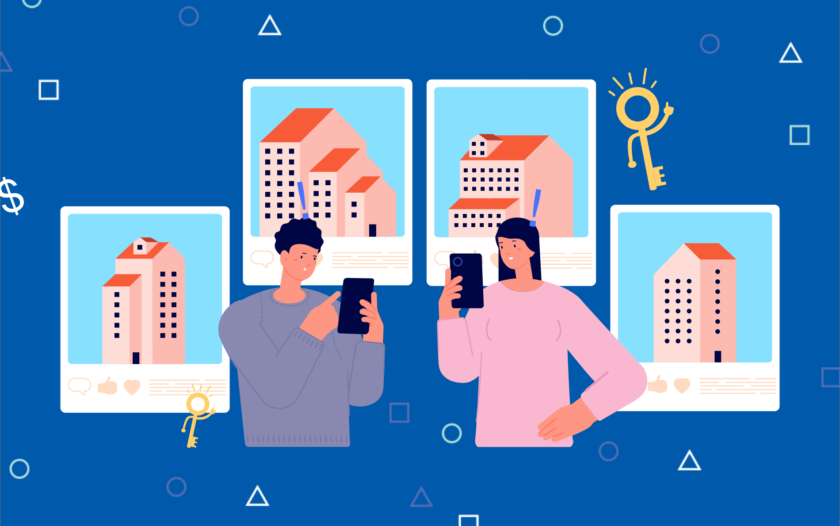 At a Glance
With each generation that passes, fewer people own homes. What are the biggest obstacles Millennials face when it comes to buying homes and what can be done about it?
The statistics on millennial home ownership
27%
of millennials in suburban areas have given up on the idea of owning a home following the COVID-19 pandemic.
FinFact
It seems as though Millennials just cannot catch a break. They were either beginning or finishing college amid the worst recession of our generation. They were the perfect age to settle down and think about having a wedding or family right when the COVID-19 pandemic hit. They are dealing with lower wages and higher costs of living than any generation before them. Now, all they want is to buy a house and shelter there from any other "unprecedented times." But they can't.
Millennials are the group of people born between 1981 and 1996, which means they are currently 26 to 41 years old. As of 2020, only 47.9% of Millennials owned homes. At age 30, homeownership was only 42%, compared to 51% of baby boomers. Over half of millennials believe that purchasing a home is out of the question for them financially.
Homeownership rates for millennials were 22% of the national average in 2019. The effects of the Great Recession have disproportionately impacted millennials and their ability to afford big purchases like homes and cars. 27% of millennials in suburban areas have given up on the idea of owning a home following the COVID-19 pandemic. Around 25% of people aged 18 to 31, so a mix of Gen Z and millennials owe more than $30,000 in debt.
Personal loans can be an excellent tool to pay off debt while minimizing interest paid over time. If you are struggling to pay off student loans or credit card debt, use Credello's personal loan calculator to see how much consolidating your debt can save you. Get on your path to homeownership today.

Check out lenders and solutions that will meet your needs We found 8 options for your requirement
Advertiser Disclosure

8.99% - 23.43%
Est. APR Range
$5,000 - $100,000
Loan Amount
Good For: High loan amounts available, no fees
7.99% - 25.49%*
Est. APR Range
$5,000 - $100,000
Loan Amount
Good For: Offers longest loan term, no fees
7.99% - 35.99%
Est. APR Range
$2,000 - $36,500
Loan Amount

8.49% - 35.99%
Est. APR Range
$1,000 - $50,000
Loan Amount
Good For: Low loan amount
8.99% - 35.99%
Est. APR Range
$2,000 - $50,000
Loan Amount
Good For: Getting funds quickly
9.95% - 35.99%
Est. APR Range
$2,000 - $35,000
Loan Amount
Good For: Getting funds quickly
11.69% - 35.99%
Est. APR Range
$1,000 - $50,000
Loan Amount
Good For: low income criteria, fast funds
21.99% - 35.9%
Est. APR Range
$2,501 - $12,000
Loan Amount
Good For: flexible payment options, fast funds.
Congratulations! You're close to seeing your offers!
Please take a second to review the details you shared earlier
Financial limitations
In 2022, the median price of houses sold is $428,700 throughout the U.S. The average is even higher at $507,800. In comparison, the average price of a home in 1975 adjusted for inflation was roughly $207,000. Millennials are earning on average 20% less than their baby boomer counterparts did at their age. At the most simple level, the minimum wage has not increased at a federal level since 2009.
The U.S. is seeing 40-year inflation highs that these stagnated wages are not able to keep up with. The cost of living is skyrocketing, and people are struggling to make ends meet as it is. Similarly, with the astronomical prices of rent, there is nothing left over in the budget for preparing for purchasing a house.
All of these financial limitations mean that millennials do not have extra income to save for a down payment. If a home costs $430,000, then the standard 20% down payment will be something as much as $86,000, which will be diffcult for some people to afford. If millennials can get a loan with a lower down payment, their mortgage will be higher and difficult to pay. Interest rates are also high, which makes it more expensive to borrow money.
Burdened with debts
Thirty-six percent of millennials name student loan debt as the main reason that they cannot buy a home. Almost 15 million millennials are dealing with student loan debt, with an average of $38,877 per person. On top of student loan debts, millennials also have an average of $4,322 in credit card debt and $12,306 in personal loan debt. Due to the worry of repaying debts, many millennials decided to go to graduate school to further their education in the hopes of getting more money when they graduate. However, this ended up in them accruing more debt in the long run, which is just as difficult to repay.
The debt crisis throughout the U.S. might be addressed by Congress or President Biden before the mid-term elections. The burdensome cost of existing debt makes it difficult to take on new debt, like home loans. Canceling the debt would particularly help low-income borrowers and minorities. These financial limitations and debts have come at a crucial point of financial development for Millennials and have set them up for long-term hardship.
Different values
Not only are Millennials having trouble purchasing homes, but they are doing virtually everything different from their parents. They have pushed the average age for getting married back to 32 years old, compared to 22 years old for baby boomers. It seems that Millennials and Gen Z are focusing more on starting their careers and working on personal development before focusing on settling down and starting a family. Many Millennials also prefer to live in cities rather than in rural or suburban areas, which increases the cost of purchasing a home.
Some Millennials might be waiting to get married before they make the big decision to purchase a home. 9.1% of millennials identify as LGBTQ but were not legally allowed to get married until 2015. Delayed marriage and children, especially for minority groups, have changed the way Millennials go about housing. Changes in the way Millennials and Gen Z view families and communities mean that their priorities might have also changed.
Inflation plays a role
Even wealthier millennials are not immune to the effects of inflation. Almost half of millionaire Millennials are delaying buying a car or a home because of the increase in the cost of borrowing and interest rates. Even though they might not be hit quite as hard by the economy, wealthy millennials are still delaying purchases of larger items until inflation gets under control.
Outside of the bigger items, 36% of millionaire Millennials have decided to postpone a vacation and 39% have stopped eating out as frequently. Costs of goods and services continue to increase, and everyone is working on cutting back their spending to compensate for the change. However, these Millionaires are confident that the economy will get back on track in no time, so they do not anticipate their spending habits changing indefinitely.
What can be done?
Many Millennials still want to own a home someday, but they just do not see it as a reality. If this is a goal for you, you have a few options. Some states or communities have grants that help with down payments for first-time homebuyers. You can also wait for the market to naturally cool down. When home prices drop, you can more easily afford a home. When they start to rise again, you have plenty of equity in your home to use as a downpayment on another house. Some Credit Unions also allow you to get a loan with a 0% down payment, which can help with the struggle of saving.
At the end of the day, it is important for society to address this issue. Wages need to increase, and the cost of living needs to decrease.
Bottom line
Unfortunately, there is no easy answer for how to fix this problem or even a clear picture of exactly what created it. It is much more difficult for Gen Z and Millennials to afford day-to-day expenses and to purchase homes than it was for their parents. Millennials have their own idea of what they want their life to be like and are determined to make that future for themselves.