If You Don't Do This on Your Next Date You May Stay Single
Written by:
Ashley Jones
5 min

read
1585 Views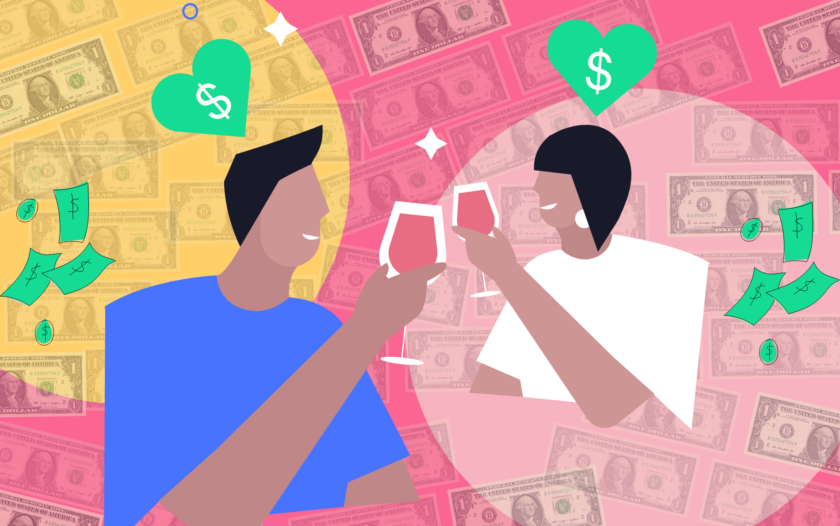 In Credello's Love & Debt survey last year, it was found that 41% respondents are willing to take on credit card debt of up to $2,500 in order to impress a new love interest. But is that really the smartest money move to make during record inflation?
It's no secret that everything is more expensive right now. Inflation has hit grocery bills, retail expenses, housing costs, and so much more. Inflation is also impacting the way we spend time with others — especially if you're on the dating scene. Between TikTok and The Bachelor showing us what a date is supposed to be (are hot air balloon rides really that romantic?) the costs really add up.
That is why rising costs have led to one of the biggest dating trends of 2023: Infla-Dating.
If you don't know how to infla-date in 2023, you're missing a prime opportunity to connect with other singles despite the economic downturn.
What is infla-dating?
Originally coined by the dating app Plenty of Fish, "infla-dating" involves planning less expensive dates to keep more money in your wallet during inflation.
Millennials and Gen-Z singles are totally on-board with the trend. In fact, 48% of single folks in the age groups have suggested going on a budget-friendly date, according to Plenty of Fish.
Despite inflation, 63% of singles still plan to celebrate Valentine's Day in 2023, according to a OnePoll survey commissioned by Plenty of Fish in partnership with nonprofit A Call to Men. However, many seem to be lowering their expectations for the day in light of the economy. Only 16% of singles surveyed have a fancy dinner date on their Valentine's Day agenda.
You don't have to go broke to plan a great date
The main idea around infla-dating is that you don't have to spend a ton of money to get to know someone. After all, that's what dating is really about, right?
Singles spend upwards of $130 per month dating, according to the 12th annual Singles in America study by Match, released in Nov. 2022. As costs continue to rise, the amount you spend dating doesn't have to. Instead, you can learn to infla-date and prioritize saving money over spending it on expensive events and activities.
Here are just a few ideas to get your started:
Grab a cup of coffee and go for a walk in the park
Hit up a free art gallery or exhibit
Watch the sunset in a scenic spot
Find a museum with free or discounted admission
Browse antique stores or thrift shops together
Take a bike ride together
Go hiking
Catch a recreation league sporting event
Buy an inexpensive bottle of wine to drink by candlelight
Visit the library together
Sticking to a budget on a date doesn't have to ruin the romance
The idea of going on a budget-friendly date isn't new, but it can present a prime opportunity to talk about finances with someone you want to date. In times of economic turmoil, it's more important than ever to be on the same page as your partner, so having money conversations early on can help your partnership blossom into something that's healthy for your heart and your bank account.
The Singles in America survey also found that "96% of singles feel like having similar attitudes about debt and spending is an important partner trait." This number is at an all-time high for those surveyed over the past decade, proving that inflation is having a huge impact on singles and their ability to find someone who they're financially compatible with.
It's also important to keep in mind that infla-dating today doesn't mean you and your potential partner are destined to be broke together forever. "It's not about how much money your date has today but rather their relationship with that money for the long term that is important," Christiana Cioffi, author of An Unapologetic Spinster: True Modern Dating Stories, explains. "Discuss the role money plays in their future desired lifestyle and assess if that role aligns to your lifestyle dreams as well."
Sure, you could swipe a credit card or use a BNPL app to fund an impressive first date, but what might be more impressive to potential partners is showing off your money-saving skills. If you're well on becoming debt-free, you can even use Credello's loan payoff calculator tool to show your date just how close you are to ditching debt altogether. This handy tool calculates your debt free date and gives you a fantastic starting point to talk about your money goals together.
Tell us what you are looking for?
I am looking to calculate
I just have one
debt
I have more than
one debt
Infla-dating for the long-haul
Even married couples or people in long-term relationships can benefit from infla-dating. If you're struggling to bring up the idea of finances with your partner, consider planning a money date based around one of the budget-friendly date ideas above. This is a time set aside specifically to connect with your partner about financial matters, which can be especially beneficial for couples who are working toward specific money goals together.
You can even consider making a money date part of your regular routine to keep your financial health in check. Take a walk and discuss your debt payoff strategy, grab a cup of coffee at a local spot and set up your retirement fund, watch the sunset and download a financial app for couples — as far as dates go, with these ideas, you're getting your money's worth.
Bottom line
Another thing to consider if infla-dating doesn't go over well: If you can't enjoy time together without blowing your budget, it might be time to rethink your relationship's potential. Finances are a huge factor in how you'll fare as a couple long-term, so if someone isn't impressed by your savvy spending or ability to have fun on a budget, they're probably not the one for you.