Broke Black Girl Dasha Kennedy Says These Money Moves Will Boost Your Financial Health
Written by:
Anouare Abdou
5 min

read
2046 Views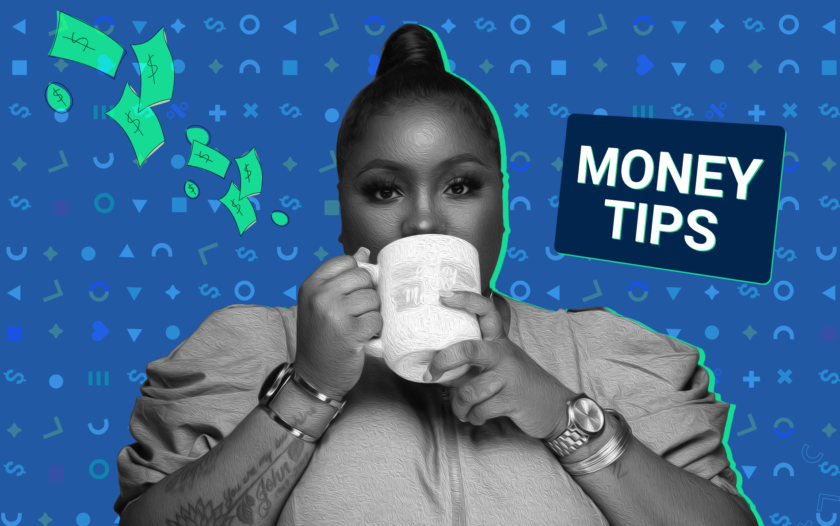 It's time for a financial glow-up. This year, prioritize your financial well-being one money move at a time. Dasha Kennedy, a content creator, financial activist, and the founder of The Broke Black Girl, is on a mission to help African-American women do so.
"Financial well-being means that you can meet your current and future financial obligations to the point where you are secure in the long term. This puts you in a place where you are able to make financial choices that will allow you to become financially free and enjoy life regardless of income," she told Credello.
Feeling overwhelmed about your finances? Keep this in mind
The Broke Black Girl is a culturally relevant financial education platform. It started as a Facebook community where Kennedy shared authentic tips based on her own financial struggles as a young Black woman – and her professional experience in the finance industry. From couponing to paying off debt, she has plenty of wisdom to offer as you navigate your personal finance journey. If you're feeling overwhelmed and are not sure where to start, she wants you to know that it's okay not to do everything at once.
"The information on what you should or shouldn't do with your money can be scary at first, but it's important to know that you don't have to do everything all at once. You can start with baby steps," she says. "Ask yourself, what do you need or want to do with your money right now? If you need to save or pay off debt, then I recommend starting there."
Don't get discouraged comparing yourself to others. "It may seem like you are steps behind everyone else, but in reality, you are doing the most important step which is awareness," adds Kennedy. "Financial setbacks are hard, but don't let them discourage you from your own journey. You are on your own timeline, and not everyone is on the same step."
Feeling trapped by your financial setbacks? You don't have to be. Get your debt under control. Check out your options.
What debt do you want to consolidate?
Select all that apply
Others does not include mortgage
Money moves that will help you pay off debt
Let's say that you do have debt. It's a good idea to start tackling it as a first financial goal. "First things first – remember to pay off credit cards and any other form of debt and make sure to pay them off on time," says Kennedy.
Her best advice to stay out of debt? Make a budget – especially if you're struggling. "In times of uncertainty, putting a plan in place helps people feel like they have control over their lives," she adds.
She recommends the following tips to pay off debt.


Set a budget: Need to run errands? Take cash out first so you're not tempted to go over budget, recommends Kennedy.
Shop at outlets, compare prices, and use discount codes: You'll want to shop smart, too. "Shop around, take the time to compare prices and look for options at discount stores. When shopping online, avoid retailers that make you pay for shipping on returns and score savings by using discount codes and free shipping offers," she says.
Avoid Buy Now, Pay Later models: Speaking of online shopping, staying away from BNPL is a good idea. "While you may not be paying anything in interest or fees, this payment flexibility model can make you finance items you don't really need and should probably pay for in cash," according to Kennedy.
Avoid deals unless you need the items: Also, remember that a seemingly great deal may not always translate into money well spent. "Avoid 'Buy One, Get X' or "minimum purchase for free shipping" unless you intended to buy more than one of the items or would have met the minimum with planned purchases. We often spend more when we think we are getting a deal."
Get a side hustle: Kennedy is a big fan of side hustles. You just have to stay disciplined and actually use your extra earnings towards your debt payments.
Consider a debt relief service: "If you are finding that your debt is too difficult to handle on your own, you can reach out to professionals – like National Debt Relief – for assistance. They'll go over your unique situation with you and help you craft the best plan to get yourself out of debt and create a budget you can live with," she says.
Financial setbacks are hard, but don't let them discourage you from your own journey. You are on your own timeline, and not everyone is on the same step.
Small financial habits with big payoffs
Whether you have debt or not, never underestimate the impact that small financial habits can have on your finances. Use the baby steps below to reach money goals, The Broke Black Girl way.
Update your budget to reflect inflation: "Create a new budget, add up everything you need to pay at the end of the month to have a better sense of what you have left to spend against these inflated prices," recommends Kennedy.
Put aside $1 a day to create an emergency fund: "With wallets being stretched, setting aside a small amount daily can help cushion an unexpected bill," she adds.
Ditch the plastic: As Kennedy puts it, credit cards can be a "very dangerous habit" these days: "People are drowning in student debt, inflation is skyrocketing, and the housing market is so high. Casually accumulating credit card debt can lead you to misjudge how much you're really budgeting in a month and overspend."
Cook homemade meals: She also recommends avoiding takeout and preparing meals at home. When you combine those efforts with coupons, sales and offers on everyday items, you can make huge strides towards goals like building an emergency fund. "If you save $3 on your weekly shopping trip to the grocery, that is $156 more for an emergency," says Kennedy.
Bottom line
Big financial transformations happen one moment at a time. It's never too late to start, and modest moves can turn into massive momentum that will encourage you to keep going on your personal finance journey.