Black Americans and Wealth: Understanding the Racial Wealth Gap
Written by:
Anouare Abdou
6 min

read
4176 Views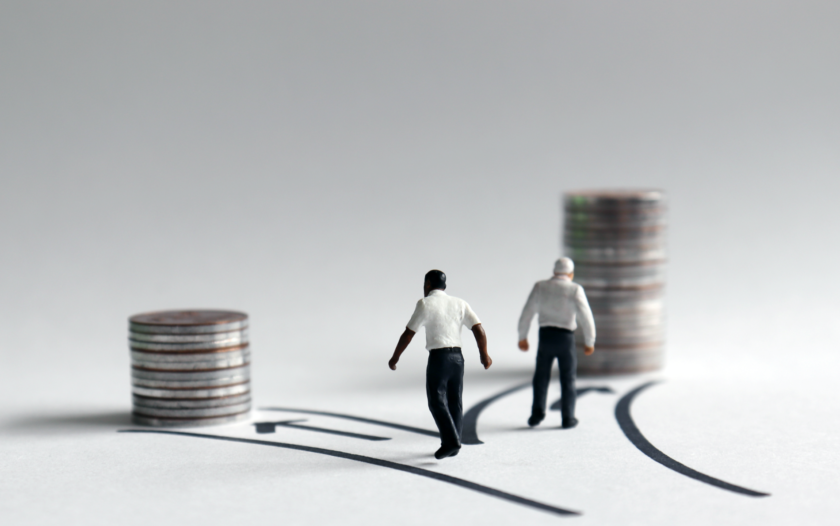 At a Glance
The racial wealth gap keeps growing at an alarming rate–and it's not just about income inequality. Yes, Black families earn less. But they also have to work against systemic forces that prevent them from amassing wealth at the same rate as white households. And, without change, this disparity is only going to get bigger.
What is the racial wealth gap?
The racial wealth gap refers to the disparity between the assets of Black and white American households.
According to a recent report, in 2064, "the white family will possess $2,782,727 in wealth while the Black family's wealth will be $789,164—or more than 70% less." More hard-to-ignore stats include the fact that predominantly white school districts receive more funding than predominantly non-white ones, or that qualified Black mortgage applicants are rejected at twice the rate of white applicants.
"International stay-at-home orders throughout the pandemic provided fertile ground for folks to sit and actually pay attention to the inequities that have been around for centuries," says P. Valerie Dauphin, an L.A.-based life coach, author, and DEI facilitator who specializes in helping women of color in bad office jobs create careers they love. "So many people have woken up to the fact that structural and institutional racism exists. And with that, it's especially difficult to turn a blind eye to these inequities and return to business-as-usual."
"Without immediate and direct intervention, the gap will continue to grow. As such, it is more important now than ever to talk about racial wealth gaps," adds Accredited Financial Counselor Lana Hinds.
What causes the racial wealth gap
If you're wondering why the racial wealth gap exists, know that its very existence is based on systemic racism, but the way that shows up takes on different forms.
"There is a significant earnings deficit between Black Americans and white Americans. Educational disparities result in lower returns on educational investment, higher student debt load, and fewer Black Americans achieving higher education as a whole in comparison to white Americans," according to Hinds. "There are stark differences in homeownership rates between Black and white Americans, which is a key element in the household wealth equation."
So the racial wealth gap is caused by many things, but it can also be summed up in one uncomfortable-to-admit principle. Dauphin quotes Elena Aguilar, author of "Coaching for Equity: Conversations That Change Practice" to sum it up: "The only racist system that has ever existed is one based on the ideology of white supremacy; the system is designed to benefit and privilege whiteness by every economic and social measure."
According to Dauphin, practices like predatory banking and redlining certain neighborhoods that were deemed unsavory for investment blocks certain racial groups from accessing the same economic opportunities as white Americans. And there are also biases that perpetuate inequality on an institutional level, from academic testing and disciplinary practices to hiring and promotion trends.
Not to mention generational wealth, which creates a big socio-economic advantage for those who have access to it, such as not needing to take out student loans, or receiving an inheritance that allows for a downpayment on a house. Racial disparities in generational wealth contribute to the uneven playing field.
Another underrated factor at play in the racial wealth gap is access to information, according to Carlynn Greene, financial aid coach, TikToker and founder of Scholarship Guru.
"One of the main key factors that continue to uphold systemic wealth gaps is accessibility and gatekeeping of information," she says. "For instance, as it pertains to financial literacy, whether that relates to investing, building credit, trust funds, or even college financial aid." Creating free content on financial literacy is Greene's way of spreading that knowledge more widely.
She also mentions the unconscious biases we all have to actively be aware of and challenge. For example, a Black couple selling their home had a white friend pretend to live there. They removed all their photos. The home's appraisal was raised by nearly half a million dollars.
"I told my parents about this story because they were once realtors. Their response was that this unfortunately always happens, and how when they were real estate agents unlocking homes for Black clients sometimes white neighbors would call the cops on them because they couldn't fathom a Black person living in an upper-class neighborhood," adds Greene.
What we get wrong about closing the racial wealth gap
Talking about race is the first step to addressing those biases. And it's necessary to dismantle systemic wealth inequality, which requires policy change.
"While financial education is necessary, we must understand that white Americans did not get ahead by simply attending a few financial literacy classes," says Hinds. "They historically benefited from government policies that were created for the purpose of building their wealth. Historically, many of those policies explicitly excluded Black Americans. We need a full understanding of the impact that government policy has on Black Americans, and a subsequent overhaul."
"I would like to say that the government would be the best option to dismantling these systems, but oftentimes it is instead what upholds such institutions," adds Greene.
According to Hinds, Black Americans need to be included in the process of creating change, and have an equal voice and a seat at the table in initiatives that pertain to institutional change. "Until that happens, improved access to wealth-building opportunities, increased income, anti-racism efforts, and protection from predatory financial products are a few steps in the right direction toward bridging the gap," she adds.
Diversity, Equity and Inclusion efforts
So what about DEI (Diversity, Equity and Inclusion) efforts? They are helpful, but require more than an online training with a quiz at the end.
"I remember going through diversity training at a previous job and all it included was modules that you click through for a few minutes until you get the right answers. Then, that same day after training, my boss at the time said something very insensitive about the minority international students," shares Greene.
One of Dauphin's go-to resources for facilitating DEI sessions in the workplace is the list of 13 characteristics of white supremacy culture presented in Kenneth Jones and Tema Okun's Dismantling Racism workbook. "What I appreciate about Jones' and Okun's work is that they've offered solutions to each characteristic. There is no reason why transformation cannot happen with all these resources available. There are actions every individual at any level in a company can make to counteract white supremacy culture."
"In order for wide-scale pervasive transformation to occur, however, organizational leaders must commit to doing whatever it takes for however long it takes to ensure that, not only their hiring practices, but also the very culture of the organization promotes multicultural and inclusive norms and standards."
"I honestly feel that in order to dismantle this system society needs more white allies who are willing to and in positions of power to disrupt it," concludes Greene.