This 1 Tip Can Help You Get Thousands of Dollars When You Get Bumped Off a Flight
Written by:
Anouare Abdou
4 min

read
2082 Views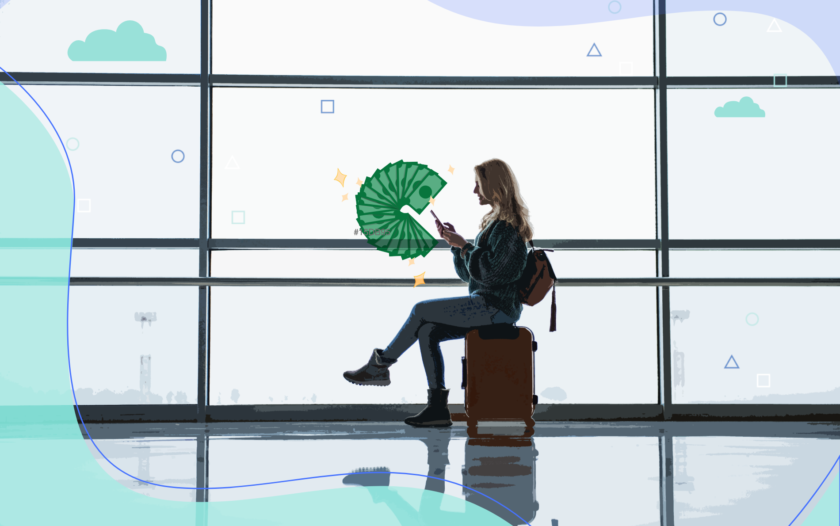 At a Glance
Getting bumped from a flight due to overbooking can disrupt your travel plans. But if you play your cards right, you can walk away with lots of money in your pocket.
If you feel that airlines have been bumping more passengers from flights recently, you're not crazy. Travel is back with a vengeance and so is the practice of airline overbooking flights. It's not all bad news – it can mean more money in your pocket as a passenger.
Recent statistics from the U.S Department of Transportation revealed that in the first quarter of 2022, instances of involuntary denied boarding happened three times more often than in the first quarter of 2018.
It's unfortunate when vacation plans get thrown off, but it can be a silver lining when compensation is involved. According to the U.S. Department of Transportation, passengers bumped due to oversales are entitled to compensation based on the price of their ticket, the length of time that they are delayed in getting to their destination because of being denied boarding, and whether their flight is domestic or international.
Traveling is expensive even if you do end up getting money back for being bumped. If you are looking for financial help with a trip consider a personal loan as an option.

Check out lenders and solutions that will get you what you need We found 6 options for your requirement
Advertiser Disclosure

8.99% - 23.43%
Est. APR Range
$5,000 - $100,000
Loan Amount
Good For: High loan amounts available, no fees
7.99% - 35.99%
Est. APR Range
$2,000 - $36,500
Loan Amount

8.49% - 35.99%
Est. APR Range
$1,000 - $50,000
Loan Amount
Good For: Low loan amount
8.99% - 35.99%
Est. APR Range
$2,000 - $50,000
Loan Amount
Good For: Getting funds quickly
9.95% - 35.99%
Est. APR Range
$2,000 - $35,000
Loan Amount
Good For: Getting funds quickly
21.99% - 35.9%
Est. APR Range
$2,501 - $12,000
Loan Amount
Good For: flexible payment options, fast funds.
Congratulations! You're close to seeing your offers!
Please take a second to review the details you shared earlier
Overbooked flights and passenger rights
This passenger protection mechanism is called Denied Boarding Compensation (DBC). As long as your arrival delay is more than an hour, you're entitled to money when denied boarding due to overselling. An arrival delay of over two hours on a domestic flight or four hours on an international flight gets you 400% of the one-way fare up to $1,550.
Here's how the whole thing works. Airlines want to fly their planes at full capacity. Selling more seats that there are on an aircraft usually works out because of last-minute changes in travel plans – not all passengers show up. But sometimes that bet backfires when everyone does indeed show up (and if you flew during the summer of 2022 there is a good chance you experienced this.)
In that case, airlines first look for volunteers. They offer vouchers and negotiate with passengers willing to forego their flights. Those negotiations can get interesting fast. For example, a family of five recently walked away with $22,500 in total compensation for not being able to board a flight to Iceland that was oversold by 30 passengers, according to Insider. When there are not enough volunteers, the airline then resorts to bumping people forcibly.

0.44 per 10,000 passengers
Was the rate of passengers who were involuntarily denied boarding in the first quarter of 2022. This is more than five times greater than the 2021 figure.
FinFact
How to get compensated on an oversold flight
If an airline is looking for passengers willing to get bumped, volunteer and negotiate. The more overbooked the flight is, the more likely the airline will be to offer generous compensation vouchers.
If you get to the airport and find out that you were forcibly bumped from your flight, don't make the mistake of letting the airline tell you that they will rebook you on the next flight and that there is nothing else they can do.
TikToker and lawyer Erika Kullberg went viral on TikTok for explaining how to react to that sort of pushback. "Actually, I've read the terms. This is called involuntary denied boarding. And in this case, I'm eligible for compensation," Kullberg says in her video enactment of a conversation with a gate agent.
In the example, the one-way fare cost $250 and the next available flight was in three hours, so the passenger was entitled to $1,000 in compensation (400% of the fare). "Erika, I just used this tip at the airport coming back home from Virginia. I've literally got enough money to pay for another trip. Thank you," one TikTok user commented on the video.
The bottom line
Airlines are bumping more passengers from flights compared to before the pandemic. If it happens to you, know your rights so you can walk away with as much compensation as you are entitled to.