What is Heritage Travel and How Can You Pay for it?
Written by:
Trevor Mahoney
5 min

read
1152 Views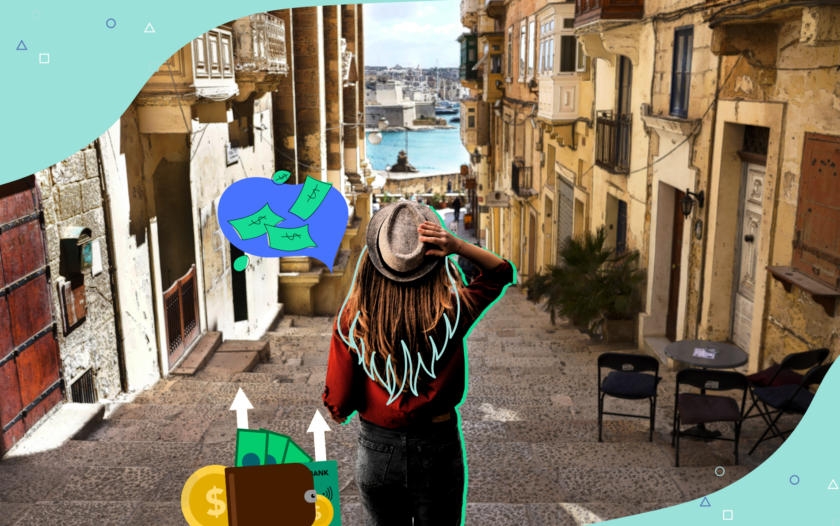 At a Glance
Planning a family trip to learn more about your own ancestry is an exciting endeavor, but one that can come with heavy expenses. Taking the time to organize your trip and learn about all the ways you can save money will only help to bolster your trip and make it more enjoyable.
In this article, you'll learn:
What does heritage travel mean?
For those unfamiliar with the term, heritage travel is a specific type of travel in which a person or group travels to a location for the purpose of learning more about the place, artifacts, and activities that accurately represent the people and cultures of that area. This can be for any culture, but most people organize heritage trips to learn more about their own heritage and ancestors.
What are genealogy trips?
A genealogy trip is a subset of heritage travel that is geared specifically towards your own past. Rather than exploring unknown cultures, a genealogy trip is structured to visit a location and culture where your own ancestors lived to gain a better sense of where you are from and the culture you descend from.
Other types of genealogy trips
There are several different types of genealogy trips that a person can organize, varying in cost in complexity:
1. Genealogical research
Genealogical research is the practice of taking historical documents, whether official or unofficial, to track down and trace an individual's' ancestry. After locating this information, a person may organize a trip to the area they identified for the purpose of a genealogical research trip.
2. Visiting distant relatives
Even something as simple as visiting distant relatives can count as a genealogy trip, especially if you have never visited your relatives in their home location before. Of the many different types of genealogy trips, visiting distant relatives is likely the cheapest choice.
3. Ancestors' home tours
Ancestry vacations and ancestry travel would not be complete without visiting the ancient homes of those you are descended from. The cost and fees associated with each of these historical ancestral sites may be large, so it's important to plan these home tours ahead of time.
How much does heritage travel cost?
Heritage travel can quickly get expensive, with the specific cost ranging depending on which type of trip a person takes. However, including airfare, lodging, tour costs, hiring a guide, or other expenses, it's possible that the cost of your heritage vacation can quickly get into the thousands. Ancestry genealogy trips are typically as expensive as you make them, though, so taking time to plan and cut costs can help make it more manageable.
Financing options for heritage travel
Considering the fact the price of heritage travel can quickly get into the thousands, looking into different financing options may be important for you:
1. Personal savings
Assuming you have been planning your heritage travel for a long time, building up your personal savings on a month-by-month basis can be a useful strategy for saving. Set aside a little more than normal each month so that you have a travel nest egg to use once you have planned your trip.
2. Vacation loans
There are specific types of loans available to potential borrowers, such as vacation loans, that can help with financing needs such as this. In most cases, vacation financing are unsecured personal loans that allow you to borrow up to $100,000. The interest rate you are offered will depend upon a number of factors such as income level, credit history, credit score, and more.
Use third-party funding to gain access to funds for your next vacation.
Vacation loans can provide the money you need.
3. Travel credit card rewards
Certain types of credit cards, such as travel cards, offer rewards benefits that are geared towards travel purchases. These rewards can vary from points-for-cash that can be used to redeem airline or hotel purchases, as well as airline benefits such as access to airport lounges. To gain the benefit of these credit cards, all you need to do is use them for your everyday purchases to gain points.
Related: Travel Credit Cards
4. Personal line of credit
A personal line of credit can be an excellent method for financing your heritage travel. This type of debt works by providing you access to funds up to a certain amount that you can borrow. A borrower can borrow up to the grand total amount, but they need to pay back what they have already borrowed to gain access to the funds again.
Learn more: Personal Line of Credit
Tips to prepare for your genealogy trip or heritage travel
The best way to save money and time in advance of your heritage travel is to plan out the events and costs ahead of time:
1. Do your homework and research
With any type of travel, it's important to take the time to research all the activities you wish to do ahead of time. By doing so, you will be able to calculate the total cost of your trip, which will tell you whether you need to seek external financing prior to going on the trip.
2. Make a detailed itinerary
Building out a schedule for your trip can keep things better organized and keep you safe while you are traveling. Going to a new location, especially for heritage travel, can be overwhelming, but planning it all out ahead of time can help you to enjoy your trip more.
3. Consider a professional travel agency
If you are not one for planning, hiring a professional traveling agency can make the entire trip a smoother process. Travel agencies will likely have knowledge of historical tourism locations, tour guides, and other aspects of travel that only locals may be aware of.
4. Take great care in packing
Packing for your trip is an important aspect of your vacation. When looking at what to bring, consider all the activities you are going to take part in and the clothes that will be required. Always remember to pack proper clothes for the climate you are visiting, and don't forget to bring any personal items that you may need for the trip.
FAQs