Mobile Loans: How to Apply for a Personal Loan on Your Phone
Written by:
Caitlyn Callahan
5 min

read
1197 Views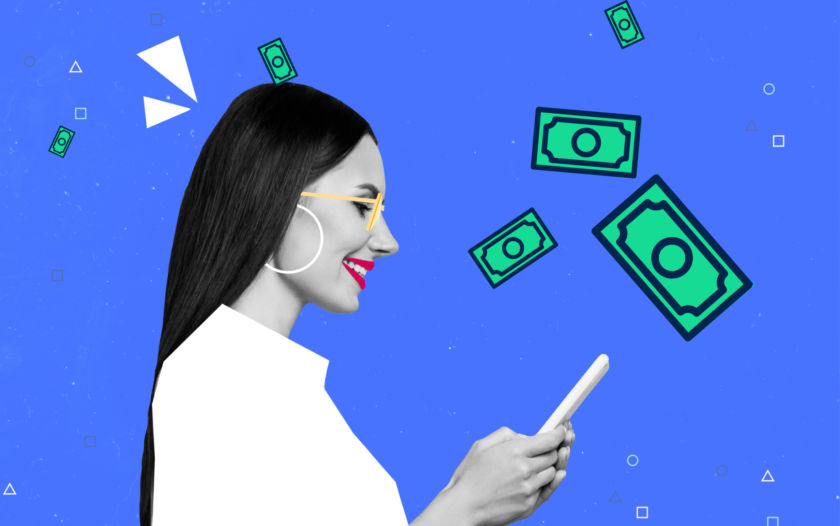 At a Glance
Thanks to today's technology, it's faster and easier than ever to apply for a personal loan using your mobile device, including a smartphone or tablet. With an online mobile-loan application process, you can apply for a loan on your phone in just a few minutes. Once approved, the funds can be quickly deposited into your account. And you can do this wherever you are and whenever you're ready.
However, there are some risks to using a mobile device for a loan application, so it's important to weigh the pros and cons and know how to keep your information safe. Read to learn more about:
What is a mobile loan application?
Mobile loan applications are just as they sound – loan applications you can complete on your mobile device. Many banks and online lenders allow borrowers to apply for a loan through their device, such as via a mobile app or the mobile web browser on a smartphone or tablet.
The entire process for these loan applications is handled digitally, including applying for the loan, having your application reviewed, loan approval, and receiving the funds. This eliminates the need to visit a physical location or contact anyone via telephone.
Types of loans you can apply for on your phone
There are a variety of types of loans you can apply for online through your phone or tablet, including:
1. Personal loans
Personal loans are a type of installment loan with fixed interest rates and monthly payments. Typically unsecured, they don't require collateral to be approved. Loan amounts range from $1,000 to $100,000 and can be used for just about anything, including home improvements, car repairs, medical bills, debt consolidation, funding a vacation or large event, or unexpected or emergency expenses.
Interest rates and loan terms are determined using several factors including credit score, credit history, income, and debt-to-income ratio. Typically, the better your score and the more qualified you are, the lower the interest rate you'll receive.
Compare mobile personal loan options today
Find personal loans built to fit your needs and budget in just a few minutes.
2. Auto loans
Auto loans can provide financing for purchasing a new or used car. While you can get an auto loan through the dealership, you can also apply for one online through a bank, credit union, or online lender. You may also be able to refinance your loan through your mobile device.
3. Payday loans
Payday loans are short-term loans for small amounts of money. They are designed just to help hold you over until your next paycheck, and the loan is typically due within a couple of weeks. These loans can be applied for online but be cautious – high-interest rates and fees can make these loans very costly.
4. Car title loans
Another loan type that should be approached with caution, though they are easy to apply for through your mobile device. These short-term loans require you to use the title of your vehicle as collateral in exchange for the loan funds. If you don't repay the loan in time, you could lose the car. These loans also have high interest rates and fees.
What do you need to apply for a loan on your phone?
Much of what you'd need to apply for a loan in-person at a bank or credit union is also required to apply for one on your phone. Requirements vary by lender, but you'll likely need:
Proof of identification such as a state-issued driver's license, state ID, or passport.
Social Security Number (SSN).
Proof of income, such as pay stubs, tax records, or a history of bank deposits over the last two to three months or pay periods.
Valid email address and other contact information.
Checking account for the funds to be deposited into.
Of course, you'll also need a reliable mobile device, such as a smartphone or tablet.
Featured Checking Accounts from our partners
Advertiser Disclosure
Is it safe to submit a loan application from my smartphone?
Many borrowers may hesitate to apply for a loan from a smartphone or mobile device. While they are faster and much more convenient, you should make sure you understand how the app or mobile site works and security measures in place that will protect your information. For example:
1. Only use trusted sources. Ensure the lender is legitimate before you download their app or apply for a loan on their website. Research the lender on the Better Business Bureau website and other online sources to ensure the lender isn't a scam. Look for the little lock icon in the browser bar to signal an encrypted and protected connection to a website.
Before downloading a mobile app, read customer reviews of the app and only download from an established app store, such as Apple or Google Play.
2. Review permissions before accepting them. Be sure to read the privacy settings of the app, and before granting access permissions, make sure you understand what information the app wants access to. You should feel comfortable with this before giving access. Or, you can limit permissions.
3. Update your device regularly. By making regular operating system updates, you're allowing security patches to prevent exposure to cyberthreats.
4. Avoid using public Wi-Fi. If you're using your mobile device to fill out a loan application, only do so on a private or secure Wi-Fi network that's password-protected. Public networks are more easily hackable, allowing someone access to your device and information.
If you follow these steps, it's likely safe to submit a loan application on your mobile device.
Is a mobile loan right for me?
Applying for a loan on your smartphone or tablet is quick, convenient, and safe, if you follow the proper steps to ensure your information is secure. But while there are benefits, there are also drawbacks to consider:
| Pros | Cons |
| --- | --- |
| Apply wherever you can use a mobile device. | Not ideal for borrowers who are not comfortable using technology. |
| Compare rates and offers from multiple lenders easily on your phone. | Using illegitimate, unsecure, unsafe apps or sites can put your information at risk. |
| Applications are processed and funding happens quickly. | No face-to-face customer service if you have questions or problems. |
If you're comfortable using your mobile device to complete and submit the application, as well as to access any customer service assistance you may need, a mobile loan may be the fastest and easiest way to get loan funds. You can apply wherever and whenever you want if you have your device, and it's easy to compare rates from multiple lenders to ensure you're getting the best offer.
However, it's important to use a safe, secure, and legitimate lender's website or app to protect your information. If you're not sure how to verify a lender, aren't comfortable using technology, or need in-person customer service assistance, a mobile loan may not be ideal and you may want to visit a financial institution in person to complete your application.
FAQs