LightStream vs. SoFi – Personal Loan Comparison
Written by:
Caitlyn Callahan
6 min

read
274 Views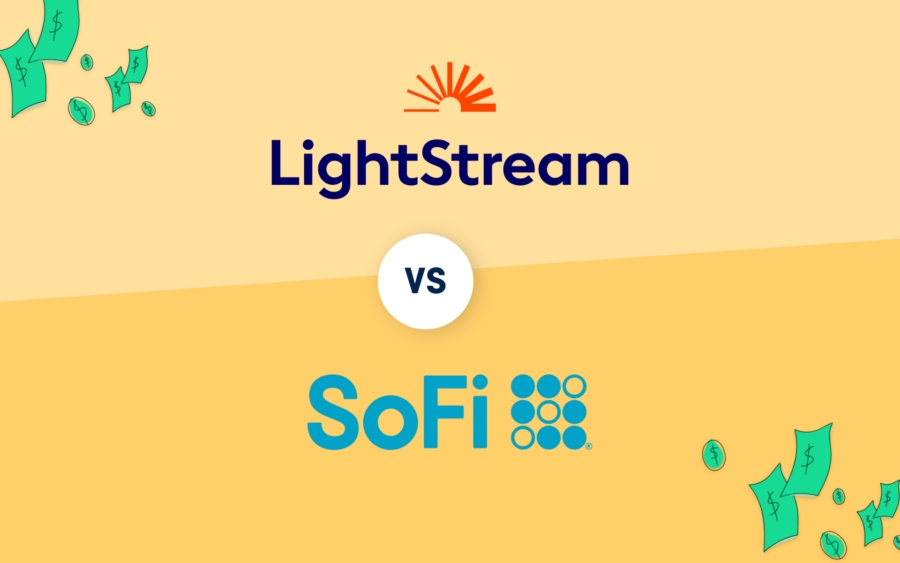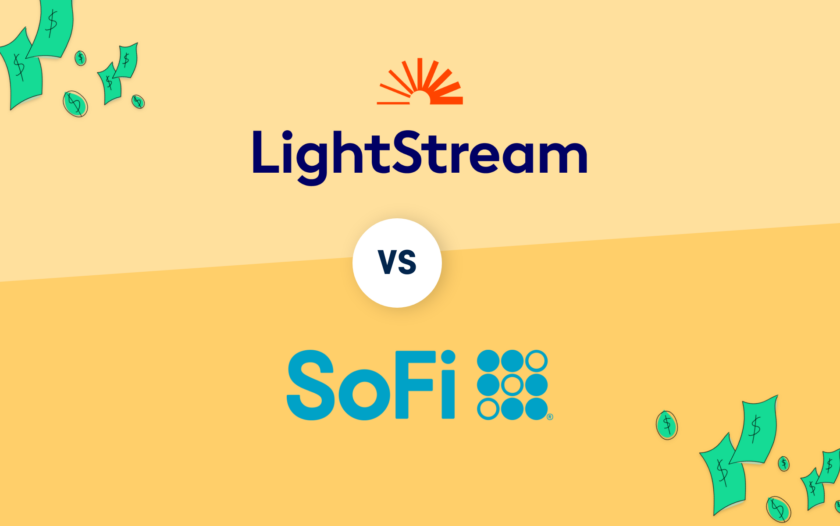 At a Glance
If you're considering a personal loan, you'll quickly find there are a lot of lenders and options available. It can be overwhelming to research and choose a lender with the best loan for your situation. To help get you started, Credello has put together a guide comparing LightStream and SoFi, two popular personal loan lenders, comparing features like loan amounts, terms, APR, fees, time to funding, discounts, and more.
In this article, you'll learn:
LightStream vs. SoFi personal loans at a glance
| | LightStream | Sofi |
| --- | --- | --- |
| Better For | Borrowers looking for fast funding and longer loan terms. | Borrowers looking for fund flexibility and flexible repayment options. |
| Loan amounts | $5,000 to $100,000 | $5,000 to $100,000 |
| Loan terms | 24 – 144 months (depending on loan type) | 24 – 84 months |
| APR | 7.99% – 25.49%* with AutoPay | 8.99% – 25.81%* with AutoPay |
| Fees | None | None |
| Minimum credit score | Good to Excellent | 680 |
| Time to funding | As soon as same- or next-day | As soon as same day; typically within a few days |
| Co-signer permitted | Yes | No |
LightStream personal loans
LightStream offers flexible personal loans you can use for just about anything, including (but not limited to):
Home improvement (like a kitchen or bath remodel, swimming pool, landscaping, or other).
New or used car, boat, motorcycle, RV, or other recreation vehicle purchase.
Debt consolidation
Adoption or fertility treatments
Wedding
Medical bills
However, whatever you indicate in your application is the reason for the funding is what the funds must be used for.
Focusing on borrowers with good to excellent credit, LightStream can offer lower interest rates, including discount opportunities (like a discount of 0.5 percentage points APR for signing up for AutoPay or 0.1 percentage points discount with its Rate Beat program), and no origination fees or prepayment penalties.
LightStream also offers same, and next-day funding as long as you apply for the loan early enough in the day and you have an excellent credit score.
Learn more: LightStream Personal Loan Review
Pros and cons
| Pros | Cons |
| --- | --- |
| Get lower rates with the Rate Beat* program and other discounts. | Good to excellent credit required |
| Loan amounts of up to $100,000. | Low-interest rates are only available for some loans |
| Fast funding (same- or next-day). | Some restrictions on fund usage |
| No fees. | High minimum loan amount |
| Terms up to 12 years (depending on loan purpose). | |
| Joint application available. | |
| Direct payment to creditors available. | |
*With the Rate Beat program, LightStream will offer a rate 0.10 percentage points lower than the rate offered on any competing lender's unsecured loan, provided you were approved for that lower rate.
SoFi personal loans
While SoFi started out as a lender for student loans, it also offers other products including banking and investing services and personal loans. This means you may be able to use SoFi for banking and/or investing and as a personal loan lender, making managing your finances more convenient.
While SoFi's interest rates start slightly higher than LightStream, it also offers discounts like a 0.25% autopay and 0.25% direct deposit discount. SoFi also has an unemployment protection program so if you lose your job, you may be able to modify your monthly payments. SoFi may even help you with new job placement.
Note that SoFi does not offer co-signers on personal loans, but you can apply with a co-applicant (both applicants are responsible for repaying the loan and must live at the same address). However, they have no fees and offer funding as fast as same-day (though it may take a few business days).
Learn more: SoFi Personal Loan Review
Pros and cons
| Pros | Cons |
| --- | --- |
| Direct Pay allows for direct payment of lenders and extra rate discount. | Does not allow co-signers on personal loans. |
| Flexible repayment options. | Credit score requirement of at least 680. |
| Borrow up to $100,000. | Doesn't offer direct payment to creditors for debt consolidation. |
| Temporarily pause payments if you experience job loss. | High minimum loan amount. |
| Discounts include Auto Pay and direct deposit. | |
| Get prequalified without impact to credit. | |
| Same-day funding available. | |
| No fees. | |
Is LightStream or SoFi better for me?
The right lender for you depends on your personal financial situation and needs, though there are some reasons you may want to lean toward one lender over the other. When it comes to loan amounts, both LightStream and SoFi offer a range of $5,000 to $100,000. Both require borrowers to have good to excellent credit to qualify, and both offer better rates and terms for borrowers with higher credit scores.
1. APR range: LightStream
Both LightStream and SoFi offer lower, competitive rates for borrowers with good to excellent credit, and both offer discounts to help you get an even lower rate. However, LightStream has a generally lower starting APR and they will take 0.10 percentage points off of a competitor's rate offer for an unsecured loan, likely making this your lowest option.
2. Repayment terms: LightStream
Both SoFi and LightStream have repayment terms ranging from 12 to 84 months, but LightStream has repayment terms up to 144 months for certain loan types. If you need longer repayment terms, LightStream may be a better option.
3. Repayment flexibility: SoFi
While LightStream may offer longer repayment terms, SoFi has an unemployment protection program where if you lose your job (through no fault of your own), it will work with you to modify your monthly payments and even help you with job placement. This provides extra flexibility and peace of mind for borrowers. You can also change your monthly payment due date at any time (once per year).
4. Loan usage: SoFi
You can use personal loan funds for just about anything; however, when you apply for a loan with LightStream you must enter a reason you will be using the funds. Then, you must use the funds for that reason. For example, if you say you are using it for home improvement, you must use it for home improvement and cannot then use it to pay medical bills. That's because their different personal loans have different terms and conditions. On the other hand, SoFi has much more flexibility with how you can use the funds.
5. Time to receive funds: LightStream
SoFi and LightStream disburse funds quickly, though for SoFi, it depends on the type of loan you're getting and how you choose to receive funds. For example, you can receive funds directly into your bank account, but if you're using them for debt consolidation, it can take a few business days. LightStream, on the other hand, funds your loan within the same day (as long as it's a banking business day) or next day, giving them a slight edge in this category. Borrowers can also choose their funding date.
6. Co-signers: LightStream
SoFi does not allow co-signers for personal loans. Instead, you must apply with a co-applicant (and some restrictions apply). If having a co-signer will increase your chances of loan approval and help you get a better rate and loan terms, apply with a co-signer with LightStream.
Compare more lenders before applying
Both SoFi and LightStream offer similar loans, especially for borrowers with good to excellent credit (though LightStream may beat competitors with their Rate Beat program and fast funding).
However, there are many banks, credit unions, and online lenders that provide personal loans, each with competitive rates, terms, funding time, discounts, and other features. Before choosing a lender, get prequalified for a personalized estimate of what you'd qualify for and your monthly payments. To find a lender that gives you the best offer, compare features like:
Loan minimum and maximums
APR
Fees
Funding time
Customer service
Credit score requirements
Loan purpose
Find and compare the best loan options.
Advertiser Disclosure
Use the filters below to refine your search Sorry, we didn't find any options that meet your requirements. Please try modifying your preferences.
Congratulations! You're close to seeing your offers!
Please take a second to review the details you shared earlier

FAQs