Should You Get a Personal Loan for Used Motorcycles?
Written by:
Ally Pollema
7 min

read
191 Views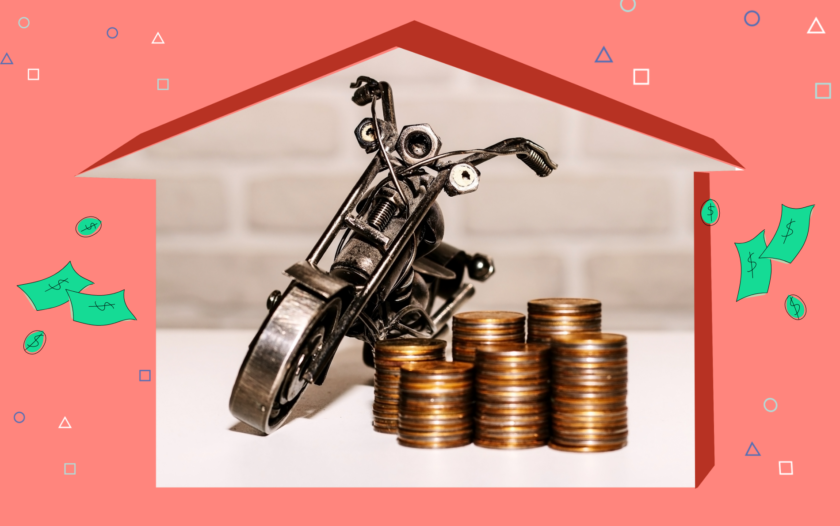 At a Glance
Financing a used motorcycle can be daunting but with the right personal loan, it doesn't have to be. If you're in the market for a pre-owned bike, a personal loan is one option to consider. A personal loan could help cover some of the cost and provide flexible payment options. Let's explore how much a used motorcycle costs and if you should get a personal loan to cover it.
In this article, you'll learn:
How much do used motorcycles cost?
The cost of used motorcycles can vary greatly depending on the make, model, condition, and other factors. Generally speaking, a good-quality used motorcycle can cost anywhere from $2,000 to $10,000 or more. Before you start looking for a personal loan, figure out your budget and target price range. That way, you'll have an idea of how much financing you may need.
Where can you buy a used motorcycle?
Used motorcycles can be found for sale in many places, including dealerships, online classifieds sites, and bike shows. Consider visiting a few different sources to compare bikes, prices, and features.
1. Dealerships
You can find used motorcycles at motorcycle dealers and shop around in person or on their websites. This can be a convenient place to start your search, especially if you aren't sure what type of bike you're looking for, as dealers will have a range of options to browse.
Dealers will also typically only sell well-maintained bikes with a clean history and provide the paperwork to back up your purchase. This can give you peace of mind when purchasing a new bike.
However, dealerships may be more expensive than other sources. Before you decide to purchase from a dealership, compare prices online and do your research to make sure you're getting the best deal possible.
2. Private sellers
You can also look for used motorcycles for sale by the owner. Classified sites like Craigslist and eBay Motors, motorcycle-specific apps such as RumbleOn, and bike shows are all great places to shop for a used motorcycle.
If there is a particular model or year of motorcycle that you want, you may find a better deal by shopping from private sellers than you would at a dealership. However, many private sellers will only accept cash payments for bikes. So, you'll need to ensure you can pay the seller in full when you're ready to buy.
When buying from a private seller, it's important to take extra precautions. Make sure that you ask for the bike's title and registration papers so that you can be certain the seller owns the bike and has the right to sell it. Also, ask for service records if available, which will tell you more about how well the bike was taken care of.
It's also a good idea to take a mechanic or knowledgeable friend along when you inspect the bike. This can help ensure that the seller is being honest about the condition of the bike and that it does not have any hidden issues. Finally, never purchase a used motorcycle without taking it on a test ride. This will give you a chance to inspect the bike yourself and make sure that it is in good working condition.
Can you use a personal loan to buy used motorcycles?
Yes, you can use a personal loan to purchase a used motorcycle. Personal loans are a great option for used motorcycle financing for a number of reasons. They offer fixed terms and payments as well as competitive interest rates. Borrowers with good credit scores may be eligible for lower rates on a personal loan than those offered by dealerships or private sellers.
Additionally, since personal loans have no collateral associated with them, you don't risk losing the bike to the bank if you can't make the payments. That said, it's important to budget for the payments before agreeing to a personal loan to ensure you can afford it.
Find the right used motorcycle loan for your We found 4 options for your requirement
Advertiser Disclosure
7.99% - 35.99%
Est. APR Range
$2,000 - $36,500
Loan Amount

8.49% - 35.99%
Est. APR Range
$1,000 - $50,000
Loan Amount
Good For: Low loan amount
Good For: Low loan amount
9.95% - 35.99%
Est. APR Range
$2,000 - $35,000
Loan Amount
Good For: Getting funds quickly
Good For: Getting funds quickly
21.99% - 35.9%
Est. APR Range
$2,501 - $12,000
Loan Amount
Good For: flexible payment options, fast funds.
Good For: flexible payment options, fast funds.
Used motorcycle financing options
If you don't have the cash to pay for a used motorcycle upfront, you may need financing. Consider researching different loan options and comparing rates from banks, credit unions, or online lenders. Make sure to compare the terms and conditions of each loan before deciding which one is best for your needs. Some used motorcycle financing options include:
1. Loans from banks and credit unions
When looking for a used motorcycle loan, a good place to start is with your bank or credit union. Having an established banking relationship may mean you can get better terms on the loan than you could get at another institution or directly from the dealer.
While not all banks offer motorcycle-specific loans, you may be able to qualify for a personal loan to fund your bike. Personal loans often come with competitive interest rates and repayment terms that can make your purchase more affordable. And, depending on the lender, you may be able to get a personal loan without putting up any collateral.
2. Manufacturer and dealer financing
Another option to finance a used motorcycle is to go directly through the dealer where you plan to purchase the bike. This is often a quick and painless process as you can be approved and walk away with your bike on the same day.
However, dealer financing tends to come with less favorable terms than financing from a bank or credit union. Keep this in mind and read all the terms and conditions before agreeing to a loan from the dealer.
3. Motorcycle loans
If your bank or credit union doesn't offer a used motorcycle loan, there are many online lenders that specialize in financing for motorcycles. This makes it easy to compare loan options online before committing. Be sure to shop around and get pre-approved from multiple lenders so you can compare rates and terms to make sure you're getting the best deal.
Compare: Motorcycle Loans
Pros and cons of used-motorcycle loans
If you're thinking about getting a loan to finance the purchase of a used motorcycle, consider these pros and cons first:
Pros
Lower cost: Used motorcycles are typically more affordable than new ones so you may be able to get more bike for your money and take out a smaller loan amount.
Quicker access: You can buy a used motorcycle quickly with a loan and start enjoying it right away.
Low down payment: The down payment required for a used motorcycle loan is usually lower than that for a new motorcycle.
Cons
Unforeseen repair costs: With used motorcycles, there is no telling what kind of damage or maintenance will be needed, which could increase the cost of the loan significantly.
Higher interest rates: Since lenders often view used motorcycles as riskier investments, interest rates are typically higher for these types of loans than for loans for new motorcycles.
Risk of damaging your credit: If you can't make the necessary payments on a used motorcycle loan, you could significantly damage your credit and, in some cases, lose the bike.
Tips for buying a used motorcycle
Before you start looking for a used motorcycle, figure out your budget and target price range. Then, consider the make, model, and year of the motorcycle you're looking for and start shopping around online. That way, you'll have a better idea of the cost of a used motorcycle and if it's in your price range or how much financing you may need.
If you can't afford to pay cash for the used motorcycle you want, the next step is to calculate if you qualify for financing. You can do this by getting pre-approved for a loan from your bank or credit union and online lenders. The pre-approval process won't damage your credit score and will help you know how much you can borrow.
Once you've been pre-approved and know how much you can spend on a bike, you can start shopping. Before making any purchase, make sure you take the bike for a test ride and have it inspected by a qualified mechanic who can tell you about any major repairs that need to be done or any parts that may need to be replaced. This will help you make sure the bike is worth what you're paying and not just a money pit.
Once you've taken all of these steps, and know you can afford the necessary payments, it's time to make your used motorcycle purchase.
FAQs