Pool Loans: How to Finance a Swimming Pool?
Written by:
Caitlyn Callahan
11 min

read
253 Views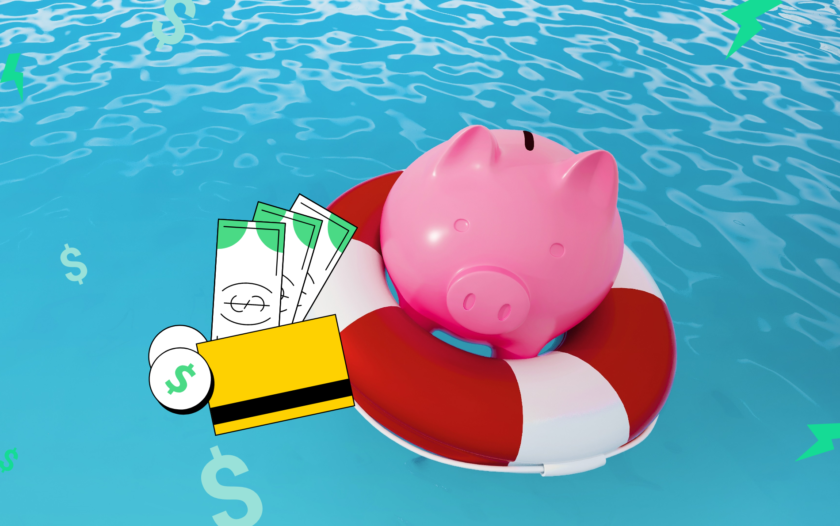 At a Glance
Imagine having the perfect summer getaway right in your backyard. Having an above-ground or in-ground pool can turn your home into the perfect relaxation space during the hottest time of year, but they are also expensive to install, maintain, and repair. In some cases, you may need to finance the purchase of a pool, and the good news is you can do this through a pool loan.
Read on to learn more about:
What is a pool loan?
A pool loan is a personal loan that can be used to install or purchase an above-ground or in-ground pool. These loans are unsecured, meaning there's no collateral necessary, and your interest rate, loan amount, loan term, and other factors are determined by your credit score, history, income, and debt-to-income ratio.
These loan amounts can range from $1,000 to $100,000 and have interest rates ranging from around 6% to 36% depending on your qualifications and risk.
How do pool loans work?
Pool loans are paid in a lump sum, and you'll repay them each month with interest. These fixed monthly installments make budgeting and calculating when you'll have repaid the loan, as well as how much interest you'll have paid overtime, easier.
Once you research lenders and apply for the loan, you'll get the loan funds deposited into your bank account. Then, you can use those funds to pay for installing or purchasing a pool. The loan would be repaid over time through those fixed monthly payments.
Average cost to build a pool
The cost to build a pool can depend on several factors such as:
Whether it's above-ground or in-ground
The size and type of pool deck or patio
Cover or enclosure costs
Maintenance
Utilities and repairs
According to HomeAdvisor, the cost to build a pool can range from $19,679 to $50,000 or more, with the average cost around $34,203. In-ground pools cost more (up to $100,000 or more). If you choose to design and install a more customized pool, such as an infinity pool, it could cost you closer to $100,000.
In fact, due to the increased cost of materials, prices have gone up 5% to 10% in 2022 and are likely going to continue increasing.
Pool decks or patios can range from $3,000 to $12,000, while covers can range from $1,500 to $20,000. Maintenance will cost you around $1,500 to $2,000 per year, with repairs ranging between $1,000 and $3,200 per year.
To save costs, include all additional features (like a deck) in the initial construction. While this will increase upfront costs, it will help save more money in the long run. There are also ways to make installing a pool more affordable, so talk with the construction company about your options.
Where to get a pool loan?
The three best places to get a personal loan for a pool include banks, credit unions, and online lenders.
1. Banks
Banks can be an option for personal loans, especially if you're an existing customer. However, they typically have higher interest rates and stricter requirements for qualifying, so borrowers with great to excellent credit and a reliable income should consider them.
2. Credit unions
While you must be a member of a credit union in order to get a loan from one, they are more likely to approve borrowers who have fair or poor credit because they consider other financial factors besides credit score. Credit unions may also have better interest rates and terms for well-qualified borrowers.
Learn more: Credit Union Loans
3. Online lenders
Online lenders have the most variety in qualification requirements, interest rates, and loan terms. There are also lenders who tailor loan offerings to borrowers with poor or no credit, while others offer special features or discounts to borrowers with excellent credit. Keep in mind that online lenders don't offer in-person customer service or support, which can be a downside for some borrowers.
Compare: Best Personal Loans
Pros and cons of pool loans
| Pros | Cons |
| --- | --- |
| Unsecured, requiring no collateral | |
| Quick funding, sometimes as fast as same-day or next-day | Can decrease credit score |
| Repayment terms can vary from two to seven years or more | High rates for borrowers with poor credit |
| Low interest rates for excellent credit | |
| | Home improvement projects financed with a personal loan don't qualify for a tax deduction |
Generally, a pool loan is best for borrowers with good credit and a reliable income, ensuring you're able to repay the debt and protect your credit score. They are unsecured, meaning your pool or another asset isn't used as collateral, and the interest and monthly payments are fixed so they are easy to budget for and calculate payoff dates.
However, borrowers with poor credit may not qualify for favorable interest rates, so the loan will cost more overtime. Additionally, late or missed payments can have a significant impact on your credit score.
How to finance a pool loan?
When it comes to getting a personal loan for a pool, these are the steps you'll want to take:
1. Get an estimate
In order to know how much of a loan, you'll need to take out, you should work with a contractor to get an estimate for installation. Once you know how much the pool will cost and the loan amount you need, you can shop for lenders who offer loans in that amount. Working with a contractor can also help you create a plan for your pool's construction and understand what you can afford.
2. Get pre-qualified
Most lenders, especially online lenders, allow you to get prequalified for a loan. This triggers a soft credit inquiry, so it doesn't affect your credit score. Prequalification gives you potential loan offers including interest rates, monthly payments, and loan amounts you'd qualify for. While it's not a guarantee, it can help you more accurately compare lenders.
3. Compare lender options
It's important to shop around and compare lender and loan options before applying for a loan product. Pay particular attention to loan amounts and terms, fees, customer service reviews and ratings, and other factors important to having and repaying a loan. Remember, a pool loan is a type of debt and can have an impact on your credit score, so you'll want to choose a lender who provides the best option for you and your needs.
4. Gather documents
Lenders require you to provide a variety of information and documentation during the loan application process. For example, you may have to show proof of identification, proof of address, proof of employment/income, and others. Documents may include a driver's license, W-2 or paystub, bank statements, and more. Be prepared ahead of time to ensure a smooth application and approval process.
5. Apply
Once you've chosen a lender and gathered the appropriate information and documents, it's time to apply. Most lenders let you apply online in just a few clicks, and the approval process can happen in as little as one or two business days. Funding can also happen quickly as it's deposited directly into your bank account.
Looking for the right pool loan for you?
Answer a few questions to allow us to generate a list of pool loan options tailored perfectly for your needs.
How to compare pool loans?
When pool loan shopping and comparing lenders, some of the key features to look at include:
1. Loan amount
The cost of a pool varies significantly depending on the type of loan you choose, and the pool features you construct. You'll need to choose a lender who offers personal loans in the amount you need. While some lenders may offer loans up to $100,000, others may cap offers at $50,000. The amount you qualify for can also depend on your credit and income.
2. APR
The annual percentage rate, or APR, is the full cost of the loan including the interest rate, fees, and other costs. Compare the APR across lenders, looking for lenders with the lowest option as that will likely be the most affordable.
Learn more: What is Annual Percentage Rate on Personal Loans?
3. Monthly payments
Pool loans are unsecured, meaning you don't need to have assets as collateral to get approved. However, it's still important that you can afford the monthly payments to avoid defaulting on the loan and having the loan sent to a collections agency because that can destroy your credit score.
4. Fees
Some personal loans charge fees like origination fees, application fees, late payment fees, prepayment penalties, and others. While some of these fees can be avoided by being a responsible borrower, it's important to be aware of what they are and how much you could owe to compare more accurate costs of the total loan. Try to find lenders who offer low or no fees.
5. Available discounts or perks
Borrowers who are existing customers with banks or credit unions, or those who have excellent credit or meet other criteria, may qualify for special discounts or other perks. Take advantage of these offers where available.
6. Loan application options
If the place you're installing the pool is shared with someone, you may be able to apply for a joint loan. Adding a co-borrower, or having a co-signer on the loan, can help improve your chances of qualifying for a loan. It can also help you get a larger loan amount or get a lower interest rate depending on their qualifications.
7. Repayment terms
Shorter repayment terms mean higher monthly payments, but you'll owe less in interest over time. Alternatively, longer repayment terms have lower monthly payments but you'll have to pay more in interest over the full term. Pool loans typically have three or five year terms, but some lenders offer more flexibility.
How long can you finance a pool?
A loan's repayment terms depend on the lender and your qualifications, though pool loans typically range from two to seven years. However, some lenders may offer loans with terms up to 30 years depending on the type of loan. For example, home equity loans and home equity lines of credit can have terms up to 20 or 30 years, while personal loans often range from two to 10.
Are pools worth the cost?
There are several factors to consider when determining whether a pool loan is worth the cost. For example,
How much do you need to borrow? Are you able to afford the monthly payment? How long will you need to repay the loan? The longer the loan term, the more you'll owe in interest.
How qualified are you for the loan? Does your credit score, history, income, and other factors qualify you for a low interest rate and APR?
Will a pool help or hurt your home's value? Depending on where you live and the house you have, adding a pool could either increase or decrease your home's value.
Are you committed to the investment of maintenance and care? Pools are expensive to install and maintain and can cost thousands of dollars per year in maintenance and repair costs. When adding these expenses to the total cost of a loan, pools can add up.
Prior to taking out a loan for a pool, it's important to weigh the pros and cons and budget appropriately to ensure it's a good move for you.
Alternatives to pool loans
Personal loans aren't the only type of loan you can take out to finance a pool. Other alternatives to consider include:
1. Home equity loan
Home equity loans (HEL) are essentially a second mortgage. These loans allow you to borrow against the equity you've built in your home, and the amount is based on the difference between your home's current value and what you owe on the existing mortgage. The amount you can borrow depends on factors like your credit history, income, and home value, and the loan is then repaid with monthly payments over a fixed term.
Related: Home Equity Loans vs. HELOC
2. Home equity line of credit
A home equity line of credit (HELOC) is also based on your home's equity and uses your house as collateral but is a revolving line of credit (similar to a credit card) vs. a lump sum (like a loan). With a HELOC, you have a spending limit but there are no restrictions on how you can use the money.
3. Cash-out refinance
A cash-out refinance replaces your current mortgage with a new, larger mortgage. You'd then receive the difference in value between the old and new mortgage in cash, and you can spend that on whatever you want (like installing a pool). This isn't taking out a second mortgage, so you won't have an extra monthly payment, but instead are replacing the old with a new one. The primary downsides are using your house as collateral, paying additional closing costs on the new mortgage amount, and increasing the time you'll be in debt due to changing loan terms.
Related: How Does a Cash-Out Refinance Work?
4. In-house financing
If you work with a contractor to construct and install a pool, they may offer an in-house financing option through a third-party lender. These loans are more tailored to borrowers who are using the funds to purchase a pool, often with larger amounts and longer repayment terms. However, interest rates may be higher, and rates and terms can vary, so it's important to compare this with other options available to you.
FAQs
Recommended For You
Track your way to debt freedom with customized payoff plans.