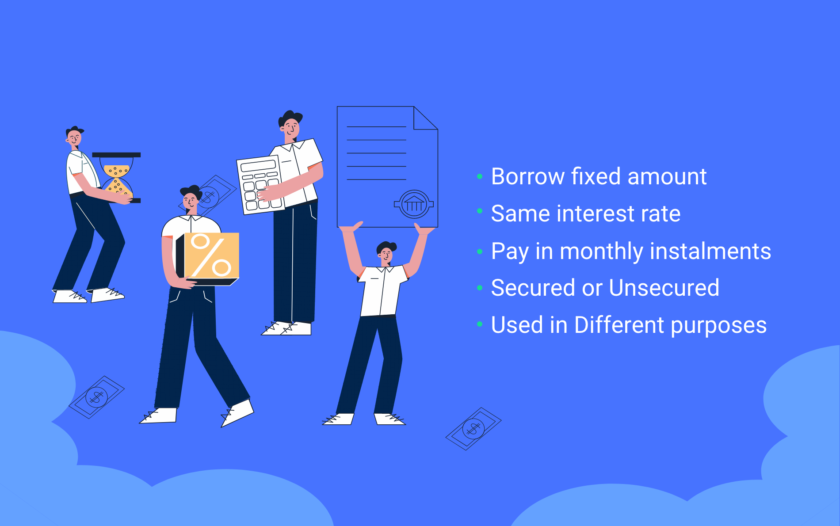 At a Glance
There are different types of personal loans, and they can be called different things, but you can use a personal loan for just about anything. Qualifying for a loan and low interest rate can depend on factors such as your credit score, debt-to-income ratio, income, and the loan amount and term, but overall, applying for one and getting the funds can be quick and easy.
How do personal loans work?
When you take out a personal loan, you're borrowing money from a financial institution and promising to repay it over a period, or term. These installments are flat payments made each month over the length of the term.
Once you receive the loan funds, which unlike credit cards you'll receive the full loan amount in one lump sum, you can use the funds to pay for whatever you need. Keep in mind that as you repay the loan, you'll also be accruing and paying back interest. Most personal loans have fixed interest rates, so your monthly payment will be the same every month. Then, once the loan is completely paid off, you're debt-free.
Types of personal loans
Personal loans can be called different things depending on the purpose of the loan. They can also be secured or unsecured and have variable or fixed interest rates. Each of these options has pros and cons.
1. Secured vs. unsecured personal loan
One difference between personal loans is whether they are unsecured or secured. Depending on your goals and situation, each has its pros and cons.
Unsecured Loan
Secured Loan
What it is

This type of loan does not require collateral, like a car or home, to secure the loan.

Requires collateral to be approved, such as a car, home, or other asset.

Pros

No risk of losing your assets.
Can use loan funds for any purpose.

May have lower interest rates.
Easier to get approved for if you have poor or no credit.

Cons

Could have higher interest rates.
May be more difficult to qualify for if you have poor credit, little to no income, or large outstanding debt amounts.

Could lose your assets if you don't make payments.
A secured loan may be right for you if you have no credit history or poor credit (below 640) because it can improve your chances of being approved for a personal loan. For some, this is the only option, but the good news is you may qualify for lower interest rates. However, you run the risk of losing that collateral if you default on the loan.
Learn more: Secured vs. Unsecured Personal Loans: What You Need to Know
2. Fixed vs. variable rate personal loan
If your personal loan has a fixed interest rate, it means the rate will not change over the life of the loan. This makes budgeting each month easier, as well as calculating your final payoff date. Most personal loans have fixed rates.
If the loan has a variable interest rate, it can change over time. While the rate may be lower at times, it can fluctuate with the market and can be less predictable. It also can be more risky, because while there is a cap on how high the rate can be, you could end up paying more in interest over time.
3. Personal loans with different names
When researching and comparing personal loans, you may find they are called different things by different lenders. Sometimes this matters, since the lender may offer certain loan terms or interest rates based on the loan's purpose. Or, they may only offer personal loans for specific purposes.
Other times, it doesn't matter what they are called and they are treated the same way.
For example, you may see personal loans called:
They are all personal loans, and likely treated the same way, but if you need the loan for a specific purpose you may want to choose one that's named as such. This could help get you better terms or interest.
How does a personal loan impact your credit score?
When you first apply for a personal loan, the lender will complete a hard credit check. This will decrease your credit score by a few points for a short period of time, though it will remain on your credit history for two years.
However, if you make the loan payments on time, it could help improve your credit score. Your credit score may also improve if you use the personal loan to consolidate debt or pay off credit card debt. Loans are considered "good debt," unlike credit card debt, so they are viewed more favorably. Plus, your credit utilization ratio will be lower, and as you pay off the debt, your debt-to-income ratio will decrease, which can increase your score.
Learn more: Credit Score Required for a Personal Loan
What can you use a personal loan for?
You can use a personal loan for just about anything, though check to make sure the lender doesn't have any restrictions. You may need a personal loan for:
Debt consolidation
Life events such as getting married, moving, having a child, adopting, or funeral costs
Paying medical bills
Going on vacation
Emergency funds
Even though you can get a personal loan relatively easily and use the funds for virtually anything, it's important to carefully consider all of your options before taking out a loan. When you get a loan, your credit score will be negatively impacted, and you'll be responsible for paying the loan back each month. If it doesn't fit into your budget, you can risk defaulting on the loan.
Learn more: Reasons to Get a Personal Loan
Where can you get a personal loan?
There are a number of options for lenders available when getting a personal loan. Some types may be better suited than others, and each has pros and cons, so be sure to do your research when comparing and researching:
Banks, including brick-and-mortar banks and community banks, offer personal loans with the benefit of in-person customer service and support. The downside is they have stricter lending qualifications and higher interest rates. Online banks may offer lower rates and more convenience but don't have in-person support.
Credit unions offer in-person service and typically have fewer limitations than banks. They may have fewer eligibility guidelines and lower interest rates, but there are typically limitations around who can qualify for their service.
Online lenders can be easier and more efficient to work with, and more flexible when it comes to rates, prequalification, and working with those who have poor credit.
Learn more: Places to Get a Personal Loan
Common personal loan qualifications
A few factors a lender will take into consideration when determining if you qualify for a loan include your:
Credit score
Credit history
Monthly income
Proof of employment
Debt-to-income ratio
Collateral (if applicable)
Related: Common Personal Loan Terminologies
How does interest work on a loan?
The interest rate, typically determined by your credit score, use of loan, income, and outstanding debt, determines the amount of interest you'll pay on the loan. These can vary from lender to lender, but the higher your credit score, the lower the interest rate.
When looking at how much a loan will cost you, be sure to look at the annual percentage rate (APR), which also includes fees in addition to interest.
Range of personal loan APRs
The annual percentage rate on a personal loan can depend on a number of factors, but on average you may pay:
| Credit Score Range | Estimated APR |
| --- | --- |
| 720-850 | 11.2% |
| 690-719 | 15.5% |
| 630-689 | 20.5% |
| 300-629 | 25.3% |
| Lower than 299 | Unlikely to qualify |
It's possible that different lenders may offer lower APR, though it can be more difficult to qualify for. You may see rates as low as 2.49% and as high as 35.99%.
How to apply for a personal loan
There are a few steps to applying for a personal loan:
Check your credit score, since it's easier to get a low interest rate and better terms with a higher score. Knowing this information can also be helpful when prequalifying for a loan.
Compare estimated rates using a personal loan calculator to compare. Start researching different lenders and comparing estimated rates based on your desired loan amount, term, and credit score.
Get prequalified when you can, as this allows you to view personalized and specific estimated rates before you apply. This only triggers a soft credit check which does not affect your credit score.
Compare lenders by researching rates, terms, fees, customer service ratings and reviews, and types of loans you'd qualify for.
Carefully review the loan terms including penalties, fees, payment options, total APR, limitations, and other features.
Apply once you've chosen the right lender. You'll typically need:

Identification, like a driver's license, passport, state ID, or Social Security card
Proof of address, like utility bills or lease agreement
Proof of income, like a W2, pay stub, bank statement, or tax return
Bank account information, including your routing number and account number
Proof of employment
A cosigner, if your credit score requires one
Personal information like name, address, phone number, date of birth, and Social Security number
Information about the loan, including your desired loan amount, purpose of the loan, and desired term

Accept the loan once you're approved. Finalize the loan documents and accept the terms, and once completed, the funds will be deposited into your bank account within a few business days.
Learn more: How to Apply for Personal Loans
Check out lenders and solutions that will meet your needs We found 5 options for your requirement
Advertiser Disclosure

8.49% - 35.99%
Est. APR Range
$1,000 - $50,000
Loan Amount
Good For: Low loan amount
8.99% - 35.99%
Est. APR Range
$2,000 - $50,000
Loan Amount
Good For: Getting funds quickly
9.95% - 35.99%
Est. APR Range
$2,000 - $35,000
Loan Amount
Good For: Getting funds quickly
9.99% - 35.99%
Est. APR Range
$2,000 - $36,500
Loan Amount
11.69% - 35.99%
Est. APR Range
$1,000 - $50,000
Loan Amount
Good For: low income criteria, fast funds
Congratulations! You're close to seeing your offers!
Please take a second to review the details you shared earlier
Personal loans vs. other lending options
Depending on what you need funds for, personal loans are not the only option available to you. Different types of loans include:
Auto loans, which are best when purchasing a new vehicle.
Student loans which can help pay for college and graduate school.
Mortgage loans if you're purchasing a new home.
Home equity loans (HEL) or home equity line of credit (HELOC) which allows you to borrow up to a percentage of the equity in your home for any purpose.
Even though personal loans can be used for just about anything, a different type of loan may get you better interest rates or terms depending on your needs.
FAQs