Funeral Loans – Compare Your Options
Written by:
Caitlyn Callahan
9 min

read
1668 Views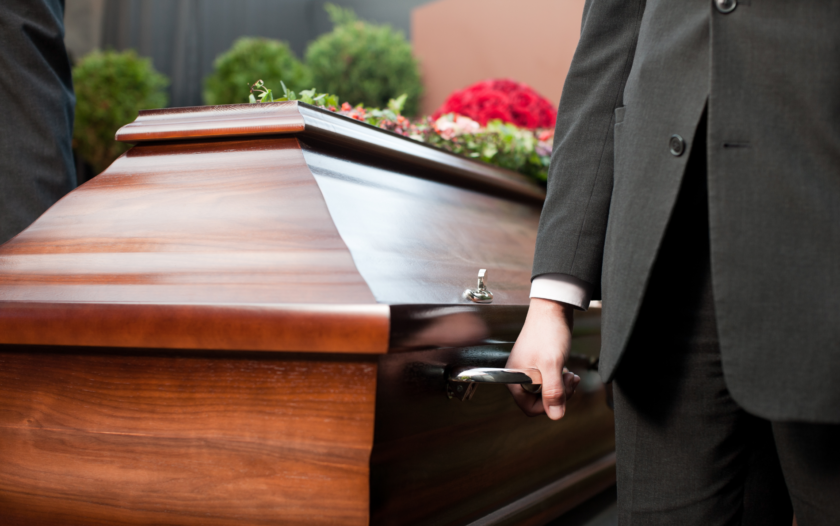 At a Glance
Losing a loved one can be a very difficult time, and it can be emotionally and physically draining. And, if you must help plan and/or pay for a funeral, it can add financial stress and other emotions to the mix. While you likely want to help celebrate the life of your loved one, funerals can cost thousands of dollars and if your loved one didn't have a plan in place or life insurance to help, you may be responsible for the expenses.
The good news is you may be able to apply for a funeral loan to help ease the financial burden.
In this article, learn more about:
Funerals are expensive, which is why some people turn to a funeral loan to help. A funeral is a personal loan that can be used to cover the costs of a funeral, burial, and/or cremation. Like a traditional personal loan, funeral loan funds can be used for just about anything, though they are typically used to help offset funeral expenses.
If you need financial assistant planning and paying for a funeral, a personal loan can help.
Find and compare the best loan options.
Advertiser Disclosure
Use the filters below to refine your search Sorry, we didn't find any options that meet your requirements. Please try modifying your preferences.
Congratulations! You're close to seeing your offers!
Please take a second to review the details you shared earlier

How do funeral loans work?
Funeral loans are used to pay funeral expenses, from the casket, funeral home services, and gravesite to the burial or celebration services after the burial. Additional funeral plans, such as travel or hotel costs, can also be paid for using a funeral loan. Like a traditional personal loan, you'll apply for the loan and get approved to borrow a specific amount of money. That money will be deposited into your checking or savings account, and you can use the funds for whatever funeral expenses you have.
Then, you'll repay the loan over time through fixed monthly payments. The loan will also have a fixed interest rate, meaning you'll be able to calculate how much interest you'll pay over the life of the loan and the payments will be easier to budget for.
What is the credit score required for a funeral loan?
Like other types of loans, having a higher credit score can help ensure your loan application is approved, you qualify for better loan terms, and you get a lower interest rate (so the loan costs you less over time). A good to excellent credit score – at least 670 or above – will likely get you the best chance of approval with a lower interest rate.
That said, you can find lenders with lower scores (even as low as 580). Some online lenders and credit unions have loans specifically designed for borrowers with poor credit. Just keep in mind you'll likely pay more for them over the life of the loan.
Pros and cons of a funeral loan
| Pros | Cons |
| --- | --- |
| Can get funds quickly, which is helpful since planning a funeral often must happen quickly. | Difficult to qualify with poor credit. |
| Can help alleviate the financial burden of paying for a funeral. | Adds extra debt and financial burden. |
| Provides access to funds to have a proper celebration of life for your loved one. | Can impact your credit score. |
| Able to pay for a funeral over time, or pay off the loan early if you're able. | |
| | Potentially high interest rates |
| Typically doesn't require collateral | |
Alternatives to a funeral loan
1. Life insurance
In many cases, a loved one may have a life insurance policy that pays to a beneficiary once they pass away. These policies can range in amounts, but part (or all) of the payout can be used to pay for funeral services. In fact, there's also a type of life insurance called burial insurance that's specifically designed to pay for funeral expenses. While getting the payout can take some time, the funeral home may be able to work with you on a payment plan until you get the payout.
2. Emergency fund
Financial experts recommend everyone have at least six months' worth of expenses saved in an emergency fund. If you don't have enough savings to cover a funeral but don't want to take out a loan, tapping into your emergency fund may allow you to cover the costs without going into debt. If you do this, just make sure you rebuild the fund and replace anything you spent.
3. Zero (0%) intro APR credit card
Some credit cards offer 0% interest for a short period of time, or an introductory period. You may be able to use one of these cards to help pay for funeral expenses. However, it's important to be able to repay the balance before the introductory period ends. Otherwise, you'll be charged a high interest rate on the outstanding balance.
4. Co-signers or joint applications
If you don't have great credit and won't qualify for a loan on your own, you may be able to apply with a co-signer or co-borrower. If this is an important factor, be sure to work with a lender that accepts co-signers or co-borrowers.
Related: Find Best Personal Loans with Cosigner
Types of funeral home expenses
There are a variety of funeral home expenses one may face when planning and paying for a funeral. The actual total cost can vary, but some expenses you may have to pay for include:
Services fees
Removal and transfer of the remains to the funeral home
Embalming/body preparation for viewing
Funeral ceremony
Use of the funeral home
Staff for the viewing
Hearse
Service car or van
Casket or urn
Memorial service package
Flowers
Headstone/memorial
Gravesite
Cemetery fees
How do I qualify for a personal loan to pay for funeral expenses?
To qualify for a loan, you'll likely need to:
Meet income, credit score, and credit history requirements.
Have a low debt-to-income ratio.
Provide proof of identity and employment with documents like a driver's license, tax returns, paystubs, W-2s, bank statements, or others.
How to take out a funeral loan?
If you're responsible for paying for a funeral and there's no estate or life insurance policy to cover the expenses, a funeral loan may be the best option. If you've explored alternatives and decided that a funeral loan is the right thing for you, there are a few steps to take:
1. Discuss details and get estimates. Before you can take out a funeral loan, you'll need to know the total loan amount you need. Talk to family and loved ones to determine final details for funeral services, burial, or cremation. Also decide whether you want a viewing or memorial service. Then, talk to different funeral homes to get a list of what you'll need to pay for and estimated costs. The funeral home director will be able to help you with this, and they can also help you understand where you can reduce costs.
Once you've decided on a funeral home, add up the costs for the list of expenses you've created. This will show how much you'll need to borrow with the loan.
2. Check your credit score. Your credit score will determine whether you'll be able to qualify for a funeral loan, as well as the interest rate you'll be offered. The better your credit score, the better rate you'll get. While there are options for those with fair or poor credit, you'll likely have a more difficult time qualifying as well as higher interest rates. Review your credit reports carefully and know your score as you begin shopping for lenders.
3. Get prequalified. Getting prequalified for a loan takes just a few minutes and doesn't affect your credit score, but it can tell you how likely you are to qualify for a loan with a lender as well as estimated loan amounts, terms, and interest rates. This can help you compare lenders more accurately.
4. Shop and compare. It's important to compare a number of lenders to ensure you're getting the best interest rate and loan terms. Pay particular attention to factors like eligibility requirements, customer service, loan amounts, loan terms, and fees.
5. Apply. Once you've selected the best lender for you, it's time to apply for the loan. This can typically happen in just a few minutes and completely online, though you may be asked to provide documentation to verify the information you've provided. To expedite the approval process, prepare this information and documentation ahead of time.
6. Get approved and receive funds. If you're approved, the funds will be deposited into your account. This can happen in as little as 24 hours but may take a few business days. Once you have the funds, you can use them to pay for funeral expenses. Then, you'll start repaying the loan plus interest on a monthly basis.
How to compare funeral loans?
When shopping for funeral loan lenders, there are a few factors to compare including:
1. Loan amount
Personal loans can range from $1,000 to $100,000, but not all lenders offer all amounts. You'll want to make sure the minimum and maximum loan amounts offered to you cover your needs. You should also ensure you meet your credit score, history, and other eligibility factors required for the loan amount you need.
2. Annual percentage rate
APR is more reflective of the total cost of the loan because it includes interest rates and other fees. Comparing APR is the most accurate rate to understand how much the loan will cost you over the term. However, rates can vary by lender and depend on your credit score, history, income, and other factors. Look for lenders who have low APR.
Related: What is an Annual Percentage Rate on Personal Loan?
3. Eligibility requirements
Whether you're approved for a loan and the loan amount, term, APR, and other factors you qualify for depends on the eligibility requirements set by the lender. Typically based on your credit score, history, income, and other factors, you'll want to ensure you qualify for the loan prior to applying.
4. Approval and funding speed
Funerals typically happen within a few days or a week of a loved one's passing, so getting funeral loan funds is usually time sensitive. Make sure the timing of completing the loan application, getting approved, and receiving funds works for your timing needs.
5. Fees
Most loans have additional costs like origination fees, application fees, late payment fees, prepayment penalties, and others. While some of these can be avoided, you'll want to compare fees and APR costs to understand the true cost of each loan.
6. Shop around and compare options
Interest rates, fees, and other costs associated with taking out a funeral loan can vary by lender, so it's important to shop around and compare your options to find the best and most affordable one for you.
Can I get a funeral loan with poor credit?
Yes, you may be able to get a funeral loan with poor credit. There are some lenders, especially online lenders, who cater to borrowers who have poor or no credit. Just keep in mind that interest rates and other costs will be higher, so it will cost you more to borrow the money. You may also be able to get a co-signer or co-borrower depending on the lender.
FAQs