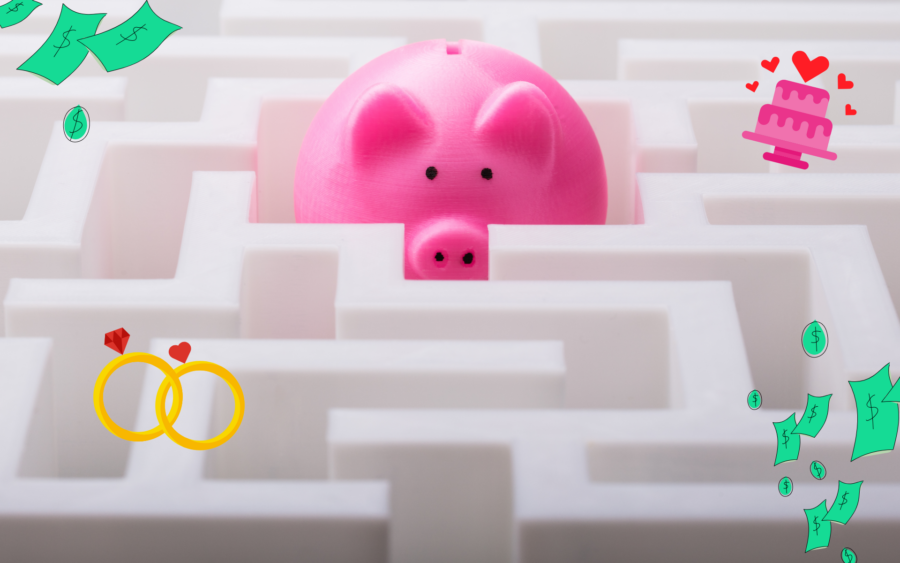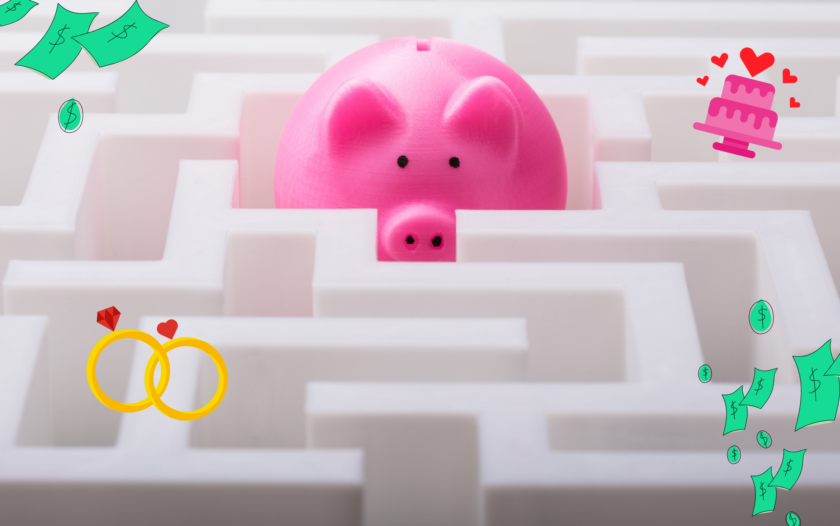 At a Glance
Planning a wedding is an exciting and joyous occasion but it can also be a financial minefield. While most couples focus on big-ticket items like the venue, catering, and entertainment, there are numerous hidden wedding costs that can sneak up and blow your budget. In fact, a recent Credello wedding survey found that the top 3 things men regret paying for were for the wedding were the venue, decor and photographer, while the top 3 financial wedding regrets for women were the wedding planner, venue and decor.
Let's discuss these often-overlooked expenses to help you prepare and avoid any unpleasant financial surprises on your big day. A wedding budget calculator can help you anticipate these expenses, so you don't have last-minute stress.
77%
The proportion of couples who plan to take on wedding debt who expect to pay off that debt within one year.
FinFact
1. Wedding insurance
Wedding insurance may not be the first thing that comes to mind when planning your special day, but it can save you from unexpected expenses in case of unforeseen circumstances. Wedding insurance typically covers cancellations due to extreme weather, illness, or vendor mishaps. The cost varies based on coverage, but it's a wise investment for peace of mind. On average, you might expect to spend $100 to $500 or more.
2. Event rental
Renting a venue is a significant expense, but many couples forget to account for additional event rentals, like tables, chairs, linens, and decorations. These costs can quickly add up, so ensure you clearly understand what's included in your venue package and what you might need to rent separately. The cost of event rentals can vary widely based on the number of items needed, the quality, and the location. It could be anywhere from a few hundred to several thousand dollars.
3. Wedding license
Obtaining a marriage license is a mandatory step for tying the knot, and it comes with a fee that varies depending on your location. You should expect to spend from $20 to $100, but check with your local government for the exact cost and any necessary documentation.
4. Wedding dress alteration
You've found the perfect wedding dress, but the alterations to make it fit like a glove can be surprisingly expensive. Alteration costs can range from $100 to $500 or more, depending on the complexity of the changes.
5. Vendor meals
On the big day, your vendors will work hard to make everything run smoothly. As a courtesy, you are generally expected to provide them with meals during the reception. This cost is often overlooked but can impact your catering budget, but it can cost around $30 to $100 per vendor.
6. Unexpected guests
It's not uncommon for some uninvited guests to show up at the wedding, whether due to misunderstandings or last-minute changes. Plan for a few extra meals and seating arrangements, just in case. Budgeting for this can add $100 to $500 or more to your expenses.
7. Hair or makeup or dress trial cost
To ensure you look your best on your wedding day, you'll likely want to have a trial for hair, makeup, or even your dress fitting. While this may seem like a small expense, when combined, these trials can put a dent in your budget, as they might cost around $50 to $200 each.
8. Cost of guest gifts
Thanking your guests with small tokens of appreciation is a lovely gesture, but it can also be an additional expense that couples sometimes forget to factor in.
9. Catering and cake-tasting fees
Before finalizing your wedding menu, many couples opt for tastings to ensure the food and cake are to their liking. These tasting sessions may come with fees that you should account for in your catering budget, around $25 to $50 per person.
10. Ceremony and reception set-up and tear-down
Setting up and tearing down the ceremony and reception spaces usually involve additional costs, primarily if your venue doesn't provide these services. You might need to hire a team to handle these tasks efficiently. If so, expect to spend a few hundred dollars.
11. Wedding invitation and other postage expenses
Designing and sending out wedding invitations may seem straightforward, but postage costs can quickly add up, especially if you have a large guest list or opt for custom designs and extra inserts. Wedding invitations, including postage, can cost $3 to $10 per invite.
12. Wedding venue electricity
Some outdoor and remote venues may not have sufficient electricity supply. In such cases, you might need to rent generators to power lighting, audio systems, and other equipment. Generator rentals might cost a few hundred to a thousand dollars, depending on the requirements.
13. Extra hotel room cost
If your wedding venue is in a hotel or requires accommodations for guests, consider the possibility of last-minute reservations or extended stays, which could lead to extra costs.
14. Chairs and other wedding rentals and transportation
Transporting guests between venues or providing transportation for those who may have difficulty reaching the location can be an overlooked expense. Similarly, renting chairs, tents, or other items for the ceremony or reception can add to the overall cost. Costs can vary widely, ranging from a few hundred to a few thousand dollars. Wedding loans are a fantastic way to finance this large expense.
15. Taxes for wedding dresses, the wedding venue, and more
Don't forget to account for taxes when budgeting for your wedding. Many expenses, including wedding dresses and venue rentals, are subject to tax, which can impact your final bill. Depending on your location, taxes can be around 5% to 10% of the total cost.
16. Gratuity to wedding vendors
While tipping is not obligatory, showing appreciation to your wedding vendors for their hard work and dedication is customary. Consider setting aside a portion of your budget for gratuities. Tips can vary but are typically around 10% to 20% of the vendor's fee.
17. Service fees
Some venues and vendors may charge service fees on top of their base prices. These fees are typically a percentage of the total cost and can catch you off guard if you're unprepared. Depending on the vendor and contract terms, service fees can be around 18% to 25% of the total cost.
18. Wedding band equipment
If you've hired a live band for your wedding, they might charge extra for equipment rentals and setup. Be sure to inquire about any additional costs beyond their performance fee. Equipment rentals might cost a few hundred to a thousand dollars.
FAQs
While it may seem challenging, having a budget-friendly wedding is possible. Consider cutting down the guest list, opting for a less formal venue, and DIY-ing certain aspects like decorations and invitations. Additionally, prioritize the elements most important to you and allocate funds accordingly.
The cost of a wedding can vary significantly based on factors like location, guest count, and personal preferences. $10,000 can be a reasonable budget for a wedding, but it may require careful planning and prioritizing expenses.
The ideal guest count for a wedding depends on your budget, venue capacity, and personal preferences. While 100 guests is a moderate-sized wedding, it may be too much for some couples who prefer a more intimate gathering. Ultimately, the correct number of guests is the one that allows you and your partner to celebrate your special day with the people you care about most.