How This YouTube Star Paid Off $83,000 in Debt and Still Traveled
Written by:
Anouare Abdou
4 min

read
2360 Views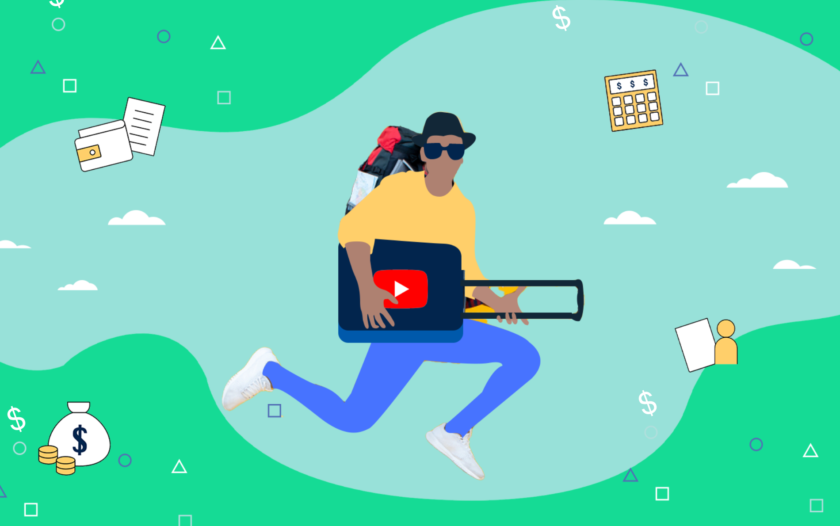 At a Glance
Should you travel when you still have debt to pay off? You can – and you can even do so guilt-free. Mary Hobbs, founder of Pennies Not Perfection, shares her story and tips.
You long to fill your passport with stamps. You love a good travel deal. But you also have debt. Perhaps even lots of it. And you are serious about paying it off fast. Before assuming that the responsible thing to do is to completely forgo travel until your debt is gone, think twice. Mary Hobbs, founder of Pennies Not Perfection, paid off $83,000 in debt – and she never stopped traveling.
"I've traveled constantly since I was 18 and decided to keep traveling even while I paid off my debt," she says. Her first trip in the beginning of a two-year debt payoff journey was an Alaskan cruise. Through travel hacks, she paid around $3,000 total for her husband and herself. "After that I got really serious about paying off the remaining $43,000 in student loans related to my education."
Several smaller trips followed, including multiple week-long beach trips to the Gulf coast and shorter trips to Dallas, Chattanooga, Birmingham, Louisville, and Washington DC. "I funded these trips with a mix of travel hacking with credit cards and saving up in a travel sinking fund," adds Hobbs.
I also knew that if I never allowed myself to have fun and do things like travel then I would likely burn out and give up on my debt payoff.
Life is short and debt payoff can still be enjoyable
Any smart debt repayment plan should include ways to enjoy yourself while on a budget. Sure, you might tighten the purse strings until your student loans are gone, but you also don't want to miss out on life while making those payments. It's about balancing short- and long-term gratification, and that balance helps you stick to your financial goals too.
"Life is short. I have known people who put off their travel plans until retirement but then passed away before they could retire. I don't want to have regrets or miss out on special trips with my family," says Hobbs. "I also knew that if I never allowed myself to have fun and do things like travel then I would likely burn out and give up on my debt payoff. Paying off debt can take years. That's a long time to deny yourself things you love like traveling."
She knew that she could both pay off debt and travel, but she was also okay with taking a bit longer to pay off her debt as a trade-off. "Instead of never traveling I decided to cut my costs through travel hacking and choosing closer locations. I focused more of my money toward debt payoff but still saved enough to travel every few months," she shares.
Travel cheap and have a plan
If you want to travel and pay debt simultaneously, Hobbs recommends embracing the three following principles:
Learn how to travel on the cheap. From looking into credit card rewards to booking trips during the off-season, find ways to reduce your travel costs.
Create a debt payoff plan you can follow. "When you have a plan for paying off your debt, it is a lot easier to plan travel," says Hobbs. "You can save and spend on trips because you know your debt is still being taken care of thanks to the plan."
Don't listen to anyone else's opinion. "This might even be number one. Plenty of people will give their input on how you shouldn't travel if you're in debt but personal finance is personal. Your priorities are what actually matters."
You can also use tools such as this debt consolidation calculator to come up with a plan that accommodates your desire to travel.
Bottom line
Finally, if you are on the fence about whether to go on a trip even though you have debt to pay off, start small and see how it goes.
"I'm a huge fan of small steps and testing the waters. If you want to travel and still pay off debt, plan a smaller and cheaper trip for yourself. After you go, then evaluate your debt payoff," recommends Hobbs.
"Did traveling completely throw you off track? Did you have to slow down your debt payoff? Or did traveling refresh you? Did the trip get you more fired up to pay off debt so you can travel even more? Figuring out your own motivation can help you achieve both goals even faster."