How I Travel Around the World Full-Time On My Freelance Salary
Written by:
Harrison Pierce
11 min

read
41 Views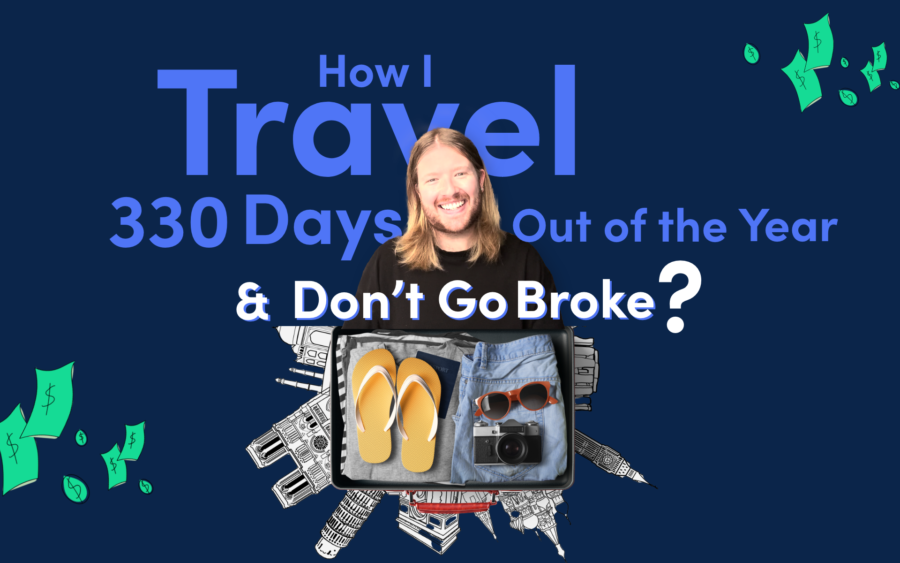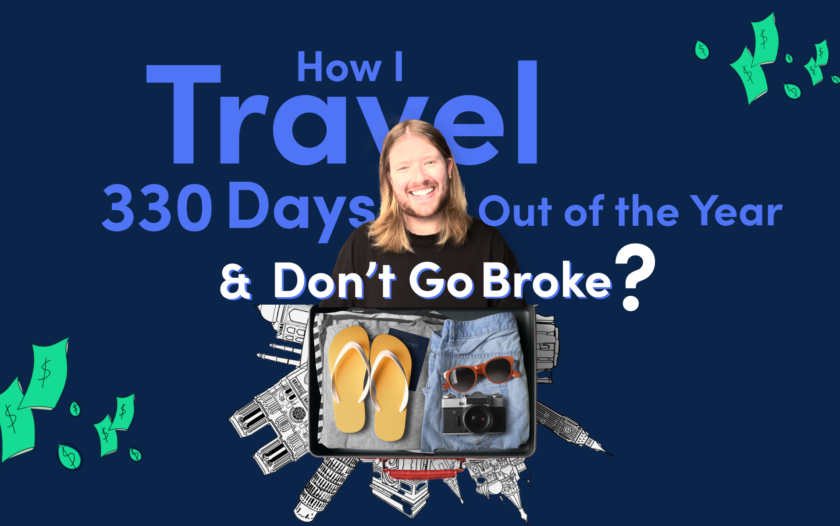 At a Glance
If you're back in the office but wishing you were traveling, you're not alone. Here's how one person left it all behind to become a digital nomad and how to save money while doing it.
$787 billion
The global economic value contributed by the estimated 35 million digital nomads worldwide.
FinFact
About me
My name is Harrison, and I am a freelance writer and digital nomad. I initially planned on starting this lifestyle following my graduation from the University of North Carolina at Chapel Hill in May 2020, but the world had different plans. I ended up selling off all my belongings in July 2021 with a one-way ticket to Italy. At the time, I didn't have much of a plan other than wanting to see the world. I didn't have a job and got through the first few months of traveling off savings and the money I made from selling everything I owned before leaving.
In January 2021, I decided that I wanted to make writing a career, and now I work with various brands to create content related to travel and personal finance. My byline has appeared in USA Today Blueprint, Conde Nast Traveler, and more. I've been working with Credello for a little over a year now, so I am excited to share my story and explain how I can make this possible.
Planning and budgeting
You don't need a trust fund to travel full-time. You just need to be creative. When you're constantly traveling, you are much more flexible around dates, locations, and timing. I strongly prefer summer over winter, so I'm willing to pay elevated prices to visit places when they're warm. If this isn't the case, you can travel around the world for a fraction of the cost during off-peak times.
I try not to focus too heavily on developing a line-item budget. My expenses vary wildly depending on where I am, so I am more focused on how much I have coming in versus going out and ensuring that number is always positive. If I have an expensive month, I can take on more work to offset that change. My salary depends wholly on what I accomplish, so I can dictate how much I make.
That said, I am very focused on experiences rather than tangible objects. The majority of my spending goes towards doing things rather than shopping. I'll spend $70 on a mezcal tasting in Mexico without a second thought, but I will think long and hard before I purchase a $25 shirt.
That said, I am very focused on experiences rather than tangible objects. The majority of my spending goes towards doing things rather than shopping. I'll spend $70 on a mezcal tasting in Mexico without a second thought, but I will think long and hard before I purchase a $25 shirt.
My top financial/trip planning resources
My favorite travel resource is Google Flights. I often pick my next destination by seeing where it is the cheapest to fly from where I currently am. You can type in your departure airport and then select search without typing in an arrival airport, and it will show you prices for going anywhere in the world.
1. Credit Cards
Credit cards should be your best friend if you want to travel full-time. Points and miles can save you thousands of dollars and elevate your travel experience. I currently have seven credit cards, but I'm always looking for my next one. These cards allow me to enjoy airport lounges before my flight, reimburse me for Global Entry every four and a half years, give me additional insurance and protections for trip interruptions or lost bags, and earn towards future travel. If you use a debit card for any purchase other than an ATM, you're leaving money on the table. Speaking of ATM purchases, if you open a Charles Schwab checking account, they will reimburse you all ATM fees worldwide, which saves a ton of money throughout the year.
2. Foreign earned income exemption
Another great resource that many nomads, including myself, take advantage of is the Foreign Earned Income Exemption. In simple terms, it says that if you are physically located outside of the U.S. for 330 days or more out of the year, you are not liable for income taxes up to a certain threshold in that year. For tax year 2023, the threshold is $120,000. This can save remote workers thousands of dollars when it comes time to file taxes next year. Note that if you are self-employed, there is no deduction for self-employment tax, so you are still liable for all 15.3% whether you are in the country or not.
There are also plenty of budgeting apps out there to track your spending. I personally use Mint and have for years, as I like its visual aspect. Finally, I obviously couldn't live this lifestyle without clients like Credello, who regularly send me work.
3. Building a career around travel
I started my career while traveling full-time. This is typically not how most nomads do things, but it worked for me. My creativity and eagerness to work reached unprecedented levels while traveling, so I figured out a way to keep it going. Since I work in the travel and finance field, moving around allows me to find new ideas for stories to pitch to editors. I can develop my business while traveling much more than I would if I was living back home.
Maybe you are planning to be a temporary digital nomad, or you just need a little vacation. Whatever it is, you have options for financing your trip.
Find and compare the best loan options.
Advertiser Disclosure
Use the filters below to refine your search Sorry, we didn't find any options that meet your requirements. Try changing your loan amount.
What it's actually like on the road
For years, I imagined what it would be like to be living in a different country. Would it be as magical as it sounded? Or would the romantics wear off, and I'd be left with the same troubles I had back in the U.S.?
It turns out it's a little bit of both. It's certainly easy to fall back into patterns and behaviors that you are accustomed to. However, you gain a new sense of independence and freedom because, quite literally, you can go anywhere you want and do just about anything you desire. It takes a lot of discipline to stay focused on a career, maintain a budget, and travel simultaneously.
My favorite part of this lifestyle is that I can constantly meet new people and reinvent myself. There is something that I find so thrilling about going to a country where I don't know a single person. I get to decide who I want to be and what experience to have. I've had weeks where I locked myself inside my apartment and didn't talk to anyone so I could focus on work, and then I've had times when I took a weekend trip to the wine country of Argentina with someone I met two weeks prior. You never really know what to expect, and I find that exciting.
Some days look very similar to my days back home–wake up, work, cook dinner, watch TV, do laundry, sleep. Since I'm not on vacation, responsibilities still exist. But other days, I might wander around for hours without any real direction, stumbling upon flea markets or attending events to make new friends.
What I spend in a typical week
One of the most challenging parts of being a digital nomad is constantly prepaying for lodging. This isn't much of an issue for some nomads that like to fly by the seat of their pants. But I travel with my cat, so I need to plan out a little farther than the average person because I'm not staying at hostels or have the luxury of being very flexible.
So, last month, I had to book all of my Airbnb's through September, which is a lot of money at one time. However, if you average it out, I tend to spend anywhere from $20 to $45 per night on lodging, depending on the location. Flights are another line item of the budget that will vary greatly.
From November 2022 to April 2023, I averaged spending about $3,280 per month, totaling roughly $820 per week. This includes all expenses, from food to ride share to plane tickets and lodging. Note that this number does not include the tax payment I made in April. My numbers are higher than many of my friends since I travel with an animal, which requires vet visits, extra costs on airfare, needing a private Airbnb rather than a room or a hostel, and lots of treats.
Once I have that number, I know how much I need to earn to cover expenses, put money into savings, and have an emergency fund. Since I'm a freelancer, I can take on new projects as needed or back off if I want some extra free time.
Lessons learned
I could write many articles on the lessons I've learned over the past couple of years, but one thing sticks out the most: we are all more alike than different. For example, a lot of media coverage might make you think that Medellin, Colombia is the most dangerous place in the world. That might've been true a few decades ago, but now, it is one of the most welcoming places I've ever been. At the end of the day, everyone craves human connection and just wants the best for themselves and their loved ones.
The other main lesson that I've learned is how resilient we are. I've had my fair share of stressful and panic-filled moments while traveling, but I always figure it out. When you put yourself in uncomfortable situations, you allow yourself to grow.
Challenges of full-time travel
One of the biggest misconceptions is that life is always like a movie while traveling. There are still struggles, stressful times, and moments when you ask yourself, "Why am I doing this again?" But the great part is that those rough days are bookended by fantastic, dreamy days that you have to pinch yourself to believe.
When you're living on the road, you do have to make sacrifices. I can't be home for most birthdays, I missed Christmas last year, and I've been unable to attend bridal showers and funerals or physically be there for my loved ones. The time differences can make it difficult to keep in touch with the people you care about, but you always find a way.
It can also get tiring constantly being in planning mode. I am always thinking about where I'm going next, how I'll get there with my cat, and how I can scheme to save some money. You have to be aware of local laws and regulations. For instance, you can't stay in the Schengen Zone in Europe for more than 90 days out of 180 days, so you have to be sure you aren't overstaying your time, or else you'll get fined. I am an LGBTQ+ traveler, which adds another layer when planning–ensuring I stay somewhere safe. On top of that, pet importation laws are constantly changing.
It's a lot to think about all the time. It's thrilling but also tiring. It's almost like taking on a second part-time job but worth the effort.
Top destinations for budget-friendly travel
So far, I've only been to North America, South America, and Europe. I've yet to explore all the wonderful things on other continents, but my favorite destination for budget-friendly travel is Argentina. The most expensive thing will be your plane ticket, but once you're in Argentina, you can make a dollar stretch a long way. A meal at one of the best restaurants in the world costs about $50, while an average takeout might cost $5-$7. You can get a cocktail for $3 and some of the best wines you've ever tasted for the same.
There's also a thriving digital nomad community in Buenos Aires, the capital of Argentina, where you can easily meet people. In the past year, I've spent around six or seven months exploring Argentina, and I am already excited to get to go back.
My favorite destination in Europe would have to be Italy. I prefer Northern Italy over Southern Italy, and if you stay out of the massive metropolitan centers like Milan, you can live pretty affordably. I spent a few months in Turin, about two hours by train west of Milan. This was during 2021 when prices were a bit lower, but I could easily get an apartment in the center of everything for around $800/month, more than $400 less than I was paying for an apartment in Raleigh, North Carolina.
Bottom line
I feel so lucky to live this lifestyle, even with its challenges. Seeing new places while spending less per month than when I was living in Raleigh is a dream come true. I still have a lot to learn and dozens of countries to get to, but there is plenty of time to do so.
My website: www.harrisonjpierce.com
My Instagram: @harrison_pierce
Sign-up for my newsletter: http://eepurl.com/imqKss