13 Ways to Overcome the Gender Gap
Written by:
Ashley Jones
9 min

read
1476 Views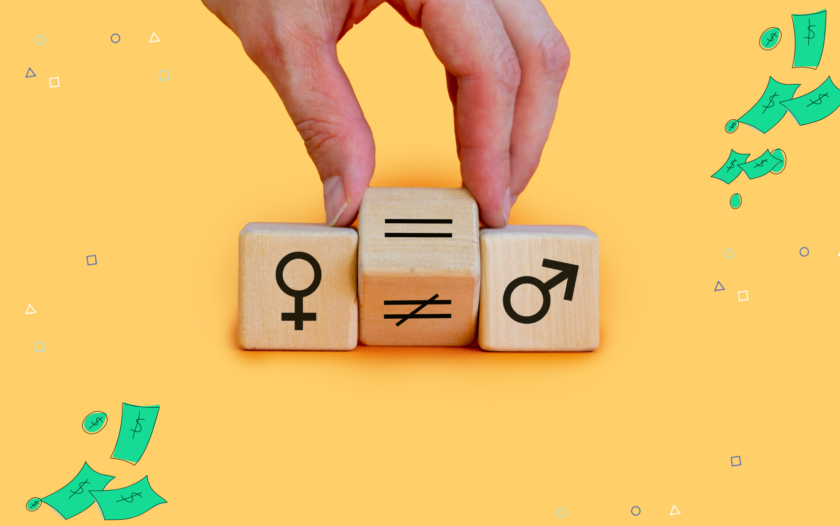 It's no secret that the gender wage gap is alive and well in the U.S. Women only earn an estimated 83 cents for every dollar men earn, according to the most recent data on the subject from the U.S. Census Bureau.
When it comes to women and money, gaps in comparison to men are ever-present, not only with regard to earnings and wages, but in retirement savings, life insurance coverage, and overall personal wealth.
Research from the Life Insurance Marketing and Research Association (LIMRA) shows that in 2022, 53% of men owned life insurance compared to 46% of women in the U.S., with women's life insurance ownership in decline for the sixth straight year. Additionally, total retirement savings for women are estimated to be less than half of men's, according to a 2022 report by Transamerica Institute for Retirement Studies.
These are complex issues, but the contributing factors all add up to a need for women to bridge these financial gaps. But, how?
Women earning more helps everyone
A March 2023 economic report from Moody's Analytics revealed that closing the gender wage gap could add approximately $7 trillion to the global economy. But, as progress currently stands per the World Economic Forum's Global Gender Gap Index, the report notes that it would take 132 years to achieve this goal.
Authors Dawn Holland and Katrina Ell concluded the report by summarizing the heart of the issue: "Surveys on the root causes of the gender gap in management point to the heavier burden of family responsibilities carried by women, a lack of access to the same kind of connections as men, women being less likely to ask for promotions, as well as women being held to higher standards than men." They say that to achieve change where the gender pay gap is concerned, a shift in social norms and workplace policies surrounding flexibility, affordable child care, and paid family leave could be beneficial on a global economic scale.
$0.86
is how much women between the ages of 20 and 29 earn compared to every $1 that men earn.
FinFact
Women are most often not paid what they're worth
The same Moody's Analytics report noted that women are "significantly underrepresented in middle and senior management roles," attributing this to the underutilization of qualified women, who most often wind up in roles below their actual skill level, despite their prior education and experience.
So, how do women get the pay they deserve?
With more than two decades of corporate experience under her belt, Tara Furiani is the founder and host of the Not the HR Lady podcast, on a mission to spark dialogue and drive change surrounding sensitive and neglected workplace topics — including discrimination against women. "As someone who has experienced the challenges of navigating the pay gap and compensation negotiation, I understand how difficult it can be," Furiani says. "There are actionable steps you can take to increase your earning potential and find a job that values your skills and contributions." The strategies below are a great place to start.
1. Speak up and speak out
Whether you're asking for a raise or negotiating an initial salary, don't be afraid to advocate for yourself and negotiate confidently. "The worst that can happen is that you will get told no. In which case you can ask for constructive feedback on what you need to demonstrate or what skills you need to develop to earn the pay raise you are looking for," says Pamela Phillips, Director and Co-founder of de Jong Phillips, a tech-led accountancy firm supporting clients in using automation across the finance functions of their business.
2. Do your research and be prepared when negotiating your pay
"Before entering into compensation negotiations or applying for a new job, it's important to research the salary range for your desired position and industry. Websites like Glassdoor, PayScale, and Salary.com can be great resources for this information. Additionally, networking with others in your field and asking about their compensation can give you a better idea of what to expect," Furiani says.
She recommends listing out your contributions to the company to highlight during your negotiations and use as leverage. "In addition to salary, there are other forms of compensation that can be negotiated, such as benefits, bonuses, and vacation time. Don't be afraid to ask about these options if salary negotiations aren't successful."
3. Time your asks appropriately
"Timing is important. Identifying an appropriate milestone to ask for a pay raise, e.g. after a certain time spent in a role or when you've achieved a qualification or taken on more responsibility at work. All of these markers are an opportunity to approach the subject," Phillips says.
Related to timing, it's also worth taking a look at your personal finances before asking for a raise. Depending on what your financial goals are and where you are at, you may be able to go a little longer without a raise if it means waiting until you finish a big project to show off the results or hitting that 12-month mark.
To get a better handle on where you're at, our debt payoff calculator tool can compare the timing of potential payment plans.
Tell us what you are looking for?
I am looking to calculate
I just have one
debt
I have more than
one debt
4. Ask for more than you really want
"Always go higher than what you actually want, knowing that they will likely meet you in the middle between their offer and what you ask," Samantha Karlin, founder of Empower Global, an expert on women's leadership, gender quality, and DEI, says. Karlin developed and teaches a transformational leadership program, The Women's Leadership Challenge, for women leaders from across multiple sectors to learn how to step into their power, lead for the future, and create institutional change.
During your research before pay negotiations, you'll want to understand where your skills fit in with the company's salary bands listed on Glassdoor and similar salary sites. "Generally, if you have significant experience, I would ask for the top of what that band says. If you are entry level and reaching up, don't go as high. If you're interviewing for a nonprofit, their 990s are public information, which means you can see what their senior leaders are being paid," Karlin recommends.
5. Leverage your best personal qualities to find a higher-paying job
"You always want to look at what's transferable to the new role – and go beyond just your skill set but who you are as a person," Karlin explains. In short, look at yourself holistically — not just your work experience and education — and highlight these important qualities to apply for higher-paying roles.
"Are you incredibly persuasive and can convince someone to buy sand in the desert? Are you so engaging that in the past someone has said they would be happy listening to you talk about paint drying? Are you incredible at managing up, and turning chaos into coherence? Have you traveled all over the world and can adapt easily to different cultures? All of those are important to explicate," says Karlin. "Bring out the full you."
6. Consider switching industries
Speaking of leveraging your skills, if you're not earning what you deserve in the job you currently have, switching things up can be helpful. As daunting as it sounds, if you apply your transferable skillset to an industry where the gender pay gap is smaller, like physical and social sciences, the switch may help you achieve a higher pay level.
7. Apply for high-paying jobs even if you don't meet every qualification
"Sometimes the best way to increase your salary is to find a new job. Don't be afraid to explore new opportunities that may pay more or offer better benefits," says Furiani.
According to Karlin, most hiring managers will list job descriptions in such a way that it makes it nearly impossible for one person to check every single box. "I've literally seen job descriptions where they want someone with a Ph.D. in economics who speaks 5 languages. They may as well ask if you've climbed Mt. Everest," she explains. When women skip applying for a job where they don't meet all listed criteria, Karlin says, "We take ourselves out of the running before we even enter the race."
8. Be transparent and honest about resume gaps
Women are more likely to have gaps in their resumes than men, so it's important to understand how to explain them well. "If you have gaps in your resume, it's important to explain them honestly," Furiani says. "Be prepared to address the gap in a way that highlights any skills or experiences you gained during that time, or any personal or professional development you pursued. Employers appreciate honesty and transparency."
9. Think like a man
"It's known that men are more likely to stretch and apply for jobs that are beyond their current experience," Phillips explains. "This is a mindset — they might not have done those things yet, but they want to and they believe they can do them given the chance."
As Karlin puts it: "We have a joke in my Women's Leadership course, think to yourself — what would a mediocre white man do?"
10. Network like it's your paying job
Because, frankly, it can get you paid. "The more people you know, the more opportunities you create for yourself," says Phillips.
Also worth noting, Karlin explains that "Applying for a job online may as well be throwing your resume into a black hole." If you're serious about getting a call back, reach out to someone within the company who can flag your application and get eyes on it.
11. Consider professional coaching
You don't have to navigate the gender pay gap alone. "When I have worked with women 1:1 or in The Women's Leadership Challenge, I help them to negotiate every single time for anywhere from 5K-30K more than they would have without coaching. We do role plays, talk through women's insecurities, investigate the org together, strategize. Invest the money in coaching because it literally pays off," says Karlin.
12. Invest time toward earning passive income
Pay raises — whether at your current job or through finding a new one — aren't the only way to bring home more money as a woman. Make your money work for you by learning about how to invest or setting up a side hustle to earn passive income. Katie Braun of Clever Girl Finance has a great list of projects to consider if you're looking for passive income ideas.
13. Consider joining a union
There's strength in numbers. According to research from the Institute for Women's Policy Research, women in unions earn higher wages; on average 21.9% more than non-unionized women. If your current job doesn't have a union, you can look into starting your own or seek support within your professional community.
Bottom line
Overcoming the gender pay gap isn't easy, but women can be proactive and take steps to make their careers and money work for them.