12 Hacks for Putting on a Nice Thanksgiving Despite Massive Inflation
Written by:
Ashley Jones
5 min

read
2576 Views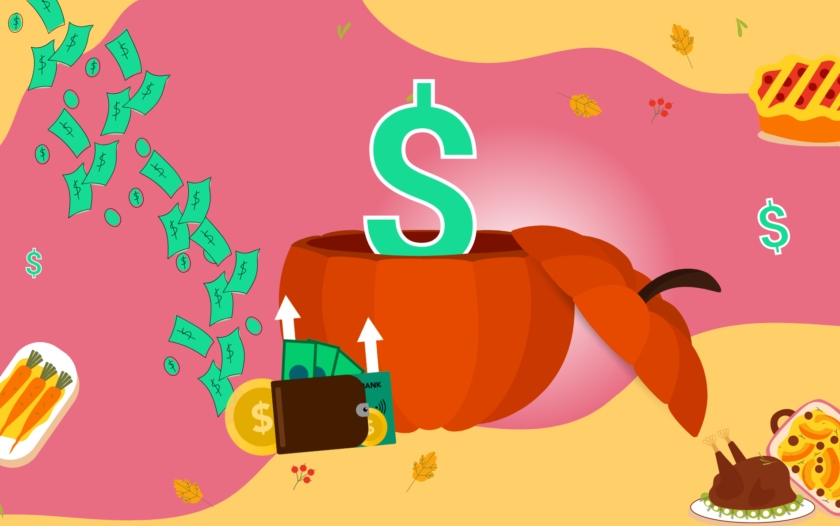 At a Glance
With consumer goods and services costing more than ever during record-high inflation in the U.S., families are looking for ways to stretch their holiday budgets in as many ways as possible. If you're hosting Thanksgiving this year, there are several ways to save money and still host a delicious meal for family and friends.
How will inflation affect Thanksgiving in 2022?
A traditional Thanksgiving meal will cost about 13.5% more in 2022 than it did in 2021, according to predictions by market research firm IRI. Rising costs of everything from flour and sugar for baked goods to produce for side dishes will make this year's holiday season a costly one for consumers. Inflation is expected to continue through the holiday season, leaving many families looking for ways to save.
Between inflation and a turkey shortage, turkey prices are up 28% compared to this same time last year, a U.S. Department of Agriculture market report shows. Retail food prices in general increased by 11.2% from September 2021 to September 2022, according to the Consumer Price Index.
Despite massive inflation and higher prices on everything that it takes to put together a traditional meal, it is possible to put on a nice Thanksgiving using these holiday spending hacks.
Don't let inflation get the best of you this holiday season. In addition to budgeting hacks for Thanksgiving, personal loans are another option to help expand your budget this season.

Checkout the personal loan options that meet your needs We found 6 options for your requirement
Advertiser Disclosure

8.99% - 23.43%
Est. APR Range
$5,000 - $100,000
Loan Amount
Good For: High loan amounts available, no fees
7.99% - 25.49%*
Est. APR Range
$5,000 - $100,000
Loan Amount
Good For: Offers longest loan term, no fees

8.49% - 35.99%
Est. APR Range
$1,000 - $50,000
Loan Amount
Good For: Low loan amount
8.99% - 35.99%
Est. APR Range
$2,000 - $50,000
Loan Amount
Good For: Getting funds quickly
9.95% - 35.99%
Est. APR Range
$2,000 - $35,000
Loan Amount
Good For: Getting funds quickly
11.69% - 35.99%
Est. APR Range
$1,000 - $50,000
Loan Amount
Good For: low income criteria, fast funds
Congratulations! You're close to seeing your offers!
Please take a second to review the details you shared earlier
1. Make a holiday spending budget and stick to it
Examine your finances to know what you can realistically afford to spend this holiday season. Then, plan for how to allocate that money to festivities throughout the months of November and December and execute it. Don't overstretch yourself for the sake of putting on a nice Thanksgiving and be broke by Christmas.
2. Shop Thanksgiving sales at grocery stores
To help shoppers on a budget, some grocers will offer Thanksgiving meal deals in 2022 that are specifically tailored to high inflation. At Walmart, a collection of must-have ingredients to make Thanksgiving from scratch or remade classics to round out your meal are available for the same cost as last year's pre-inflationary prices. ALDI has a Thanksgiving Price Rewind promotion with a range of holiday foods matching 2019 prices. Other retailers may soon follow suit, so it's smart to keep an eye out for deals.
3. Use coupons at the grocery store
Clip coupons directly from your grocery store's app and be sure you're signed up for loyalty programs to get the best deals. You can even stack coupons from retailers with manufacturer coupons found online for major brands like Pillsbury and Betty Crocker. Coupons.com also has a ton of digital and printable coupons to save on your Thanksgiving dinner this year.
4. Host a potluck for Thanksgiving dinner
If everyone brings something to share, no one person is paying for the bulk of the food. This way, everyone at your table can save money this Thanksgiving.
5. Get your Thanksgiving turkey for free
There are several ways to get a free turkey for your 2022 Thanksgiving table. At BJ's Wholesale Club, members who spend $150 in any single transaction in-store or online will get a code for a free Butterball whole turkey (fresh or frozen) that can be redeemed from Nov. 12-30 while supplies last. You may have to act fast, but the savings are worth it.
Foodtown and ShopRite are also giving away free turkeys to shoppers who use their club card and spend $400 by Thanksgiving. Check with your local grocer to see if they have similar deals.

$1.1 billion
is the estimated amount Americans will spend on turkey, up $151 million from last year.
FinFact
6. Buy food for Thanksgiving in bulk and freeze the excess
Wholesale retailers often offer lower prices on food for Thanksgiving, but you get a ton of it. Use what you need for Thanksgiving and freeze the rest. This is a common restaurant industry hack for saving money on food costs. Restaurants will often buy in bulk when something is on sale and then take it out of the freezer later to prepare and sell. You can do this with any ingredients needed for Thanksgiving dinner that freeze well, including most produce.
7. Reconsider what you serve for Thanksgiving
Turkey may be the traditional star of your Thanksgiving dinner, but a less expensive cut of meat could easily take center stage to save money on Thanksgiving this year. The same goes for side dishes. Foods that are currently in high-demand but have low-production are priced higher than those that are abundantly available. So, take advantage of what's in season and readily available to stretch your budget further this holiday season.
8. Consider reducing portion sizes
Another way to cut costs this Thanksgiving is to simply not make as much food. Leftovers are amazing, but some of the more traditional Thanksgiving recipes for staples are meant for feeding a crowd. Do the math to cut down on the helpings each recipe will yield, or look for new recipes specifically tailored to fewer servings.
9. Evaluate your Thanksgiving guest list
It's wonderful to enjoy a visit with extended family over Thanksgiving, but the cost to feed so many mouths can add up. If you do throw a large gathering, insist on RSVPs so you're less likely to overbuy and overspend on food.
10. Shop second hand to save on Thanksgiving decor
Head to thrift stores to save on Thanksgiving decor, serving dishes, and place settings. Look for secondhand items in buy-nothing groups or on Facebook that let you swap decor and tableware with people locally instead of shopping.
11. Download the best apps for saving on Thanksgiving
Take photos of your receipts and use the Fetch Rewards app to earn points toward gift cards. The Ibotta app can help you find savings specific to where you shop, compares prices for you, and offers cash back options. ShopSavvy is another app that helps users find the best deals nearby.
12. Use cash back credit cards
One of the easiest ways to save money this season is by using cash back credit cards. Depending on what you plan on buying, cash back credit cards offer between 1-20% cash back. It's a simple and effective way to save money and put on a nice Thanksgiving despite high inflation.