The Top 10 Inflation Hacks for Back-to-School Shopping
Written by:
Ashley Jones
4 min

read
2308 Views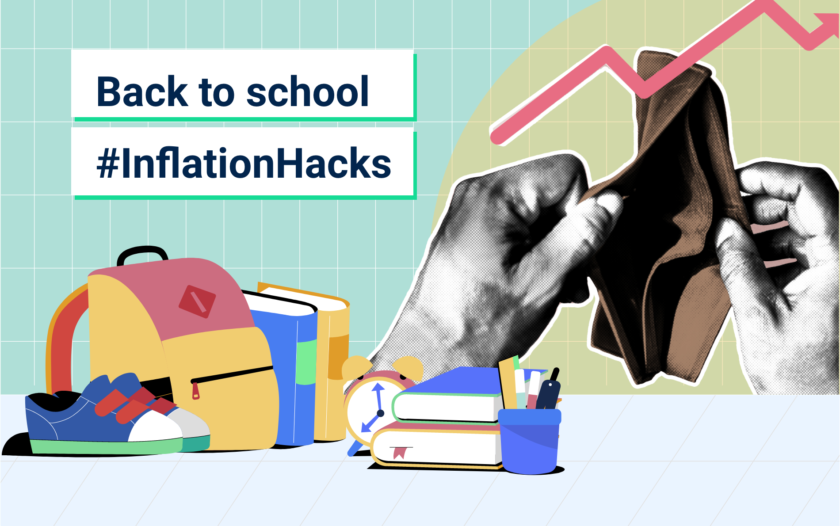 At a Glance
From new clothes for your growing grade-schooler to a mountain of books for college kids, back-to-school spending can add up quickly. As the U.S. sees record-high inflation, and higher prices on so many necessities, families are looking for ways to not to go broke getting ready for this new school year despite a challenging economy.
How will inflation affect back-to-school in 2023?
Parents are set to spend $41.5 billion on back-to-school shopping (including college students.) This is an increase from $36.9 billion last year and the previous high of $37.1 billion in 2021. Inflation means spending more on food, clothing, and school supplies, but savvy spending can help lessen the blow to your budget.
While heading back to school this year may mean more dollars spent for families, there are ways to save on the essentials above and beyond basic budgeting. Use these 10 inflation hacks for back-to-school like secondhand shopping, buying in bulk, and taking advantage of retailer rewards to save this school year.
1. Prioritize your spending needs
This tried-and-true budgeting tactic works particularly well for back-to-school season. Set boundaries around how much you'll spend and on what to align your school shopping list with your overall financial goals. Categorize needs and wants, must-haves versus nice-to-haves, and keep your personal finance goals front of mind as you decide how to spend.
Find the Best Debt Consolidation Loan for You
Answer these simple questions to find solutions you're likely to get approved for
What debt do you want to consolidate?
Select all that apply
Others does not include mortgage
2. Shop secondhand
Whether you head to a resale shop in-person to find clothing or scour social media groups, shopping secondhand can help you save during back-to-school with high inflation. Facebook Marketplace, apps like Offer Up, and local "buy nothing" groups are great for things like backpacks, lunchboxes, and shoes. Resale websites like ThredUp and Poshmark also exist to make shopping secondhand seamless and simple.
3. Buy refurbished electronics
Consider buying refurbished electronics from a reputable retailer like Amazon or Best Buy to save on tech purchases. Look for products marked "open box" or ones that carry a "certified used" stamp on gently-used laptops, scientific calculators, tablets, or other electronics for back-to-school.
4. Buy in bulk
Yes, you'll pay upfront for a membership to shop at a wholesale retailer like BJ's, Costco, or Sam's Club, but the savings from buying in bulk will make the initial cost worth your while. Throughout the school year, you'll save when you purchase school snacks, food for packing lunches, dinner prep, and even essentials for your home.
5. Shop during sales tax holidays
Though the timing varies by state and local municipality — and they don't happen everywhere — these dates allow shoppers to forgo paying state sales tax on specific essentials like clothing and school supplies. Find out what your area offers and when you can save on sales tax while shopping for back-to-school.
6. Watch for sales and time your spending accordingly
Sign up for retailer emails and texts from stores where you know you need something. Look for free shipping codes, loyalty bonuses, coupons, and more in your inbox. You can also make a list of what you need and scope out those specific items in clearance sections at your preferred retailer.
7. Break up payments on big-ticket items
Buy Now Pay Later apps, programs affiliated with some major credit cards, and some retailers offer options that let you pay off a purchase over time. This move allows you to stretch some of your back-to-school spending out over a period of weeks or months to lessen financial strain. Be aware of the restrictions, timing of payments, and how it may impact your credit score when using this hack.
8. Use a browser plug-in when shopping online
Apps like Honey by PayPal sweep the entire internet for deals and coupon codes as you shop. Rakuten is similar but offers cash back for online purchases at select retailers. This hack is an easy way to score savings without thinking twice. Plus, it works even if you haven't planned ahead.
9. Take advantage of the best back-to-school credit cards
Some of these hacks are time-sensitive and involve planning ahead, but you can apply for a new credit card anytime. If you're going to be shopping anyway, you can at least earn credit card points, cash back, or benefit from new card bonuses while doing so. There are plenty of credit cards to choose from that offer great rewards upfront to help you save immediately.
Compare: Best Credit Cards for Back-to-School Spending
10. Stack savings when you shop
You can save a few bucks shopping on a tax-free date or catching a sale, but you can also maximize your back-to-school budget by timing your purchases to save multiple ways at once. Find a refurbished electronic on clearance, pair it with a coupon your browser plug-in found, purchase it with a credit card that offers cash back, and you'll save big on back-to-school.