These Are The 10 Best Financial Apps for Couples to Use In 2023
Written by:
Ashley Jones
8 min

read
2189 Views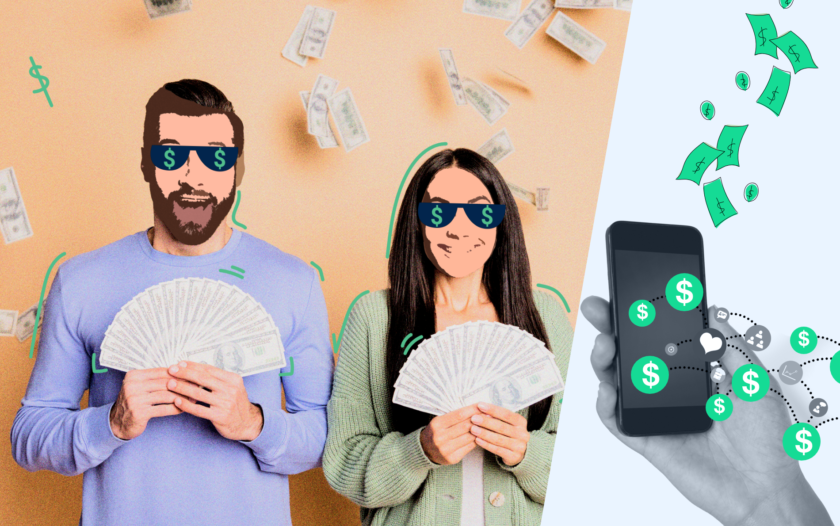 If Valentine's Day for you means a romantic evening out with your significant other, you know the cost can add up quickly. A romantic dinner, wine, flowers, the works — it can be a budget buster. If you're in the mood to get your money in alignment so you don't break the bank this Valentine's Day, there's no better way to celebrate your love than syncing your money matters with one of the best financial apps for couples.
Money can be a hard thing to talk about with your significant other. As evidenced by a survey that shows that 40% of people in serious, long-term relationships don't even know what their partner's paycheck looks like, sharing financial details with the person you're with can sometimes get put on the back burner. Some people (as many as 35%, according to a Credello survey) will even go as far as to hide debt or large purchases from their romantic partner in an effort not to discuss money. To combat this, some couples find money dates helpful. A date focused on discussing finances is a recurring habit to get into as your relationship matures. It can be beneficial for couples to help work toward overall financial wellness together.
No matter how long you've been together, financial transparency can strengthen your bond and help prevent disagreements about spending, saving, and paying off debt. Instead of wondering how your habits impact your financial health, download one of these money apps for couples and get on the same page.
Consider debt consolidation
If you or your partner are struggling with mutiple debts, you have consolidation options.
1. Best financial app for couples to prevent money arguments: Honeydue
Cost: Free
The app syncs to all your joint and individual accounts including credit cards, investments, bank accounts, and more to give you a holistic view of your shared finances. Honeydue automatically tracks your spending and lets you set spending limits across various categories so you can get on the same page with your budget and keep you both in the loop as to when bills are due. If you're worried about your significant other seeing a transaction for a surprise gift, Honeydue lets you limit what they can see until you want them to see it. There's also a chat feature built into the app, giving you a designated spot to have important financial conversations.
2. Best financial app for couples to track spending: Mint
Cost: Free
From Intuit, this straightforward app is one of the most-recommended financial apps out there. Mint links to all your and your partner's bank and credit card accounts, so that you can easily see what money you're bringing in and where you're spending your money. The app also provides users with a way to categorize various expenses and allows you to modify these categories depending on what your needs are as a couple. Easily set up over-budget alerts, bill pay reminders, credit monitoring, and more.
3. Best financial app for couples who need a joint account: Zeta
Cost: Free
Zeta lets couples customize their app experience to focus on what you need to, when you need to. Designed for couples, you'll each have access to a joint account with Zeta (complete with virtual cards for spending) to manage money together. Though you can't connect existing accounts, this app can help newlyweds merge finances, help people in long-term relationships reassess and reach their goals, or unify the financial outlook of anyone who would benefit from a shared account. As your family grows, you can prioritize spending, change budgeting methods, and fully manage your family's finances without ever missing a beat. Set savings goals, message your partner in the app, or chat with a dedicated (human) team member to get answers to financial questions.
4. Best financial app for couples with kids: Firstly
Cost: Free
This money app for couples is ideal for families who want a way to manage household expenses while simultaneously saving for the future. It features an in-app chat setting so that you and your partner (as well as other family members you may want to add like aging parents or teens) can have important financial discussions right in the app. With Firstly, you can set savings rules to set money aside for big family goals like a downpayment on a new home or paying for college. Since you can share the app with other family members as well, it's a great tool to help teach older kids about managing finances.
5. Best financial app for new couples: Qapital
Cost: $3/month
The Dream Team feature on the Qapital app lets you and your partner team up to take control of your finances together — or not. Decide which money matters to share, which ones to tackle independently, and get in total alignment with your significant other. If you're just testing the waters of long-term commitment and only want to share what you're saving for, like a new home or a trip together, you have that option with the Qapital app. Likewise, if you want total financial transparency with your partner, this app lets you share as much about your spending, savings, and investments as you want.
6. Best budgeting app for couples: You Need A Budget (YNAB)
Cost: $14.99/month or $99/year
If one of your top money goals as a couple is to get your budget in order, YNAB is one of the best financial app to help couples organize their budget together. YNAB is super flexible and customizable so that you can build the best budget for your needs based on your overall financial goals. Whether you're budgeting as a way to pay down debt, to add to your savings, to invest, or to just have a better understanding of your spending habits, this budgeting app is a great way to do that as a couple.
7. Best financial app for couples for long-term planning: Monarch
Cost: $14.99/month or $99.99/year
To reach big (AKA expensive) goals as a couple, a focus on long-term planning is key. One of the best money apps for couples that can help do just that is Monarch. Connect all of your accounts, and invite your partner (or any other members of your household) to collaborate right in the app to get an overview of your finances. You'll each have your own login and be able to control who views and can change what. The app provides personalized suggestions that help you make the most of your money together, so whether you're focused on paying down debt, investing, or long-term savings, Monarch can help you sync your goals.
8. Best financial app for couples who use cash stuffing: Goodbudget
Cost: Free for 20 "envelopes," $70/year for unlimited
If you use the cash stuffing or envelope method to budget as a couple, Goodbudget is a financial app for couples that helps you keep track of your spending in digital "envelopes." Manually input purchases you each make, share budget details with one another, and save for big goals like debt payoff all in one place that you can both access right from your smartphone. Goodbudget can alert you both if you've gone over budget in any area to help keep you both on-track.
9. Best financial app for couples to manage their investments: Personal Capital
Cost: Free
One of the most user-friendly apps for couples to keep track of their money as their relationship and wealth grows is Personal Capital. By linking all of your accounts — both joint and individual — you can get an overview of exactly where your finances stand. Not only can you use the app's budgeting tools to stay on the same page spending-wise, but you can also track your portfolio balances to stay on top of your investments. Add bill pay alerts, see how much you're contributing to your retirement fund, and stash cash in your emergency fund all in one easy-to-use app. Above and beyond the app's free comprehensive financial tools and tracking, you can also pay to access certified financial advisors who can analyze where you're at financially and help direct your investments.
10. Best financial app for couples to lower your bills: Trim
Cost: Bill pay negotiation costs 15% of the first year's savings
If you're a couple who can't decide where to cut down on your spending, let Trim do the work for you. Don't stress explaining why your partner should give up their daily latte habit in favor of paying off their debt and instead, let Trim's expert bill negotiators help lower your expenses in the areas that could most benefit you both. This financial app shows you which subscriptions to cancel, finds opportunities to help you save, and lets you as a couple spend less on bills overall.
Bottom line
No matter which of these money apps for couples you choose to use, downloading an app to manage your finances together is a big step toward transparency in your relationship. Whether you're focused on paying down debt, saving for the future, or keeping your spending in check, it's a step in the right direction toward better financial health for you and your partner.