Best Survey Apps to Make Easy Money
Written by:
Trevor Mahoney
6 min

read
237 Views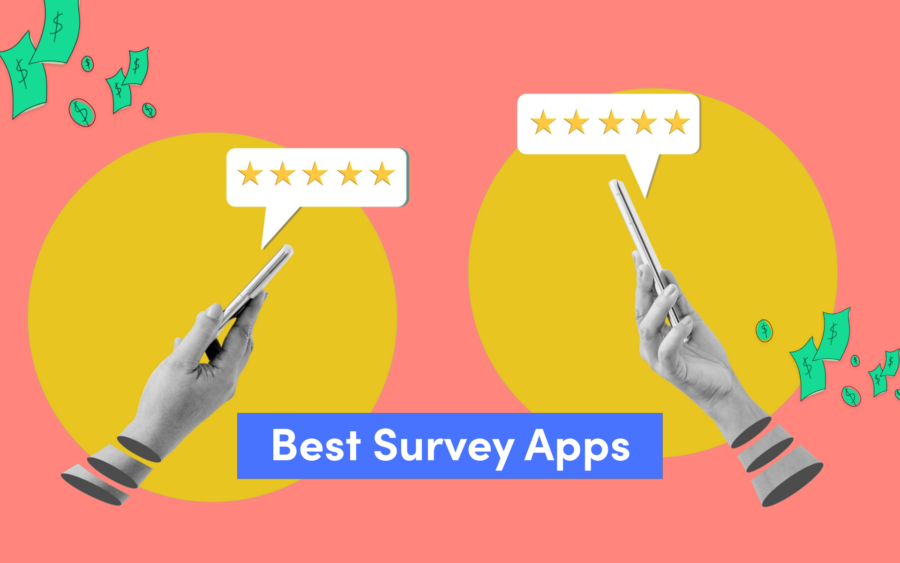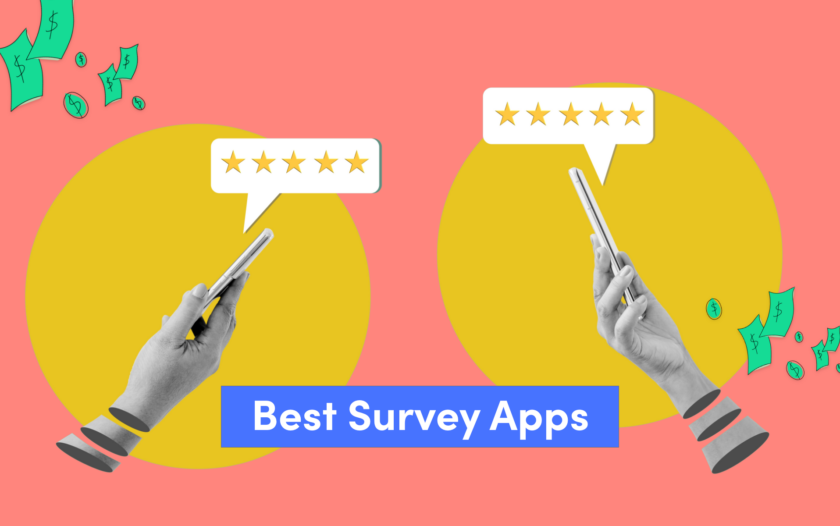 At a Glance
In the modern age of the Internet, there are unprecedented ways to make money online. Surprisingly, one of the easiest ways to make a quick buck digitally is to use the best survey apps which will pay you for nothing more than giving your opinion. Learn the top survey apps that can pay you a fair amount of money so that you can start earning today.
Comparing the best survey apps
The following breakdown of the top survey apps on this list is a 30,000-foot view of the most important details of each of the apps, before diving deeper into the specifics below:
| App | Average Earning | Payment Mode | Minimum Cash Out |
| --- | --- | --- | --- |
| Swagbucks | $0.40-$35 | PayPal or Gift Cards | $1 |
| Survey Junkie | $1-$3 | PayPal or eGift Card | $10 |
| Zap Surveys | $5-$10 | PayPal of eGift Card | $25 |
| Branded Surveys | $1 | Direct Deposit or PayPal | $10 |
| InboxDollars | Up to $5 | Checks, Prepaid VISA, or Gift Card | $30 |
| YouGov | Up to $50 | Direct Deposit or Gift Card | $50 |
| UserTesting | $4-$120 | PayPal | N/A – Payment Sent After 7 Days |
A closer look at the top survey apps that can help you make extra money
The above table excellently calls out the most important parts of each of the above survey apps, but we will break down the finer details for each below. To determine which of the best survey apps for money is right for you, consider each of the following:
Swagbucks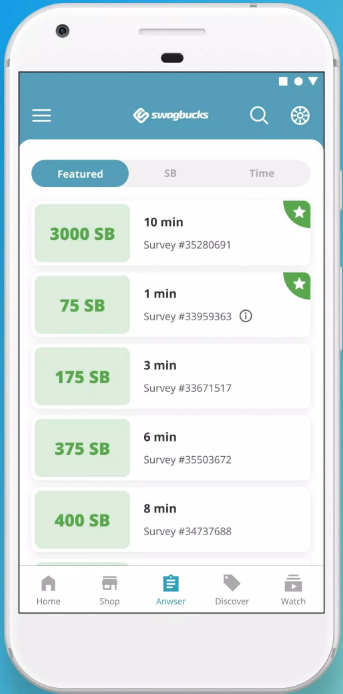 Average earnings: $0.40 – $35
App Store and Play Store ratings: 4.4/5.0 (App Store), 4.2/5.0 (Play Store)
The premise behind Swagbucks is a platform filled with fun surveys and polls that run the gamut of nearly every topic. A unique feature that earns Swagbucks a place on the list of best-paid survey apps is the fact that they also reward users for shopping and discovering content online. On top of all of this, the platform offers new joiners a bonus of $10 which is a great way to start. Swagbucks also happens to feature the lowest minimum payout on this list of best money-making survey apps at just $1, making it easy to get paid.
Survey Junkie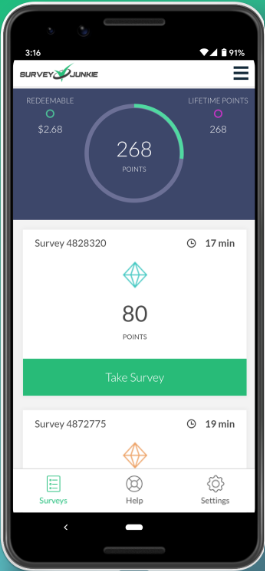 Average earnings: $1-$3
App Store and Play Store ratings: 4.5/5.0 (App Store), 4.3/5.0 (Play Store)
Survey Junkie is one of the highest-rated paid survey apps of all time which alone earns it a place on this list. However, the platform itself pays users in cash and rewards for simply taking fun and interesting surveys that run across multiple categories. They also offer the option of going beyond surveys by joining the SJ Pulse community through the Survey Junkie app which opens the door to market research.
Zap Surveys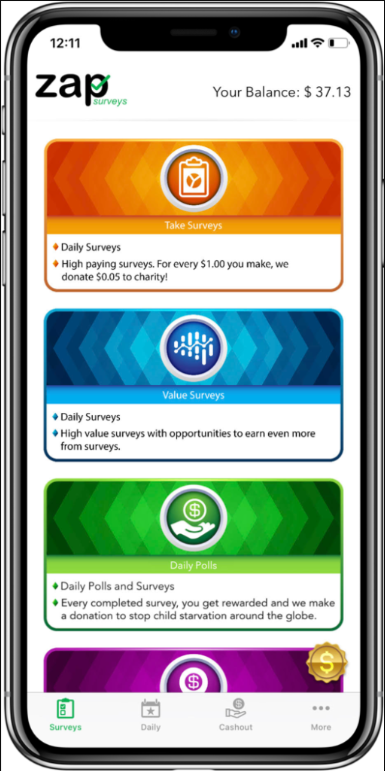 Average earnings: $5-$10
App Store and Play Store ratings: 4.4/5.0 (App Store), 4.4/5.0 (Play Store)
Zap Surveys is another popular platform that pays users rewards that can be redeemed for gift cards. Similar to Swagbucks, they offer a welcome bonus, though it is only $3 in size. One downside to this site is the fact that some surveys come with strict eligibility requirements which can impact your earning potential on the site, especially if you keep getting sent on these types of surveys.
Branded Surveys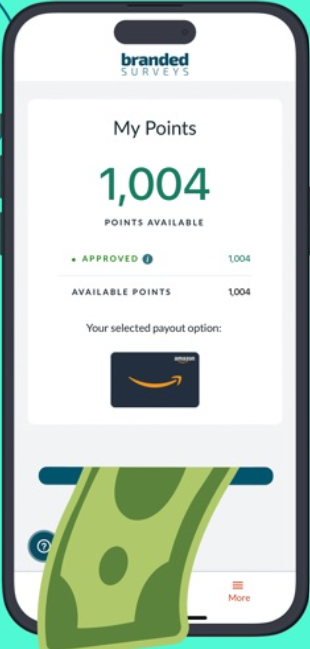 Average earnings: $1
App Store and Play Store ratings: 3.5/5.0 (App Store), 2.6/5.0 (Play Store)
Branded Surveys is unique on this list of best-paid survey apps in that a person can get paid by completing online surveys or completing simple tasks. Rewards are earned right upon signing up (100 points to be specific) and future surveys can earn a person anywhere between $0.50 to $5. However, the success a person has on the app is all dependent on how many surveys they are sent over time.
InboxDollars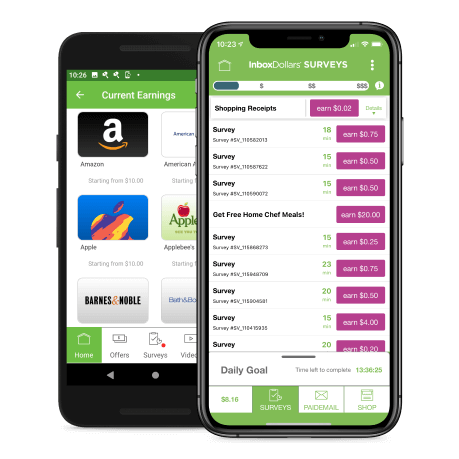 Average earnings: Anything up to $5
App Store and Play Store ratings: 4.4/5.0 (App Store), 4.2/5.0 (Play Store)
InboxDollars is the best survey app to earn money when you are bored quickly with basic surveys. This is due to the fact InboxDollars allows a person to earn money by taking surveys in addition to playing games, watching videos, and even shopping online. The welcome bonus for InboxDollars is a relatively low $5, but there is a low minimum payout of $15 which is nice for getting paid fast. Surveys are paid somewhere between $0.50 and $5 per survey, though they can take as long as 25 minutes to complete in some situations.
YouGov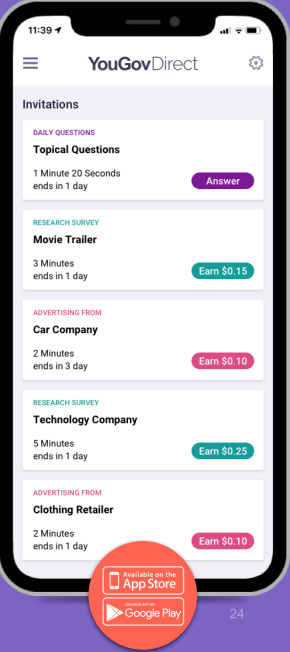 Average earnings: Up to $50
App Store and Play Store ratings: 4.7/5.0 (App Store), 4.5/5.0 (Play Store)
YouGov is a specialty survey site in that it offers surveys specifically from consumer brand options. They offer a strong welcome bonus of $20 that can be enticing for many, along with multiple redemption options for points through gift cards. Those who are interested in public policy will surely enjoy YouGov for the bonus feature of being able to partake in community polls when not taking part in paid surveys as well.
UserTesting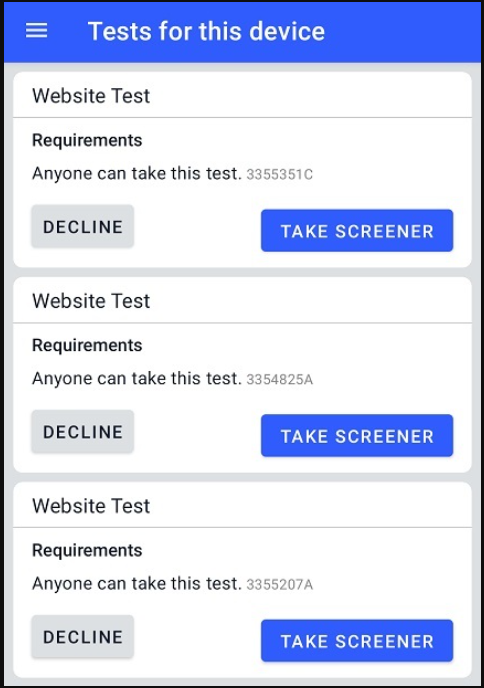 Average earnings: $4-$120
App Store and Play Store ratings: 2.7/5.0 (App Store), 2.9/5.0 (Play Store)
Despite the lower rating in the App Store and Play Store, User Testing is a proven paid survey application that allows participants to make serious money. The problem, and the primary reason for the low rating, is that many users complain they aren't sent enough surveys, if at all. The main reason to consider using this platform is that a user can watch paid videos that earn them a rate of roughly $10 per 20 minutes, which can break up the monotony of standard survey apps.
Can you make money taking surveys?
The short answer to this common question regarding the best-paying survey apps is that, yes, a person can make money online by taking surveys. However, the amount of money a person earns from taking paid surveys is relatively low, meaning this should be treated more as a side hustle as opposed to a full-time role.
Which survey apps pay instantly?
The majority of the best free survey apps will pay a person instantly, but the trick is that they need to meet the minimum payout amount first. If you don't meet this minimum, the money is unreachable in your account or unredeemable through gift cards or other means.
What to know if you take online surveys
The most important thing to be aware of when signing up for the best survey apps to make money is the fact that it is not a "get rich quick" scheme. Taking surveys is arduous work that will often take anywhere from 5 minutes to nearly 30 minutes. Also, to start you'll only have a couple of dollars to show for your hard work. As far as side gigs go, however, it is a viable option to consider, especially if you don't mind giving your opinion on a wide range of topics.
FAQs