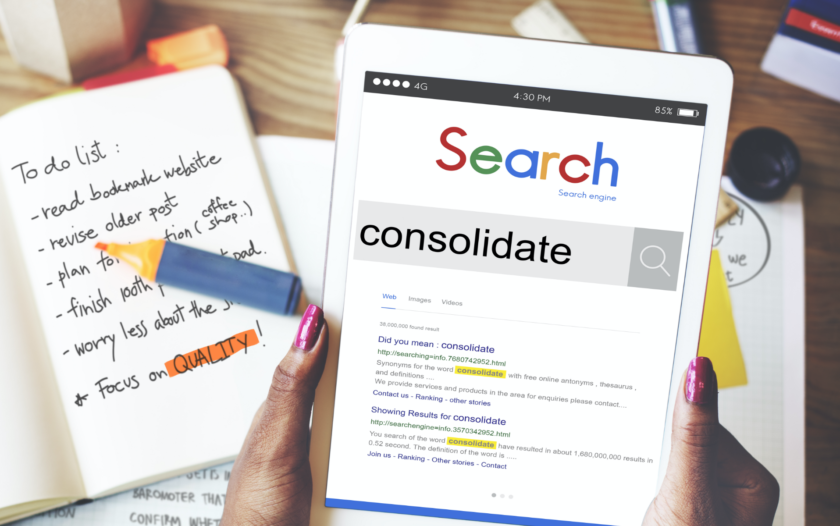 Online Debt Consolidation: How It Works
At a Glance
Consolidating your debt means taking out a single loan to pay off multiple unsecured loans, such as credit cards, personal loans, auto loans, student loans, and others. This makes managing your debt easier because it's one, manageable loan, ideally with lower interest rates, instead of several loans with varying interest rates.
Debt consolidation can help you pay off your loans faster, and it could lower your total payments. It also eliminates the need to keep track of multiple due dates and payments each month.
Knowing if debt consolidation is right for you depends on your end financial goals, but is a beneficial strategy if you're looking to lower monthly payments and save money on interest. When it comes to debt consolidation, there are many options available to you, some made easier by being accessible online.
In this article, you'll learn about:
Benefits of online debt consolidation
Online debt consolidation means you're doing the entire process of consolidating your debt online. This can make securing a debt consolidation loan faster and easier than ever. The primary benefits of online debt consolidation include:
Online shopping. You can compare lenders, interest rates, eligibility criteria, repayment details, and more without having to step foot in a bank or credit union location or even make a phone call. There are a number of websites that have already compiled the top options, most of which offer ways to sort and filter those that meet your needs. Or, you can use internet searches to find your own options and compare information.

Online application. Once you find the lender and option that you want, you can take care of the entire application process online. These online applications will ask the same questions and request the same information you'd need at a bank or credit union, which you can fill out or upload right from your computer. These applications can be completed at your own pace, wherever you are, and submitted when complete.
Better tools. Free online tools such as debt consolidation calculators can help you decide if debt consolidation is right for you, even providing potential savings in interest, monthly payments, and estimated debt-free timelines. Some consolidation companies also offer live messaging or texting, so it's quick and easy to chat with debt counselors and get a plan recommendation.
Additionally, most online tools are data-driven instead of people-driven. This means that you can share information about your exact situation and get a solution calculated specifically for you, ensuring you get the best option for your goals.
Downsides to online debt consolidation
If you are just exploring options for paying off your debt, you may not be sure if debt consolidation is right for you, especially because there are some risks. Because online debt consolidation means you likely don't ever have to talk to a person, it may not be the best option for those who:
Would prefer to talk to a person rather than conduct their own research
Don't have access to the internet or a computer
Need more help understanding their options
Another downside is that some online debt consolidation companies are scams. For example, they may charge for their services. This could be a percentage of the amount of your original debt, or a percentage of the amount you've agreed to pay. In this case, it's better to go through a bank or credit union, but take advantage of the online services they offer.
They may also compromise your personal information, or significantly affect your credit score. Be sure to read all of the fine print and ask about any fees the lender may charge, and keep an eye out for any red flags.
How to consolidate your debt online
The first step in online debt consolidation is to do your research. Start by using a debt consolidation calculator to better understand if debt consolidation is the right way to go. Ask yourself questions and prepare information such as:
How much debt you want to consolidate
Current loan/debt terms, interest rates, totals, and details
Your annual income
Current credit score
Then, search online for things like "best debt consolidation loans," "debt consolidation options," and "best debt consolidation companies." Use comparison websites, or make your own spreadsheet, to track things like:
Loan amounts
Loan terms
Eligibility criteria
Minimum payments
Online lenders often work with borrowers with all types of credit and needs, and let you pre-qualify so you can get the most personalized rates and terms without impacting your credit score.
Once you've finished researching and chosen a lender, you're ready to apply for the loan. Gather documents such as:
Proof of identity
Proof of address
Proof of employment
Income verification
Education history
Social security number
Be sure to take your time reading the fine print and details of the application. Look out for extra fees, prepayment penalties, and whether the lender reports payments to credit bureaus. Also at this point, determine whether you need a cosigner with good credit to qualify for the loan.
When you're complete with the application, submit it and wait to be notified that you're approved for the loan you want. When you're approved, the lender will either:
Offer direct payment, paying off your old debts directly to those creditors. Those accounts should have a $0 balance and be completely paid off. You will then make payments directly to your new lender within 30 days.
Deposit the new loan funds into your bank account, and you'll use those funds to repay each debt individually. In this case, repay those old debts as soon as possible to avoid paying additional interest, and to eliminate the temptation to spend the funds on something else. You'll then make your first payment to the new consolidation loan within 30 days.
How to choose an online debt consolidation loan
When determining which debt consolidation loan is right for you, there are a few factors to pay attention to in additional to eligibility:
APR: The loan's annual percentage rate (APR) includes all fees and interest charges. Your specific ARP will vary based on your credit score, income, debt-to-income ratio, and other factors, but you'll want to choose a loan that has the lowest APR possible. This will help ensure you pay less in interest in the long run. You should also choose a loan with a low monthly rate that's easier to manage and fits your budget.
Fees and penalties. Read the fine print to understand any fees the loan company may charge. For example, some charge an origination fee to cover the cost of processing your application and loan. Others charge a loan application fee, prepayment penalties, or monthly service fees. Choosing a lender that has zero or low fees will help keep your costs low.
Features. Some loan companies pay off your creditors for you, offer free credit score monitoring, or provide hardship programs if you have a financial setback. They may offer additional benefits or perks to help with reaching your financial goals. If you're having a hard time choosing one lender over another, these features may help make that decision.
Loan terms. This includes the loan amount, repayment term length, and details on reimbursement. Make sure the loan you pre-qualify for is enough to cover your other debts, and the term length is doable.
Repayment options. Look for a lender who is flexible with repayment options, such as providing multiple options for making your payment (like online, over the phone, via mailed check, etc.). Some offer discounts for signing up for automatic payments or paperless billing.
Ratings. Check customer service and satisfaction ratings. Read loan reviews on different websites, and check the Better Business Bureau for ratings, reviews, and complaints. You can even check social media for reviews directly from customers. Choose a lender that has strong ratings and reviews, because they are more likely to have a satisfying customer service experience.
Online debt management programs
An alternative to debt consolidation loans is a debt management program. While debt consolidation works by consolidating your debts into one, debt management consolidates your payments. You wouldn't take out any new or additional loan, but instead, make a single payment each month to the debt management company and their credit counselors will take care of paying your bills each month.
Typically, these companies are nonprofit credit counseling agencies, and they work with you to set up a 3-5 year repayment strategy. They may also try to negotiate lower interest rates with your creditors, and eliminate other fees.
The primary advantages to debt management programs are that your credit score won't be as negatively affected, you'll save on interest, and the agency will help you create a plan of action and repayment.
On the other hand, while on the plan, you're not able to take out any lines of credit or use credit cards. Additionally, it could take up to five years to pay off the debt in entirety.
Commonly asked questions
Can I get an online debt consolidation loan with bad credit?
Yes, some debt consolidation companies offer loans to people with poor credit. The downside is you may only qualify for a loan with a higher APR, or less favorable loan terms or amounts. If you have a bad credit score, take steps now to try and improve it before applying for a consolidation loan.
Is online debt consolidation right for you?
Online debt consolidation may be right for you if your monthly debt payments don't exceed 50% of your monthly gross income, you have a decent credit score and can qualify for a low or 0% APR, you have a consistent cash flow and can continue to make monthly payments, and you can pay off the consolidation loan within five years.
Does debt consolidation hurt your credit score?
Taking out a debt consolidation loan may initially lower your credit score due to the hard credit check, but over time, consolidating debt will actually help your credit score. This is because you will lower your credit utilization ratio, which measures how much credit you're using, and it may also improve your payment history.