9 Black Friday Credit Card Hacks that Will Have You Braggin' to Your Friends
Written by:
Ashley Jones
6 min

read
2385 Views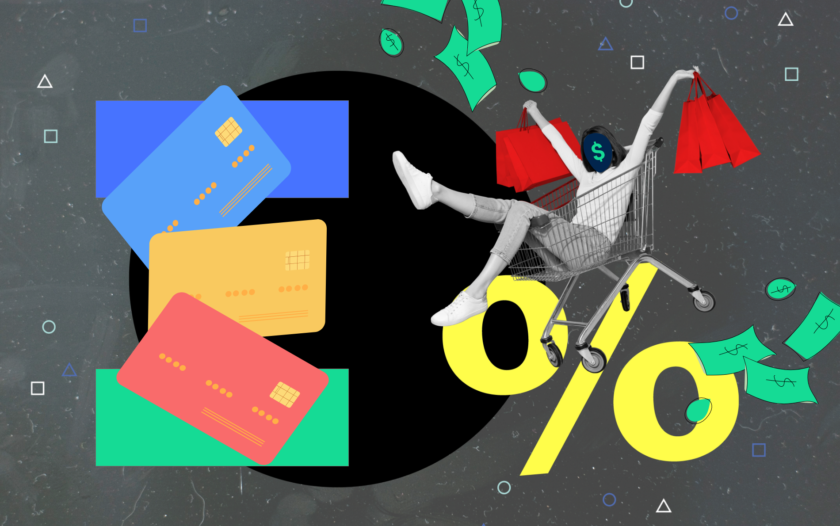 At a Glance
One of the busiest shopping days of the year, Black Friday is a day known for mega sales and steep discounts. Wouldn't it be great if you could save even more money on top of the already-reduced Black Friday prices? You can do just that with these strategic credit card moves and Black Friday hacks:
Make a list and check it twice with your credit cards in mind
Not only do you need to know what gift you plan to purchase for each person on your list, but you'll also want to determine where you can buy it for the best price on Black Friday. Compare prices online using a price comparison plug-in. When you know where you'll be shopping and what you'll be buying, you can then tailor your credit card usage to the purchases you know you'll make. This takes time and effort, but it will save you money in the long run.
If your list allows, you can even consider shopping at one store with their specific store credit card. Then, stack savings with store rewards and discounts offered to cardholders. Since store cards often have high APRs, consider transferring the balance of your store credit card to a balance transfer credit card with a 0% APR period or other type of sign-up bonus to get even more perks out of your holiday shopping.
Traveling this holiday season? A personal loan can help ease the upfront impact to your wallet and keep more in your pocket for holiday shopping. Compare personal loans to see which one is right for you.

Check out lenders and solutions that will get you what you need We found 4 options for your requirement
Advertiser Disclosure

8.49% - 35.99%
Est. APR Range
$1,000 - $50,000
Loan Amount
Good For: Low loan amount
8.99% - 35.99%
Est. APR Range
$2,000 - $50,000
Loan Amount
Good For: Getting funds quickly
9.95% - 35.99%
Est. APR Range
$2,000 - $35,000
Loan Amount
Good For: Getting funds quickly
9.99% - 35.99%
Est. APR Range
$2,000 - $36,500
Loan Amount
Congratulations! You're close to seeing your offers!
Please take a second to review the details you shared earlier
Apply for a new credit card with a sign-on bonus
Now is a great time to sign up for a card that has a minimum spending requirement since you're already planning to spend money on Black Friday. Some of the larger credit card bonuses available come from cards with a minimum spending requirement in the first 60-90 days. Even if the spending requirement is $1,000-$3,000, you'll likely spend this much over the holiday season between gifts, food, holiday decor, and other festivities.
Use a low-interest card to buy expensive gifts on Black Friday
Black Friday is notorious for sales, but that doesn't mean your high-end purchases won't still add up. If you know you'll hold a balance on your credit card instead of paying off in full prior to the next billing cycle, use a credit card with a low APR. If your budget won't allow you to pay the balance of holiday gift shopping right away, you'll want to use the card with the lowest penalty for carrying that balance over.

141 million
is the number of estimated Americans that plan to shop on Black Friday in 2022. At an average of $362 each, according to a Finder study, that's about $51 billion in expected spending the day after Turkey Day.
FinFact
Shop with a travel rewards credit card
Use rewards credit cards on Black Friday to earn points or airline miles that will save you later on holiday travel. You can also book your holiday travel with certain types of credit card reward points. If you know you'll fly on a certain airline or stay in a certain hotel, check with those companies to see who offers the best rewards points programs to cash in big this season.
Utilize gift card purchases to earn bonus rewards on your credit card
Gift cards are especially popular around the holiday season and many people prefer to receive these gifts as opposed to tangible items. Many credit cards offer bonus rewards for funds spent in specific places, so choose to purchase gift cards from these retailers as well. For example, the American Express Gold Card offers 4X rewards points on grocery store purchases up to $25,000, so you can easily rack up points when you buy a gift card on Black Friday.
Weigh the pros and cons of credit card perks
To make the most of Black Friday shopping with a credit card, choose a card where the rewards system is closely aligned with your spending goals (I.e., travel cards if you'll need airline miles, etc.) but also consider what additional perks your credit card has to offer. For example, some credit cards offer extended warranties for electronics, furniture, or other big-ticket items you might give as a gift this holiday season that can help you save in the long run.
Other credit cards can get you free shipping and/or returns at select retailers, which can help you save during holiday spending. You can also consider using credit cards that offer price protection or purchase protection like the Citi Price Rewind for certain Citi credit cards. Though Black Friday discounts are steep, if the price of your item does drop after the holiday, you can save with this type of card.
Maximize your rewards while you shop online
Long gone are the days of waiting in long lines at the crack of dawn for a doorbuster deal on Black Friday. Now, you can just save with every swipe of your credit card the day after Thanksgiving when you shop online. Choose a credit card that will maximize the rewards you earn for shopping online like the Discover It card's 5% cash-back from Amazon.com.
Consider a cash-back credit card
You can use a cash-back credit card to earn money back on things you're already going to buy, but it can earn you even more during Black Friday shopping when your spending will likely be higher than usual. Some cash-back cards make you wait until the next billing cycle to get cash back, but one with immediate cash back like Apple Card's daily cash back will serve you best during the holiday season. Another perk of this credit card for Black Friday shopping is that if you're splitting the cost of a gift with someone you can easily transfer your Apple Cash from your Apple Wallet to theirs.
Stay aware of your total Black Friday spending
To make the most of your credit card spending this Black Friday, use your credit card responsibly. In short, don't overcharge. But, if your spending does spiral, there are ways to overcome debt and get your finances back on track. You can also consider opening a balance transfer card to help consolidate debt if you overspend on Black Friday.
Just don't open too many credit card accounts. Stay aware of terms that limit how many cards you can apply for from the same bank within a certain time period. For example, Chase will only allow cardholders to open five cards within a 24-month period. Hopefully these Black Friday shopping hacks will help you.