How to Choose a Travel Credit Card?
Written by:
Trevor Mahoney
7 min

read
194 Views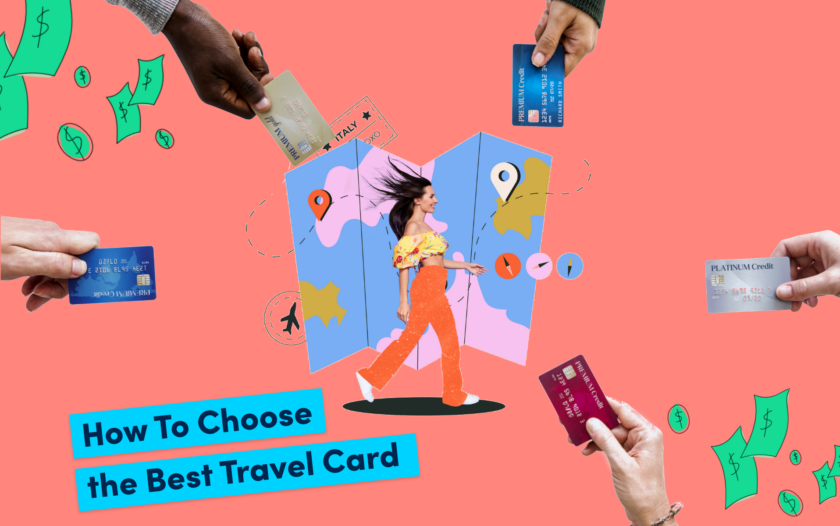 At a Glance
When considering different credit cards to add into your wallet, there are a variety of different types to consider. However, one of the best categories for credit cards is travel cards given the number of benefits that these cards offer. Learning everything that a travel credit card has to offer can help a person figure out which card to add to their collection.
Choose between co-branded and general travel credit card
First and foremost, the primary consideration a person needs to consider when looking at how to pick a travel credit card is whether or not to apply for a co-branded card or general travel credit card. A co-branded card is when a card issuer partners with companies to issue a credit card whereas a general travel credit card is issued by banks. Below are a few common categories to consider:
1. Airline credit card
An airline credit card is one of the most common types of co-branded travel credit cards that a person can consider. Leading airlines such as Alaskan Airlines, American Airlines, and others partner with card issuers such as Visa or Mastercard to launch credit cards that, when used, accrue miles for a person. These miles can be redeemed for airline purchases, typically cash-back towards tickets, that can help with travel expenses.
2. Hotel credit card
Similar to airline credit cards, many hotel chains also offer their own co-branded credit cards. These cards can be through card issuers or popular credit card companies as well and provide holders with points back in the form of hotel points. These points can be put towards future room purchases at the hotel which issues the credit card.
3. Other co-branded card
Beyond hotels and airlines, a number of different brands also offer co-branded cards which can be helpful for travel purchases. As a perspective, shopping stores such as Macy's or Nordstrom offer cards that allow a person to earn points back to be put towards in-store purchases. For the avid traveler, these points can be used for travel-related purchases such as clothes, luggage, or other items.
4. General travel card
Finally, the other type of travel credit card on the market is a general travel card. Rather than being issued by a store or travel chain, these cards are issued by popular banks and lenders. The card allows the holder to earn points or cash-back with every general purchase they make. Once cash has been accrued or points have been built up, a person can then use an online travel portal set up by the company to make their purchases.
Compare: Best Travel Credit Cards
Look for the sign-up bonus
One of the biggest factors to keep in mind when learning how to choose the best travel credit card is the sign-up bonus that is offered on the card. The majority of travel credit cards will offer some type of sign-up bonus in return for signing up for the card. This bonus can range from 60,000-100,000 points, on average, when a certain dollar amount is spent on the card within a specified period of time.
Check out the reward categories
In addition to offering simple points back, many travel credit cards offer numerous reward categories to consider. These can range from offering points back on expenditures for food, entertainment, and dining, or even rotating cash-back categories that change on a quarterly basis. Consider the different categories offered when looking at multiple travel credit cards and compare these categories to your own spending habits.
Identify travel perks
When looking at how to choose a travel credit card, consider the additional travel perks offered by a card. Some card issuers will offer travel insurance when purchases are made with a specific card or other perks such as 24/7 roadside assistance, luggage reimbursement, and more.
Related: Best Credit Cards With Travel Insurance
Do your own calculation to minimize the fees
Very few credit cards come without fees, especially travel credit cards. Consider the different travel cards you are looking at and the fees that are outlined in the terms and conditions. Think about whether the fees will be applicable to you personally in order to determine whether the card will be profitable.
Take an international trip into account
When looking at the question of which travel credit card should I get, consider the type of traveling you will be doing in the future. An international trip, as an example, will be far more expensive than a domestic trip. This means that more points or cash-back will be required. Should you be the type of person to take international trips often, consider a travel credit card that may have a higher annual fee, yet offers more rewards categories.
Comparing travel credit cards
Determining how to get a travel credit card is difficult enough without factoring in the consideration that there are numerous different types of travel cards. To that end, utilize the below tips when comparing different cards to one another:
1. Earning travel reward
First, look at how easy it is to actually earn rewards on a card you are considering. This will depend on the different earnings categories that a card has to offer along with factors such as a minimum spend amount on certain cards to earn the rewards.
2. Redeeming travel rewards
After looking at how simple it is to earn rewards on a certain card, consider how easy it will be to actually redeem what you earn, along with the redemption options that you may have. The majority of travel cards will allow for cash-back redemption directly to a person's account, or there may be an established travel portal where points can be redeemed directly.
3. Bonus
Whether or not a travel credit card has a welcome bonus should be a major consideration when looking at different cards. Keep in mind that a large welcome bonus doesn't always equate to an excellent travel credit card, so look at other factors beyond just this.
4. Fees and other charges
A credit card, especially one with as many benefits as a travel card, may come with a number of different fees. While these fees need to be outlined in the terms and conditions of a card, they may be difficult to find. Look for specific fees such as balance transfer fees, cash advance fees, and more.
What to know before choosing a travel reward card?
When looking at the different types of travel cards, there are a few items that should be kept in mind to ensure you are making the right choice. Specifically, the following should be considered:
1. Point value
While earning 10x points on every purchase may seem like a large amount, it means nothing if the redemption rate is only a tenth of a cent per point. Consider the actual redemption value in dollars when looking at specific cards to determine how valuable they actually are.
2. Annual fee
One of the main factors when looking at the question of what is a travel card is the annual fee a card may have. This fee is paid annually and is meant to ensure a credit card company makes money in return for the benefits offered with the card. Travel credit cards can have a higher annual fee due to the number of benefits they have, so consider this fee when thinking about the best card for your wallet.
3. Foreign transaction fees
For those who frequent international travel, be aware that there may be foreign transaction fees associated with certain cards. These fees can be extremely high on certain cards which can result in major unplanned expenses.
4. Benefits suites
In addition to the normal rewards earnings with a travel credit card, there will likely be a suit of additional benefits. These can range from travel reimbursements to food credits on a monthly basis, and everything in between. Consider the personal worth of these benefits when thinking about different cards.
5. Sign-up bonuses
As mentioned earlier, the average sign-up bonus can range drastically for different cards, which is why looking at the best option is important. Consider the redemption value for points to see if the value of the sign-up bonus is actually meaningful.
6. Restrictions and blackout dates
When considering the question of what credit card should I get for travel, keep in mind that some cards may have specific restrictions or blackout dates on certain rewards. If a card has too many of these, the perceived value can be heavily impacted in a negative way.
7. EMV Technology
The majority of merchants now require a credit card to utilize EMV technology, which stores card information inside of the metallic chip on a card, rather than the magnetic stripe. An outdated card without EMV technology may offer several benefits, but it may also not be accepted in many places.
FAQs