Are Airline Credit Cards Worth It? What You Need to Know to Decide
Written by:
Caitlyn Callahan
10 min

read
452 Views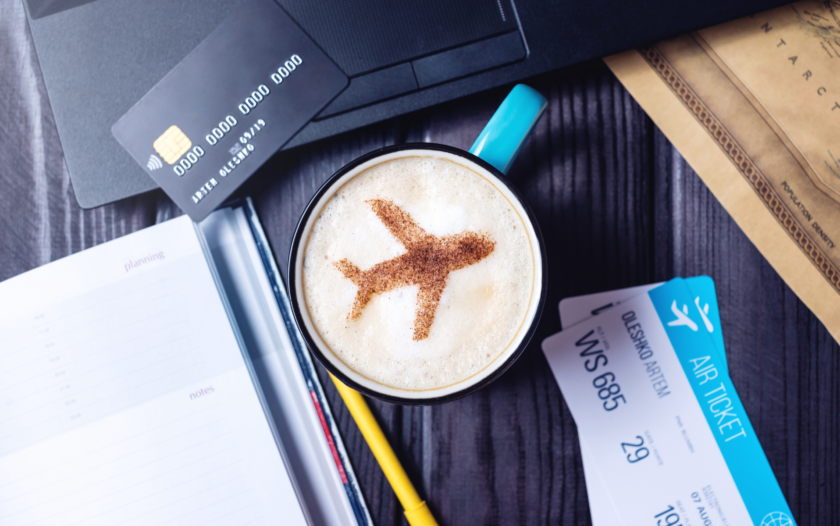 At a Glance
Airline credit cards are similar to credit cards in that they are issued by banks and card issuers. The difference is that they have the name of a partnering airline, such as Delta Air Lines, Southwest Airlines, or American Airlines.
These credit cards allow you to earn miles on every dollar spent that you can then redeem for free or discounted flights. Other perks that come with being a cardholder make these cards a great option for those who are frequent travelers. However, there are some downsides as well, so it's important to compare them against general travel cards and other options.
In this article, you'll learn:
How do airline credit cards work?
When you use your airline credit card on eligible purchases, you will accumulate "air miles" (vs. cash back or points). Once you accumulate enough air miles, you can use them to buy flights from the partner airline, or sometimes, redeem them for other perks the airline and its partners offer such as hotel bookings or renting a vehicle.
In most cases, you can't use air miles earned with one airline card to buy flights with another airline, but oftentimes you can get free flights depending on how many air miles you've earned.
The rate that you earn air miles depends on the card and the spending category. For example, purchasing goods and services from a partner airline earns more miles while other more common categories (like gas or groceries) may earn less. Or, some cards offer higher rates for bonus spending categories, often every quarter.
In addition to airline miles, many airline credit cards come with other travel perks such as:
Free checked bags
Priority boarding
Airport lounge access
Travel Insurance
The more you spend, the higher the status you can earn with the credit card and you may be able to earn more miles or get better perks.
Pros of using an airlines credit card
1. Sign-up bonus
Like other travel and standard credit cards, airline credit cards often offer welcome bonuses that increase your miles earned if you spend a certain amount of money in the first few months of opening the card.
For example, the American Airlines card, AAdvantage Platinum Select Mastercard, offers 75,000 bonus miles if you spend $3,500 in the first four months of account opening, and you have a $0 intro annual fee for the first year.
When comparing cards, be sure to monitor which one may have the best welcome bonus. However, also note the requirements for earning the bonus. If the spending requirements are high, you may be better off applying for a different card and putting that spending toward earning a different welcome bonus.
2. Head start on elite status
Two larger airline credit cards, Delta SkyMiles and Southwest Rapid Rewards, allow you to get closer to elite status through your credit card spending. For example:
The Delta SkyMiles Reserve American Express Card gives you up to 60,000 Medallion Qualification Miles (MQMs) with a status boost each year, and after you spend $30,000 in purchases on your card in a calendar year, you can earn 15,000 MQMs up to four times per year.
The Delta SkyMiles Platinum American Express Card allows you to earn up to 20,000 MQMs with a status boost each year, and after you spend $25,000 in purchases, you can earn 10,000 MQMs up to twice per year.
The Southwest Rapid Rewards Priority credit card, Southwest Rapid Rewards Premier credit card, and Southwest Rapid Rewards Plus credit card all offer new cardmembers 50,000 bonus points after spending $1,000 on purchases in the first three months from account opening, which can be put toward earning Southwest's Companion Pass.
3. Companion certificates
A companion certificate can result in significant savings – simply purchase one ticket with your eligible card and receive a second ticket (for your companion) for the cost of taxes or another discounted price.
The Southwest Rapid Rewards Plus Credit Card and Southwest Rapid Rewards Premier Credit Card allow points earned to count toward earning Southwest's Companion Pass.
Other airlines that offer companion ticket benefits include the Alaska Airlines Visa credit card and Hawaiian Airlines World Elite Mastercard.
Additionally, the Citi/AAdvantage Platinum Select World Elite Mastercard offers an annual $125 flight discount when you spend $20,000 in a year. While this isn't necessarily a companion discount, the credit can be put toward a second ticket.
4. Airport lounge access
Wouldn't it be great to wait for your flight in comfort? Most airline cards offer access to an airport lounge for free or at a discounted price. These memberships can cost hundreds of dollars each year so the savings can be significant. Examples of cards that offer these benefits include Citi/AAdvantage Executive World Elite Mastercard, Delta SkyMiles Reserve Business American Express Card, and the United Club Business Card and United Club Infinite Card.
Other cards may offer a limited number of lounge passes or discounted lounge access. Read the terms for more details.
5. Priority boarding
Priority boarding means you're one of the first to board a flight, and this is a perk some airline cards offer. Most general travel cards do not have this perk, so if getting on the plan faster is important to you, an airline card may be a good choice.
6. Flight benefits
Each airline card likely comes with additional flight benefits such as:
Free checked bags
Priority boarding
In-flight purchase discounts
These perks can add a lot of value to the card and your flight. Delta Air Lines, American Airlines, and United Airlines all offer a variety of flight benefits with their cards, as do other airlines. Read the card's terms to learn more.
7. Complimentary seat upgrades
Free seat upgrades are a perk offered by many airline cards. Even if you only paid for an economy seat, you may be able to upgrade to a larger seat with more legroom toward the front of the plane without having to pay extra. In some cases, you may be able to use rewards and in others may be able to take advantage of the airline loyalty program.
Seat upgrades are typically only offered under certain conditions, so read the fine print if you plan to take advantage of this perk.
Cons of airline credit cards
1. Lack of redemption options
When you have an airline credit card, you can only put points/miles toward purchases with that airline and its partners. Airline award availability is often unpredictable. And, you may only be able to redeem your points during certain times or to certain places, leading to a lack of flexibility in terms of vacation dates.
2. Program devaluation risk
Airlines reserve the right to devalue their programs at any time without notifying cardholders. This typically includes substantial changes to or elimination of their reward chart, and when this happens, your credit card may not be nearly as useful or appealing as it used to be.
One way to combat this disadvantage is by searching for cards that offer more flexible rewards currencies. That way, if one airline devalues its points, you can transfer the points to a partner airline or redeem them in another way.
3. Annual fees
Most airline credit cards have an annual fee. Many fees are affordable and reasonable, such as the United Explorer Card with an annual fee of $95. Others are pricier, such as the Delta SkyMiles Reserve American Express card, which has an annual fee of $550.
Keep in mind that a high annual fee may still be worth it for someone who travels extensively because the savings you'll have on flights may be more than the annual fee. Typically, the higher the fee, the greater the additional perks you may have access to.
4. Fewer opportunities to earn bonus miles
Some airline credit cards offer bonus miles on certain purchases, but the level of earnings is typically pretty low. You may find that a general travel card will give you a higher rewards rate on a variety of categories and everyday purchases.
For example, with a general travel card, you may earn 5x the points on dining and 3x the points on gas, while an airline card may only offer 1x the miles on those purchases.
5. Rewards
You likely won't earn any bonus rewards on general travel with your airline credit card, so booking an excursion, tour, or other activity may only earn you a base rate of one mile per $1.
Additionally, you typically can only redeem your rewards with the specific airline (or its partners). This means there's a lack of flexibility with rewards and redemption, and you may not earn as much as you think depending on your spending.
Airline credit cards vs. travel rewards credit cards
Airline-specific credit cards are great for travelers that can be loyal to a single airline and want to boost their statuses quickly since most cards will offer bonus miles or perks that allow you to get complimentary upgrades, free tickets, or access to airline lounges much easier than those who aren't cardholders.
Travel credit cards, on the other hand, are cards that aren't tied to a specific airline, hotel, or cruise line but instead offer an array of travel-related benefits. Travel cards are often part of major credit card networks (like American Express, Visa, or Mastercard) and can be used with any airline, making it much easier to find travel arrangements that fit your schedule instead of a specific airline's.
When should you consider getting an airline credit card?
The primary consideration for getting an airline credit card is if you're a frequent traveler and you prefer one particular airline over others. Other considerations include if you:
Have good to excellent credit.
Travel often enough to get bonus points on airfare (and earn back its annual fee).
Want a simple way to earn and redeem airline miles.
Spend a lot on checked bags.
Being the first passenger to board is important to you.
Value comfort and convenience when you travel.
Keep in mind that most airline credit cards don't offer the same general perks or bonuses compared to other general travel cards, but they can help you save significant dollars on your next trip. And, if you can take advantage of the card benefits that are offered, like free checked bags or priority boarding, you'll likely get more than your money's worth.
When comparing airline credit cards, make sure you think about your current and future travel goals and needs and whether the particular airline is the best option. For example, if you live in a city with a specific airline's hub, getting that airline's card may be worth it.
Additionally, you must consider the costs when getting a credit card. For example, most have an annual fee that can range from under $100 to more than $500. While cards with higher fees typically come with more perks, the fee won't be worth it if you don't take advantage of the miles and perks.
On the other hand, some airline credit cards don't have annual fees, but they don't come with many additional perks. These can be a good option for those who don't travel often but still want to build up miles over time to redeem for free flights.
When should you not consider an airline credit card?
There are some cases when a general travel card may be more valuable than a specific airline card such as:
You don't have loyalty to just one airline, but instead fly with whatever airline has the best route, cost, or another reason. In this case, having a more flexible card would not only allow you to book the best deal, but you also have more options for using your points.
You want to earn greater rewards. While airline credit cards can earn two or three miles per dollar spent, other rewards cards can earn 3x, 5x, or even 10x points per dollar in a greater variety of spending categories.
You travel in more ways than flying. Airline cards earn the most points on flights, so if your other trips are by boat or car, or if you spend a lot on excursions or tours, you likely won't earn as many points as a general card.
In general, airline credit cards have much stricter redemption policies (you're limited to redeeming your miles earned with the airline or airline associated with the card). Other travel cards, such as the Chase Sapphire Reserve, Chase Sapphire Preferred, or Capital One Venture X Rewards credit card not only let you redeem points for flights but also for other travel-related purchases. You can even redeem it for cash back or other non-travel-related purchases.
FAQs
Airline credit cards aren't difficult to get, especially if you have good to excellent credit.
If you have a credit score of at least 670, you shouldn't have a problem getting approved for an airline credit card. Some airline cards may accept applicants with scores in the low 600s, but your odds of approval for cards that don't have an annual fee are smaller, you may have a lower credit limit, and your interest rate may be higher.
Airline cards with annual fees also often offer additional perks for cardholders such as seat upgrades, access to airport lounges, free checked bags, automatic elite status, and more. Cards with no annual fee typically don't offer those additional benefits.