A Guide on How You Can Travel on a Budget
Written by:
Caitlyn Callahan
7 min

read
1168 Views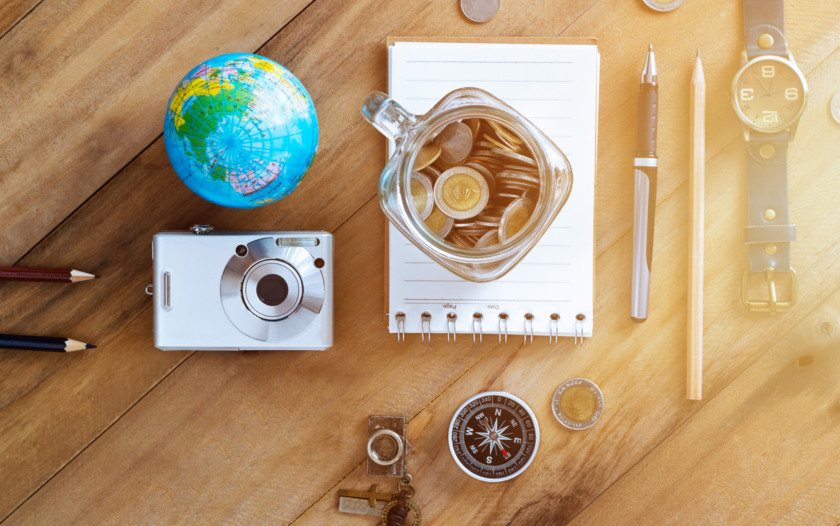 At a Glance
Millions of people travel within and outside of the U.S. each year. With benefits such as stress reduction, boosting mental health, learning about other people and cultures, trying new things, and more, it's no wonder 80% of Americans say they need a vacation in 2023.
However, travel can be expensive. Depending on your destination and what you do there, it could cost thousands of dollars.
The good news is there are ways you can travel for cheaper without breaking your budget.
What is the average cost of a vacation?
The average cost of a vacation can depend on several factors, such as:
Where you're going
How you're getting there
Where you're staying once there
Entertainment/activities you're planning to take part in
Your food and drink consumption
In times when the cost of fuel, food, and other amenities are on the rise, so is the average cost of vacations. However, experts estimate that the average one-week vacation within the U.S. is about $1,500 to $1,900 (for one person), while the average cost for an international trip is around $2,300.
Keep in mind these costs vary based on your personal trip. For example, if you're staying with a friend, you won't have any lodging costs. Or if you're driving, you may spend less on gas than plane tickets. A trip where you plan on camping in and hiking through a national park will probably cost less than a trip to an all-inclusive resort in the Caribbean. It's up to you to balance what's important vs. what's not and how much you're willing to spend.

Planning a trip?
Get help paying for your dream vacation with a vacation loan, which can be used to help cover your expenses.
Tips for traveling on a budget
Regardless of where you're traveling and what you plan to do once there, there are many ways you can travel cheap. Here are a few of our top budget travel tips.
1. Start planning in advance
The sooner you start planning your trip, the more time you have to save money, shop for deals, and plan the perfect itinerary.
Because travel prices rise and fall throughout the weeks and months (usually depending on demand), you'll want to keep an eye out in advance for the best prices. You can also be on the lookout for deals or discounts, such as on lodging, airfare, and activities at your destination.
And, if you're planning in advance, you can start deciding what you want to do once you get there, like activities or excursions, and even start planning dining and other entertainment. Knowing some of these details in advance can help you create a more realistic budget.
2. Align your destination with your budget
Not all destinations are priced the same, and where you're able to go may be limited (or not) based on your general budget. As you're planning, ask yourself questions like:
Do I want to travel domestically or internationally?
What is my budget? What destinations fit into that?
Will I fly or drive?
What types of activities do I want to do once I'm there?
There are many places with free or cheap things to do, while other places will charge a premium. All-inclusive resorts may have a higher up-front cost, but you may be saving money on food and drink in the long run (depending on where you go).
This can be a general step, but it's important. For example, if your budget is only $2,000, you may not be able to travel internationally. Or, if you want to spend as little as possible, you may want to drive (vs. fly) or stay in a hostel (vs. a hotel).
3. Research flights and be flexible with dates
When you travel and when you book can make a significant difference in the cost of your vacation, especially when it comes to flights and hotels.
For example, flights are usually more expensive around a holiday, so book before or after to save some money. If you have access to multiple airports, research prices at all of them. Or, if you only have one local airport, consider booking a cheaper flight to a major hub, which may have cheaper flights to your destination.
A good example of being flexible with dates is being willing to travel during the offseason. Typically, travel destinations have a peak period(s) of high demand, and prices will be highest at this time. These times are often over spring break, during the summer, and over holiday breaks at the end of the year (though it depends on your destination). Determine when the offseason is and consider going during this time instead.
Related: Save money on holiday flights
4. Have a detailed itinerary
Planning your itinerary in advance can help a few things when it comes to traveling on a budget:
Knowing what you want to do in advance can give you time to save what you need and make adjustments to your budget if necessary.
Booking activities, dining, or other experiences in advance may be cheaper than waiting until you're there.
Having an idea of how you want to fill your days will give you time to compare prices or look for deals or freebies.
Even though having a plan for your itinerary can help you stick to your budget, it's important to avoid overpacking the itinerary or lacking flexibility. Some plans may change once you get to your destination and you should be able to accommodate that to avoid stress.
5. Look for deals
There are tons of websites that can help you find deals on hotels, flights, tickets, excursions, and more. Check out places like Groupon Getaways, Tripadvisor, Expedia, Kayak, and Google Flights.
This is an important step that will help save you money, but should be done after you set your budget and itinerary. You'll need to know where you're going and how much you have to spend before booking anything or finding deals. This will also help ensure you don't go crazy booking things you may or may not get to.
Checking out specific savings and deals can help you get the trip you're dreaming of while also saving money.
6. Redeem rewards and bonuses
If you have a cash back or other rewards credit card that's been earning travel rewards or cash, now is a great time to cash them in.
If you have a cash back credit card, transfer the balance to your bank account and use it to lower the price of plane tickets, lodging, or other expenses.
If you have a travel rewards card, you may be able to redeem points directly through your card's travel portal, or transfer them to hotel or airline chains to book using the rewards.
Be sure to make note of any bonuses or extra rewards you can earn by using your travel rewards, such as discounts if you book through the card's travel portal or a free night at a hotel if you book with rewards.
Depending on how many points you've accumulated, you may be able to get your hotel, airline tickets, or other transportation for free.
Related: Travel Rewards vs Cashback Credit Cards
7. Consider couch surfing and dorms
Lodging is one of the most costly expenses when traveling, but there are some ways you can cut those costs significantly. One is by finding a couch, door room spot, or Airbnb.
Dorm rooms at hostels may not give you a lot of privacy or space, but they are great for socializing with others and for saving money. Hostels have a variety of amenities and different types of character, so do some research on what may be available in the areas you're traveling.
Couchsurfing is when you're hosted by a local in their home. In some cases, they may even be willing to show you around, help you book must-see excursions, or use their amenities like their kitchen to help save costs on other things.
Similar to couchsurfing, finding a room at an Airbnb may be cheaper than booking a room at a hotel.
8. Seek out a local
If you have the opportunity to befriend a local, this can bring quite a bit of knowledge, adventure, and savings to your trip. Ask the local(s) about:
Places you must see
Activities/excursions you must do
Food to try/where to eat
You can even ask if they'd be willing to show you around. When talking to the locals, be clear whether you do or don't want the usual tourist destinations. For example, asking them where you should eat today will likely be a different answer than if you ask where they like to eat. Hitting up the local spots is usually cheaper than average and you might get to experience things the travel guides don't tell you about.
FAQs
This can be challenging, but not impossible. In some cases you may have to exchange something for your free travel, while in others you may be able to take advantage of super deals or travel hacks. Some things you may want to try are couchsurfing, volunteering, cleaning or other chores, hosting, or house swapping in exchange for food, lodging, transportation, or similar expenses.
While it used to matter what day of the week or month of the year you book travel, that doesn't so much apply anymore. Airfare prices are constantly changing, and new data shows booking on certain days over others doesn't really make a difference. Instead, consider when you'll be flying. Typically, Tuesday, Wednesday, or Saturday is the cheapest day to fly. Book flights for early morning, midday, or late-night. Avoid holidays and booking at the last minute. Be sure to compare different airlines.
First, choose a hotel with the right amenities, such as one with a kitchen so you can cook at home, laundry services, high-speed internet, housekeeping services, and other perks. Don't be afraid to negotiate a lower rate if you'll be staying long-term. Make sure the hotel is in a convenient location close to where you work or will be visiting regularly. You should also bring your own food and prepare your own meals if possible. Consider what you'll be saving by living in a hotel, such as utilities, TV, internet, furnishings, and other costs.