Common Myths and Facts About Medical Debt
Written by:
Caitlyn Callahan
5 min

read
1062 Views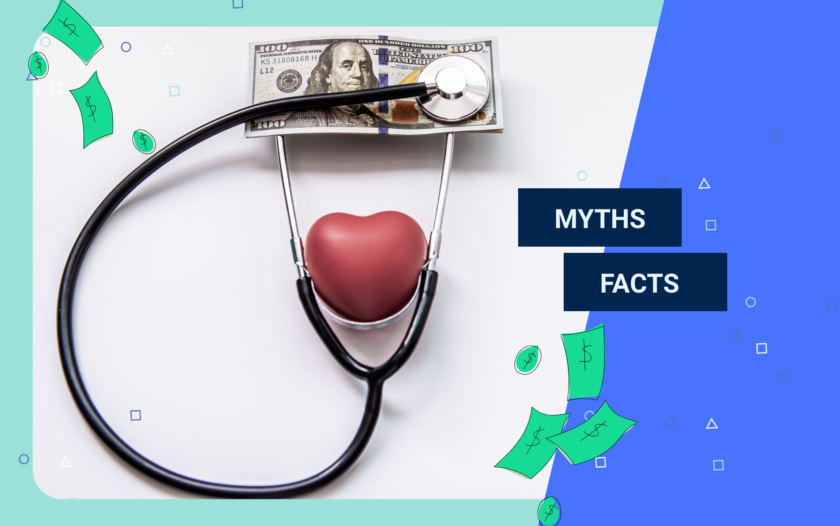 At a Glance
About one in eight Americans who have medical debt owe $10,000 or more, but the average is around $2,400 (according to the Census Bureau). The financial and emotional impact medical debt can have can be significant.
For example, the fear of falling into medical debt can sometimes prevent people from seeking medical care they need. Or, with several myths out there surrounding medical debt, some consumers are blindsided when their bills are sent to collections.
Be armed with the most accurate information about medical debt by knowing these myths and facts.
Popular medical debt myths and facts
Do you know the myths and facts around medical debt? Read on to learn some of the common thoughts about medical debt and whether it's accurate or not, as well as tips for avoiding problems with debt.
1. Once you make payments on medical bills, they can't be sent to collections
Myth.
Even if you pay your medical bills, it doesn't necessarily mean they won't be sent to collections. This is because regular payments need to reach a certain amount before they can exclude you from being turned over.
Late payments and having an unpaid balance can also make you eligible for collections, even if you're on a payment plan but are late by just a few days.
Some states have additional consumer protections, but these can vary. Avoid being sent to collections by making and sticking to payment plan arrangements with the provider's office or hospital.
2. You will be given a notice before medical bills go to collections
Myth.
Your provider does not have to tell you before it sends your debt to a collector, but they usually do because they will first try to collect the debt from you. Then, when a debt is sent to a collection agency, the agency will usually notify the debtor by phone or in writing.
However, this doesn't always happen. Creditors are not required to tell you they are sending your debt to collections, so they may not. Or there could be an error, such as the notice being sent to the wrong address, the bill is lost in the mail, or general billing errors affecting how much you're charged.
Sometimes, the first time someone hears about their debt is from the collection agency.
To ensure you're up to date on what you owe, regularly verify your billings and don't be afraid to ask questions. If you see a doctor or have a procedure at a hospital, ensure you receive a paper or electronic bill for services. You may be able to check MyChart or another patient portal to view or even pay bills. If you don't receive anything, contact your provider.
3. Medical bills are always correct
Myth.
Many patients assume that billing departments for their providers will accurately and appropriately calculate their medical bill, but sometimes, mistakes are made.
Errors could include duplicate charges, charges for services you did not receive, an incorrect code for a service that charges a higher amount or a mix up with the insurance company, incorrect balance billing, and a variety of others. Most of the time these mistakes are unintentional, but it can still lead to you being charged more (or less) than you owe.
When you get a medical bill, check it against your insurance company's Explanation of Benefits (EOB). This document outlines your medical benefits and what you owe for each and can help you understand how your bills are paid and spot mistakes or issues.
If you do spot an issue, reach out to your insurance company and/or provider.
4. Medical debt will not affect your credit
Both.
Medical facilities do not report medical debt to the credit bureaus, so even if you have outstanding medical debt, your score will not be impacted.
However, if your debt is sent to a collection agency, your score can take a significant negative hit – sometimes by up to 100 points or more.
Learn more: Can Medical Bills Affect Credit Score?
5. Medical collections are treated differently from other collection accounts
Fact.
If your debt is sent to collections, you have 180 days to make payments or payment arrangements with your provider before the collection agency can report the debt to the credit bureaus. This gives you some time to pay off the debt and try to protect your score. Then, once the debt is paid, the credit bureaus must remove the medical debt from your credit report. However, the collections listing may remain and affect your score.
If you don't pay it off, it will remain on your credit report for up to seven years.
6. Paying off medical debt will drastically improve your credit score
Myth.
Because medical debt isn't reported to the credit bureaus (until it's sent to collections), paying it off won't impact your score at all.
Even if your debt does go to collections and you pay it off, it can still reflect negatively on your credit history for a couple of years. Unless the collections agency agrees not to report your medical account if you pay it off right away, it's going to remain on your report and impact your score.
Medical debt statistics in the U.S.
Medical debt is a problem in the U.S.
According to 2022 research, nearly 23% of Americans currently have medical debt while another 22% say they've had medical debt in the past. Millennials (ages 26 to 41) have the highest percentage at 30%, followed by Generation Xers (24%), Gen Zers (22%), and baby boomers (13%).
Of this medical debt, it's estimated that about $88 billion is in collections.
Six percent of U.S. adults owe more than $1,000 in medical debt, and about 1% owe more than $10,000. 4% of households have "high" medical debt, which is defined as exceeding 20% of the household's annual income.
Shopping around for more affordable options, using in-network providers, and having an emergency fund for unexpected medical costs can help prevent you from taking on medical debt. If you do find yourself in a situation where you have medical bills you can't pay, talk to your provider about payment plans or other options available to you.
FAQs
First, try to negotiate for a lower bill amount. This seems outlandish, but research shows that those who attempt to negotiate a medical bill almost always succeed in getting the bill reduced or dropped. You can also ask about a payment plan to repay the debt over a longer period. Prioritize your debt payments but be aware of the impact medical debt will have on your credit if sent to collections.
A good debt-to-income ratio is 36% or less. Thankfully, medical debts are not included in your DTI calculation unless they go to collections. Once in collections, they will affect your DTI just as any other type of debt would.
If medical debt is sent to collections, it can remain on your credit report for up to seven years.