The Most Exclusive Airport Lounges in the World and the Credit Cards You Need for Them
Written by:
Harrison Pierce
4 min

read
515 Views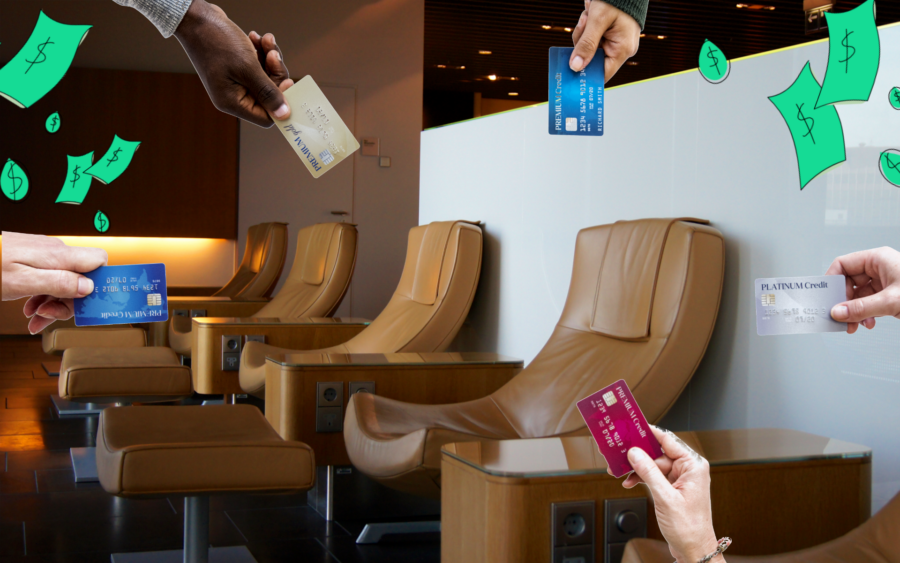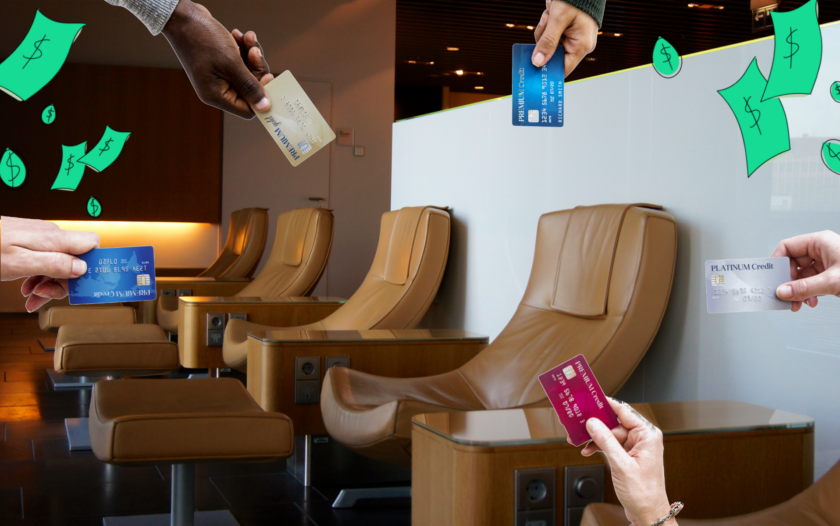 At a Glance
Airport lounges have long been a haven from the hustle and bustle of airport terminals. Having a quiet place to eat, drink, nap, or work is a game changer when traveling. Not all airport lounges are created equal—with so many credit cards with airport lounge access, lounges have become increasingly crowded, making them the opposite of tranquil.
A good airport lounge has plenty of room for people to spread out. It should have comfortable chairs, places to sleep, shower, and refresh, and various delicious food and beverages to enjoy while waiting for your flight. The most exclusive airport lounges are only available to select premium passengers or top-of-the-line credit card holders. Here are a few of the most exclusive airport lounges worldwide and how you can get into them.
57%
Of travelers use an airport lounge at least sometimes during their travels.
FinFact
1. The Centurion Lounge, 24 locations worldwide
The Centurion Lounge is the epitome of luxury. There are 13 Centurion Lounges in the U.S., with three on the way at the Reagan Washington International Airport (DCA), Hartsfield-Jackson Atlanta International Airport (ATL), and Newark Liberty International Airport (EWR). There are an additional 11 international locations, totaling 24 Centurion Lounges throughout the world. There's also The Escape Lounges, a Centurion Studio Partner, with another 15 locations throughout the U.S.
The Centurion Network is defined by the attention to detail that goes into designing every lounge. There is a heavy emphasis on location regarding decor, food, and music. Meals and drinks are curated by award-winning chefs and mixologists, with plenty of luxurious spaces for working or relaxing. You can expect plenty of power outlets, high-speed wifi, large flat-screen TVs, and more. Some lounges even have spas for the utmost relaxation before takeoff.
The best credit cards to access the Centurion Network would be the Centurion Card from American Express, an invitation-only card, or the Platinum Card from American Express, a premium travel card with a suite of benefits for travelers. Cardholders of the Delta SkyMiles Reserve can also access Centurion Lounges in the U.S., Hong Kong, and London when flying on a Delta-operated flight. If you want to bring any guests, you'll need to pay an additional $50 per guest.
2. Capital One Lounges, 2 locations
The Capital One Lounges feature relaxation rooms, high-speed wifi, regional, chef-inspired dishes, cycling and yoga rooms, and showers. There are two lounges currently open, one in Dallas (DFW) and one in Washington (IAD). There are two additional locations set to open at some point. One, located in Denver (DEN), should be open soon. The other, located in Las Vegas, will likely take a few years to complete. Each lounge has plenty of grab-and-go options if you need to hurry to your gate or curated meals if you have more time to relax.
The Capital One Venture X is the best way to access Capital One Lounges, but not the only way. Cardholders of Venture X can enter and bring two guests for free. If you have the Venture Rewards card, you can enter for free twice yearly, then $45 per visit afterward. If you don't have any of these cards, you can enter for a per-visit rate of $65. The artwork and well-thought-out design of the lounges set it apart from other lounges around the world.
3. Air France La Première Lounge, Paris
The Air France La Première Lounge at CDG in Paris was recently renovated, which means you can expect it to be as fashionable as the city itself. There's a cocktail bar, relaxation areas, and local artwork proudly on display throughout the lounge. The chef-inspired meals will leave you dreaming of them when you return home, and the spa treatments will keep you relaxed throughout your journey. To enter the lounge, you need to fly in Air France's La Première cabin. If you are flying on a long-haul Delta or Air France-operated flight that does not have the La Première cabin, you need to pay 500 euros per person to enter.
4. Chase Sapphire Lounges by The Club, 2 locations
There are two Chase Sapphire Lounge currently open, one in Boston (BOS) and one in Hong Kong (HKG). There are five more set to open soon: Las Vegas (LAS), New York City (LGA), Philadelphia (PHL), Phoenix (PHX), and San Diego (SAN). Anyone with a credit card that gives a Priority Pass membership has access to the Chase Sapphire Lounges. So, if you have The Platinum Card, Chase Sapphire Reserve, Capital One Venture X, or several other premium credit cards, you're in luck.
These lounges have local beers, craft cocktails, fresh dining options, local coffee, wellness areas with bookable amenities, spaces for working and relaxing, private bathrooms with showers, and locally-made artwork.
5. Emirates First Class Lounge, Dubai
The Emirates First Class Lounge in Dubai is massive. As such, you can expect to find plenty of things to do to keep entertained during your visit — so much so that you might want to arrive at the airport early just to take advantage of the offerings. There's a wine cellar, a spa, a cigar lounge, duty-free shops within the lounge, dining rooms, shower suites, and areas to nap or work. To get in, you'll need to fly first class on an Emirates flight or have Emirates Skywards Platinum Elite status. This lounge is extremely exclusive and saves top-of-the-line luxury for its most prestigious flyers.
Bottom line
Airport lounges are certainly not new. However, they have typically been associated with airlines and are only available to those flying first class. AmEx Centurion Lounges turned this idea on its head, with lounges exclusively available to cardholders. While they've dominated the market for the past few years, Capital One and Chase have both released their lounges. It's exciting to see what these lounges will look like in the coming years once more are open, and other card issuers catch on to the trend.