Credit Cards with the Best Airport Perks
Written by:
Harrison Pierce
6 min

read
1172 Views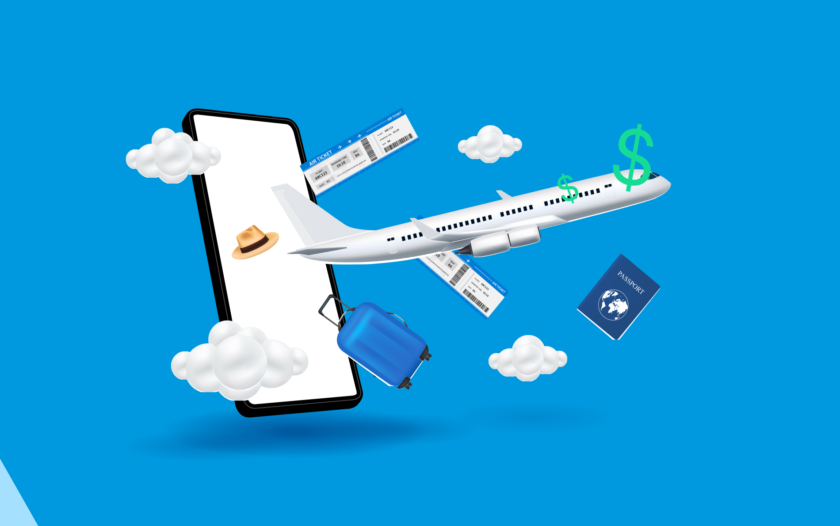 At a Glance
If you have always wondered how to get into those airport lounges while waiting for your flight, wonder no more. These cards give fantastic travel perks, including lounge access, statement credits, and automatic status.
Why you need airport perks
Traveling these days is rough. Possibly worsethan ever. Almost 220,000 bags were "mishandled" by U.S. airlines in April 2022. This is double the amount from the same month last year. Flight delays are also surging due to staffing shortages. As a result, almost four in five travelers who have taken an overnight trip have had at least one travel-related issue, according to a survey from Bankate.com survey. Travel is just the cherry on top of this trashcan fire of a year.
But there is light at the end of the tunnel. Or rather a beautiful airport lounge with good lighting, comfy seats, delicious food and drinks, and just a break from all the madness. Yes, you could be one of those people who just feels a little bit better than all the other stressed, sweaty people at an airport dealing with a whirlwind of chaos. You could be the best kind of person. You could be an airport lounge person. You just have to get the right credit card. Here is what you need to know.
The platinum card from american express
If you travel frequently, the hefty $695 annual fee with the Platinum Card from American Express might be worth it. There is no other credit card on the market that will give you the same level of perks when it comes to traveling. You get complimentary access to Centurion Lounges in over 40 locations worldwide, as well as complimentary elite status to both Hilton and Marriott. Annual statement credits are aplenty and include everything from money back on hotel bookings, digital entertainment, CLEAR membership, Uber rides, and other subscriptions. If you can fully take advantage of all of the statement credits and travel perks, this card is a no-brainer.
Capital one venture X
One of the newest premium credit cards on the market, the Capital One Venture X comes with some pretty hefty perks, all with a minor $395 annual fee. You can earn 10x miles on hotels and rental cars booked through Capital One Travel, as well as 5x miles on flights booked through the portal. Earn unlimited 2x miles on all other purchases. The Venture X gives you access to Capital One lounges and Priority Pass lounges worldwide, along with two guests for free. You also get up to $300 back each year on travel purchases made through Capital One Travel, which effectively reduces the annual fee to $95. Every year, you also get 10,000 bonus miles on your account anniversary, which is valued at around $185 if you maximize through transfer partners.
Chase sapphire reserve
The Chase Sapphire Reserve grants you access to a network of Priority Pass lounges throughout the world. Chase also has some of the top transfer partners and top value points in the industry, so it is worth the investment. Similar to the Venture X, you can earn 10x points on hotels and car rentals purchased through Chase Ultimate Rewards, and 5x points on air travel purchased the same way. You earn 3x points on all other travel and 1x points on all other purchases. On top of that, you get a $300 travel credit reimbursement each year that helps offset the $550 annual fee.
Co-branded airline cards
Several co-branded airline credit cards come with a variety of perks. Which one is the best for you? Well, that depends on which airline you like to fly most often. If you are new to travel, look at your local airport and see which carrier has the most flights. For example, if you live in the research triangle in North Carolina, your local airport would be Raleigh-Durham International, where Delta has the most flights. In this case, you would want to get the Delta Skymiles Card from American Express, as you would get the most value from it.
Co-branded airline cards typically grant access to lounges and give you priority boarding, and free checked bags no matter which level of ticket you purchase. You can also earn more miles per dollar spent on airline purchases between airfare and in-flight purchases. Some cards also give you complimentary upgrades and help you towards airline status. These cards can have annual fees ranging from $99 to $550, but come with a variety of different perks.
Delta, Alaska Airlines, American Airlines, United, Spirit, Southwest, and Allegiant all have co-branded credit cards that are worth looking into. Depending on the airline, your card will be issued through Mastercard, American Express, or Visa.
The best lounges around the world
Now that you know which credit cards you should use to get some of the best airport perks on the market, here are some of the best lounges around the world.
The American Express Centurion lounges are fantastic, and you can access them with the Platinum or Business Platinum from American Express, as well as the Centurion Card. You can also access the Centurion lounge if you are flying Delta and hold a Delta Skymiles Reserve credit card. Inside the lounge, you can expect tasteful decor, fine dining, and exquisite cocktails. There are over 40 locations in the Centurion Network. One of our favorites is located at the DFW airport, where you can eat, drink, and get pampered. There is a spa offering complimentary services, showers to get refreshed before your flight, and conference rooms to conduct business.
There are over 1300 priority pass lounges worldwide, which makes access very lucrative for the frequent jet setter. Whether you are at the SkyTeam lounge in Vancouver, the Turkish Airlines lounge in Bangkok, the Grand Lounge Elite in Mexico City, or the Star Alliance lounge in Paris, you can expect to find first-class amenities. Priority pass lounges offer both public and private seating options, excellent food, showers, and destination-themed decor that set the mood for a fantastic trip.
Bottom line
Credit cards can elevate your experience when traveling and allow you to access some of the top lounges in the world. Even if you are not flying first class, you can enter the lounge and enjoy next-level comfort, complimentary food and drinks, and speedy wifi while you wait for your flight thanks to these cards. If you want to maximize your airport benefits, each card provides something unique, so it is worth it to have multiple in your wallet. For instance, having access to both the Centurion Network and the Priority Pass lounges means you will almost always have access to a lounge no matter where you are. If you do a lot of domestic and international travel, having co-branded airline cards for multiple airlines ensures that you will never pay for a checked bag again.
At the end of the day, paying an annual fee is almost always less than the major benefits that travel cards bring. Now that the world is reopening and travel is easier than ever, add one (or more) of these cards to your wallet.
Recommended For You
Track your way to debt freedom with customized payoff plans.