Millennials Share Their Financial Resolutions of 2021
Written by:
Stefanie Gordon
9 min

read
3122 Views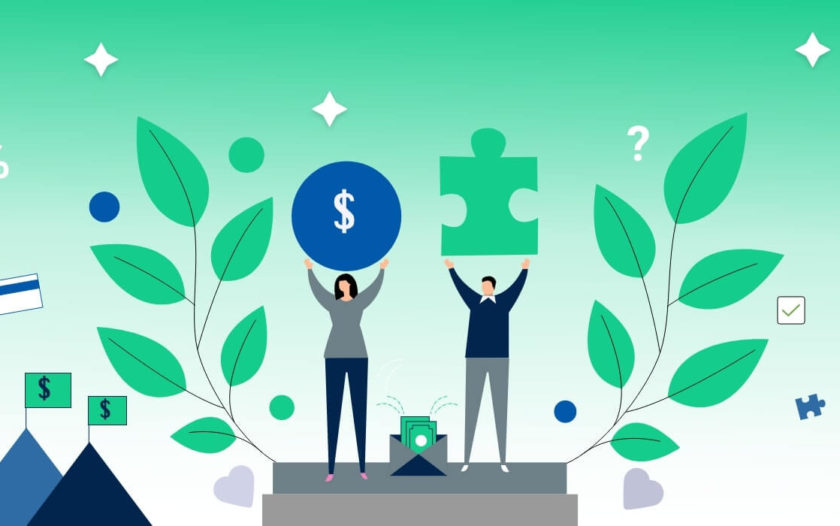 2020 was a hot mess in every conceivable way, finances included. And yet, hope springs eternal.
Our new year financial resolutions survey shows that cash concerns and unexpected expenses still weigh heavily on millennials' minds. However, many are optimistic about the year to come.
Top financial resolution key takeaways
Millennials just want to save: 35% say their biggest goal is saving, followed by becoming debt-free (26%). Other financial goal examples include buying a house, investing, and improving credit scores.
They're optimistic about 2021, but still constantly worried about money: 73% say they expect to fare better financially in the new year, but 50% still report worrying about finances almost every day.
Debt and retirement worries reign supreme, but other concerns vary by gender and age: The biggest overall financial concerns are out-of-control debt and a lack of retirement savings (both 38%), followed closely by healthcare costs and the economy/market volatility.
Saving is the millennial financial goal of choice: The majority of participants (42%) say that saving more was their original goal in 2020. Most expect to save some in the coming year, with 38% hoping to save somewhere between $1,000-$5,000.
Most say that they achieved or exceeded their financial goals: The majority of people (52%) say that they met or outperformed their 2020 financial resolutions.
Bonuses, extra income, and stimulus checks, oh my: Of those who managed to save, about half say they did so by receiving a bonus or making extra income. Nearly one-third of millennials also received a boost from stimulus checks (30%).
Unexpected expenses were the biggest culprit in millennials not realizing their goals completely: 60% say unexpected expenses were what stopped them from meeting their goals.
Saving is the goal of choice for most millennials
Thirty-four percent say their biggest goal is saving, followed by becoming debt-free (26%). Of those saving up, most are trying to finance a large purchase, such as a holiday (conceivably for the day when we can all dust off our passports and travel again). When glancing at the differences between male and female respondents who have saving as their goal of choice, saving for retirement stands out for men. While 41% of men want to save for retirement, the same can only be said for 18% of women.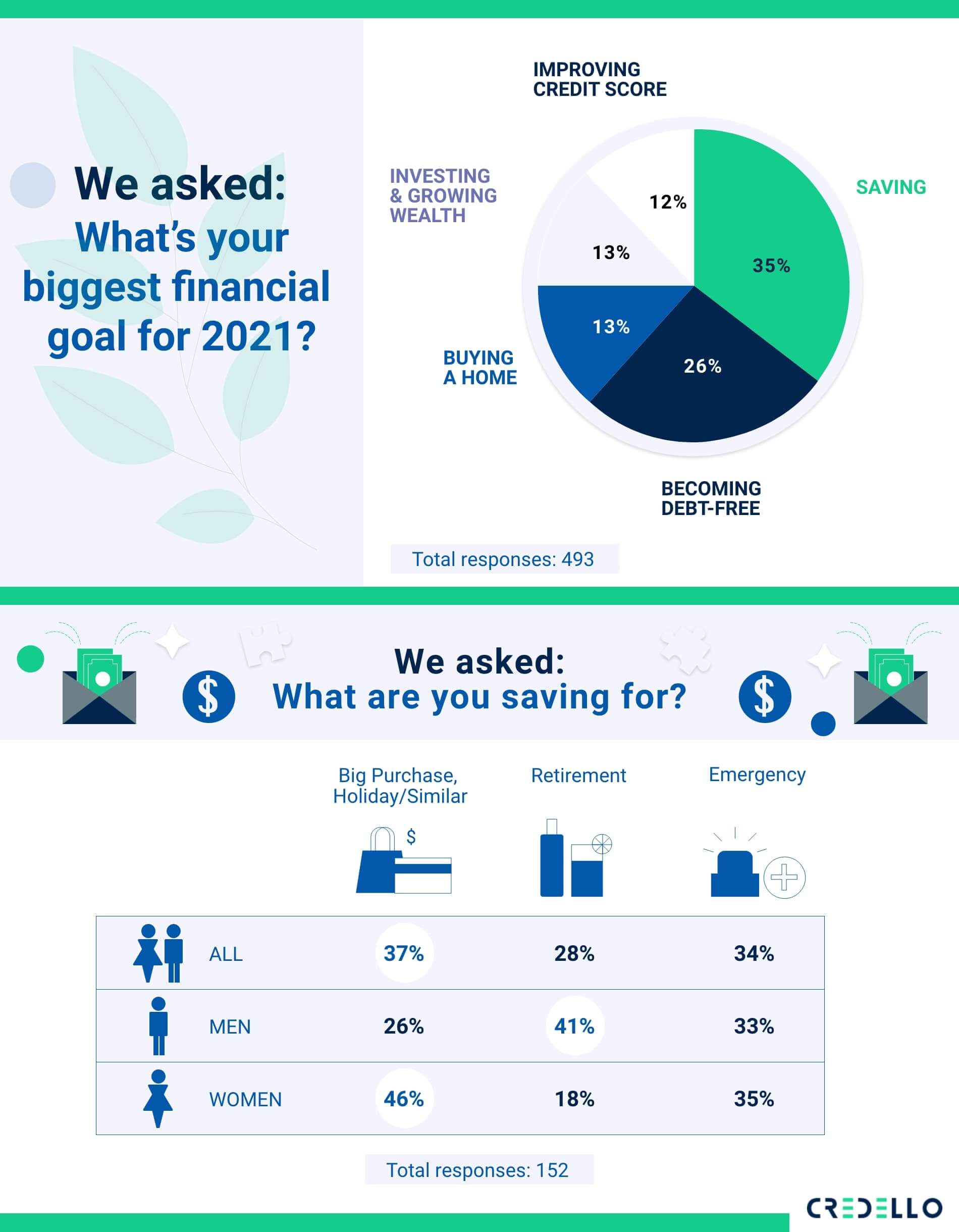 Credello pro tip: Saving for retirement should be a priority. If you wait to save, you'll miss out on compound interest, which is when interest that you've earned on money saved starts to earn its own interest. Starting early can help you maximize your compound interest earning potential.
Overall optimism and do-gooding commingled with day-to-day despair
Nearly three-quarters of participants note that they believe they'll fare better financially in the coming year. And a recent survey put out by Deloitte reports that the pandemic has created a greater sense of individual responsibility among millennials, with nearly three-fourths reporting that the pandemic has caused them to feel more sympathetic about the needs of others, and citing intentions to take action and create a positive impact in their respective communities. In other words, the kids are alright.
However, almost half of millennials worry about finances almost every day, and 3-in-4 worry about their finances at least a few times a month. What's notable is that the concerns still exist (42%) in those who earn a good income, defined as greater than $75,000/year.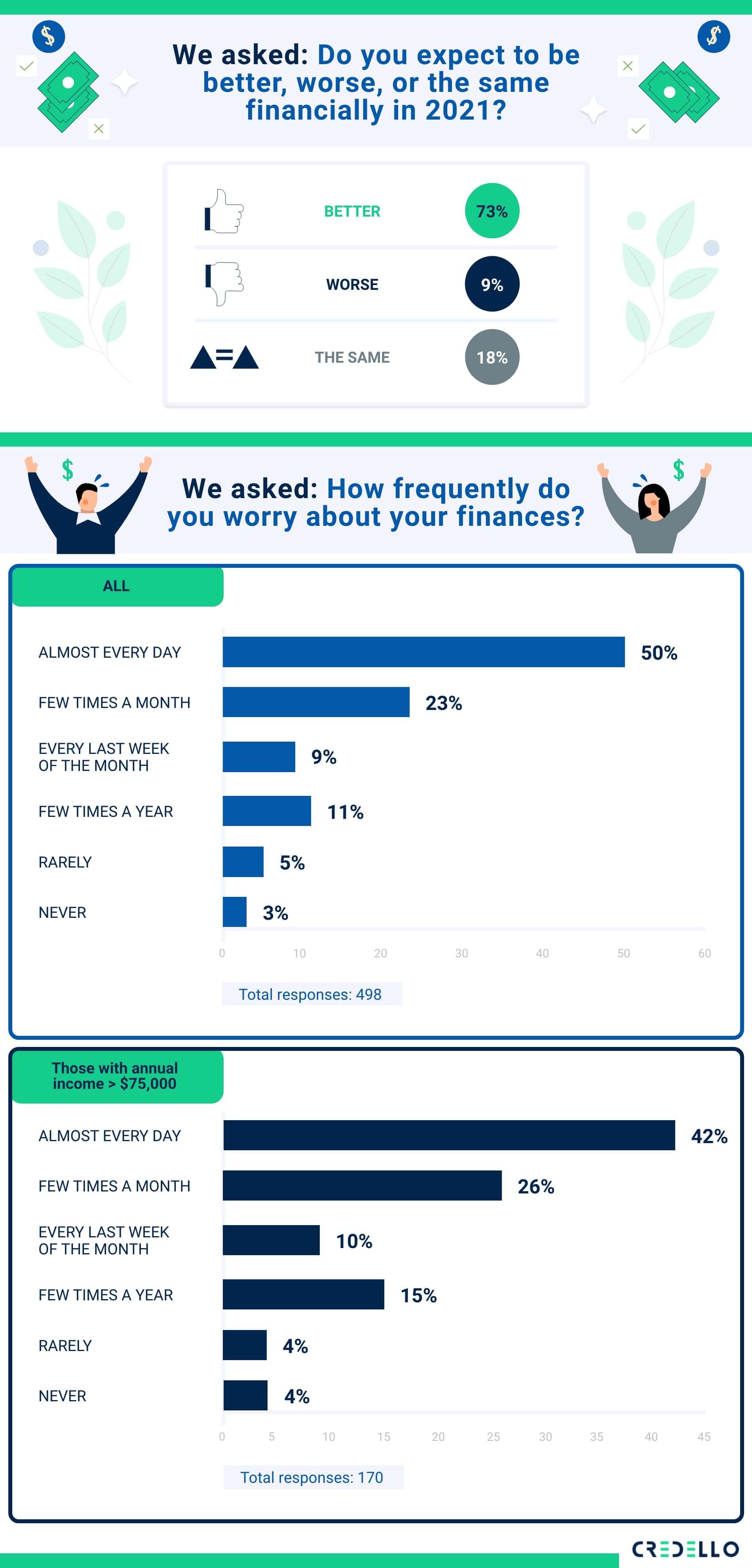 Credello pro tip: If you're dealing with financial stress, it can be helpful to carve out time to take stock of your finances and identify what the main stressors are. Jot down ways that you can cut back on unnecessary expenses and try to create a realistic budget you can follow to reduce your money anxieties.
Debt is the biggest concern overall, but other worries vary by gender and age
Debt is the No. 1 finance fear among millennials overall. This study from Bank of America notes that 67% of millennials have some type of debt, and 16% owe at least $50,000 (not counting home loans). Here's how debt and other concerns broke down when accounting for gender, age, and family status differences:
Gender: Respondents reported debt being the biggest overall concern (38%), but looking at men vs. women reveals differences in how the genders worry. Among men, the economy and stock market volatility were the greatest concerns (43%), versus only 31% of women.
Age:There were also marked differences in concerns among ages. While older millennials (31-39) reported the three biggest concerns being retirement savings, debt, and the economy, younger millennials (24-30), said they were worried about healthcare, debt, and the economy, likely noting a focus on their day-to-day finances and not their financial future.
Family status: Single people are more worried about not having enough for retirement and the economy (both 39%), while those married/living with a partner are more concerned about their debt (44%). Lastly, millennials with kids ranked worries about debt (45%) and the economy (38%) at the top of their list, while those without kids are more worried about retirement savings (42%) and the costs of healthcare (41%). The difference in parents vs. non-parents is likely because parents are more concerned about job stability. A Catalyst study reports that a third of parents fear being laid off in the next six months because of job cuts related to COVID-19.
Credello pro tip: To get out of debt, you'll want to find a debt repayment strategy that works for you. Two common methods are the debt avalanche and debt snowball methods. With the debt avalanche method, you'll make minimum payments on all of your balances, but you'll focus on first paying off the balance with the highest interest rate, followed by the balance with the second-highest interest rate, etc. With the debt snowball method, you'll instead put all extra money to the smallest balance, and then the second-smallest balance, and so on. A debt snowball calculator can be a helpful tool in figuring out if this approach will work for you.
Most started 2020 with the goal of saving more; expect to save some in 2021
The majority of participants (42%) say that saving more was their original goal in 2020. Men said that investing was also a goal (23%), with only 11% of women reporting the same. A recent study from Travis Credit Union explains that the pandemic and recession have driven home the importance of creating an emergency fund for millennials. Three out of four respondents said that COVID-19 has changed how they spend. Most expect to save some in 2021, with 38% hoping to save somewhere between $1,000-$5,000.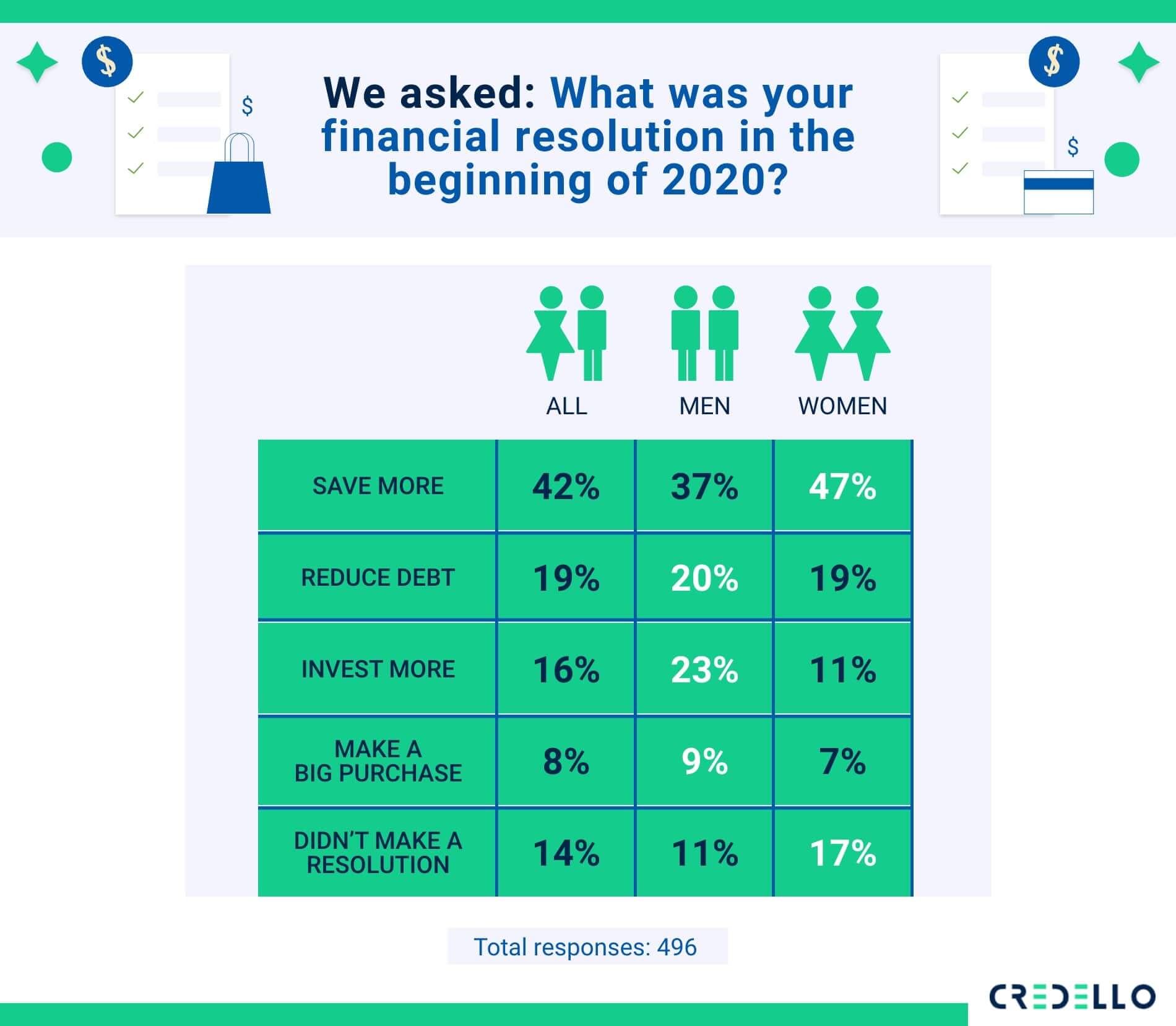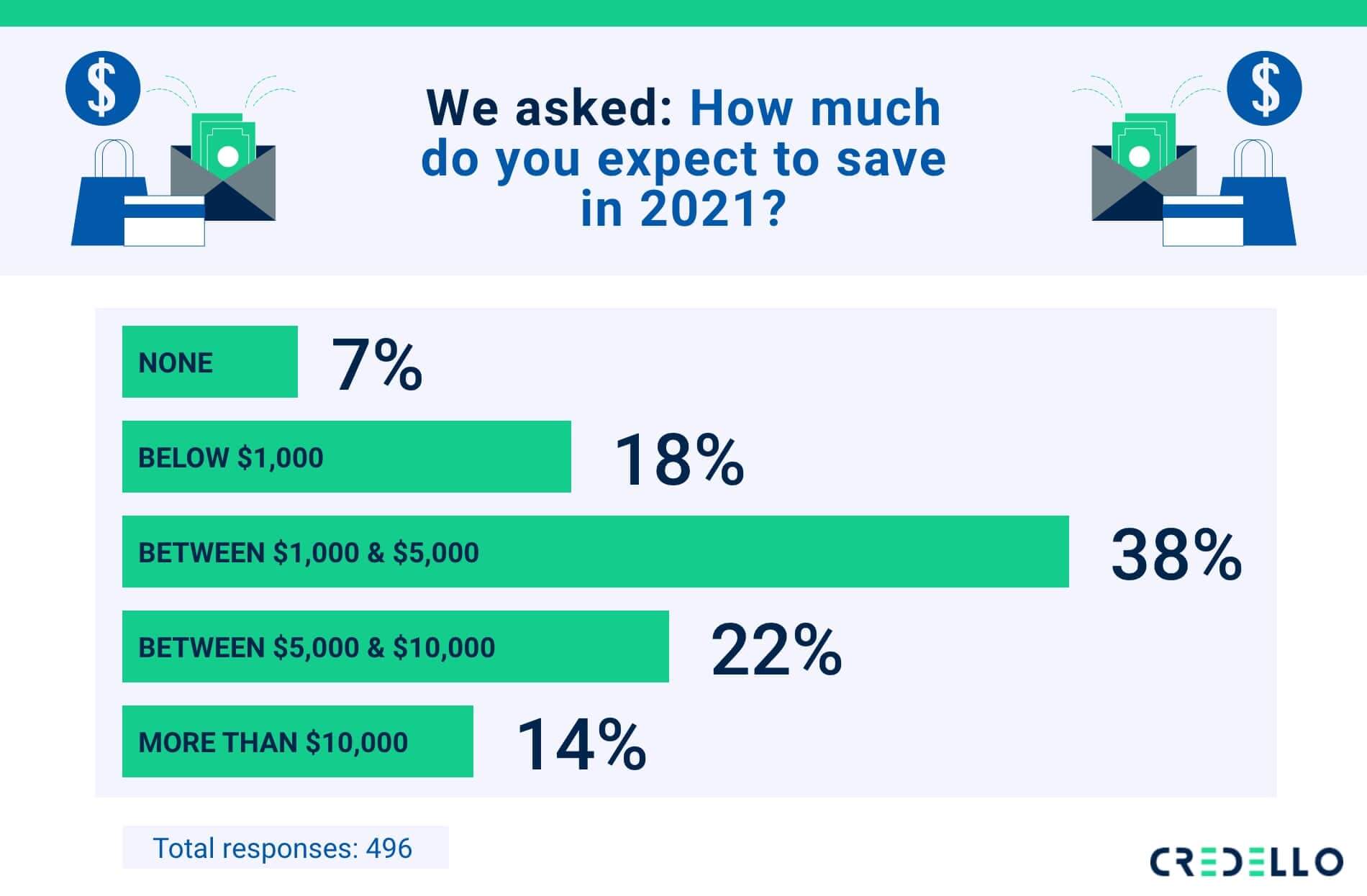 Credello pro tip: Creating an emergency fund can help you stay financially afloat during the unexpected. Experts recommend having somewhere between three to six months' of expenses saved up, although a year is even better.
Majority of millennials got started on their 2020 financial goals, but didn't completely succeed
Most participants (52%) say they either achieved or exceeded the financial goals they set out for themselves. More men reported achieving their 2020 resolutions than women, with 61% of men reporting that they either achieved or surpassed their goals, compared with 41% of women.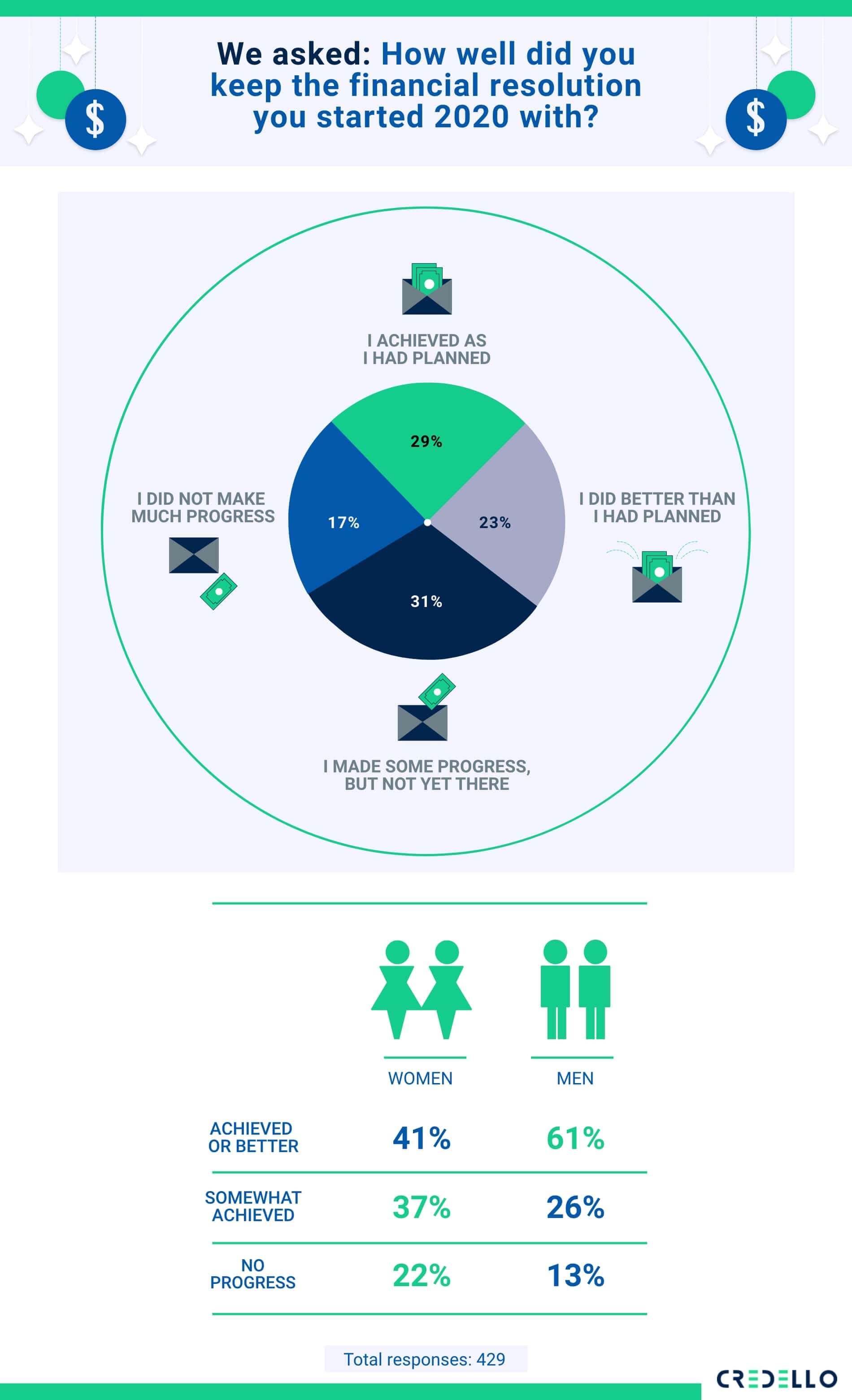 Credello pro tip: Setting realistic financial goals is key for seeing them through. If you pick goals that are too lofty, i.e., becoming debt-free in two months if you're wading in considerable unpaid balances, you're setting yourself up for failure.
Most were helped by raises/bonuses, spending less
Of those who made progress toward their financial goals, the top reason was receiving a raise, bonus, or making extra income (47%). This was closely followed by spending less and saving more (45%). There was a difference in gender, with men citing raises/bonuses/extra income as their main progress tools (53%), and women instead noting that they spent less (51%). Stimulus checks also helped nearly one-third of millennials make progress (30%).
In regard to how people are spending less, a recent report from TransUnion shows that 46% of millennials are cutting back on discretionary spending, with 32% canceling subscriptions or memberships, and 27% canceling or reducing digital services.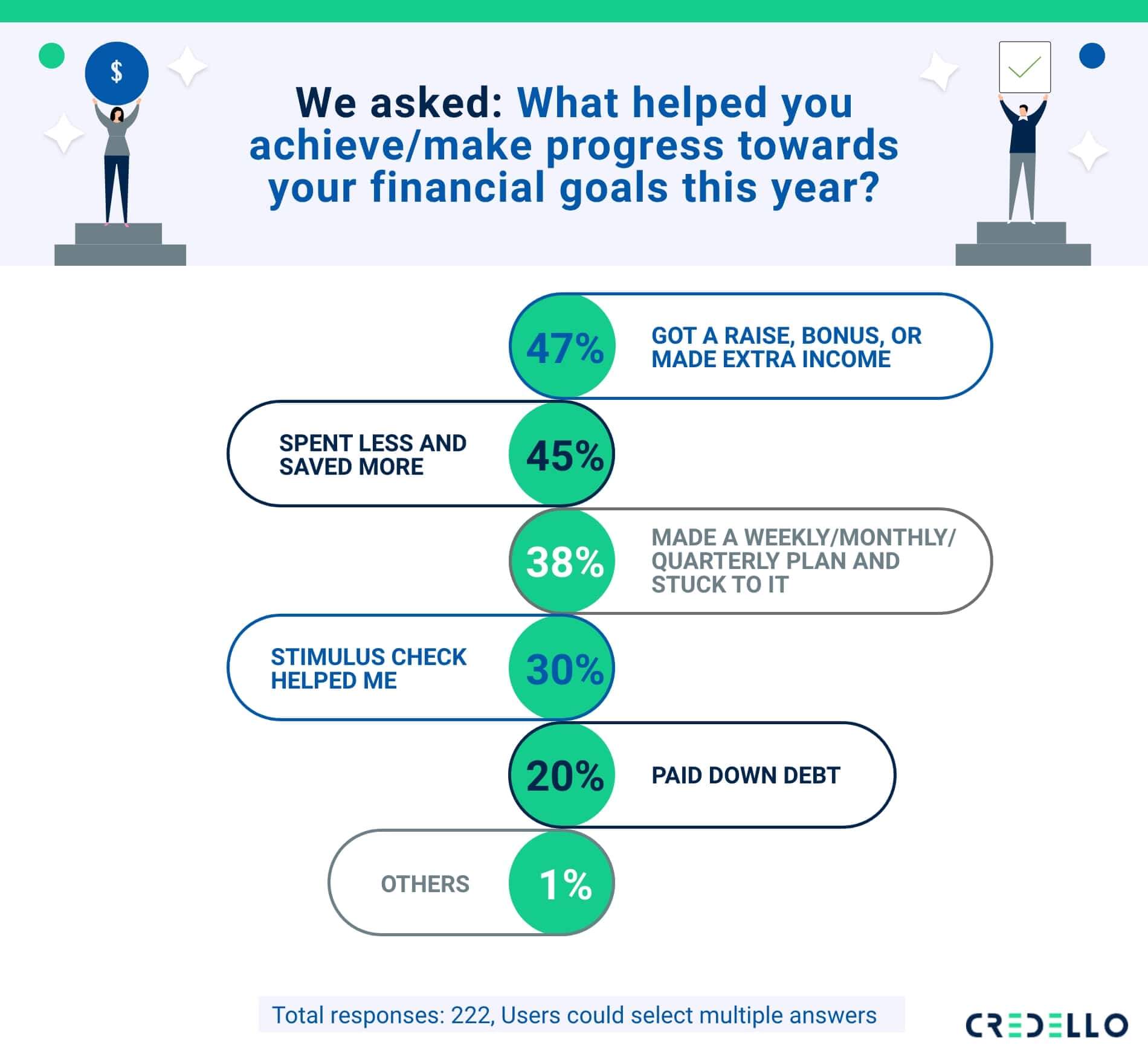 Credello pro tip: Automatically socking away any unexpected money from raises or bonuses into a savings account is a smart and easy way to build up a nest egg or create an emergency fund.
For those who didn't meet goals, unexpected expenses were to blame
For those who fell short of their financial goals, 60% said unexpected expenses were the culprit. What's interesting is that 21% said that they didn't make it because they weren't "as disciplined or well-planned", and another 20% said they "didn't know how to go about it."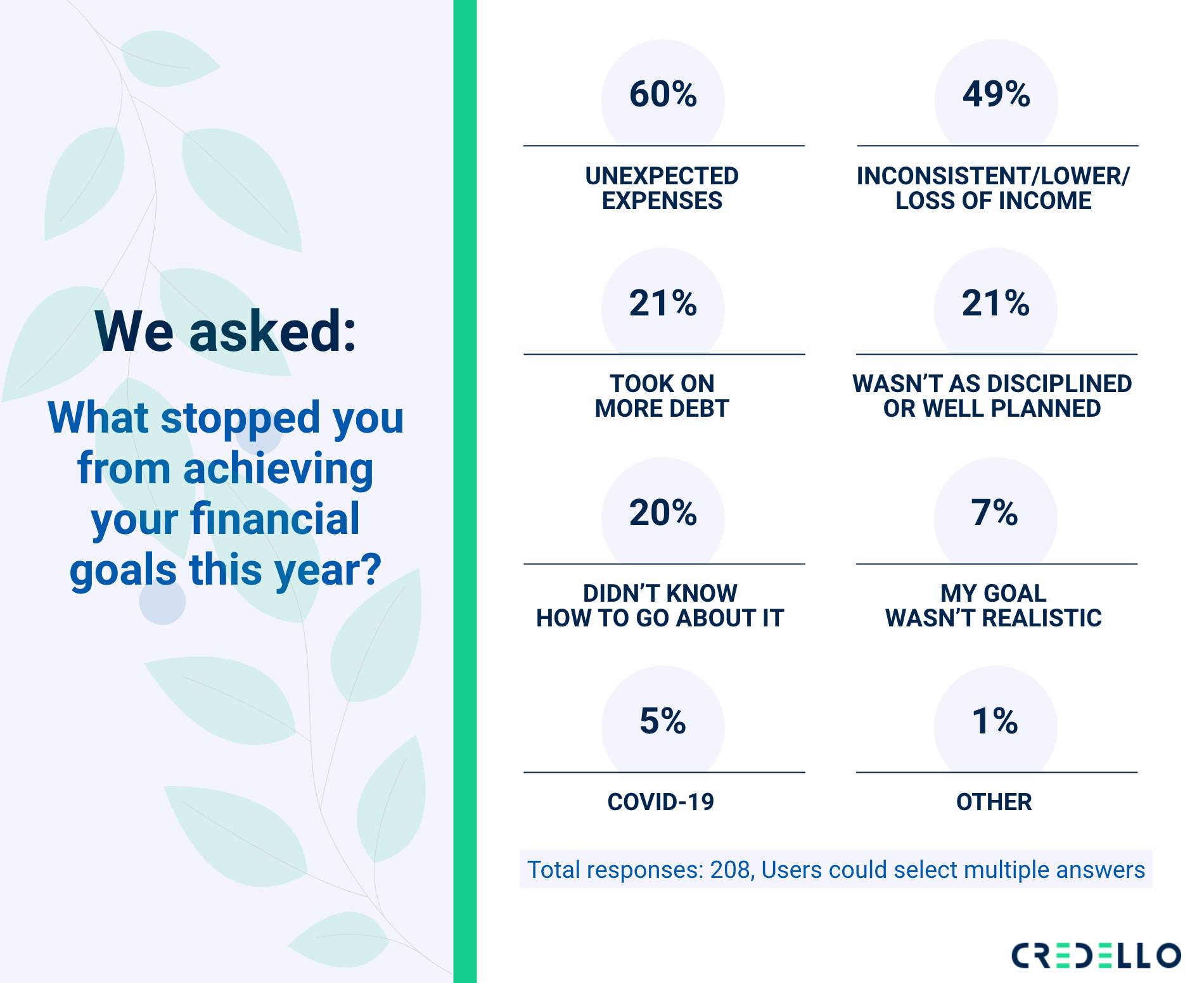 Credello pro tip: If you're not sure how to pay off your debt, we understand. You can find the best debt consolidation loan for you to see which method is best for your unique needs, and use the loan payoff calculator to help pay off your debt faster.
Credello hot seat: Would you rather?
We put our participants through the Credello gauntlet to find out their pressing answers to our toughest questions. Our "Would you rather?" series tackled some touchy topics, such as whether it's better to eat instant ramen or leftover pizza every day to save money, and if people prefer to have their love life or finances made public. Here are some highlights from the findings:
Would you rather: Stop going to bars for three months or be an extra $500 in debt?
Millennials overall said they would prefer to stop going to bars for three months (80%) than be an extra $500 in debt. However, more women (87%) than men (72%) were willing to give up a pint in lieu of more cash. And more single people (87%) than married/with partner people (78%) said they preferred to give up bars than being more in debt. The singles might be saving up for when life goes back to normal and they can go out with a bang.
Would you rather: Have your finances or your love life made public?
Overall, 58% of respondents would rather have their love lives made public over their financial histories. Men seemed more reluctant to disclose their romantic histories than women, with just 51% choosing love over finances compared with 65% of women. Maybe the men have more to hide?
Would you rather: Put an extra $10,000 into savings or invest it in the stock market?
Seventy-two percent of millennials polled said they preferred savings over the stock market. But this was the case for women (79%) more than men (64%). Women tend to be more conservative than men when it comes to investing. Men are less risk averse and also tend to be more informed about investment strategies.

Methodology
This survey was commissioned by Credello and was conducted using the online survey platform Pollfish. The sample of 498 millennials (ages 24 to 39) in the United States was surveyed on Dec. 15, 2020. The results have been weighted to balance responses to the census statistics on the dimensions of age and gender. For complete survey methodology, please contact [email protected]