This Could Be the Ultimate Credit Card Hack to Save Money on The Holidays
Written by:
Harrison Pierce
5 min

read
2523 Views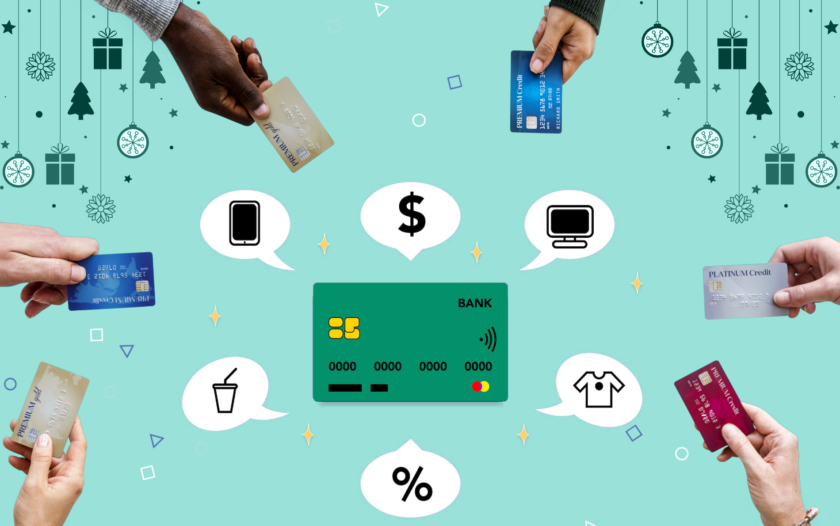 At a Glance
Credit cards might be able to make travel accessible for you this holiday season, or at least much less expensive. Sign-up bonuses and other credit card perks can allow you to take that dream vacation or buy presents for the whole family on a budget.
How to strategize
Now is the perfect time to sign up for a new credit card. You might have hesitated to sign up for a card as you worried you would need to spend more to meet the sign-up bonus spending requirements. However, if you applied for a new card today, you could put all your everyday expenses and holiday shopping, which adds up in a hurry.
Typically, sign-up bonuses require you to spend anywhere from $500 to $4,000 in the three or four months after you open your account, but this can vary. Although spending $4,000 in three months sounds like a lot, if you use your card for your weekly grocery run and on your Amazon purchases ahead of the holidays, you will be surprised how quickly you can meet it.

Find the Best Debt Consolidation Loan for You
Answer these simple questions to find solutions you're likely to get approved for
What debt do you want to consolidate?
Select all that apply
Others does not include mortgage
Our favorite credit cards
Many travel rewards cards are on the market, but a few are considered the best.
First off, there are different tiers of credit cards: no annual fee, mid-range, and top-of-the-line. If you're just starting, you might be tempted to go with a card that does not have a yearly fee. The Wells Fargo Autograph Card earns three points for every dollar spent on restaurants, travel, gas, transit, streaming services, and phone plans. This earning level is unheard of without an annual fee, but the points are not quite as valuable as some other cards. At the time of writing, you can earn 30,000 bonus points after spending just $1,500 on purchases in the first three months after account opening, worth about $300 in travel.
If you are willing to spend a bit more, you can go for the Chase Sapphire Preferred, often voted the top mid-tier card on the market. The current sign-up bonus is 60,000 points after spending $4,000 in the first three months after account opening. That is $750 towards travel when redeemed through Chase Ultimate Rewards and potentially even more when transferring to Chase's partners.
On the higher end, there are cards like the Amex Gold Card or the Platinum Card from American Express. These have annual fees of $250 and $695, respectively, but they offer substantial perks and statement credits and have higher earning categories. The Amex Gold Card is currently running a promotion for 90,000 bonus points after spending $4,000 on purchases in the first six months after account opening, so you get a little more time.
Here are a few things to consider when deciding which travel rewards card is right for you:
What is the current sign-up bonus, and do you spend enough to reach it?
What airlines or hotel chains do you often use?
What are you willing to pay on an annual fee?
Where do you do most of your spending? I.e., gas, dining, travel, etc.
Are there perks like lounge access or statement credits you want to take advantage of?
What is your credit score?
If you do not travel much, consider a card for your favorite retail chain to get discounts on purchases or a general cash-back card that can put a little money back in your pocket with each transaction. Once you have your eyes set on a card, you need to know how to redeem your points and miles for top value.

$832
Is the amount the NRF predicts the average consumer will spend on gifts, food and decorations this season.
FinFact
How to redeem points
There are a few different ways you can redeem your points or miles. First, you can use their travel portal to redeem points for flights and hotel stays if you have a general travel card from places like Citi, Chase, or Capital One. This typically offers a fixed rate of redemption, around $0.01 per mile. However, you can transfer your points from these cards to the airline or hotel of your choosing, where you can double your value at a rate of around $0.02 per point. That means you could book a round trip, $1,000 business class flight across the country for just 50,000 miles.
If you have a co-branded hotel or airline credit card, you will likely be required to redeem miles for travel with those brands, so be on the lookout for good mile redemption deals to your destination. Although hacking points takes a little practice, you will improve as you learn more about the systems.
You can also redeem points for gift cards or shopping purchases to offset the cost of presents this year. Although these redemption rates are less valuable than travel, they can still help you save money while shopping for everyone on your list.

who has 1,638
The Guiness World Record for the largest collection of valid credit cards is held by Manish Dhameja.
FinFact
When to use your card
Ultimately, you should use a credit card with a reward system for every purchase. However, you must treat your credit card as a debit card. Only make purchases you can afford, or you will get into financial trouble quickly. Many people are afraid of credit cards and only use them for travel or other large purchases. This leaves hundreds of dollars worth of points on the table when you are not using your card at the grocery store or the drive-thru.
You should still be aware of your budget, however. Do not make necessary purchases to earn the sign-up bonus. If you do not think your regular spending would reach it on its own and you know you do not have big purchases coming up, you should wait. Sign-up bonuses fluctuate in amount but will always be around, so you do not have to rush to fill out your application and get yourself into debt just to earn.

Using your card daily earns you more points than you would imagine, which puts money back into your wallet.
Bottom line
The holiday season is officially upon us, so you should be prepared to earn rewards for your purchases. Use sign-up bonuses to offset travel costs fully or presents, so you never leave money on the table.