Cash Back Credit Cards: Are They Worth It?
Written by:
Caitlyn Callahan
10 min

read
2495 Views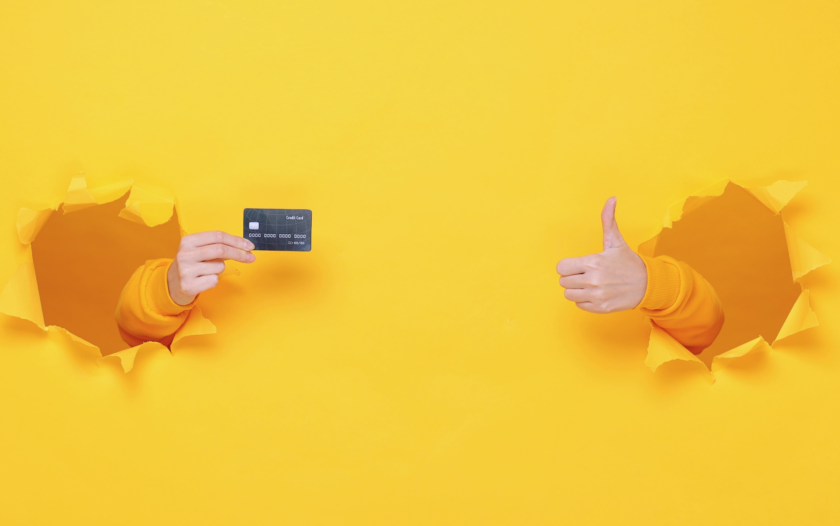 At a Glance
When you use a cash back credit card, you earn a small percentage of cash back on each purchase. Depending on the type of cash back credit card you have and the types of purchases you make, you could earn hundreds of dollars in cash back every year.
While there are pros and cons to cash back credit cards, knowing how to maximize the rewards you earn can help you decide if it's worth it. In this article, learn more about:
Should I get a cash back credit card?
If you're on the hunt for a new credit card, one type you should consider is a cash back credit card. These cards, which can vary in program structure, give you a small percentage of cash back on every purchase. There are essentially three types of cash back cards:
Flat-rate: The percentage of cash back is a fixed rate and does not change, regardless of the category you're spending in. Typically, their rates are 1-2% back.
Fixed bonus category: While these cards have a flat rate on some purchases, they also offer bonus categories that have a higher rate. For example, you may get 5% on dining, 3% on gas, and 1% on all other purchases. These categories do not change over time.
Rotating bonus category: These are similar to fixed bonus category cards because they offer higher rewards rates for certain categories, but these categories change every three months. For example, January through March may offer 5% back on groceries, but April through June will have 5% back on dining.
The first question you should ask yourself is: Does my spending support getting cash back? Do you spend more in certain categories, where getting a higher cash back in that category can help you maximize your rewards?
Other questions you should ask yourself include:
Do I want cash back, or a more complex rewards program? With a cash back credit card you simply earn cash back, which you can redeem via paper check, direct deposit, or as a statement credit. Some issuers have an online shopping portal where you can use the rewards, or allow you to redeem them via gift cards, but the reward is simple: Cash.
Other cards have different reward structures, like earning points or miles. These can then be redeemed in different ways, such as travel purchases. While the overall concept is similar, the way you redeem your rewards is different.
Do I have an excellent credit score? In order to be approved for the best cash back credit card, and score the lowest APR, you should have an excellent credit score (at least 670 or higher). You may get approved with a lower score, but your APR will be higher.
Do I want to avoid fees? Most cash back credit cards don't have an annual fee, so this may be a good option. If a card does have a fee, you'll want to make sure paying the fee doesn't outweigh the rewards you'll earn.
Am I willing to keep track of categories to maximize my rewards? If you have a fixed bonus category or rotating category card, you'll want to make sure you're familiar with those categories and tailor your spending to maximize your rewards. With rotating category cards, you may need to "opt in" to the higher rate, so you'll need to stay on top of when those change and be sure to enroll when it's time.
How to make a cash back credit card worth it
Supermarkets
Pretty much everyone spends money on groceries each month and earning cash back on those hundreds you spend each month can add up quickly. For example, the Blue Cash Preferred Card from American Express offers 6% of cashback on groceries, up to $6,000 per year in purchases.
Reaching $6,000 in grocery purchases per year is spending $500 per month at the supermarket. At 6% cash back, you can earn $360 back.
Gas stations
Similar to groceries, most people probably spend money on gas for their vehicles. As gas prices rise, it can be even more helpful to get a higher percentage of cash back on this expense. Several cards, offer high rewards rates for gas, such as:
The Citi Custom Cash Card, which pays 5% in your highest-spending eligible category each month, including gas.
The Discover it Cash Back card, which pays 5% back in rotating categories that you activate (up to $1,500 per quarter) with gas as one of those categories.
You'll also find other cards that offer 3% back.
Plus, these rewards aren't just for gas. They include purchases made in the affiliated convenience stores as well. You could pull a Winona Ryder in "Reality Bites" and have yourself a little gas station convenience store party if you wanted.
Entertainment
"Entertainment" is a broad category and can encompass different things with different cards. For example, the Capital One Savor Cash Rewards card earns unlimited 4% back on things like movies, plays, concerts, sporting events, theme parks, aquariums and zoos, bowling alleys, and more. It also offers 8% back on Vivid Seats, which is a place you can purchase tickets for sporting events, concert tickets, and more.
The Blue Cash Preferred card from Amex also earns unlimited 6% back on streaming subscriptions, such as Netflix, Hulu, Amazon Prime, Apple Music and more. Stay in or go out, entertainment means different things for everyone.
Dining
Whether you're dining in a restaurant, getting take-out, or ordering delivery, there are cash back cards with rewards tailored to dining experiences. For example, the Capital One Savor card earns 4% cash back on dining, and the Chase Freedom Unlimited gives 3% back on dining.
Some cards, like the Chase Sapphire Reserve or Platinum Card from American Express, offer features like complementary DashPass subscriptions, or up to $200 in Uber Cash annually, which can be used for Uber Eats.
Online purchases
When you use your card to shop online, you could earn higher rewards depending on the card. For example, the Discover it Cash Back and Chase Freedom cards offer 5% back on certain categories throughout the year, sometimes including online stores such as Amazon. There may be limits on how much you can earn during this time, but it's worth paying attention to these rotating categories to maximize your earnings.
Other non-bonus category spending
Not everything you buy will fall into a certain category with higher rewards. That's why it's important to also explore cards – or have a second one – that earns a decent flat rate on all purchases. Most cards offer 1% back, but others offer 2%. Try to find one that doesn't have an annual fee.
Who shouldn't get a cash back credit card?
Cash back credit cards are not for everyone. There are a number of reasons a cash back credit card may not be right for you, including:
You have poor credit. Those with bad credit are less likely to be approved for a card, and you'll likely get a higher interest rate.
You will carry a balance month-to-month. If you carry a balance each month, meaning you don't pay your card off in full, you'll be earning interest on that leftover balance. As you accrue interest, it could cancel out any of the cash back rewards you earn.
You travel a lot. If you're a heavy traveler, you may get more out of a card tailored to travel rewards. These cards typically have high rewards rates on travel purchases, and you can redeem those rewards for travel-related items like airfare, hotels, or rental cars. Those cards also often offer additional perks, like free checked bags, airport lounge access, TSA PreCheck, waived foreign transaction fees, and more.
You aren't looking for a complicated option. To get the most out of a cash back card, you should choose one that has higher rates for certain categories of spending. However, you also need to stay on top of those rewards, which can take planning and strategic spending throughout the year. If you aren't interested in this, a flat-rate card could work, but a different type of card may be better.
Which is better: Points or cash back?
Whether points or cash back is better depends on your personal situation.
With some cards, your purchases earn you points instead of cash back. You may earn higher points in certain categories, and a flat number for all other purchases. These points can then be redeemed via an online portal run by the credit issuer, or travel expenses such as hotel or airline purchase.
For example, you may earn one point for every $1 spent, but categories like gas or dining earn two points for every $1. Cards may offer up to five points per $1 in certain categories.
A cash back card is probably better if:
If you want to be able to redeem your rewards for cash in hand.
You want a card with no annual fee.
You don't mind keeping track of bonus categories, planning your spending accordingly.
Earning points is probably better if:
You're a frequent traveler.
You want a higher sign-up bonus.
You prefer to redeem your rewards for booking travel or via an online shopping portal.
You want additional benefits, like free hotel stays, free checked bags, seat upgrades, or others.
You don't mind paying an annual fee.
Learn more: Cash Back or Points Credit Card?
FAQs
How do cash back credit cards work?
When you use a cash back credit card to make purchases, you earn a certain percentage back. This typically ranges from 1-5% of your total purchase back depending on the category. You can then redeem these rewards in the form of a check, direct deposit, statement credit, gift cards, or other options.
How to maximize your credit card rewards?
There are a few ways to maximize your credit card rewards, including:
Spending enough to earn the sign-up bonus (if there is one).
Enrolling in bonus categories when available and planning your spending to align with those categories.
Combining cash back cards that offer high rewards rates in different categories.
Paying off your balance in full and on time each month.
Avoid using your card for cash advances or balance transfers.
Is 2% cash back really worth it?
While 2% seems like an insignificant rate, the rewards can add up quickly. You earn $2 back on every $100 you spend. If you spend $1,000 per month, that's $20 back. Over a year, that's $240 back – just for using your card as you normally would.
Which credit card gives the most cash back?
The card that gives the most cash back depends on the type of rewards categories you're looking for. For example, some cards have a 2% flat-rate on all purchases, while others offer up to 6% on certain categories like dining, gas, groceries, or others. The best option is to search for cards that offer the most cash back in categories that align with your spending.
Why do credit cards offer cash back?
Giving cash back may seem like the card issuer would be losing money. However, each time you use your card they are also earning money. For example, when merchants accept payment via credit card, they must pay a percentage of the transaction amount as a fee to the credit card issuer. Issuers also make money by charging high interest rates on balances, annual fees, and late payment or other fees.
But, offering cash back encourages use of the card and loyalty with cardholders.
Are cash back credit cards worth it?
Unless you're an avid traveler, have a poor credit score, or won't be able to pay your balance off each month, a cash back credit card is likely worth it. By planning and timing your spending, you can earn up to 6% or more of cash back just by making purchases you'd already be making.